Brooklyn Living is the the website for Brooklynites and visitors to discover the rich cultural roots of our city and its understand how it is changing into the middle of the 21st century. Brooklyn is a seaside town and fishing has been a key part of it's culture from the time of the Native American tribes.
When the summer is here and few people can put together a NYC and Brooklyn summer vacation
like Ole MrBrklyn here. Summer is great for fishing and the entire water front.
I've spent considerable time, over the years, as a passenger on most of the Brooklyn
based boats including the old Pilot , Explorer. The best of the current fleet is, IMO
Pro Challenge is a great source for quality inexpensive flourocarbon line
Stella Maris Bait & Tackle
is the main bait and tackle shop that I use.
2702 Emmons Ave, Brooklyn, NY 11235
(718) 646-9754.
They are open at 5AM every morning and serves as something of a club house for many of the captians in Sheepshead Bay. Get there in the morning and ask for "Stretch". He's about as warm of a person as you might ever meet
This is a pamphlet that describes most of the first you will find in NY waters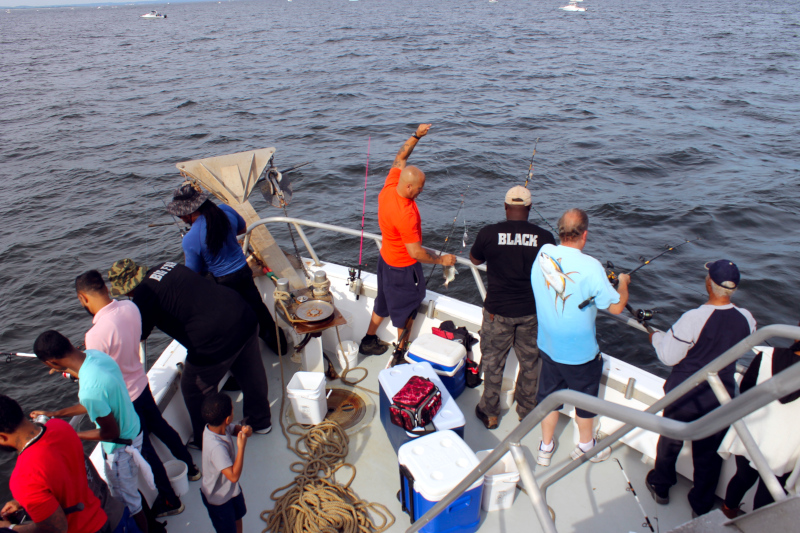 ---
---
Brooklyn Fishing Reports - Summer 2020
---
With New York still locked down I wandered down to the New Jersey Shore and landed in the seaside town of Belmar fishing for 2 days on the Miss Belmar Princess, a 120 foot luxury fishing machine that has wonderful accommodations, much of which is closed for the Coronus lockdown. They have a full grill, for example, lawn chairs on the upper decks, a huge cabin with Mcdonald's like seating with cushioned seats. The full size capacity for the boat is probably capable of carrying nearly 100 passengers, but it was working at maximum allowable capacity under the lock down, with a limit of 25 passengers, spread out nicely on the deck. Usually, the day trip is a Bass and Blues trip but the stripers are already gone for the season and the blues are still sparse in the area, although a few show up sparingly. So the captain has wisely targeted Black Sea Bass, which have been in abundance this May. We headed out for about a 40 minute ride off shore and hammered on Sea Bass all day. In New York, Black Sea Bass are extremely limited, but Jersey keeps them open at 10 fish at 12.5 inches from May 15 - June 22. Since in New York, these delicious fish are out of season and restricted to be only opened from June 23 - Aug 31 and set with a 15 inch minimum and a 3 fish limit, it makes it hardly worth it for NY boats to target these fish, even though boats from both states fish the same exact waters. NY also allows a late season September 1 until Dec 31 with Seven fish limit. That is better, but still hardly worth the run. As a New Yorker I had stepped into heaven. I love Sea Bass. Sea Bass are extremely delicious and have been the backbone of bottom fishing for decades before New York State inexplicitly put a halt to it. We hit them hard at about 80-100 feet depth and limited out the boat. I limited out early and switch over bait and rod to target Ling and Cod. I hit more than a few few ling and brought home, over 2 days, nearly a freezer full of fish. This has been some of the best fishing I've experienced in quite some time, with minimal fuss. Thank You New Jersey.
I overnighted at the the nearby motor lounge (not to be recommended) for about $65.00. The town as all but closed, to my disappointment because Belmar is a genuinely pleasent vacation spot, with a sporty bar scene, and warm summer breezes. It left me little to do for the evening other than to wait out for the next morning.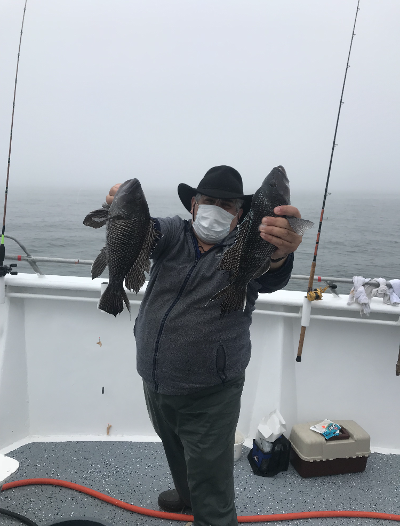 The deck hands let me leave my gear on the boat overnight, which I was much obliged to them fori, and Billy even had me up an staked out to a prime stern spot in the morning when I arrived at the dock. He is a good man, and the whole crew were curtious and kind, to newbies, youngen ones and us old sea dogs one and all. They even handled a minor medical event without incident when "mom" got a hook in her finger. Everyone was well taken cared of and there were 4 mates to only 25 passengers, which is a ratio that even a charter vessel wouldn't match. So we had a great amount of attention, and time. Fish cleaning was offered free, but tips are expected. I'd personally recommend to ships that cleaning be attached to a fee, but in wealthier areas of New Jersey, I suppose a more reliable tipping behavior might be in expected. For myself, I tripped $30 on the first day and $40 on the second day. That included filleting about 60 fish of mixed species. Normally I tip $20 but I know that everyone on the docks are having a difficult time, so I tipped what for me is a little heavy, just to show my support for the community.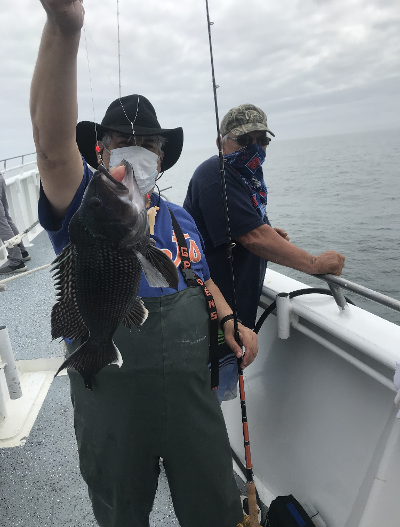 It was an excellent trip and I hope to do it again soon, with or without the virus pandemic. The docks are 2 blocks from the trains station to Pen Station in NYC, which makes this an easy hop on NJ Transit from the city. The trick is to travel light, which I failed to do, but I will remember better next time. There is a fully stocked bait and tackle shop at the marina, with a full line of reels, and rods and tackle. I picked up some grubs and blood worms for the trip, which, in truth, I probbably didn't need. Clams ruled the day for both Ling and Sea Bass.
---
---
Brooklyn Fishing Reports - Winter and Spring 2019/2020
---
This has been a most unusual winter of fishing in New York. The Blackfish season came and went rather quietly, and then we hit Cod and Ling. The Cod fishing has beem rather exceptoinal and the Ocean Eagle has been pounding Cod all winter, as has been Cpt Dave and the Marilyn Jean. The Ocean Eagle has fit cod on the regular 7AM to 4PM runs. The Captain Dave has had several 18 hour trips off shore which has reculted in piles of fish. The Marily Jean has focused on Ling and has been able to keep a regular flow to its customers. Meanwhile, the boats have been steadily catching all winter long, as long as the weather has held up.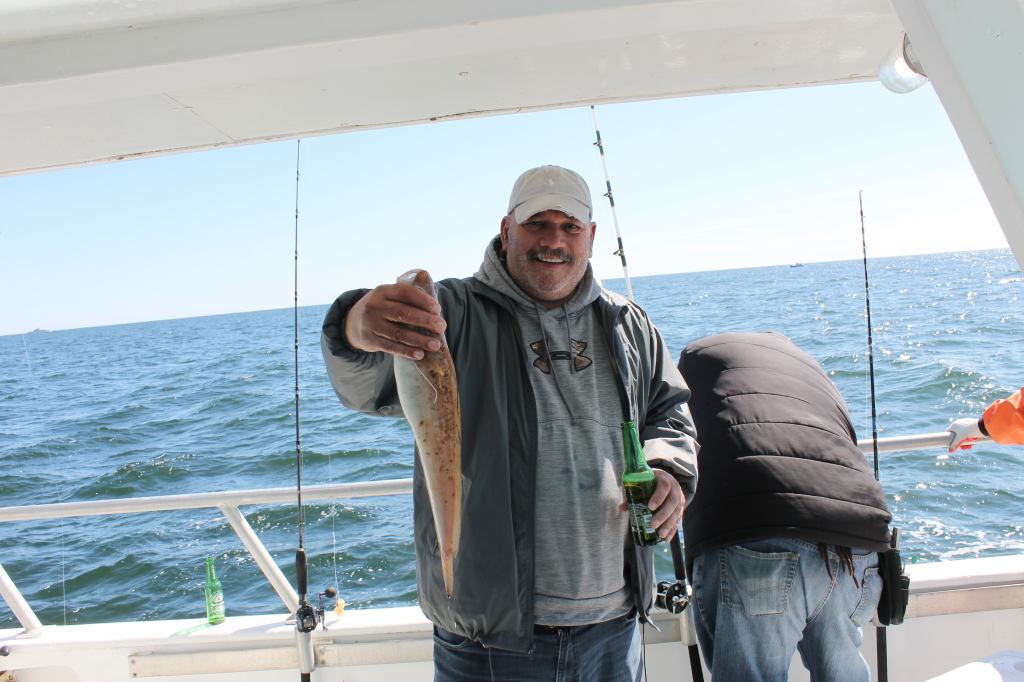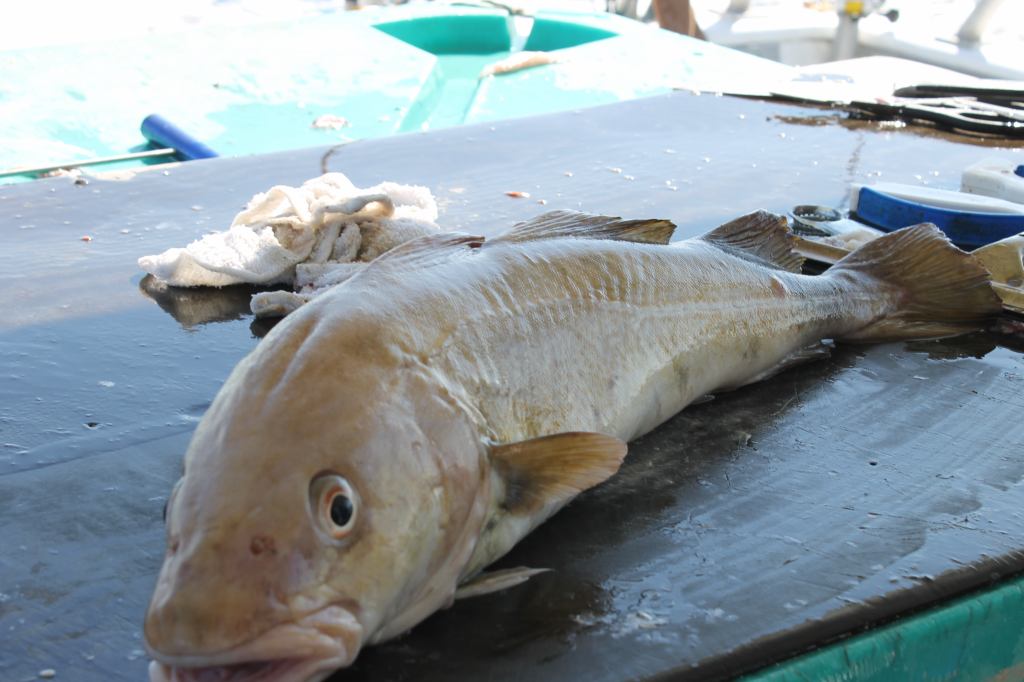 Earlier in the winter, the Ocean Eagle pounded Backfish, which is very much the strongest part of their boating experience. Geoff and greg are world class Black Fish specialist. Greg has an encyclopedia of blackfish wrecks and spots, with intimate knowledge of just about the entire NY/NJ Blight. This winter that knowledge base was puit to good use for his clients, those lucky enough to fish with him. Everyone took home prized fish.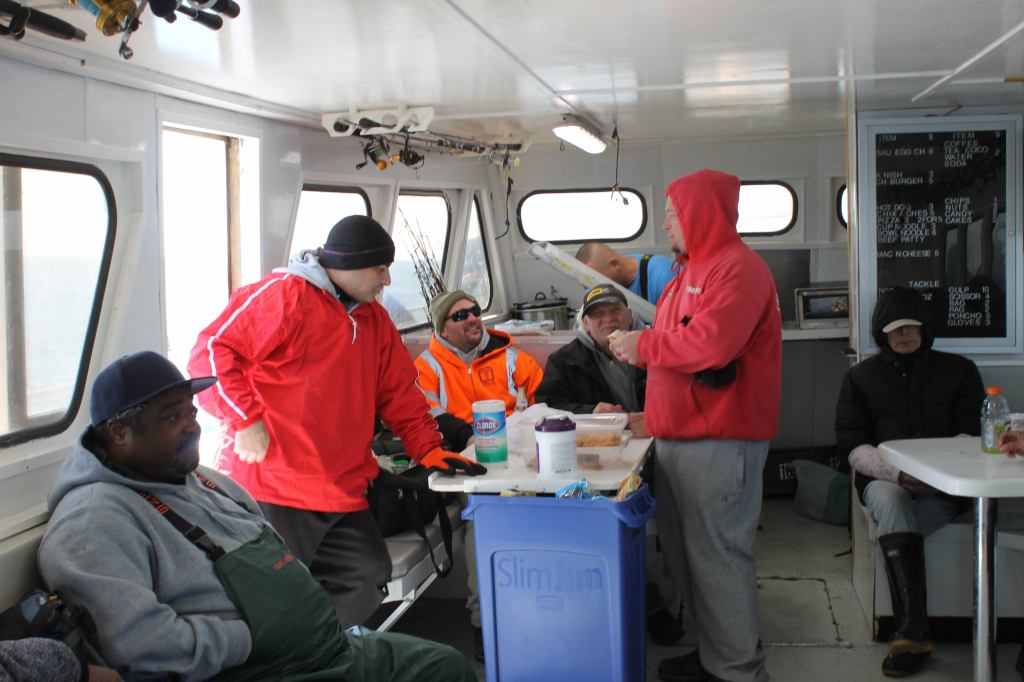 On a sad note, one of the oldest and highest rated fishing boats out of Sheepshead Bay has been retired from the fleet. The Brooklyn V Bass and Blues boat, which is famous for its off shore adventures, has been sold and is gone from the bay. It is sad to see this boat leave and it makes a hole in fleet. Fortunately, both the Marilyn Jean V and the Hunter are filling in some of the vacancy. Additionally, the Ocean Eagle had new engines installed about a year ago, and it is more than capable of picking up some the slack. They have a new mate, Chris, who is wonderful with clients and makes everything pleasant. The Captain Dave has been largely handed to the next generation, and Paul Paris is an expert seaman, with fishing in his veins. Additionally the MJ IV is having it's engines completely overhauled. In some regards, the fleet is in the best shape it has been in for years, and folks should come down and hop a ride.
Brooklyn Fishing Reports - Fall 2019
---
Fall Fishing in Jamacia Bay
The fishery in Jamacia Bay is often underated. Much of the bay is under the jurisdiction of the Gateway National Park, which has brought an interesting degree of strife between Brooklyn fishermen, and the National Parks Department. Most of the shore line is closed to comericial fishing, but the waters are all open. Overall, the conservation efforts around the bay has been good for fish. We've seen a run of weakfish and herring this year, and the striped bass are always exciting. This fall, the bay produced some nice porgies and other bottom fish. Even the Kayakers have been out.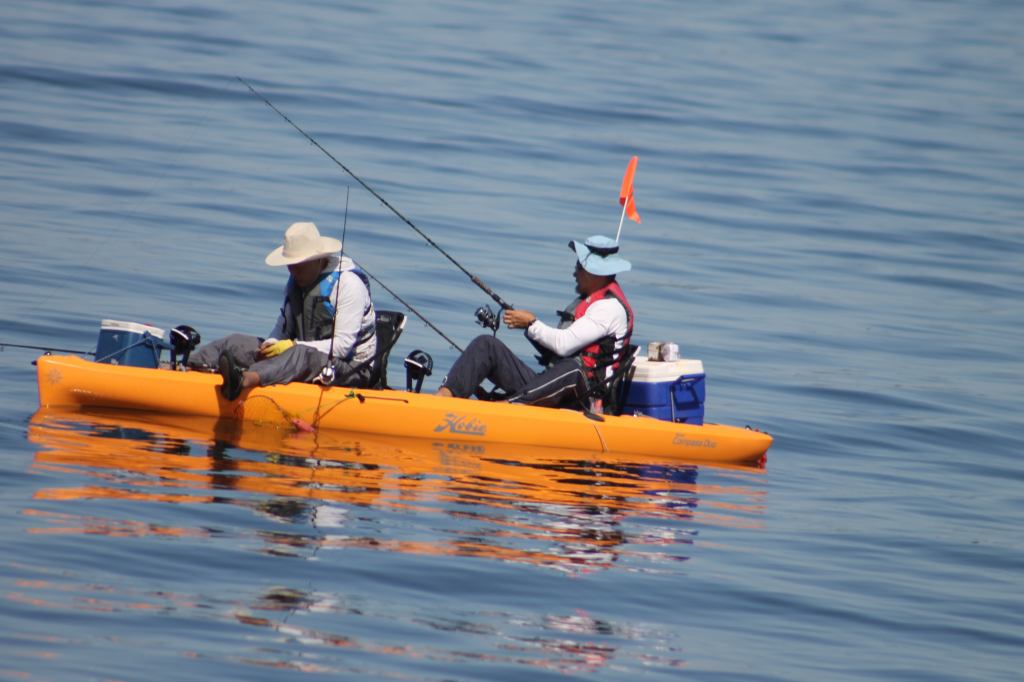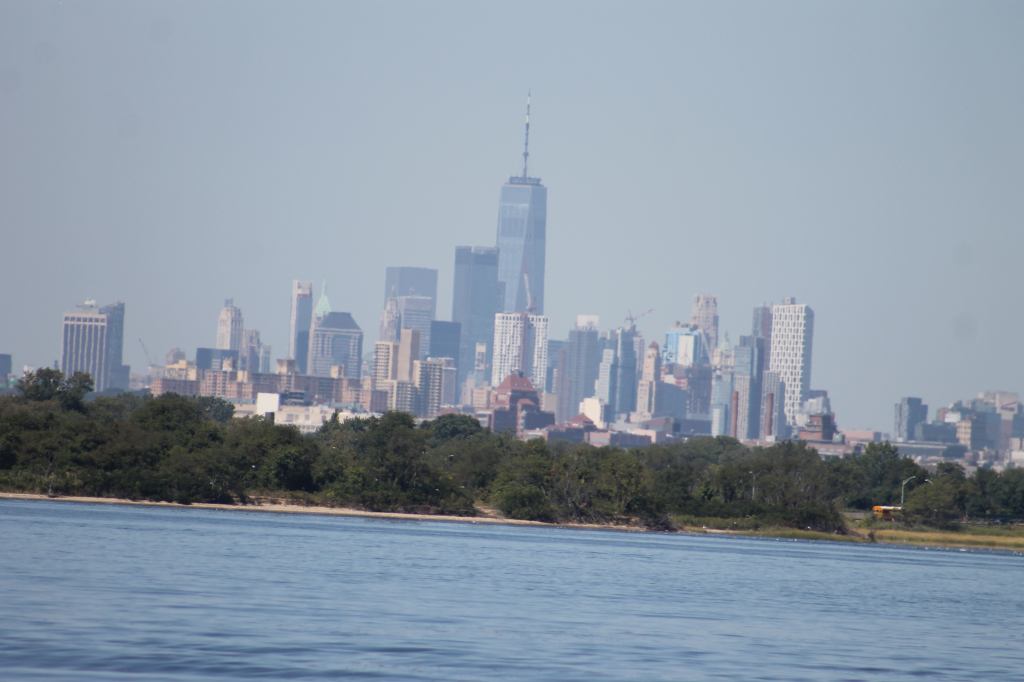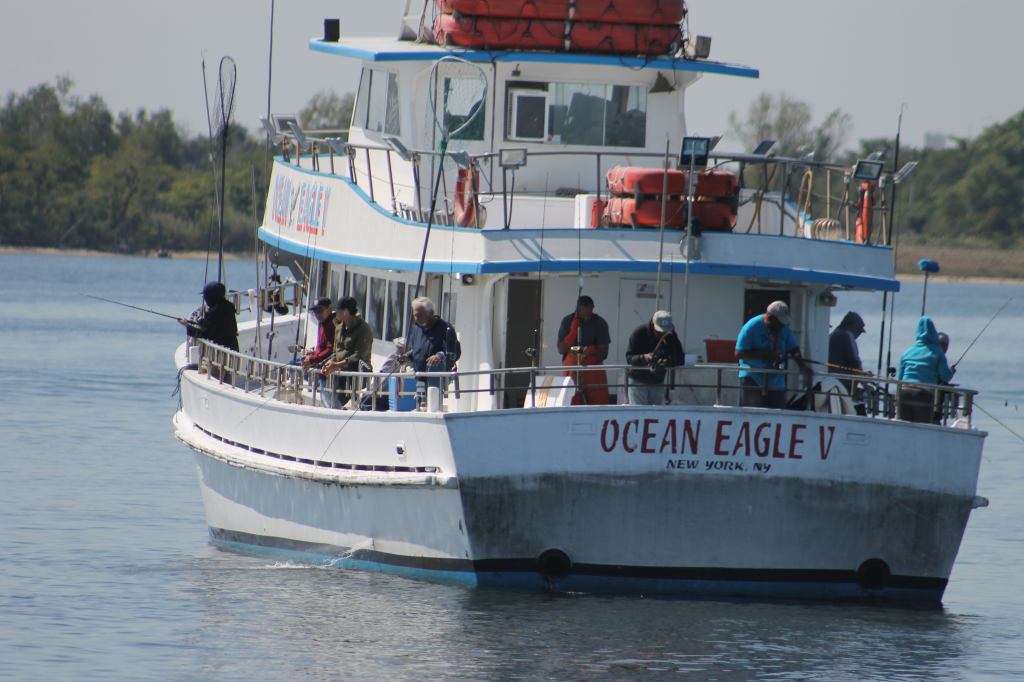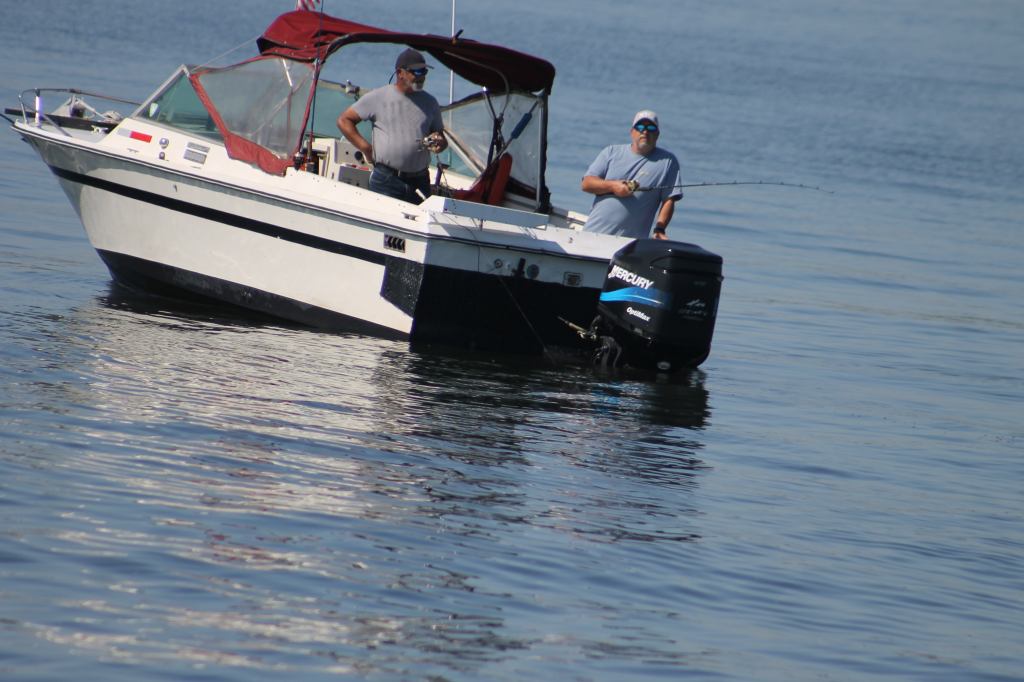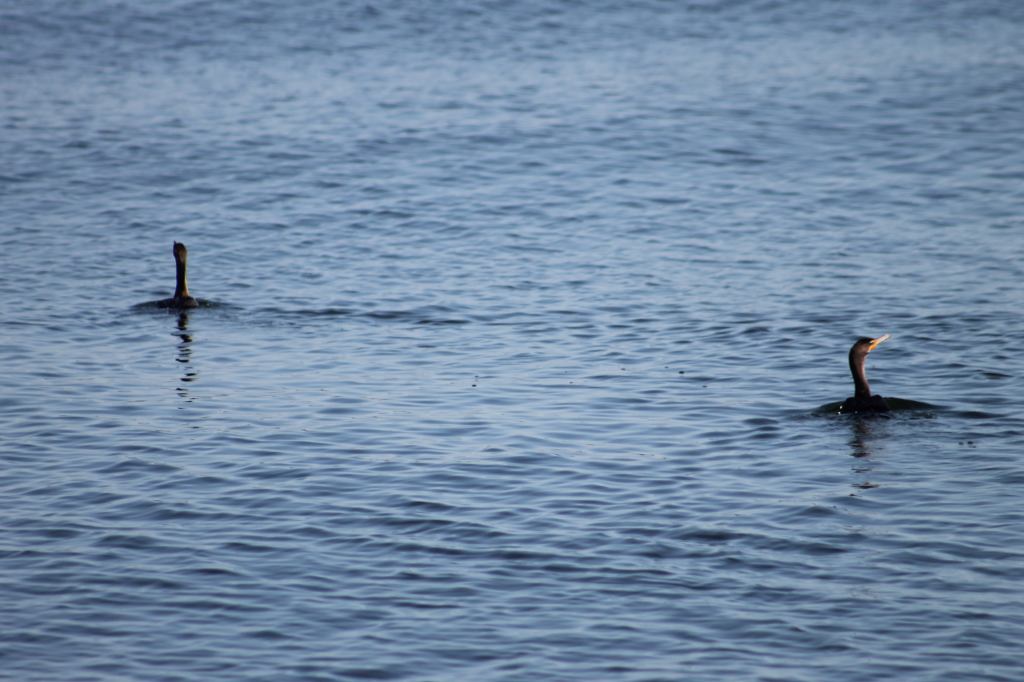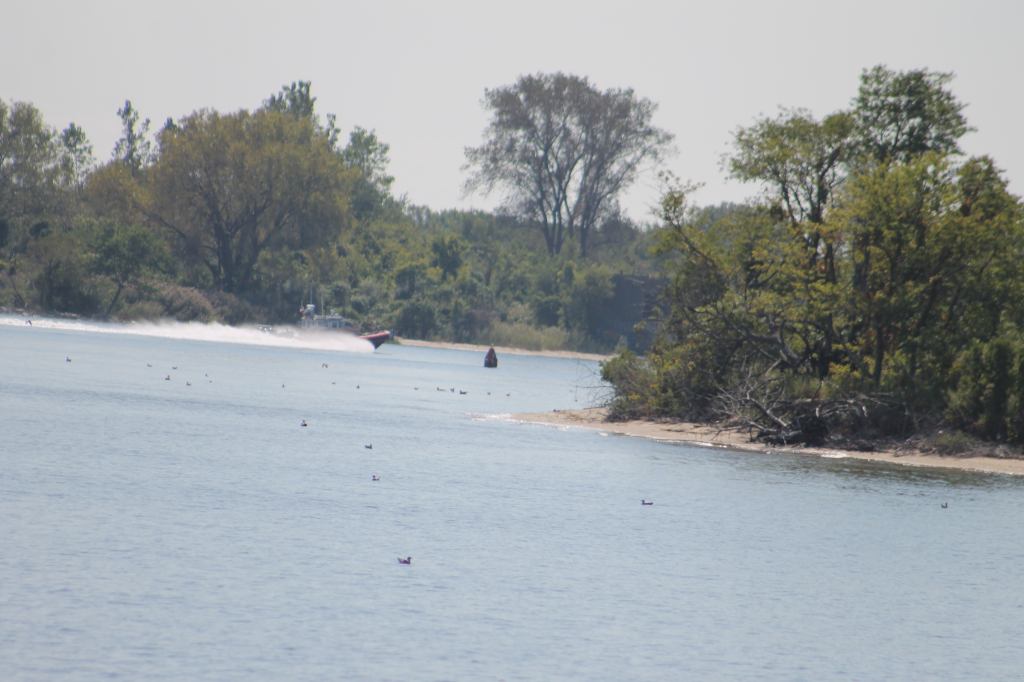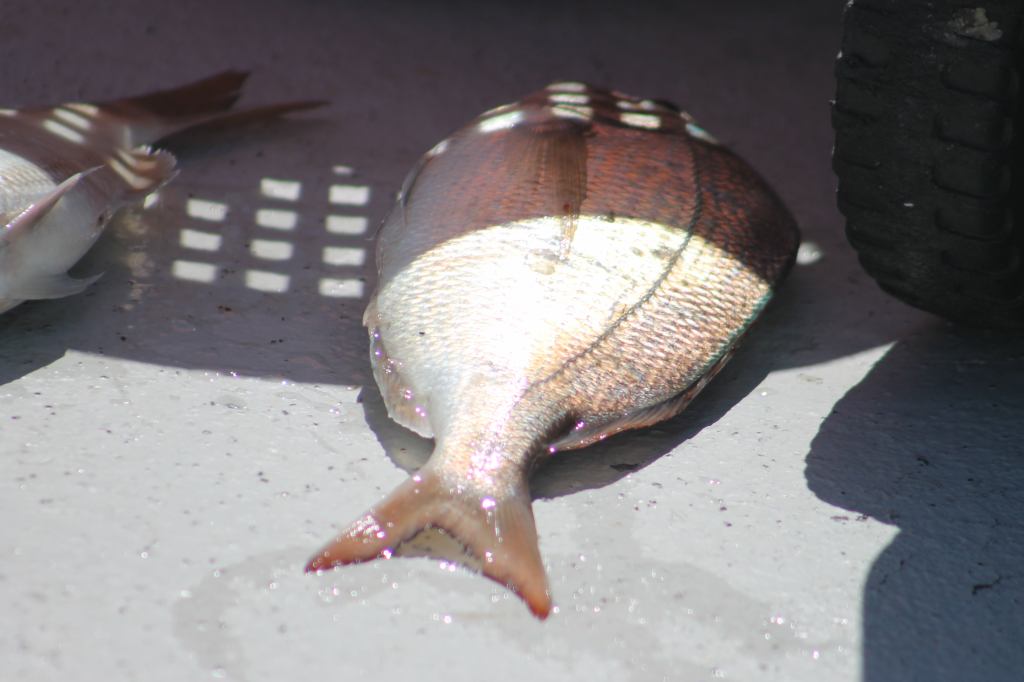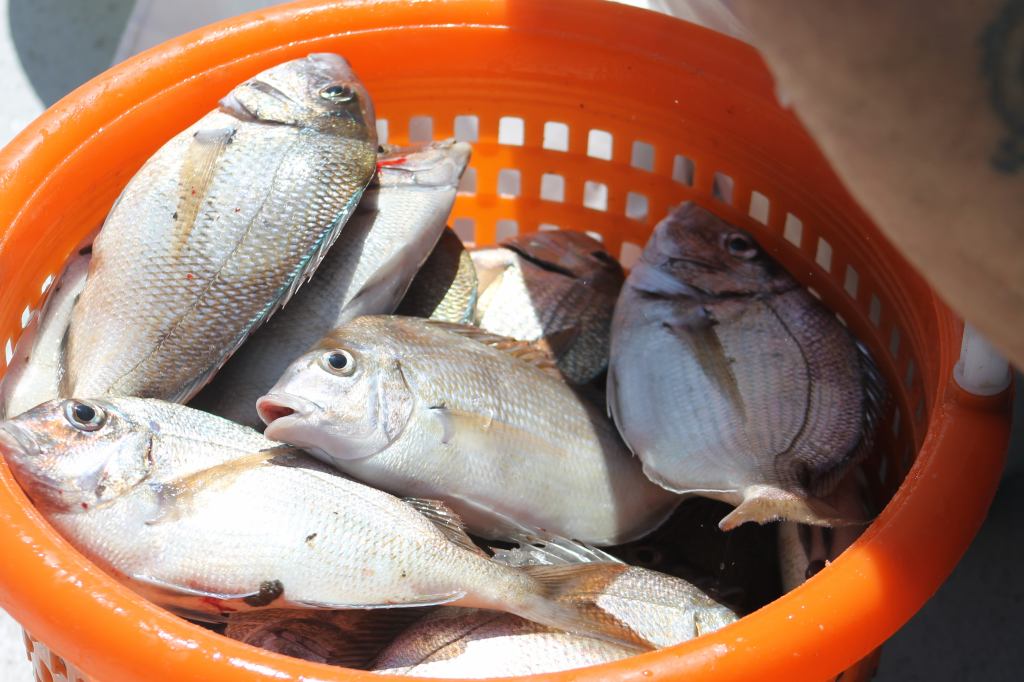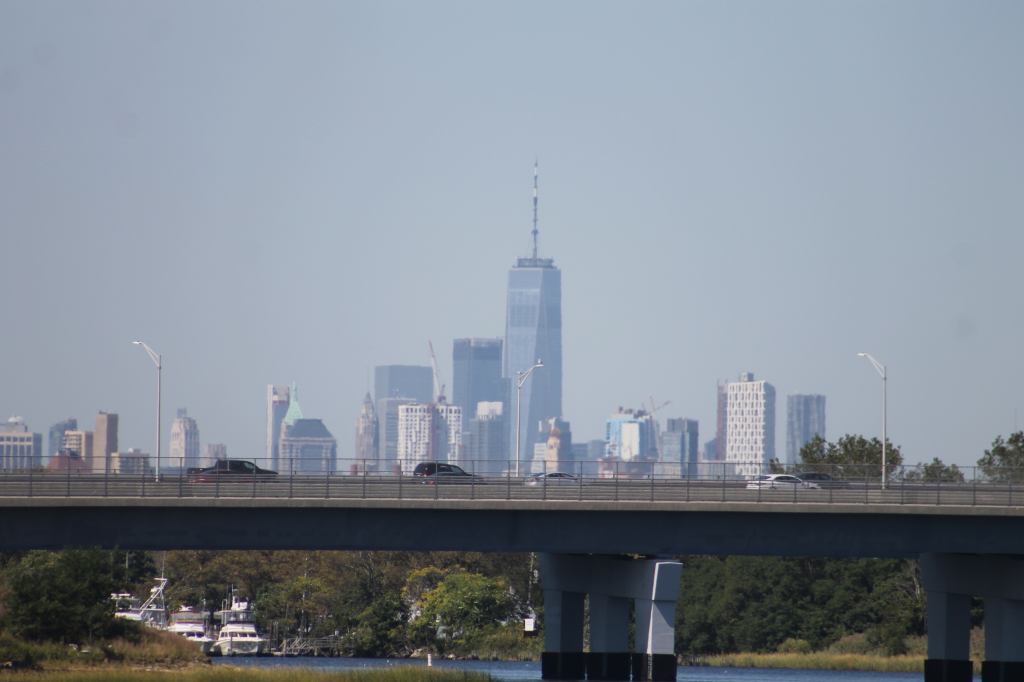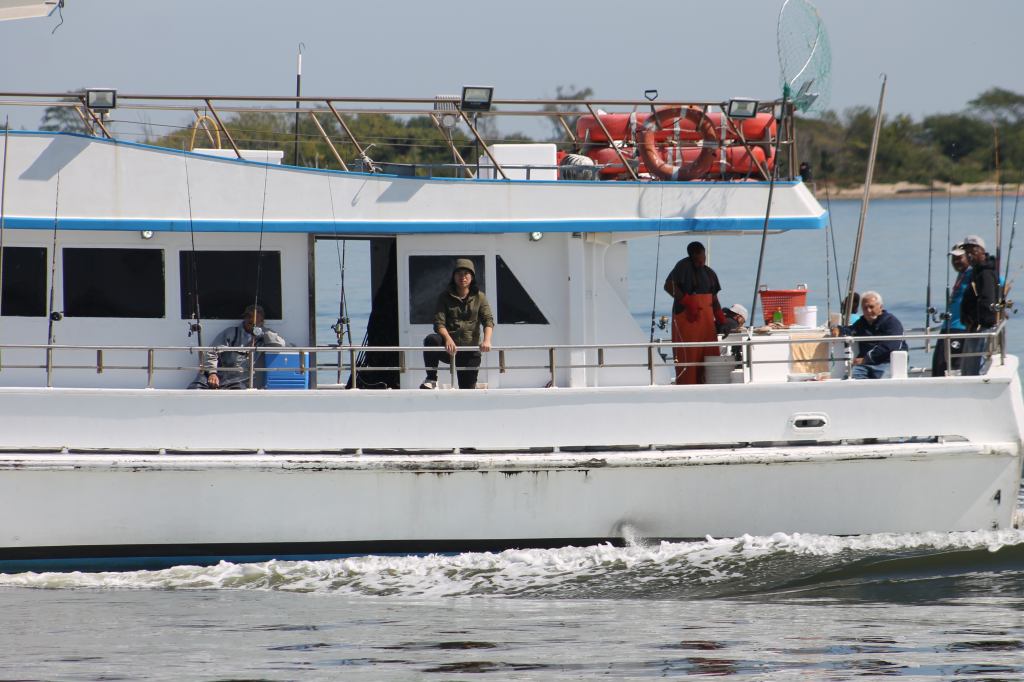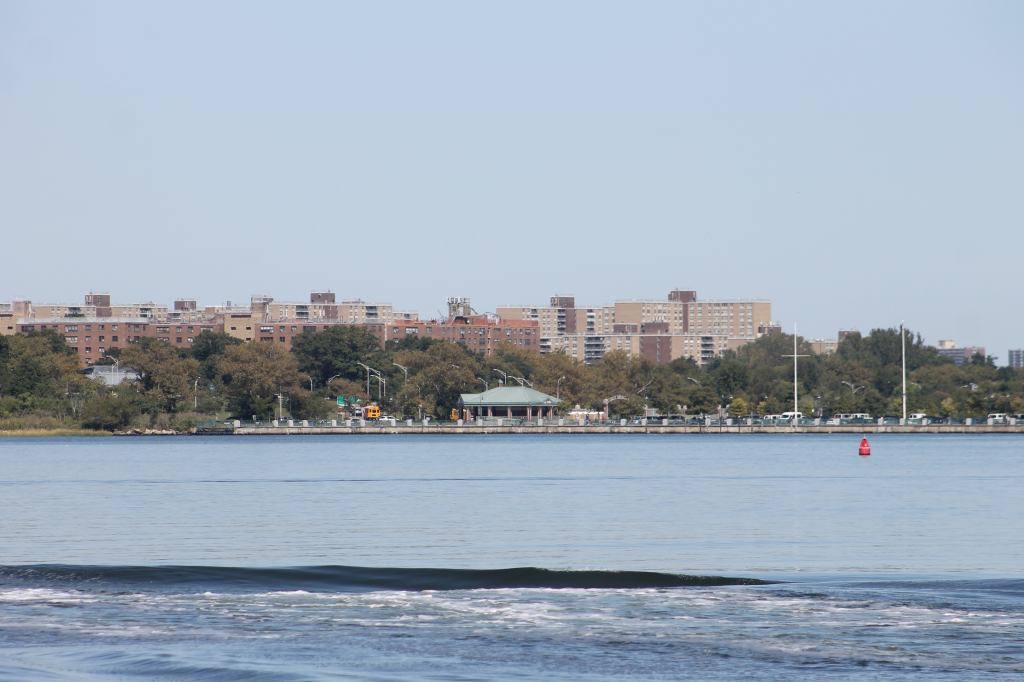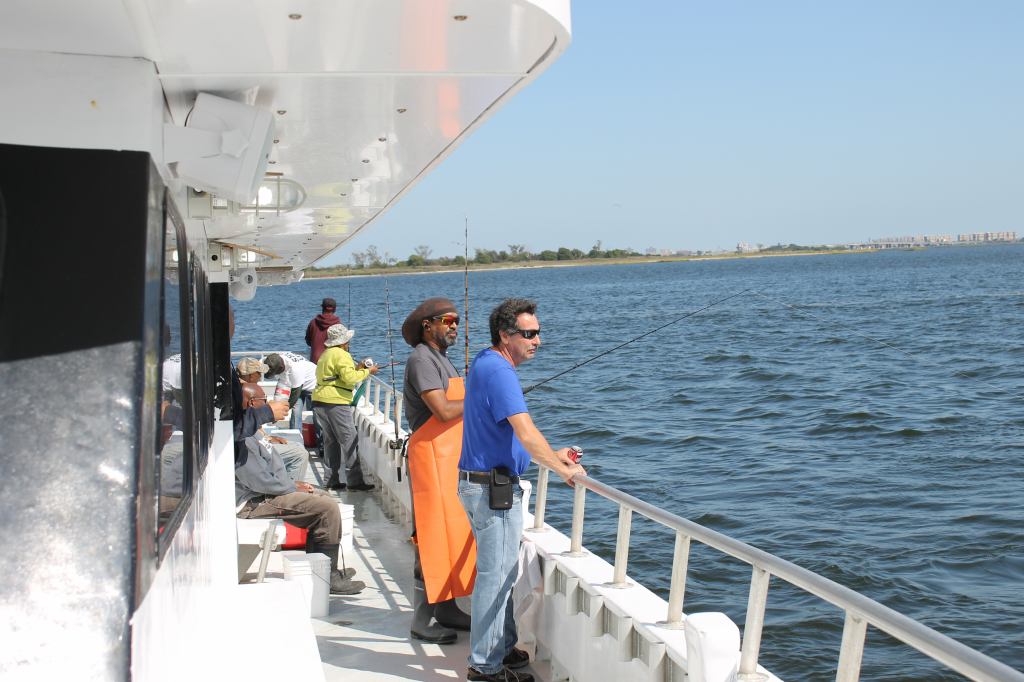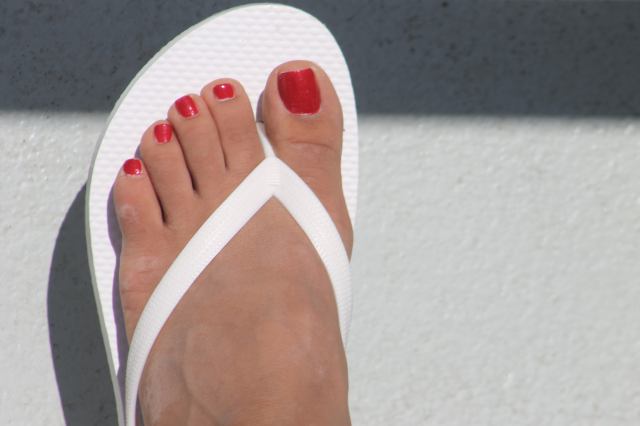 Fall 2019 Jamaica Bay Fishing
---
The Leaves are turing and the Porgies and Blues are all over the waterfront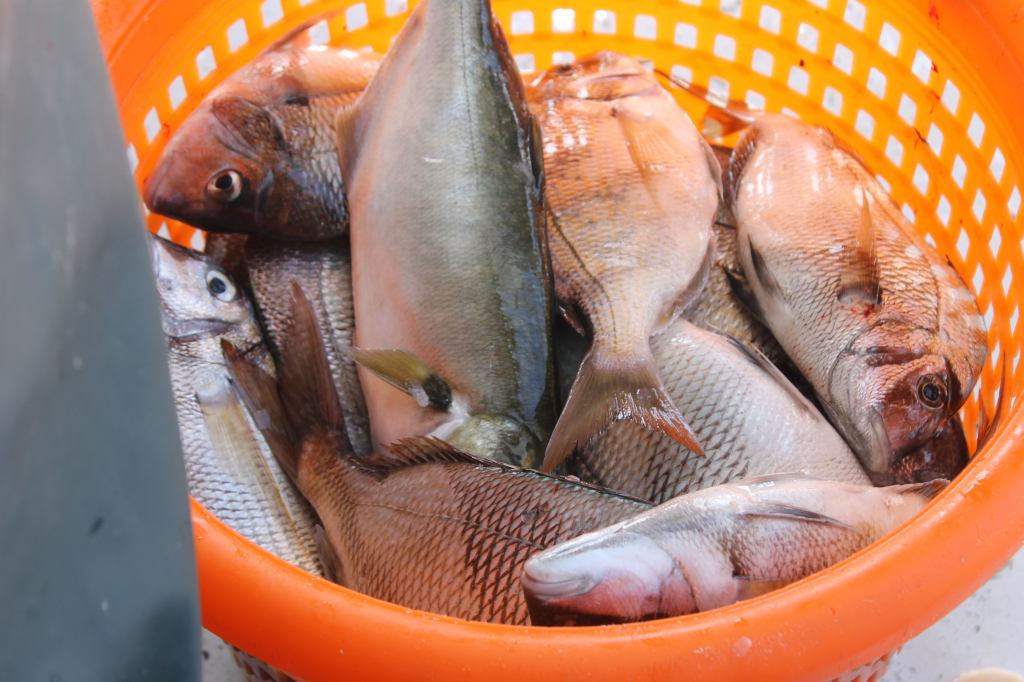 School has started and while the summer was full of a great fluke run, the flatties have seemingly turned off and the Porgies and Blue Fish have exploded both in Jamaica Bay and in the Ocean, especially along the Long Island South Shore.
The Brooklyn VI and The Flamingo has seen blue fishing unlike what has been seen for a couple of years. Last night I was out on the Marilyn Jean IV, as the MJV was having maintenance being done on it, and the porgies near the buoy's past the Breezy Point jetty have not just been strong, but it has seemed to attracted a great deal of dolphins during the day, making fishing difficult.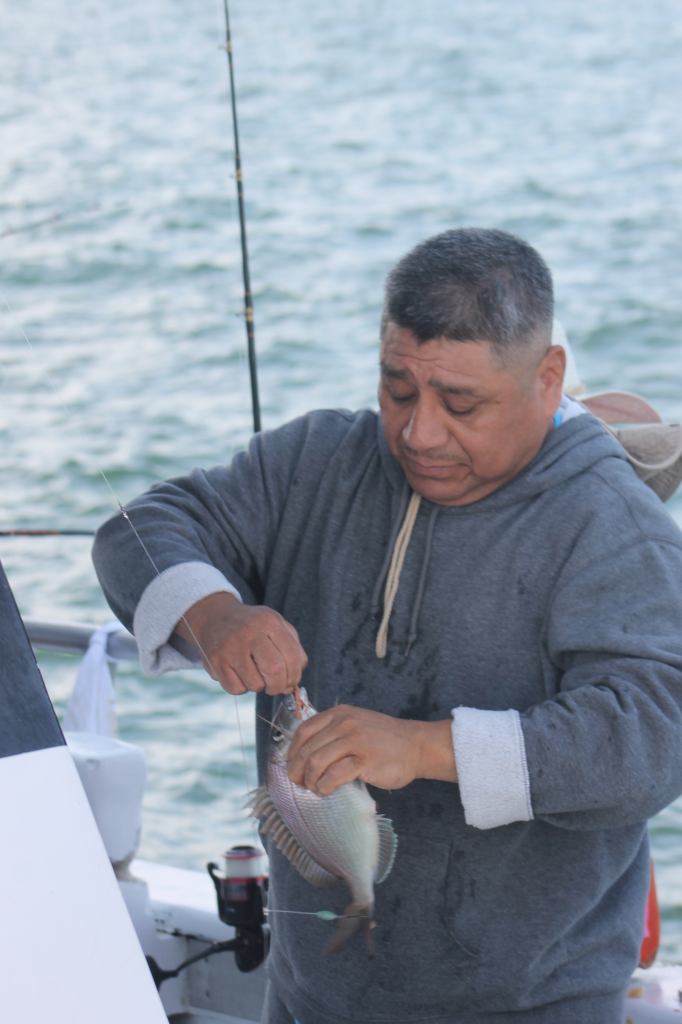 The weather has largely held up, minus a brush with a hurricane earlier in the month that was off shore. The result is crowded Sunday boats as word s getting out that the fishing has been exceptional. Good spots are available on the Ocean Eagle, which is an outstanding boat. Other boats have space as well, but it just seems that the Eagle has been running excellent trips and have lots of room on a large boat. Night trips on the Marilyn Jean have been very productive and the Captain Dave is running a number of interesting long range trip including one trip up the Hudson River into fresh water, hunting for Striped Bass.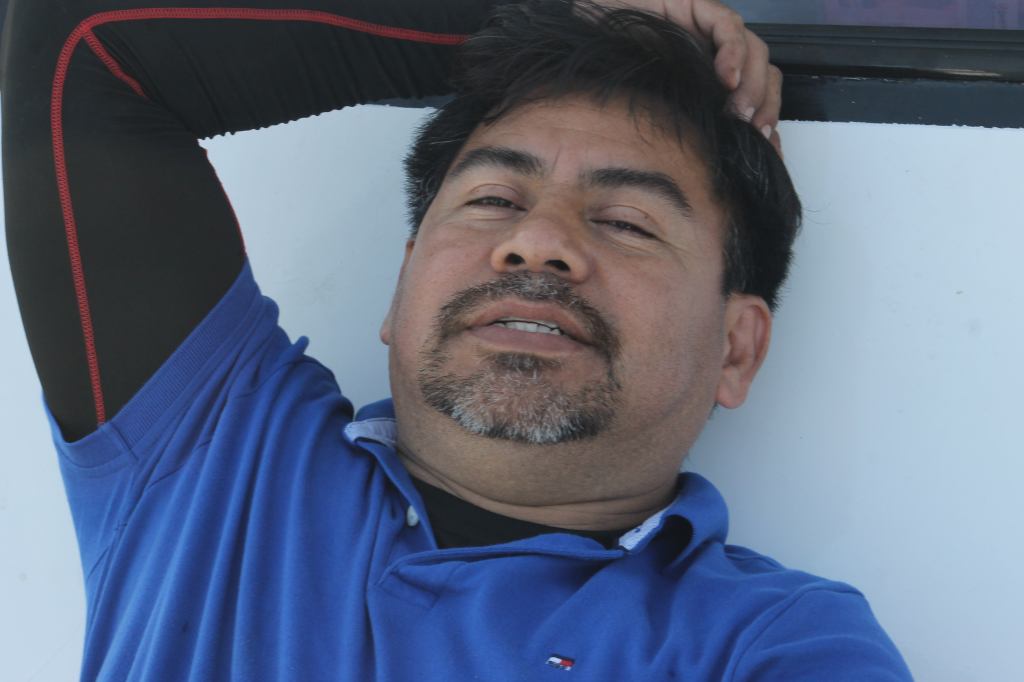 Night time fishing is the best so far of the year. If you enjoy fishing under the stars, this full moon has fish rocking off the Long Island reefs and the harbor. Blue Fish are jumping around the boat and I caught over 8 blues my accident, as they tore through much of my end tackle. My 30 pound test leaders for porgy fishing is no match for the sizzler teeth of snapper and large blue fish. If you are a fan of the big blue fishing, both day and night, now is the best time to step out and go for the action that it has been for 3 or more years.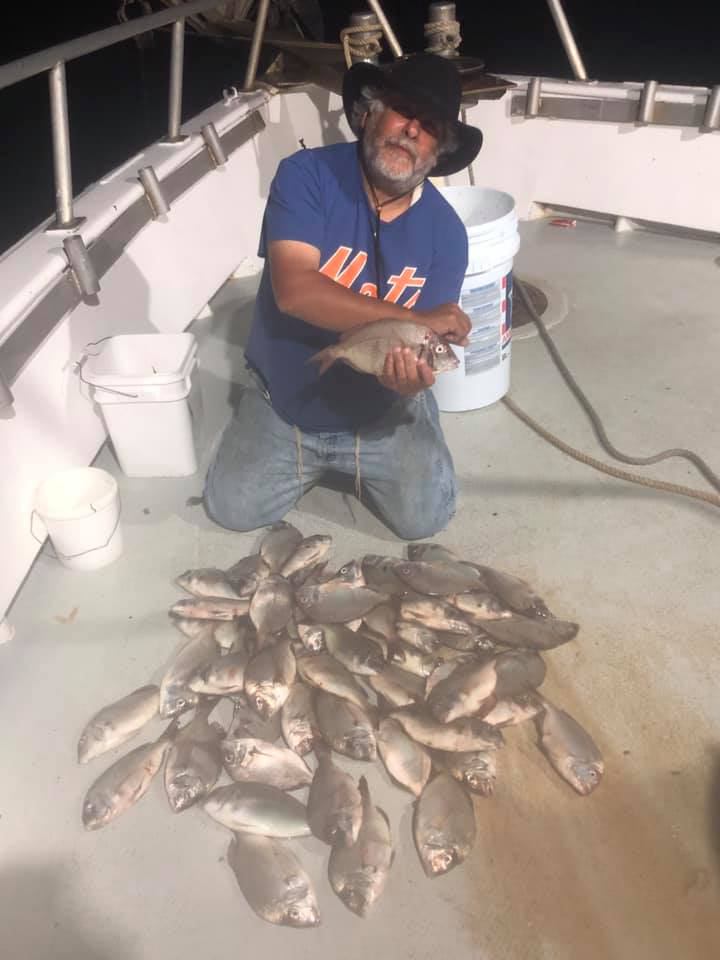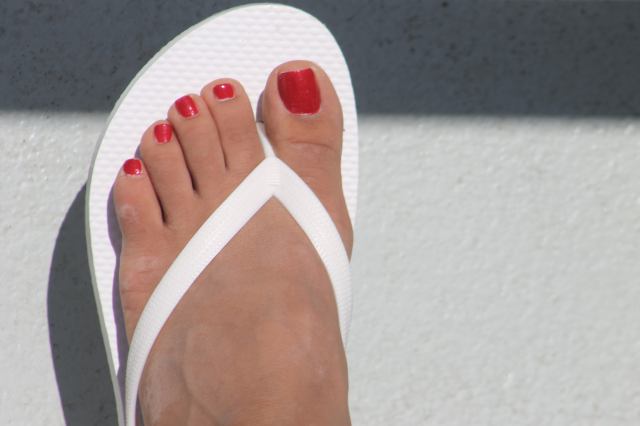 Fall 2019 Fishing Picks!
---
---
Your First Time Fishing on a Party Boat
---
I recently had a chance to reflect on the experience that a new and inexperienced patron of recreational fishing boats goes through. Fishing is a very enjoyable experience, when it is done right, and with a little bit of help at the beginning. It can be completely miserable otherwise. Often, new patrons to the boats are caught by surprise by getting sea sick, or by the lack of amenities on a fishing boat. These are not pleasure craft, or dinner boats. They are stocked, and built for catching fish, and this is a bit like camping, not like touring the countryside with credit card in hand, and hot showers at the motel.
That being said, you can have a great time on a fishing boat. They are called party boats for a reason, there are a lot of laughter on these boats. And while different boats have different ease of access for new users, overall, none of them are the Circle Line or Carnival Cruises. And this misunderstanding can cause a number of negative reviews on internet platforms, and forums. I am going to review some things one can expect when fishing for the first time on a party boat, and how one should prepare for a trip in order to maximize your enjoyment. Then I am going to review a day I had on the Ocean Eagle V, to give life to some of these tips for newbies.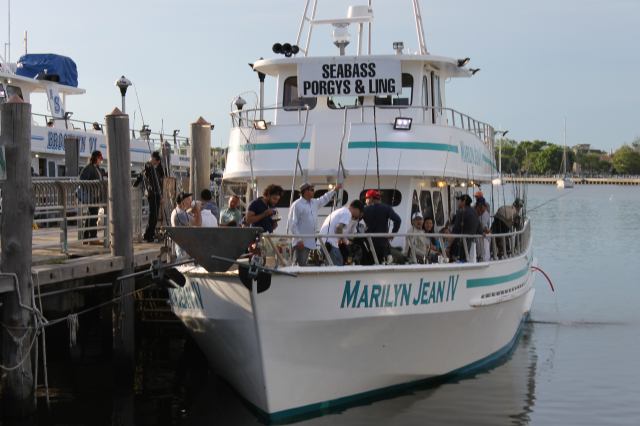 The first thing one needs to do is contend with is the weather. Weather on the open ocean is not quite like it is on shore. The ocean is flat and there is no protection from wind and rain. And weather patterns can be more abrupt, and most of all, it is always wet. Salt water is the element of fishing and you need to bring clothing that is ready for ocean spray and salt water. Rubber boots are a good idea, even for newbies. I see folks come with flip flops, and I don't recommend this. At minimum, have a decent pair of sneakers which you won't mind getting ruined by the exposure to salt water. The salt gets into shoes and corrodes the material and leaves rings. Best to bring the cheap sneakers and leave the expensive ones in the house. Bring a sweatshirt in the summer and otherwise over dress. Except for heat waves in July or August, you always end up colder than you think you are because you are exposed to the wind. You can always take off cloths as needed, but it sucks to be at the rail, shivering because of the wind.
On the same token, there is also no place to hide from the sun. You are on the open ocean and on an open deck. Bring a hat with a brim, and perhaps sunglasses, and if you need, sunblock. Hats with brims, especially on weekends when the boat is crowded, is a necessary safety precaution. Aside from the sun, a brimmed hat can protect your eyes from flying hooks or flying fish. I never go on the boat without a hat and if you look at all the pictures posted here, you will see me with a broad rimmed hat in every picture.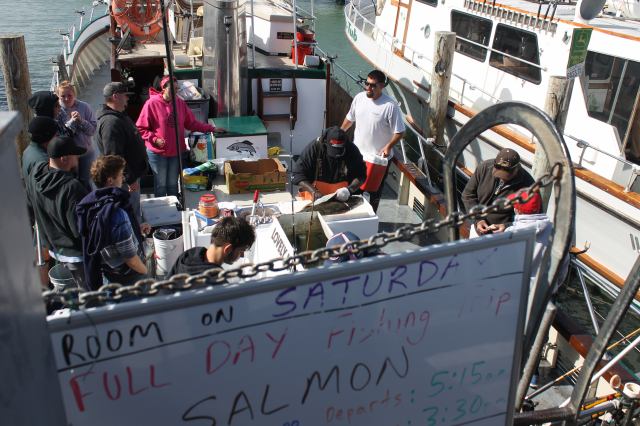 That being said, don't let bad weather put you off from making a trip. Some of the best fishing I had ever experienced has been in the rain, and even in the dead of winter with 20 degree air temperatures. Thunderstorms in the ocean can actually be cool. The boat has modern weather radar and the captains are well trained. They know what their boats can do and have handled passengers for decades. The boat will not go out in unsafe conditions, and I've seen us dock the boat perfectly in a deep fog with almost no visibility, almost completely on instrumentation. You won't melt in the rain, so take a poncho and head out to the dock and catch some fish!
Expect to get sea sick. Unless you are a salty sea dog, everyone can get sea sick, especially those without experience on boats. A certain rocking motion at a particular rhythm will set off the nausea and vomiting trigger zone in your brain. So take meclizine (Bonine or Dramanine) before coming on the boat. And it is a good idea to eat lightly before coming on board. Why ruin your whole day getting unnecessarily sea sick? Also, carry some pretzel rods with you an stay hydrated. Old fashioned pretzel rods have baking soda in them that nicely buffers the stomach and reduces nausea. If you do get sea sick, try to fish through it. Its not easy, but really the nausea is all in your head and you can gain control over it and fight through it. If you give up and just lay on a bench, you make it worst. And vomit over the rail into the ocean. Don't use the bathroom for that. It is not really a toilet on the boat. There is no water pressure and minimal plumbing. Vomit over the rail and do everyone a favor.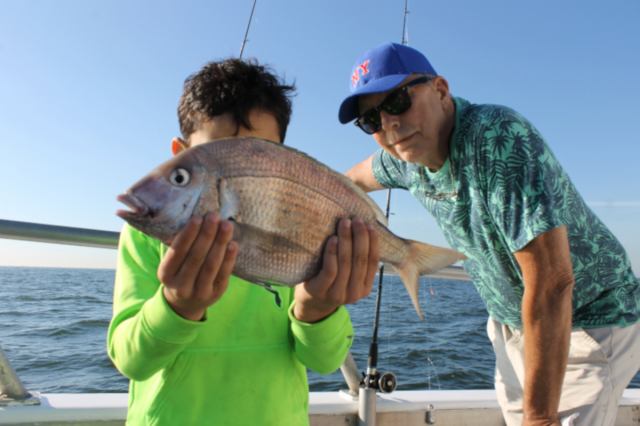 Safety on the boat is job number one for the crew and it should be yours as well. While fishing boats are regulated by the coast guard, and the state, they are mostly reviewed for sea worthiness, and emergency equipment. But this is not a school yard, and in that sense, fishing boats are not safe. You need to use more than a little common sense to remain safe. You need to actually think about safety all the time. And for this reason, the boats crew and mates are in charge absolutely. Follow the instructions of the crew always. Anchor ropes, ladders, wet decks, fishing hooks, knives, and live fish all present potential dangers. The mates are there to protect you. Let them do their job. You will not just catch more fish, but you will get on and off the boat safely, intact, without any missing body parts.
Don't do unsafe things. Don't overhand cast...ever! Don't run on the deck. Don't jump ever. The boat moves and you can end up with a serious injury if you jump and the boat rises unexpectedly. Climb down ladders slowly and facing the ladder when coming down. Hold the rail and come down the ladder like a ladder, backwards, not like a staircase, facing outward. Hold rails with two hands. Don't get drunk. I don't know why people come to the boat, drink hard liquor or even beer, get drunk, then sea sick and then can't fish. This is stupid. Limit yourself to a couple of beers at most. Smoking doesn't help you either and while it is permitted, in truth cigars and cigarettes on the boat suck and make others around you nauseas. Give everyone a break and don't smoke on the boat and never in the cabins.
When you arrive to the boat, let the mates help you on and off. After a long trip, your legs can get very wobbly. The boat doesn't line up perfectly with the stairs. You can fall into the bay .. and it has sadly happened. Let the mates help you. We have had wheelchairs and cripples on the boat, and everyone has been safely brought on and off the boat, with the help of the mates. They will also help you with any coolers you have or equipment. Let the mates do their jobs. They will optimize your safety while coming on board or disembarking. Never get impatient and jump over the rail onto or off the vessel. I mean really, why would anyone ever think that is a good idea? The mates are busy after docking, tying the boat securely and tightly to the docks. And some young rambunctious kid jumps the rail with his tackle and lands face first into the cement dock, breaking his rod in the process, and ending up with a hook embedded in this scalp. Don't do that! A momentary bad decision like this can cause a life altering event. Be safe.
Upon boarding the boat, you will be set up near a pole station on the rail. The rail has rod holders along the boat, each one a spot, theoretically, for a fisherman. When the boat is crowded, it can be tight. Everyone gets one spot per fare, although on weekdays or nights, often passenger crowds are thin enough where one can spread out a bit. Chose a spot and set up. If you need a pole and rigs, they can be available from the boat for a $5.00 rental (like renting bowling shoes). Lost tackle costs about 3 dollars a rig. It is expected to go through a rig or two on the trip. So, you should factor that into your trip. As a newbie, even if your have your own pole, let the mates tie you rigs. Mates tie thousands of rigs a week, and they are expert on this. You can't do it better yourself, even if you looked it all up on the internet before you left for the boat. Trust me, it takes lots of practice to do the things fishermen make look so easy, like tying knots, and casting out the line. As your first experience, lean on the mates expertise. You will be glad you did. If your are lucky, you will get an exceptional mate who will teach you the ropes of fishing, and how to feel for the fish, to gently cast forward, and some of the finer points of the rigging and hooks. It doesn't happen all the time, so if it does for you, you've been blessed. Soak in as much knowledge as possible.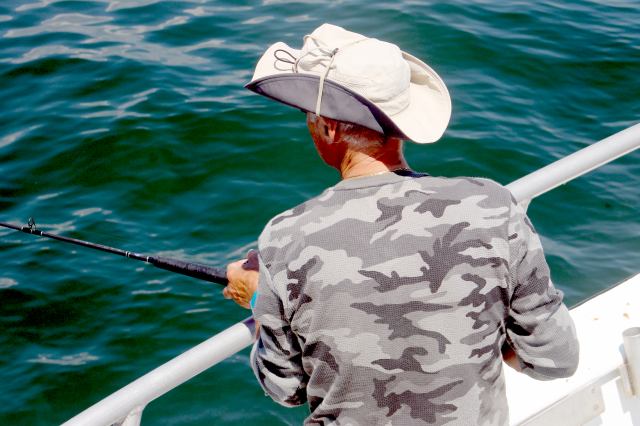 When selecting which boat to take, there are several general types of fishing that can be done. There is bottom fishing, which is catching fish that live on the ocean floor or in wrecks. These would include, in New York City, mostly Scup (porgies), Totaug (blackfish), Black Sea Bass, Red Hake (ling), Fluke and Flounder, and some occasional Cod. Other fishing is for game fish or tide runners, like Blue Fish, Striped Bass, Mackerel, Weakfish, and offshore Tuna, Bonito, and MahiMahi. These species generally use jigs, or crocks and occasionally bunker chunks or eels to catch Striped Bass or Blues. Bottom fishing boats out of Sheepshead Bay currently include the Marilyn Jean, Ocean Eagle, and Captain Dave. Bottom fishing can be divided into Sea Bass, Porgy trips, and Fluking trips. The Brooklyn and the Lady Flamingo target Blue Fish when they can, and Stripers in season. The Sea Queen targets Striped Bass through most of the year. Through out the year, boats will change what they are fishing for according to reports and expected weather. Other boats, like the Rock Fish and the Hunter, are more like charter boats, and cost a bit more. They are smaller and have fewer passengers. They will target different fish according to conditions, but tend to go after game fish like Striped Bass or even large sharks. In my opinion, newbie fisherman are better off targeting bottom fishing boats because there are more likely to bring home fish. Although nothing is ever guaranteed, you have a good chance to bring some from Scup (Porgies) even when fishing is slow.
The folks you meet on fishing boats can be roughly broken down to two groups, dedicated fishermen, and tourists. Mates and Captains come from the pool of enthusiasts, although there are some folks with multiple generations of family in the business. Passengers come from across the entire spectrum of New York society. While you have some bankers and real estate folks, especially on high end charters, you also have many recent immigrants (West Indians, Jamaicans, Dominicans, Mexicans, Russians, Ukrainians, Chinese, and Koreans), working class Catholics, Orthodox Jews, many city workers and a large number of retirees. They come with a variety of fishing skills, and talents, from being experts to total novices. Boats also get a large number of young professionals, especially on weekends, and hipsters who are exploring their new city and surroundings. More than a few folks travel into town from as far away as Pennsylvania, and Southern New Jersey, to make a trip and enjoy our world class waters. As a composite, the composition of party boat patrons would make an interesting sociological study. Some of the hardest patrons are those with some experience fishing, lets say surf fishing with 12 foot fishing poles and spinning reels, and little background on what it is like to fish on a crowed part boat. 12 foot rods are not appropriate for party boats. They are too long and cause tangles on the boat. Likewise, techniques from the West Coast often don't translate to the East Coast with shallower water and more crowded boats. Fishing is not one size fits all.
The biggest mistake new patrons of the party boats make is a bad attitude towards the crew. This will create anxiety and trouble for folks who just don't seem to understand who they are speaking to. These crews are not working for a hotel or waiters at your favorite restaurant. These are fisherman, and they swear, and curse, and while they are in the service business, they are not in the connoisseur business. They try, but you can't change a leopards spots. These are folks who are hustlers, and pull ropes for a living. Often they gamble in their free time, never get enough free time and drink hard. They are craftsman and they will only take so much gruff before they speak their minds. They are polite with the public, but don't get into their kitchen, or be a wise guy or know it all, because they will not respond well. They will give you the shirt off their back for you, but not if you insult them. Conflict is not a means to get anything you want from these folks. They would cut off their noses to spite their faces... for better or worst, that is how it is. There are a lot of emotional issues with mates. They aren't wealthy and suffer there fair share of personal problems. These are the people who chose to be mates. They are not MIT graduates or entertainers. They are real live fisherman. So respect them, and don't toy with them. If you do this and give them a moderate tip, they will be your friend for life. Abuse them at all, and your in for a rough day on the water. You can complain about it on social media, but it won't help you. The entire dock is a large squabbling family and they stick up for each other.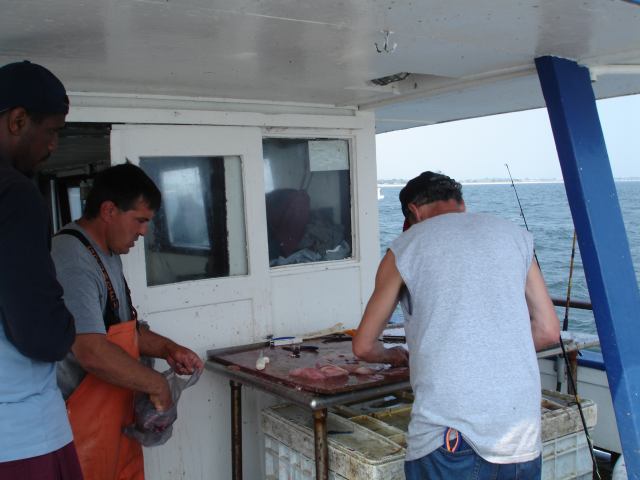 Ocean Eagle V Trip
With all that background information, let me describe for you a recent trip on the Ocean Eagle V. This could have been a description on any of the other boats I fish from, and in fact, I fish most often on Boss Tony's Marilyn Jean V. But this particular day the Ocean Eagle had a nice special trip for Fluke that I wanted to make. Until this year, I had never seemed to be able to catch fluke, but with tutelage from the Ocean Eagle mates, I've begun to master this special form of fishing.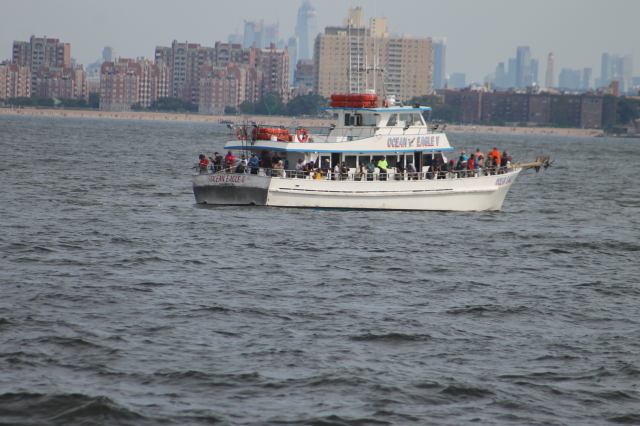 This is one of the best fishing boats on the East Coast of the US. I've taken nearly every boat out of Brooklyn for fishing and the Ocean Eagle is a hard core fishing boat that is singularly focused on catching fish and having customers catch fish. This past Thursday, August 15th, 2019, I went out with the boat for one of its epic Fluke trips. Let me review the trip and hopefully others can gain from my experience and be prepared for having the very best time on their fishing adventure.
The boat was scheduled to leave Pier 5 at 6:30AM. I arrived by cab at 6:00AM with my tackle box and fishing rods. You don't need your own equipment, as the boat is fully loaded with rods and tackle. The Mate Geoff had two huge bags of Lures, Bucktails, and rigs for Fluking and he takes special pride on the passengers landing top fish. I had a large tackle box, my messenger bag filled with line, sweaters, rags and knives, and two rods and reels I chose for this trip. I was met at the dock by the mates, and we exchanged hello's. I turned around and they had my gear already on the boat in the bow where I usually fish.
The galley was close today, which was a personal disappointment because, first of all, I enjoy talking to Kathy who is the cook, but also, it is nearly a 10 hour trip from 6:30AM to 4:00PM and Kathy makes the best French Fries in NYC... seriously. She is a master cook inside of that little galley on a fishing boat that is in no way designed to prepare or serve food (it is designed to catch fish and the galley is often for the crew). Fresh coffee is usually ready for patrons, and she makes great eggs. As far as fishing boats are concern, she runs a clean and efficient little operation. Everyday she scrubs the entire galley, and all the electric fryers and cookers to server everything from bacon and eggs to home made chicken soup. I had to giggle when I read complaints about Kathy not wearing gloved on a fishing boat where bait and clams are everywhere. She is without a doubt, the cleanest person on the boat, and you think you can find better food on a fishing boat, then maybe you should try fishing off Carnival Cruse Lines, or the Midnight Star. They have great galleys..
Once underway, Geoff adjusted my rigs so I could have a better chance to catch fish. In truth, I tend to ride the Ocean Eagle in order to fish with Geoff. He is a big man and a bit burly at times, but he is an encyclopedia in knowledge on fishing and technique. His ability to understand tide and wind conditions and to make changes accordingly is the best in the tri-state area. Together, with his brother, Greg, who is captain and owner of the Ocean Eagle, they make an unbeatable pair. As Geoff is a genius with catching fish, Greg has a near encyclopedic knowledge of the regions fishing and marine topography and oceanography. Greg has found and opened up hundreds of otherwise unknown areas for recreational fishing, and understands the details of the dynamics of each area of bottom and how it interacts with desired species and today's desired species was Fluke.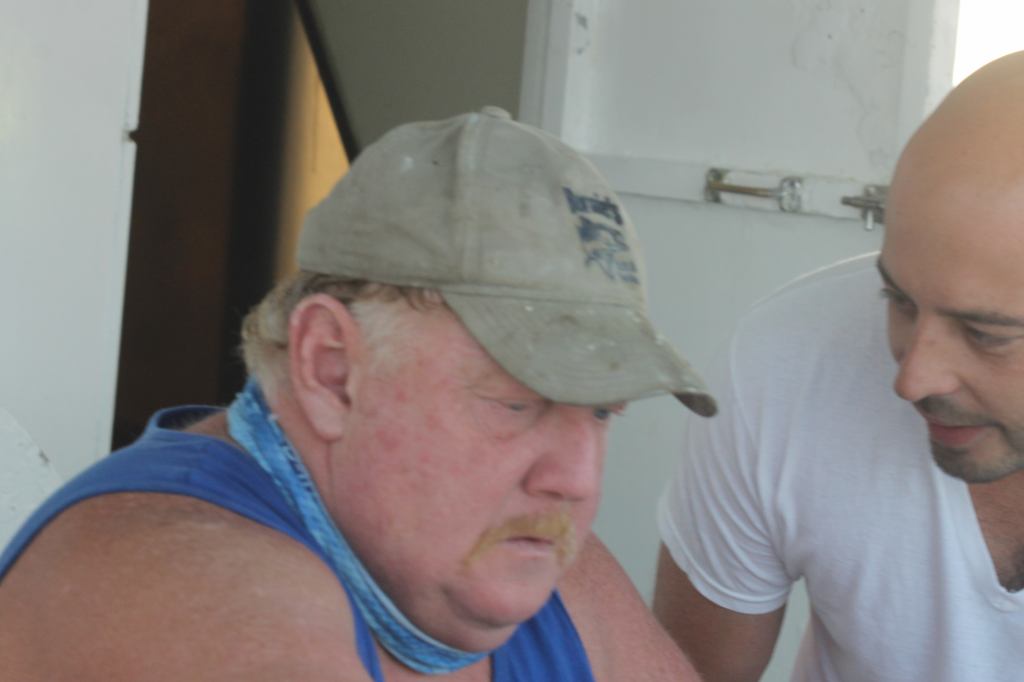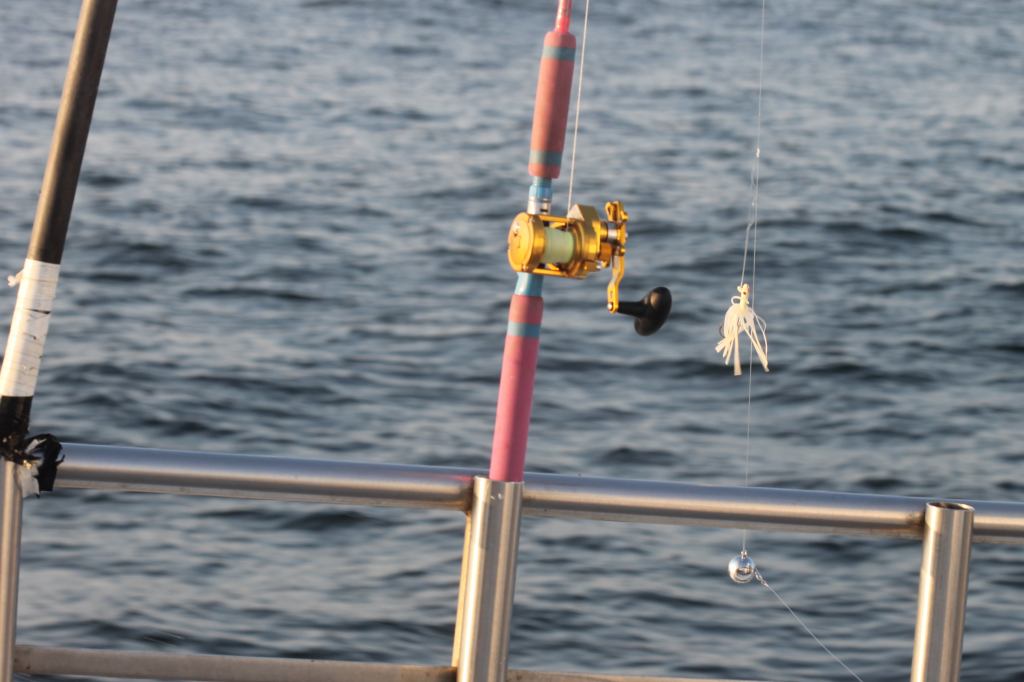 The trip to the fishing grounds which are east, down the south shore of Long Island, took about a half hour and then when we arrived we settled over the wreck and the whistle blew. Captain Greg called for lines down. For newbies, that means fishing is to commence, and everyone was in the water. I immediately hooked a short fluke. Fluke need to be 19 inches to keep in New York State, and this first one was a healthy 14 inches and it was gently returned to the ocean. Over the next hour I landed one keeper Fluke, a Sea Bass, and I lost a rig. Geoff quickly helped me make a rig change and I was back in the water. Soon, as tide and winds changed, Captain Greg decided to move to another spot. We were mostly drifting. There are two basic ways to fish the boat. One is to let the current move the boat over an area of bottom that you want to fish. This is drifting. The second way is to anchor the boat and to remain relatively immobile over a chosen section of bottom.
We did a lot of drifting different areas, and I lost quite a bit of tackle. We used natural bait, mostly spearing fish and strips of fish skin, and artificial lures and teasers. We also used artificial bait called gulp which the fluke particularly like. The boat was stocked with all this, although technically only bait is free, Geoff was generous with tackle this day.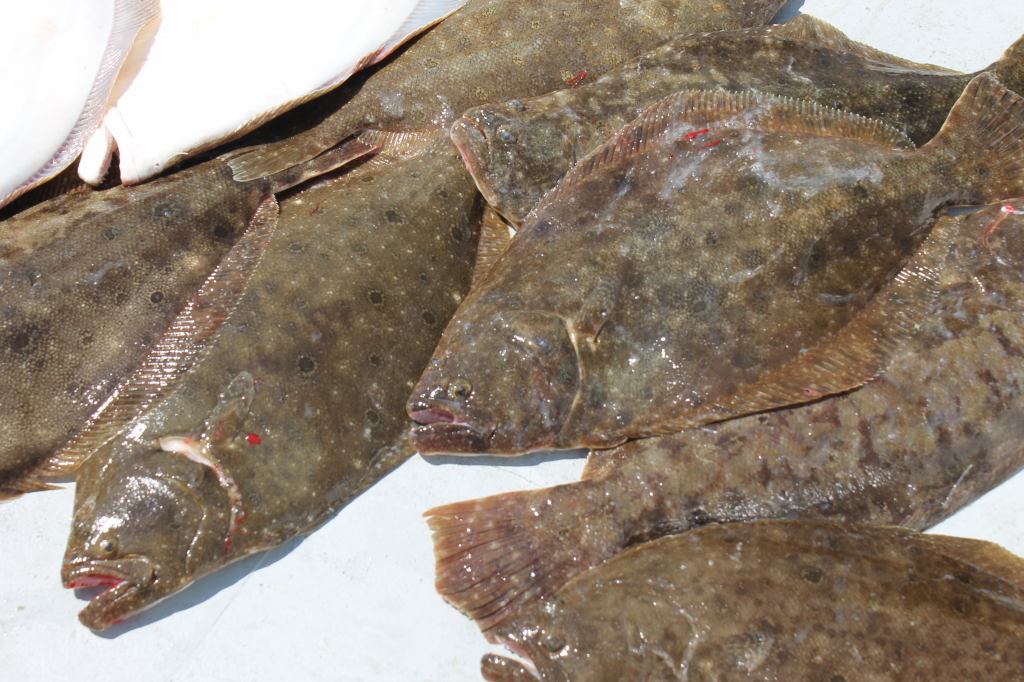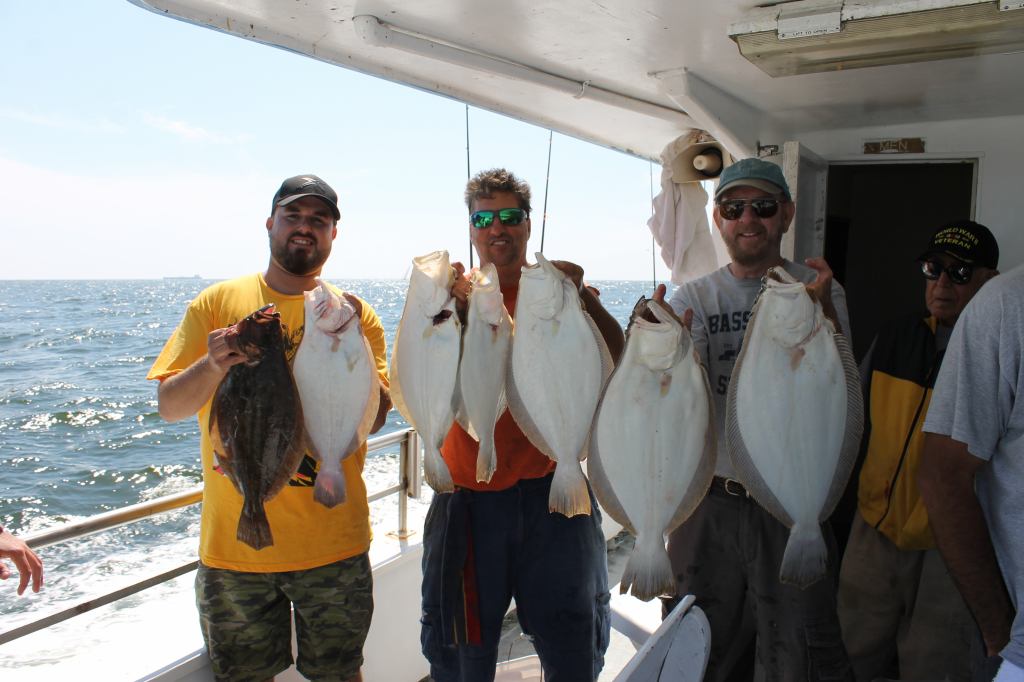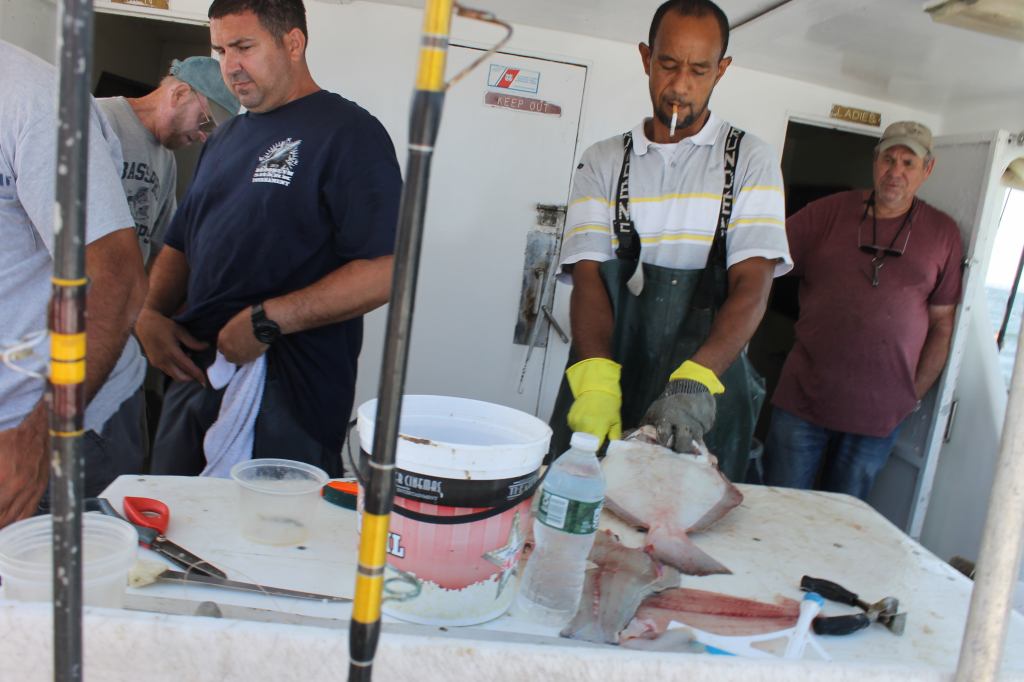 On the trip home, the crew started to clean fish and scrub the boat. We hit well over 40 fish and had only 30 passengers. Everyone went home with fish and meat... sushi grade meat. When we got into the dock, folks were helped off the boat and passengers gave tips to the crew. The mates largely work for tips, and they appreciate tips a great deal. Mates work hard, and the job is somewhat dangerous. Aside from flying hooks, there is anchors, wet floors, and knives. Geoff is actually missing a finger tip from an accident years ago. People on the docks work hard, and deserve the tips they earn.
When one comes on a fishing boat, aside from the fare, one should be prepared to pay for tackle (as it is lost), food, and fish cleaning. Most importantly, remember to tip the mates. It is an expected part of the days activities, as it is with waiters and tax drivers. I always have $20 ready for mates in addition to the fare.
When trying to find a place to fish on the boat at the rail, the rear of the boat, called the stern, is often preferred. I, myself, usually fish the bow and I spent most this day in the bow. When the boat is anchored, I will move if the fish are biting elsewhere on the boat, and the Ocean Eagle is a sizable boat with lots of room. When the boat is drifting, I might move to one side of the bow to the other depending on the movement of the boat. I try be fishing under the boat.
FWIW, bathroom facilities on the Ocean Eagle are adequate, but no fishing boat will have running hot and cold fresh water, or any fresh water, until they return to dock. This is like camping, not spending a day at the Waldorf. The fun of it is in the fishing and the shared camaraderie that you make with other fishermen. Fishing is not easy, and even more so for first time or new fisherman. Just not tangling lines can be a challenge on a busy boat. Never overhand cast, and always listen to the crew. They are there to help you catch fish and to keep you safe. While they may share a laugh and a smile, never forget they are there to do there job, and the mates and crew of the Ocean Eagle is top notch!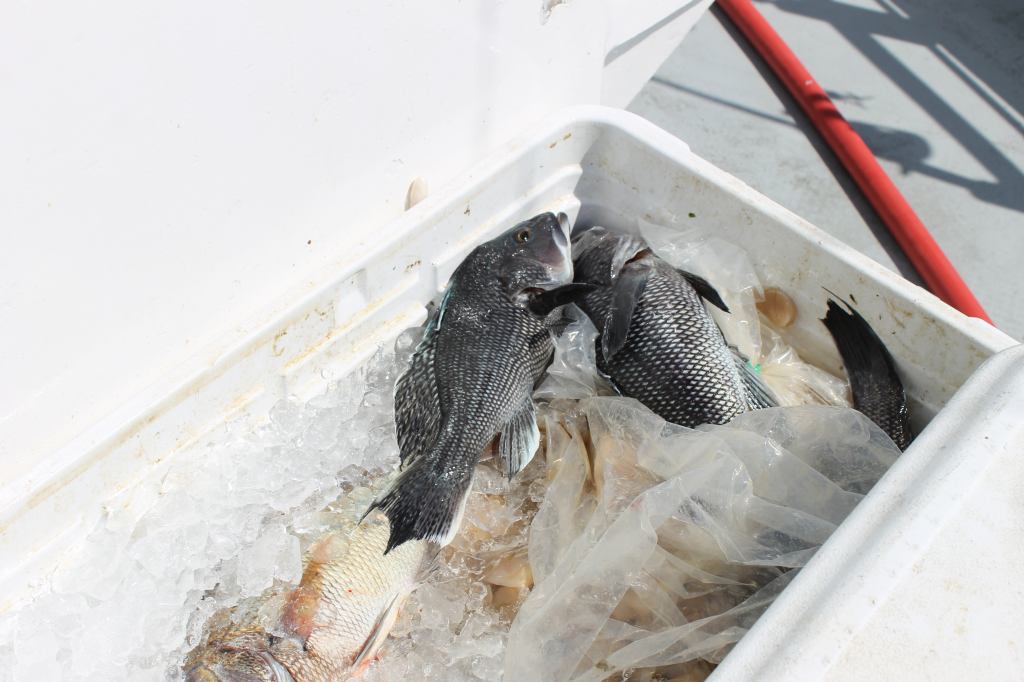 Brooklyn Fishing Reports - Summer 2019
---
---
The Heat has been pouring on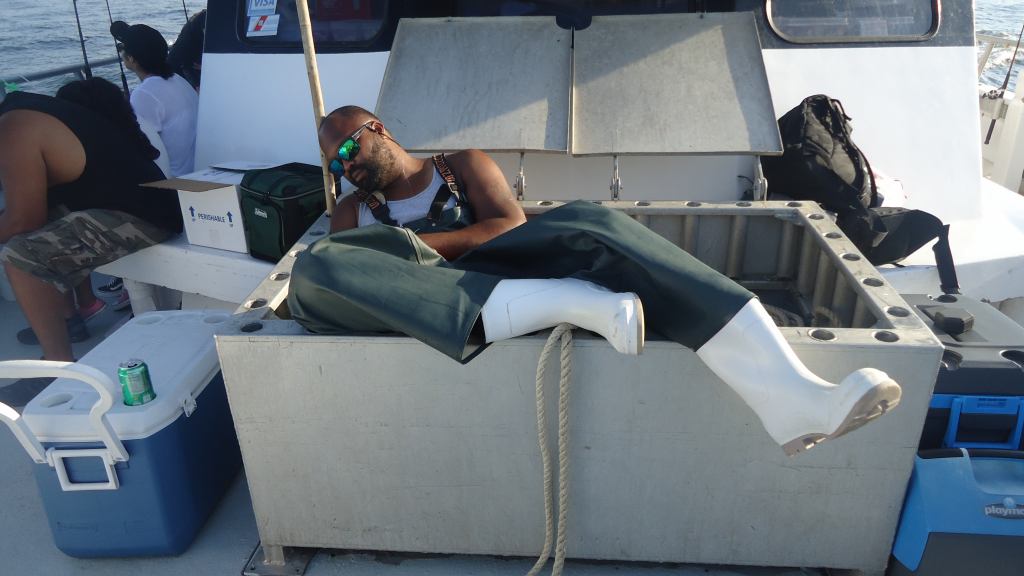 Mid-July and the Porgies have finally some to the south shore of Long Island and Brooklyn. While they have been start and stop, then are now biting all along the harbor, including the east reefs, and in the tin cans area and off the Breezy Point Reef. My freezer is filled again, and the Sea Bass are making a strong presense. Unfortunately, for the Sea Bass fisherman, New York Regulations are just irresepnsible and crazy.
Sea Bass regulations in NY are making a mockery of the entire regulatory process and begs one to question if we should have any confidence in New York States abilty to pass and maintain rational law. A number of years ago, Black Sea Bass became threatened by overfishing all along the East Coast of the United States. The Black Sea Bass is a very popular sport and comericial fish with fine texture and flavor, making it one of the best eating fish in North America.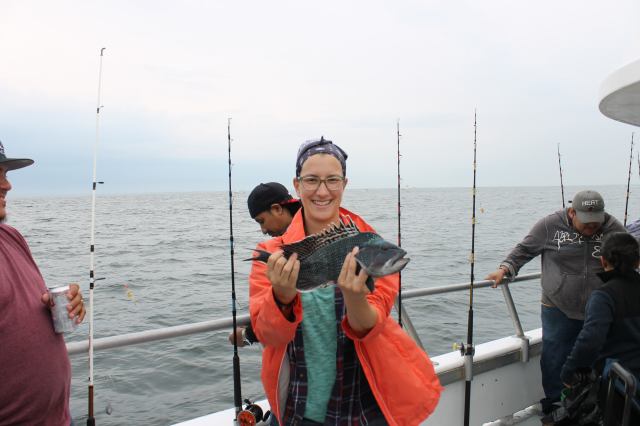 The Federal Government stepped in and created a Black Sea Bass Management Board. To quote the board in its "FISHERY MANAGEMENT PLAN FOR THE 2016 BLACK SEA BASS FISHERY"
Atlantic States Marine Fisheries Commission (ASMFC or Commission) management of black sea bass was initiated as one component of a multi-species fishery management plan (FMP) addressing summer flounder, scup, and black sea bass. In 1990, summer flounder was singled out for immediate action under a joint ASMFC and Mid-Atlantic Fishery Management Council (MAFMC or Council) plan. Further action on the scup and black sea bass plan was delayed until 1992 to expedite the summer flounder FMP and subsequent amendments. The joint Black Sea Bass FMP was completed and approved in 1996. The MAFMC approved regulations for black sea bass as Amendment 9 to the Summer Flounder FMP in May 1996.

The management unit of the Black Sea Bass FMP includes all black sea bass in U.S. waters in the western Atlantic Ocean from Cape Hatteras, North Carolina north to the Canadian border. Maine, New Hampshire, Massachusetts, Rhode Island, Connecticut, New York, New Jersey, Delaware, Maryland, Virginia, and North Carolina have declared an interest in black sea bass; Maine and New Hampshire declared interest most recently, in 2014. The Commission's Summer Flounder, Scup, and Black Sea Bass Management Board (or Board) and the MAFMC Demersal Species Committee guide development of the FMP. Technical issues are addressed through the Summer Flounder, Scup, and Black Sea Bass Technical Committee and the Black Sea Bass Monitoring Committee. The Black Sea Bass Plan Review Team conducts annual reviews and monitors compliance and the Scup and Black Sea Bass Advisory Panel provide industry input and advice.

The objectives of the FMP are to reduce fishing mortality to ensure overfishing does not occur, reduce fishing mortality on immature black sea bass to increase spawning stock biomass, improve yield from the fishery, promote compatible regulations among states and between federal and state jurisdictions, promote uniform and effective enforcement, and to minimize regulations necessary to achieve the stated objectives. The initial black sea bass FMP was designated to reduce fishing mortality by a coastwide commercial quota allocated into quarterly periods beginning in 1999, and a recreational harvest limit constrained through the use of minimum size, possession limit, and seasonal closures. [Atlantic States Marine Fisheries Commission October 18, 2017 ]
In the words of the Commision itself, Black Sea Bass Stocks are completely rebuilt, and even more than that, they are in over abundance, and yet regulations continue that make fishing even for healthy adult catches to be illegal in New York State. The Commision said in 2017:

Retrospectively adjusted values of SSB and F from the ASAP model are being used for stock status determination. The stock of black sea bass north of Cape Hatteras, NC is not overfished, nor is it experiencing over fishing (Figures A169-A170). The retrospective adjusted estimates of F, SSB and B from each area were combined for comparison to biological reference points. The retro-adjusted 2015 biomass (32,010 mt) is currently 86% above BMSY proxy and retro-adjusted 2015 SSB (22,176 mt) is 129% above the SSBMSY proxy (9,667 mt). Retro-adjusted fishing mortality in 2015 (FMULT = FAges 4-7 = 0.27) is 25% below the F MSY proxy = 0.36.
Summary

The black sea bass stock from Maine through Cape Hatteras, North Carolina is not overfished and overfishing is not occurring. Abundance has increased and is currently very high, particularly off southern New England. As a result, recreational catches have been relatively high, even under restrictive regulations.

The most recent stock status information comes from the 2016 stock assessment. Spawning stock biomass (i.e. the abundance of mature females and males) was estimated to be 48.9 million pounds in 2015, which is 2.3 times the target spawning stock biomass level. A recent increase in spawning stock biomass was driven by the 2011 "year class" (i.e. the fish spawned in 2011), which was nearly three times the 1989-2015 average. [ Mid-Atlantic Fishery Management Council Website 2019 ]
And yet, Black Sea Bass are more tightly regulated this year than previous ones, and New York's regulations are far more restrictive than regulations in New Jersey, where fisherman fish the same waters. In fact it is more restrictive than any other state in the Management Council. New York is NUTS and the council is an example of a bureaucracy that is more interested in preserving their own jobs and prestige than doing the public good. There is a whole corrupt federal industry now of statisticians, researchers and university centers on the Black Sea Bass gravy train, producing truly incomprehensible documents, that read like undergraduate research papers, and impossible to understand regulations which are completely detached from public need or useful to the fish or the fisherman.
The fact is that there are too many fish! It is impossible not to hook them. The constant dazed and confused look on the faced of fisherman, novice and experienced fisherman alike, when they put down a baited hook and bring up a nice healthy, sexually mature 13 inch, 3 pound meaty fish, and are demanded to return it to the water, repeatedly, over and over along the boat, is causing anguish and resentment because it is obviously an unreasonable request! The whole thing is like a skit out of Saturday Night Live. To throw these prized fish back is too much for the public to bare. The excuses for the 15 inch size limit in the face of historically high populations of Sea Bass comes down to pages and pages of stats with faulty data that conclude, "well since we don't know what tomorrow will bring, we will just stop you from fishing!" It is OUTRAGEOUS.
Customers are outraged on the boats, and mates and fishermen and knocking heads trying to comply with regulations. Fisherman city wide are in full revolt.
Nobody believes Black Sea Bass are endangered.
NOAA - Above target population levels in the Mid-Atlantic.
ASMFC - The 2016 benchmark stock assessment found black sea bass not overfished nor experiencing overfishing.
IUCN Red List - Black Sea Bass of Least Concern
fishwatch - Above Target Population
So then why are we over regulating them? According to our professional taxpayer paid beaurocrats, we don't know their future, so we punish fishermen. This is an important moment for all of us to make a stand against unjust over regulation by the government!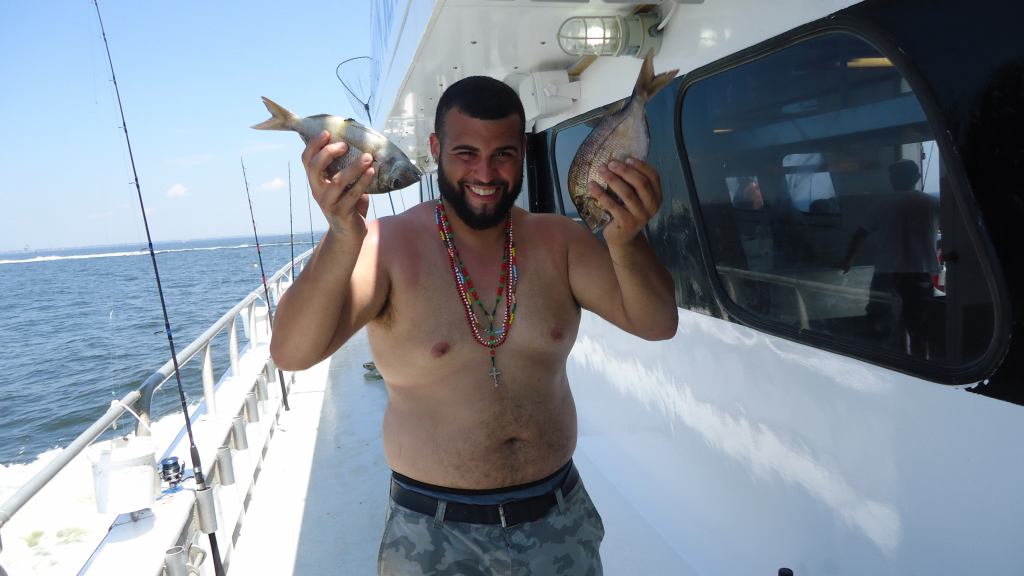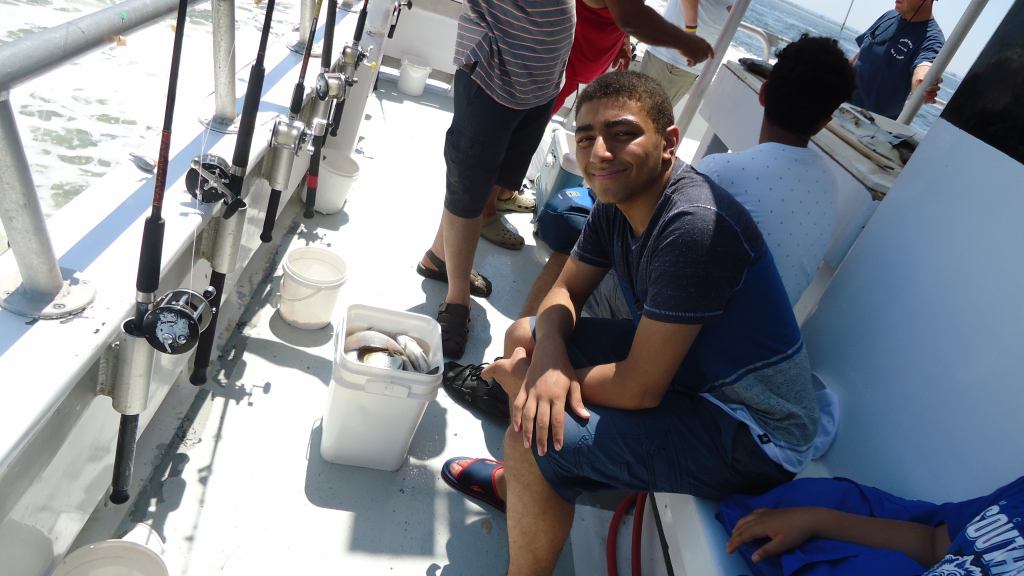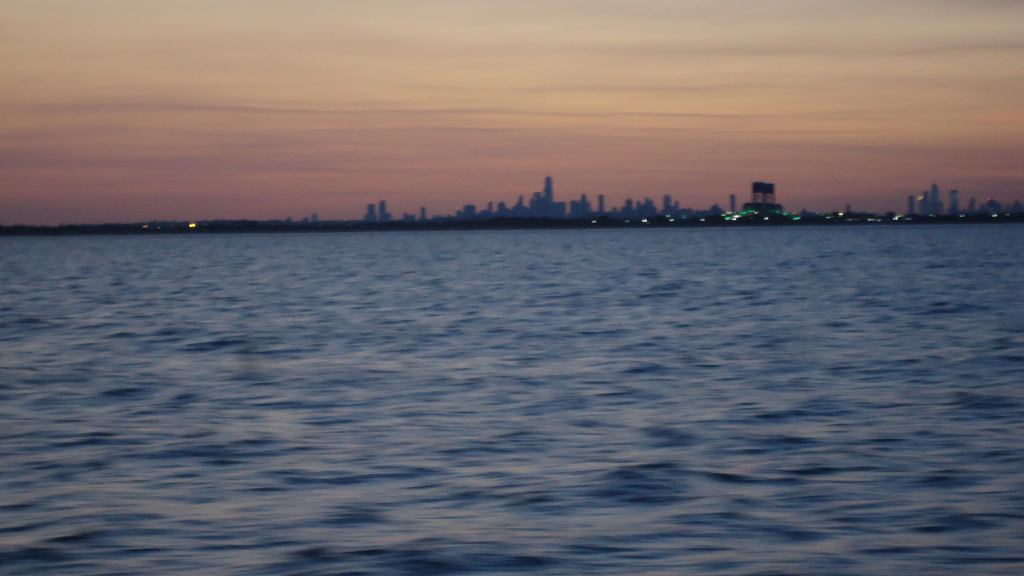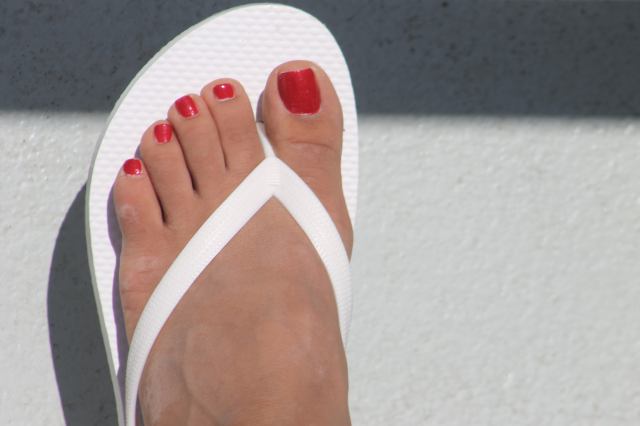 Summer 2019 Fishing Picks!
---
---
Schools are graduating and the kids are on the streets. Restaurants about New York City are fillings up and the roads are clogged. The inflation bug has reached the Emmons avenue piers, and prices are moving up. This has been good and bad. The good part is that the market ground that has been plowed by the Hunter, longer trips with few passengers on a smaller boat, geared for those craving a raw fishing experience and bigger fish, as a good price of $75 dollars a head, has taken notice now by the other boats in the Sheepshead Bay fleet. The Ocean Eagle has been offering outstanding fluke trips that have produced fish at a cost of $65 a head. Now, Captain Greg Nardielo has decided to convert that offering to a longer 6AM trip with a higher pricetag for more hours in the morning at $75 a head.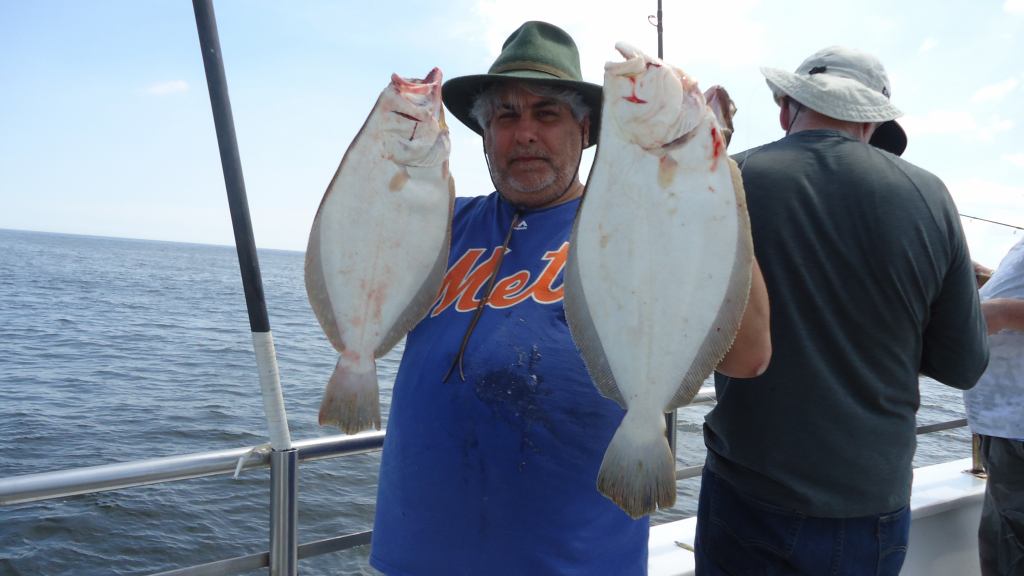 The same vein, The new Marilyn Jean V, being run by Tony "Pelican" Reyes, has been doing scheduled longer trips from 6AM until 5PM that have had decent crowds and have been quite enjoyable. We just finished one this past Friday, June 29th,2019, and we tried for a trifecta of Fluke in the morning, Sea Bass in the afternoon, and the late afternoon with buckets of Ling. The NYS regulation on the Sea Bass has spoiled the Sea Bass fishing with limits of only 3 fish at least 15 inch inches long. The regulation is not only doesn't making any sense ecologically, but it is creating an artificial imbalance into the Sea Bass population because only male fish are pulled out of the water. In order to be of any use, the Sea Bass limitation needs to be dropped back to 13 inches. It is the only logical thing to do both scientifically and for the industry. 14 inch Sea Bass are big fish, and fat bulldog, fully mature, blue colored males.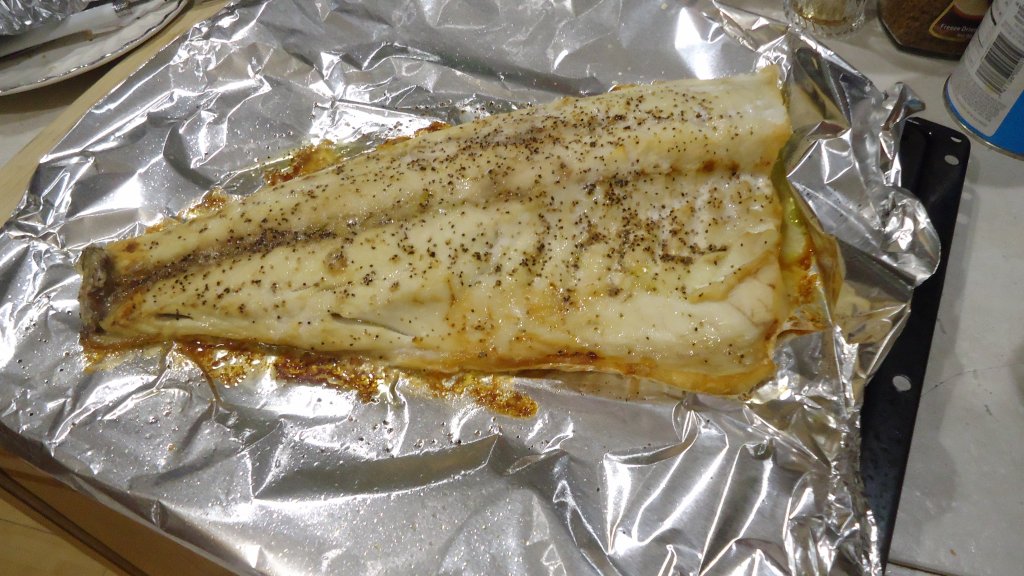 The Story of Big Ralfie
Over time on the docks, one inevitably makes a share of friends, and acquaintances. Not everyone you meets here is are the gems of the societal class. They come with there hair down, often pumped up to fish. I've had a friend on the docks for many years, named Rafeal - "Big Ralfie". He is a huge guy, who is a huge man. He lifts weights, and works at the airport moving luggage. He like to quietly come onto the boat, drink a few beers, and fish. And he is one of the best fisherman on the docks. I consistently wins the boat pools, and he never interfaces with anyone but his most trusted associates. And he can growl when he is upset. He is an intimidating presence not to by toyed with or trifled with.
One time, for whatever reasons, the crews of the Brooklyn and the Marilyn Jean, who shared a dock, had an old time, Brooklyn scrimmage with the Sea Queen over marketing techniques and how they hawk for customers on the docks before they leave. Without getting into the details, this erupted into a fight that ended up with Ralfie taking down a few crewman for the Sea Queens mates, and Captain Frankie pulling Ralfie off the pile before someone got more seriously hurt, and someone else ending up in the clink. Needless to say, this sealed Ralfy's reputation on the docks, keeping the peace, and all that sort of good stuff. He is respected as a fisherman and revered for his friendship and loyalty.
My first time that I met Ralfie was on a night trip on the Marilyn Jean. We were in a huge run of night "Vampire Porgies" and we piled up buckets of night time fish. Ralfie was in the stern and pulled in a decent size fluke on top of nearly 2 buckets of oversized porgies, out-fishing me my a bucket. I'm watching him carefully and trying to figure out what he is doing better than me. I finally decide I need a closer look. And I walked behind him and looks down at his bucket and his flounder to admire it. Ralfie didn't find this flattering and he growled at me, "Hey, why don't you worry about your own bucket and mind your business". It was enough to make my heart jump a beat. But undeterred I arrogantly stepped one step closer to him, and smiled, and said, "I'm sorry, I wasn't going to take it. I'm just amazed and looking at it. Hey, I am just trying to learn from the best." This act of contrition didn't win me any points with him, but he didn't hit me, so we were now friends. He is one of my beloved friends.
Another character, who I might write about at another time, is Matt the Fireman. He is a loud mouthed, brag abound, who is also one of the friendliest people you would ever want to meet. He is truly a nice guy and the two of us, when we are together, can make a lot of noise... the opposite of Ralfie to say the least. But on this particular night last week, Ralfie moved from his usual quiet spot in the stern to fish between Matt and myself, and we had a classic laugh session. 5 hours of straight chatters and loud laughing and teasing and jovial moments. Most of the time Ralfie fished between us, barely moving his facial expression, and occasionally smiling an nodding his head. This is a huge emotional outburst for stoic Ralfie. All of a sudden, I look over my shoulder and Ralfie is missing. I'm think, of God, he couldn;t take any more of us and slipped away in anger. It was a slow fishing night. I looked through the window into the boats cabin and I couldn't believe my eyes! There was Ralfie in the Cabin helping a newbie stranger tie a knot on the tackle of a boat rod. I almost fell over the rail in astonishment!! And I took a picture of this remarkable event to prove it happened!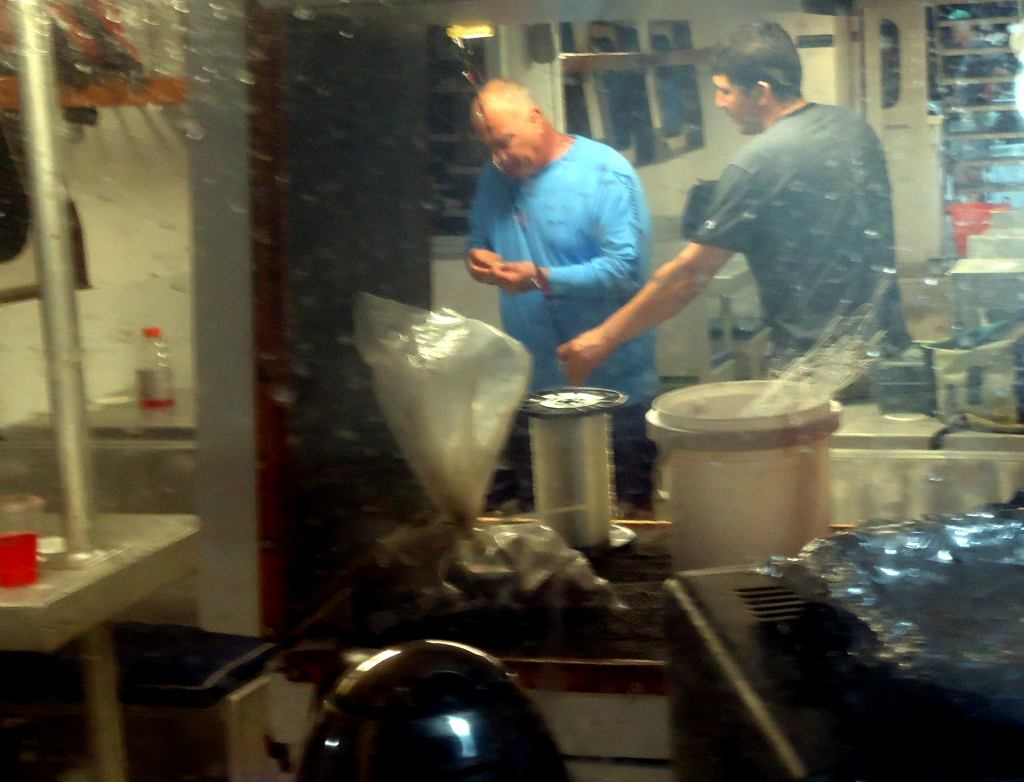 Brooklyn Fishing Reports - Spring 2019
Dateline: June 20th in the pouring rain all day and night
It was a big day last night for the Marily Jean Mates and Crew. The boat didn't go out so the Mates had a field day all over NY Harbor! Alex Caught a 52 pound monster Striped Bass on the Hunter, and Joe caught about 5 monster Fluke on the Ocean Eagle. It poured raining the entire day. I got home at 2AM soaked to the bone and crashed on the couch.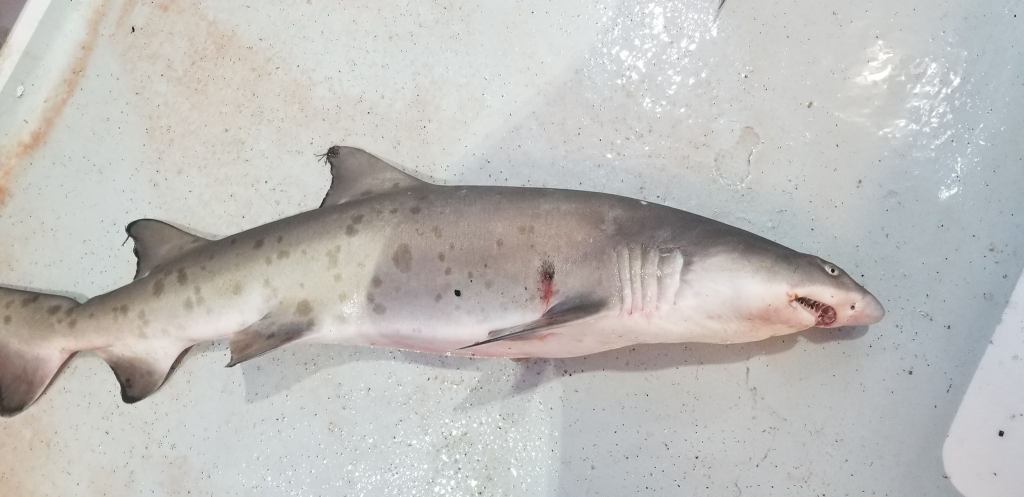 Not every shark pulled out of the water is a dogfish :) This Dusty or mayby Tiger Sand Shark was returned to the water, but hooked and photographed on the Marilyn Jean V on a night trip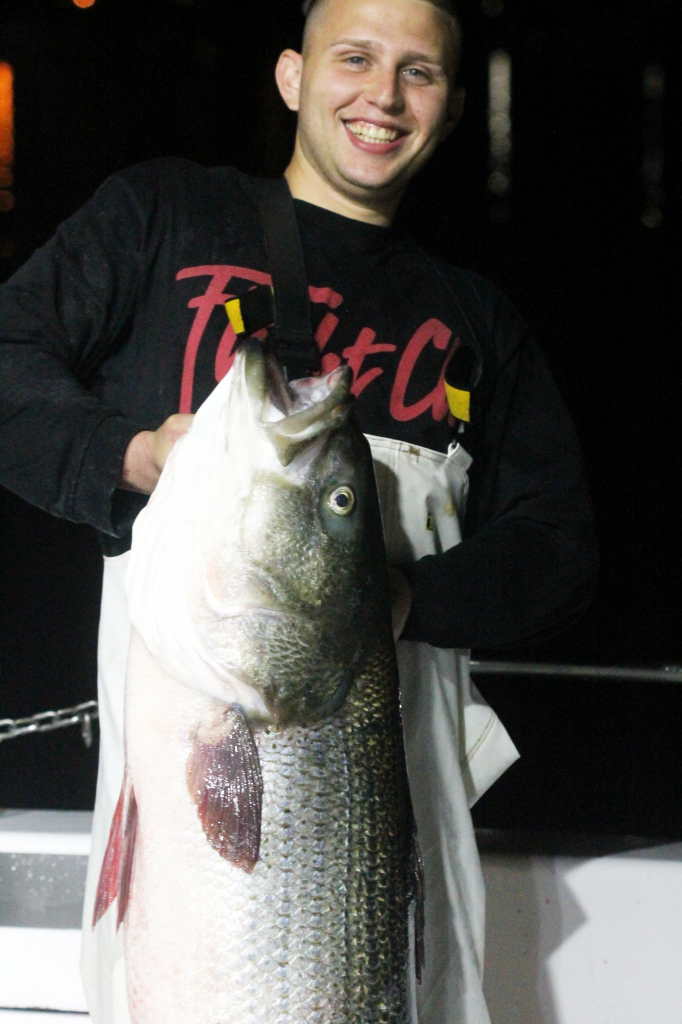 Alex and his 52 pound Striped Bass caught last night on the Hunter
Raining Doormats on the Ocean Eagle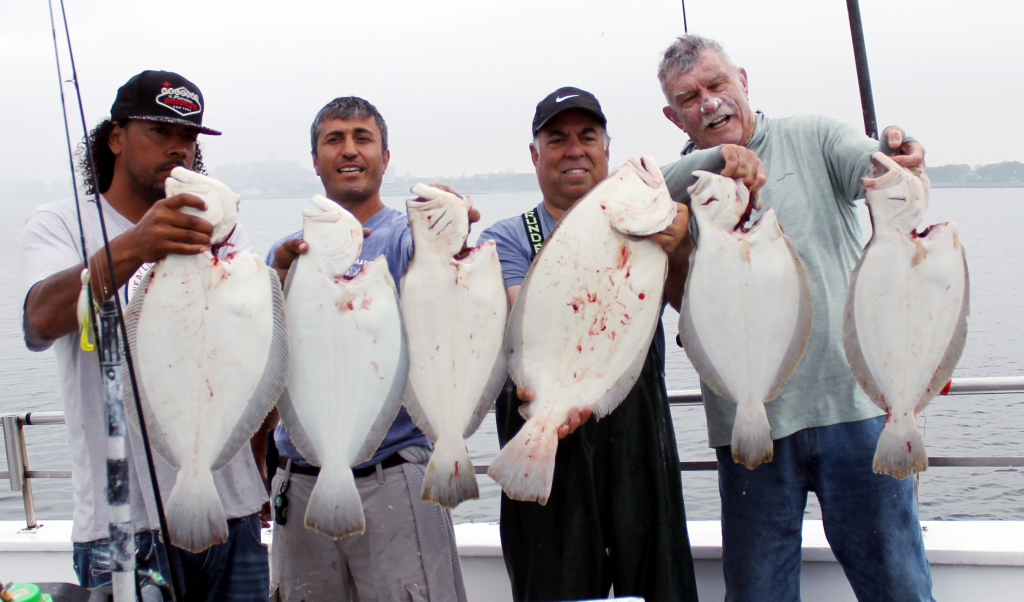 Fluking in the Rain on the Ocean Eagle V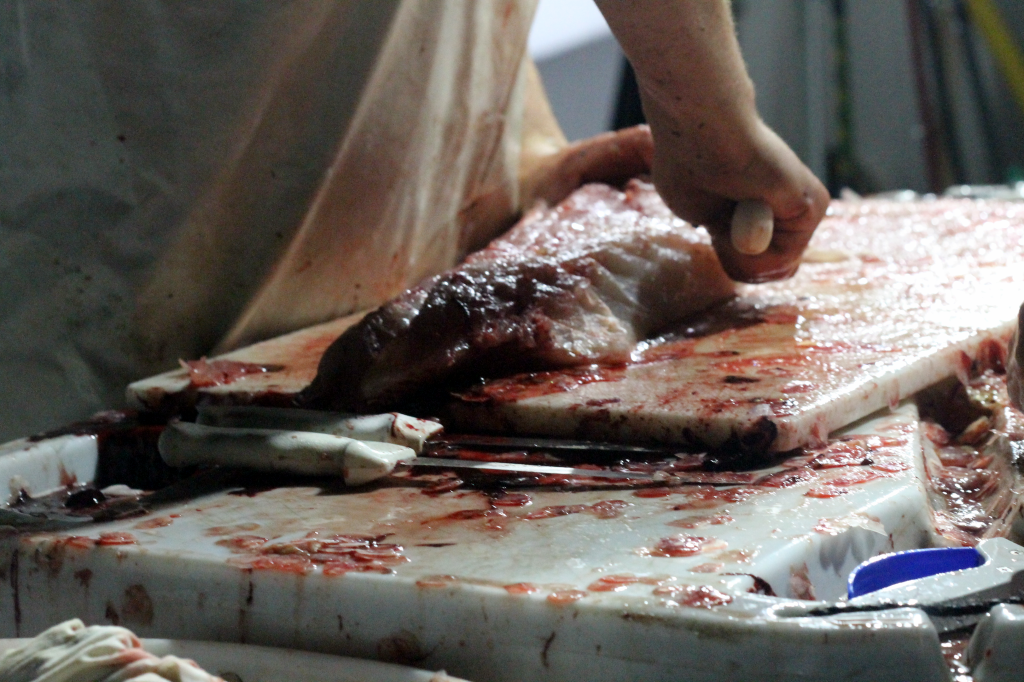 Filetting Fresh 40 pound Striped Bass!!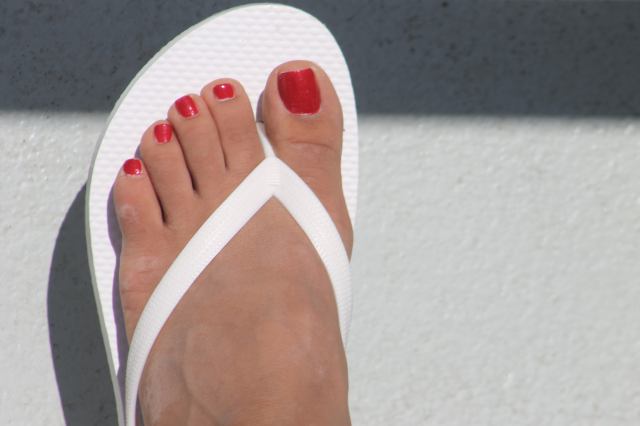 More Pics from Spring 2019! Including these Bass and Fluke pics!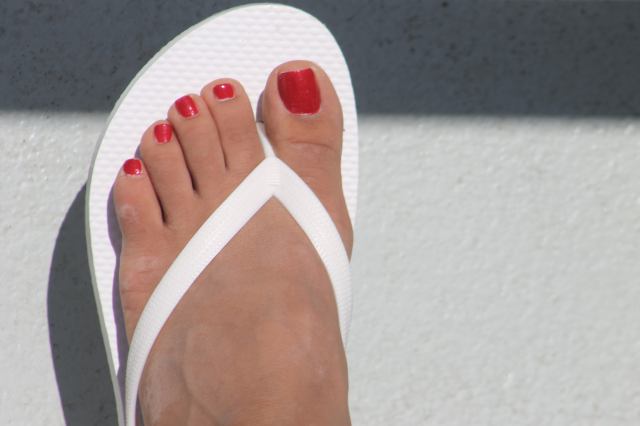 More Spring 2019 Fishing
---
---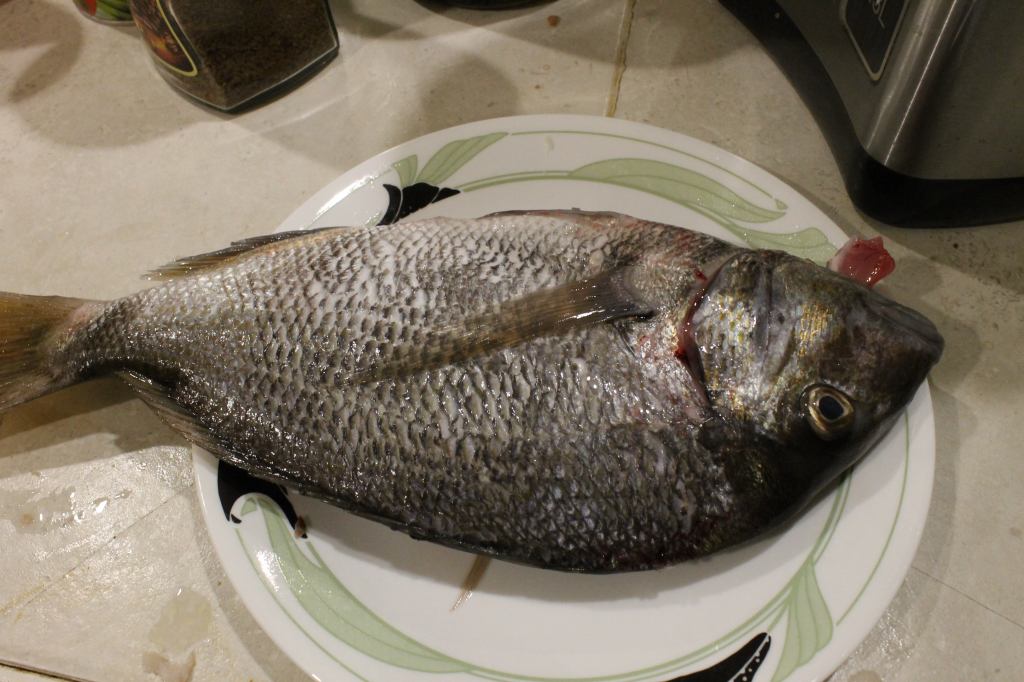 Porgies Bigger than a dinner plate caught on the Morning Star

---
With the new year a lot of changes have happened at the Emmons Avenue Peirs in Sheepshead Bay. For starters, two new boats have arrived to the docks, run by the partnership of Mike Ardolino and Larry Patrin. Mike is the experienced captain of the Brooklyn, and has struck out on his own. I first went fishing with Larry and Mike on the small 6 man boat called the
Morning Star.
That trip was a 12AM to 4PM off shore run that finished on new years eve, December 31st, 2018. I pulled in a
huge haul of Porgies and Sea Bass
, some of the largest I'd ever fished. We were largely in 200 feet of water, around the Texas 4 Tower wreck amoung other nearby spots. It was great run and highly recommend
The second boat that Mike and Larry are collaberating on is The Hunter which is a fabulous 15 passanger Striped Bass open boat. They have been hauling in the Stripers all spring without a break. It has been one of the most impressive Striped Bass runs of our lifetime. Huge fish have been landed every day by the clients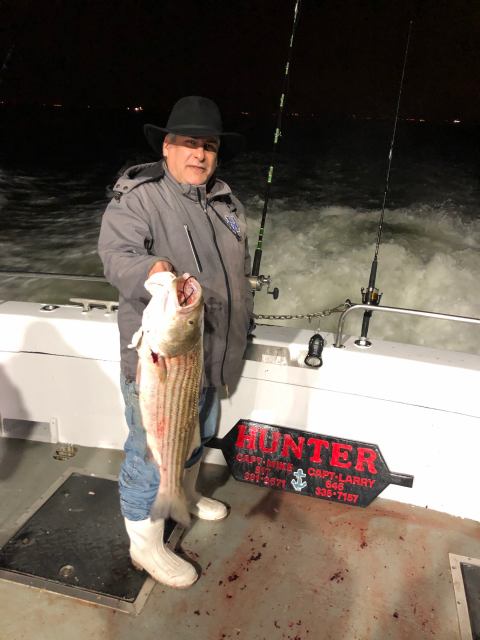 Striped Bass Trophy on the Hunter

In addition to these two new attractions to the bay, the Marilyn Jean Ownership sold the Capt'ns Lady and made a purchase of the former Captree Princess, renaming it the Marilyn Jean V. This is a much larger and faster boat than the Marilyn Jean IV and makes routine trips to the Ling and Sea Bass grounds easy rumpts down the coastline and into the open ocean.
---
Marilyn Jean V
I have now had a chance to fish on the new boat day and night. It is very comfortable with a huge cabin, with a stocked galley and vending machine. It makes the trips to the Red Hake (Ling - Mud Hole) grounds much easier than on the old MJIV. Even in rough seas, it is stable for a fishing boat. I've pulled in a lot of Red Hake (Ling) in addition to Blues and Bass at night. In fact, this has been one of the best Ling seasons in a long Time.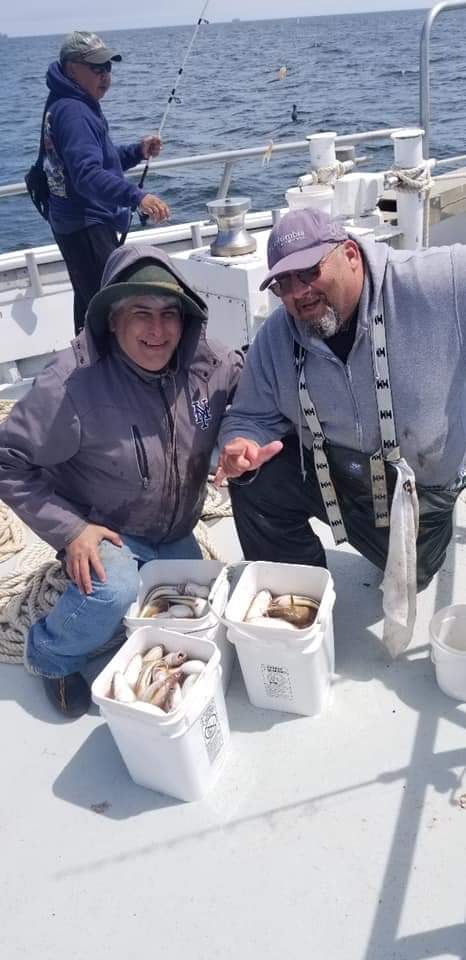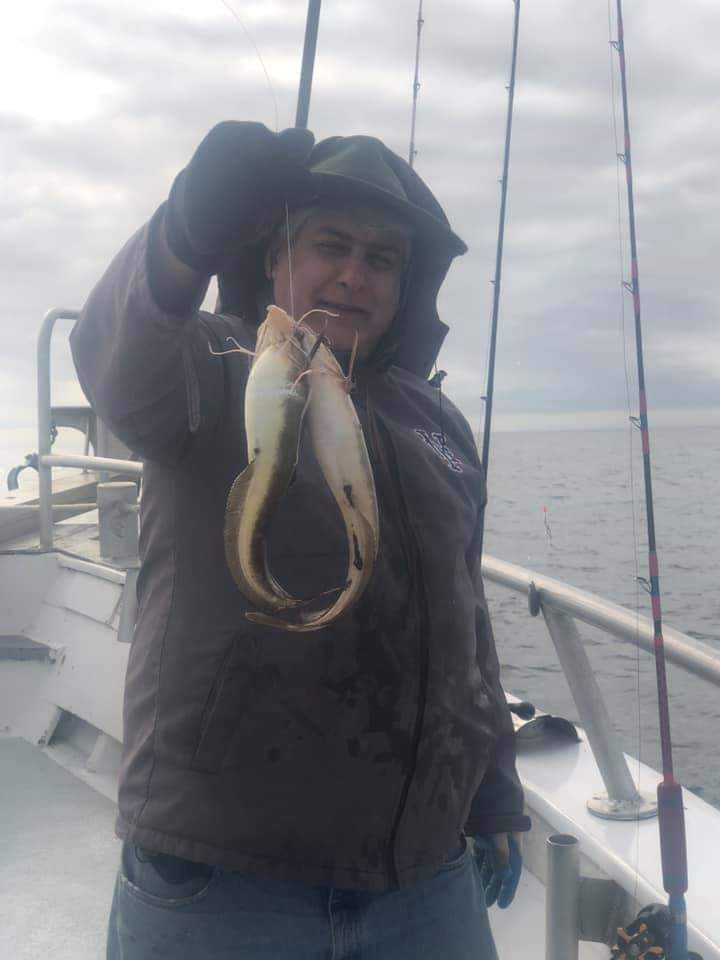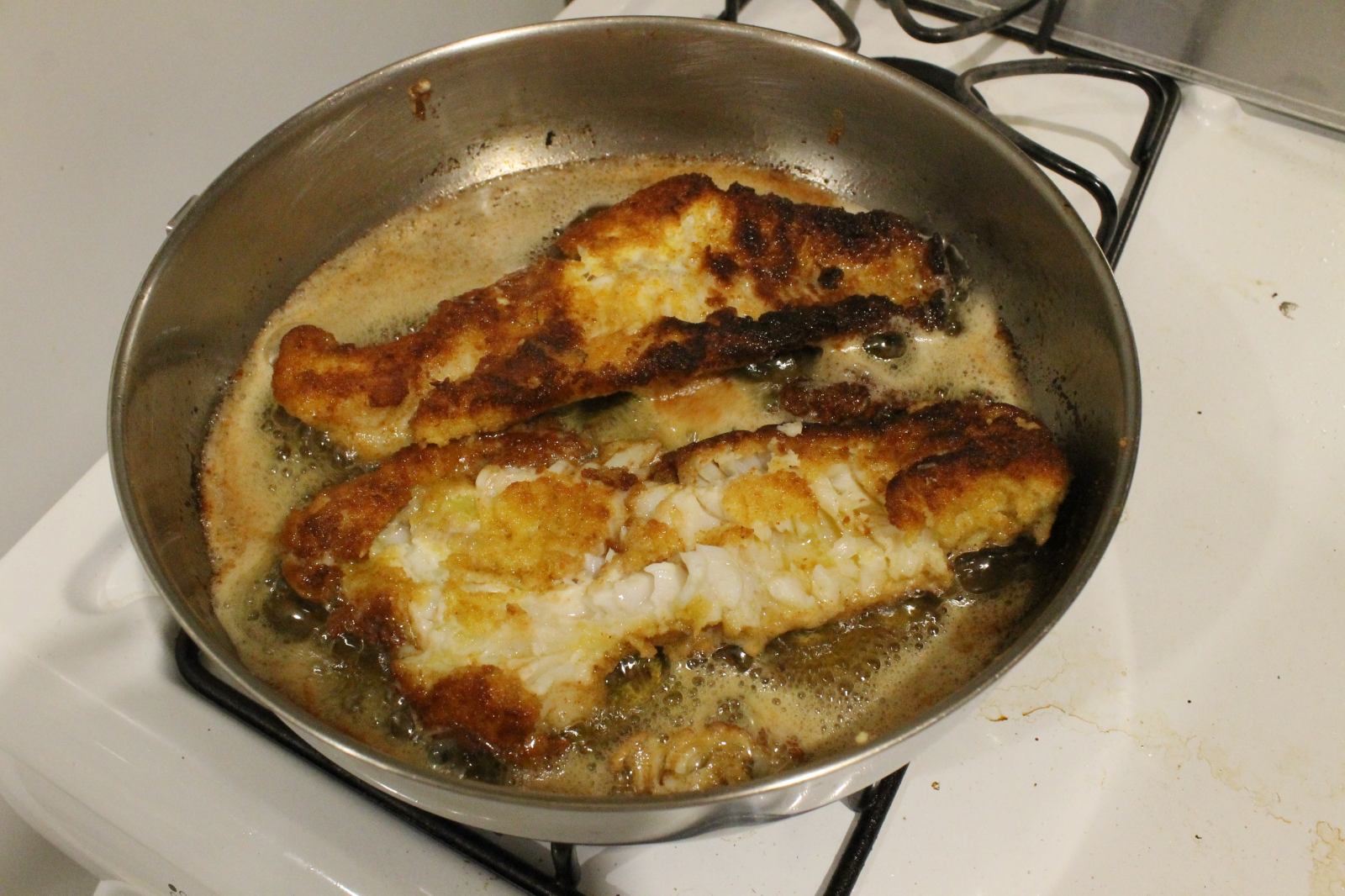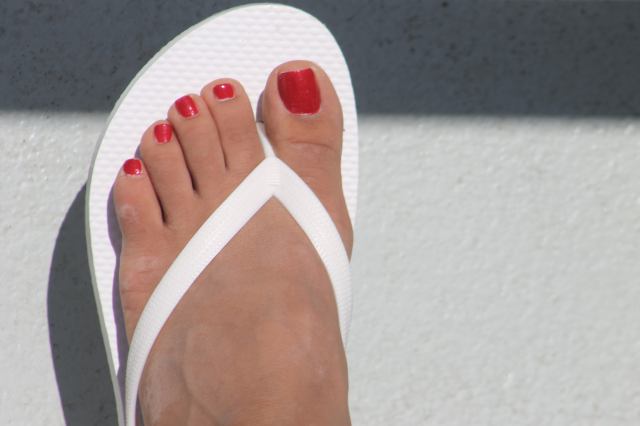 2019 Ling Fishing Pics on the MJV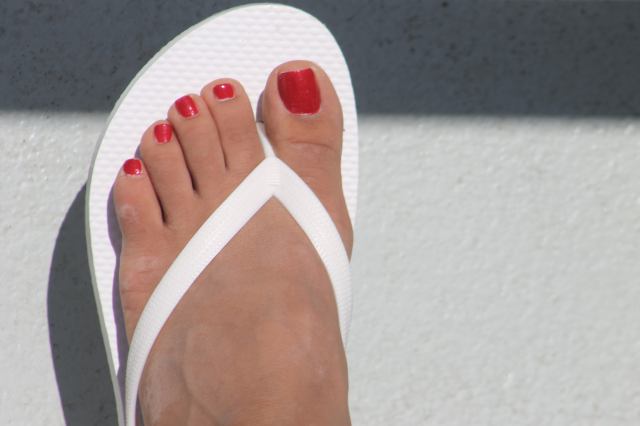 More Spring 2019 Fishing
---
Brooklyn Fishing Reports - Fall - 2018
Blackfish Season has begun, and just in time the temperaature is dropping although the water temperature is still unseasonably high. Get ready for the Striped Bass and Blackfish seasons as they launch.

The Marilyn Jean, Ocean Eagle and Captain Dave are all hitting Blackfish and Porgies. The Brooklyn is hitting Albies, and Blues.

Porgy Fishing this October has been steady on. Here is little Anthony filleting the night catch on Sunday Night October 14th.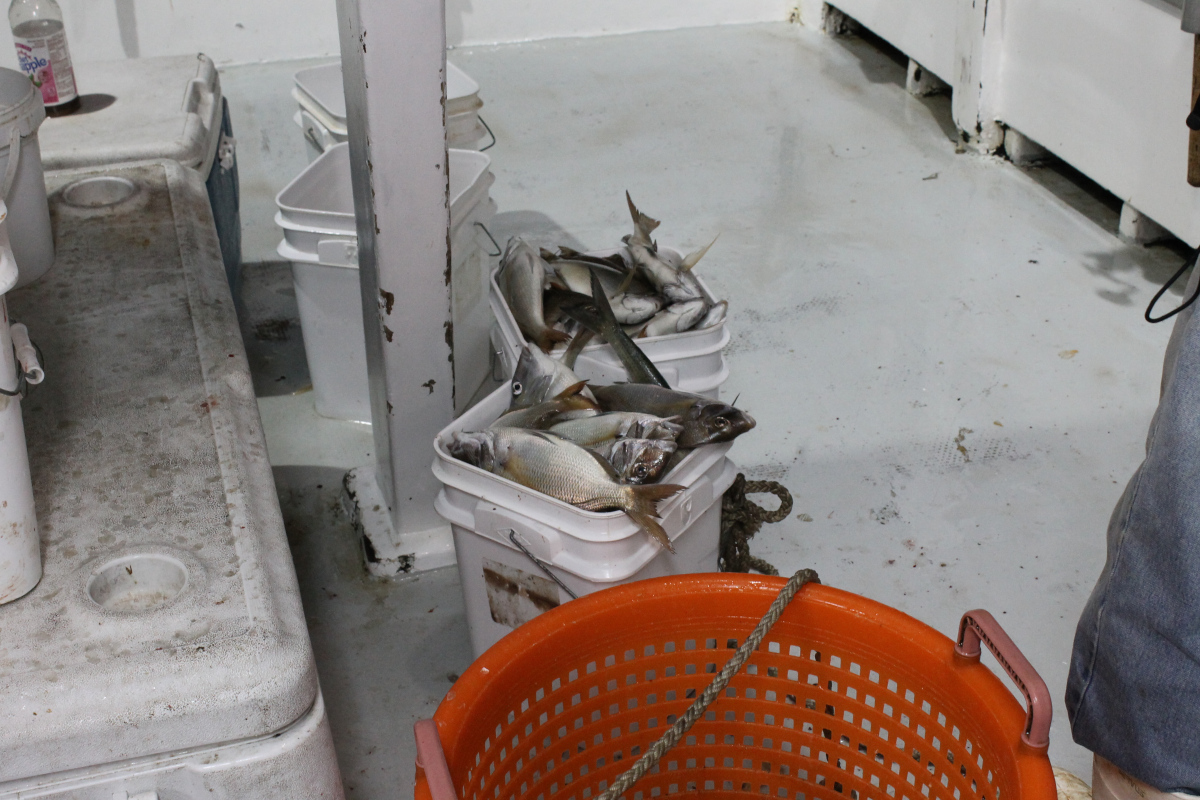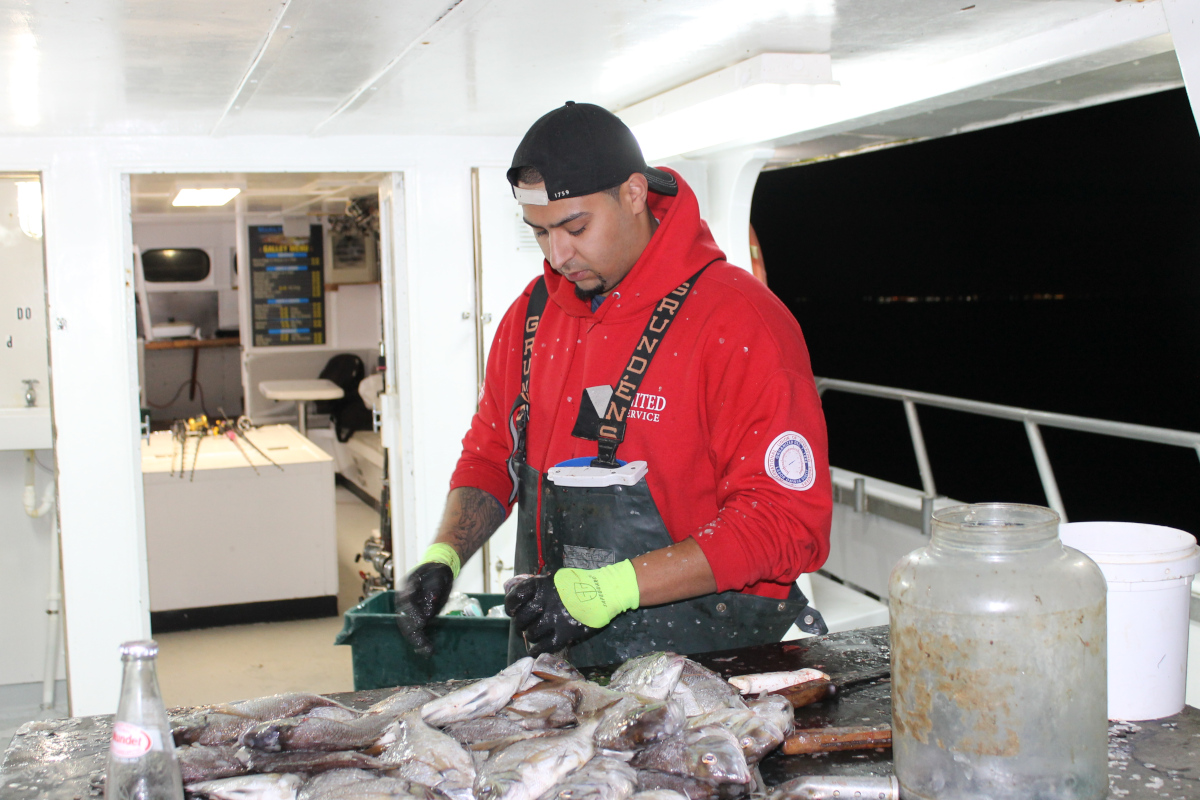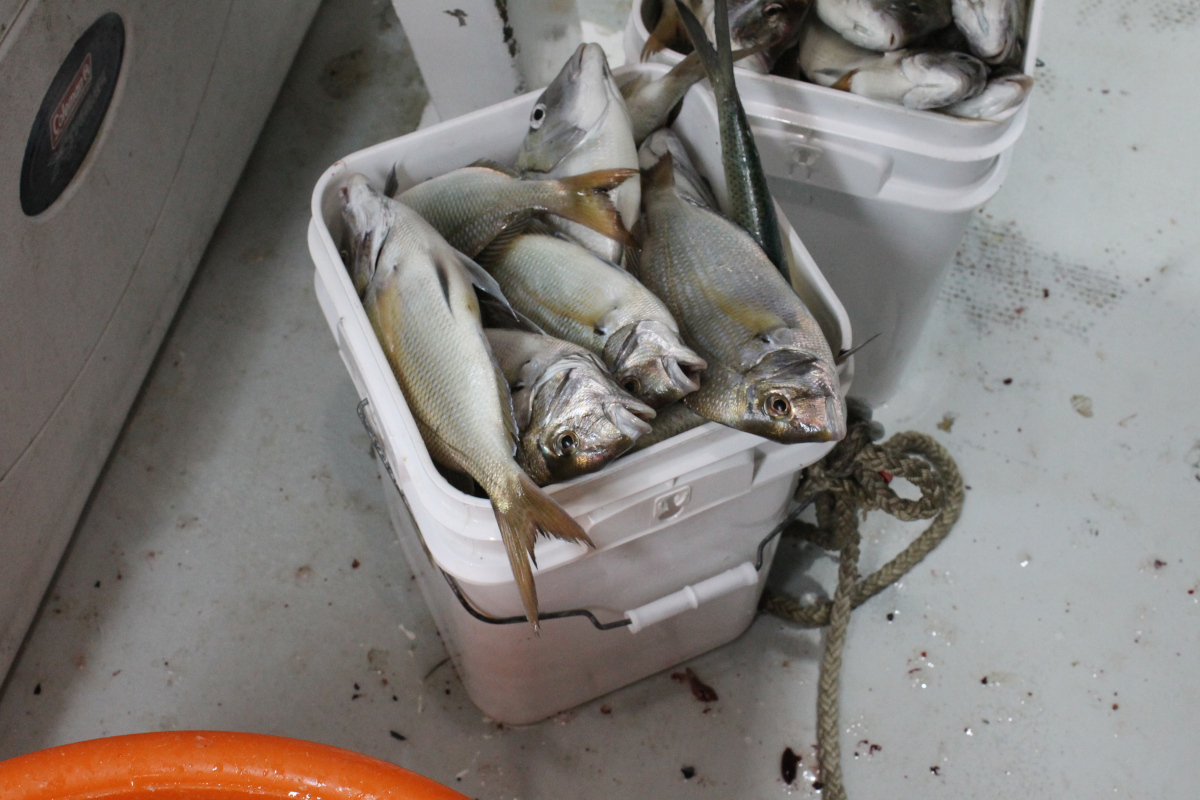 Brooklyn Fishing Reports - Summer - 2018
Trigger Happy Father and Son on Son's Birthday
My son came into Brooklyn Friday for the first time in many years, so we went out a caught some fish on the Marily Jean IV. We pulled in between us 60 porgies, and then we took a knap. We woke up a half our later and I pulled out my rig as the captain searched around for some sea bass around Coney Island, and then WAHMM!!! Fishing for porgies I was using 20 pound leader tipped with gamakatsu 1.0 circle hooks. They are a little large for porgies, but I thought they might help pull in a stray sea bass. I'd lost a few hooks are what I thought was a huge shark. I was wrong. This time I dropped the drag and let the fish pull out. The fish tired and I finally brought in the biggest trigger fish I had ever seen. And that was just the bigging. Over the next 45 minutes will killed the trigger fish, bringing in well over 60 of them, many of them the largest I'd ever seen. I pulled in 19 of them myself. Unfortunately I left my camera at home but these are a few pics that the boat took.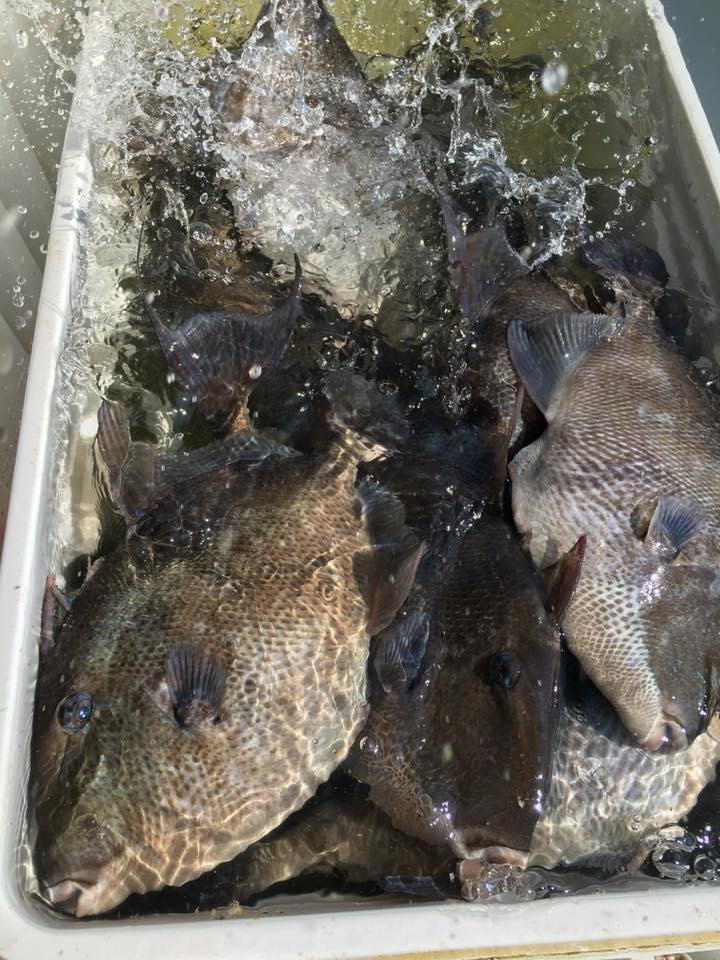 Happy 22nd Birthday, Schmuel-Lieb Eliezar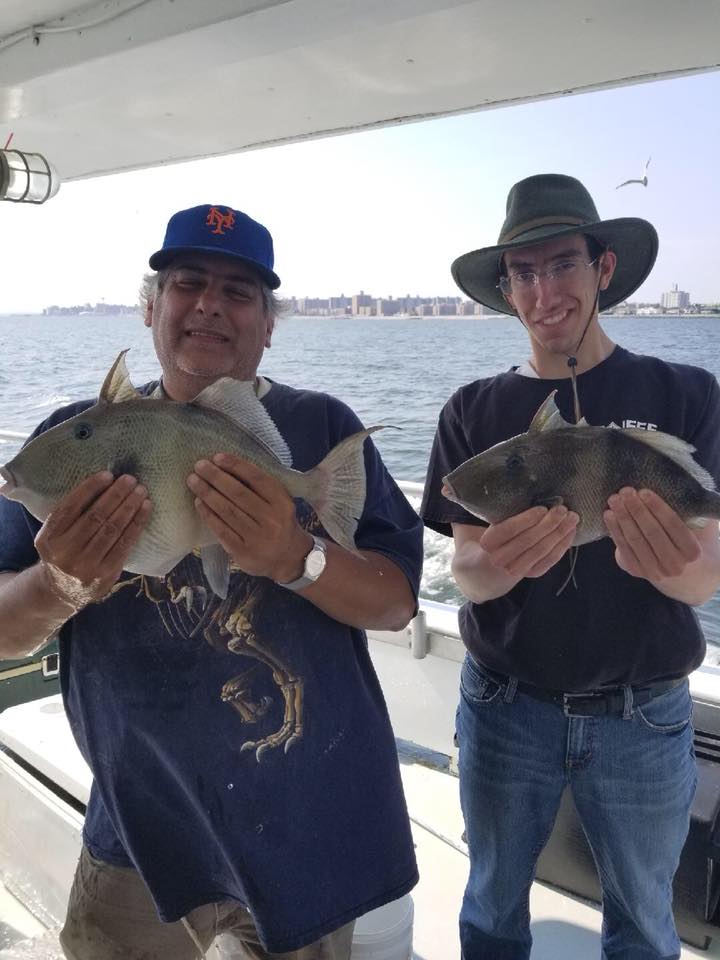 Fathers and Kids Day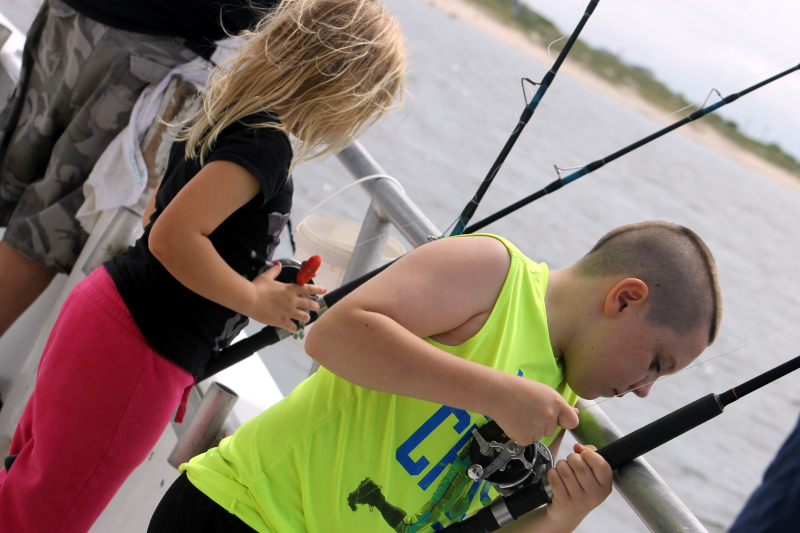 Weekdays are often family and kids day on the boats around Brooklyn. This week I had the pleasure of fishing with Emily, Kaitlyn, Chistopher and their Father and Grandfather in the box of the Marilyn Jean IV. The kids did great!! as they always do. On the otherside of the bow was a young Jewish family of boy's who I didn't get their names, but I did hear they squeling and squauking as they picked up their far share of fish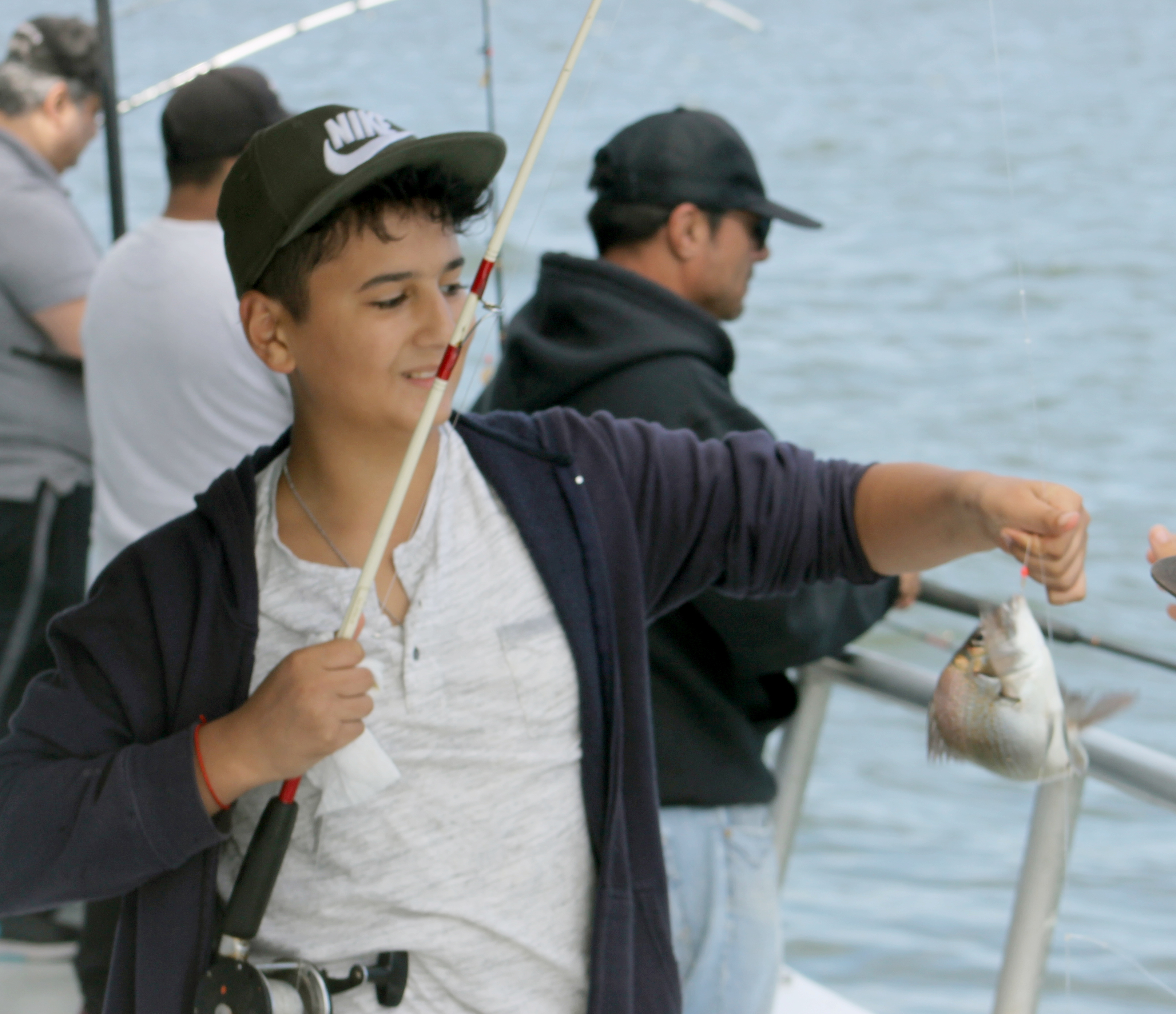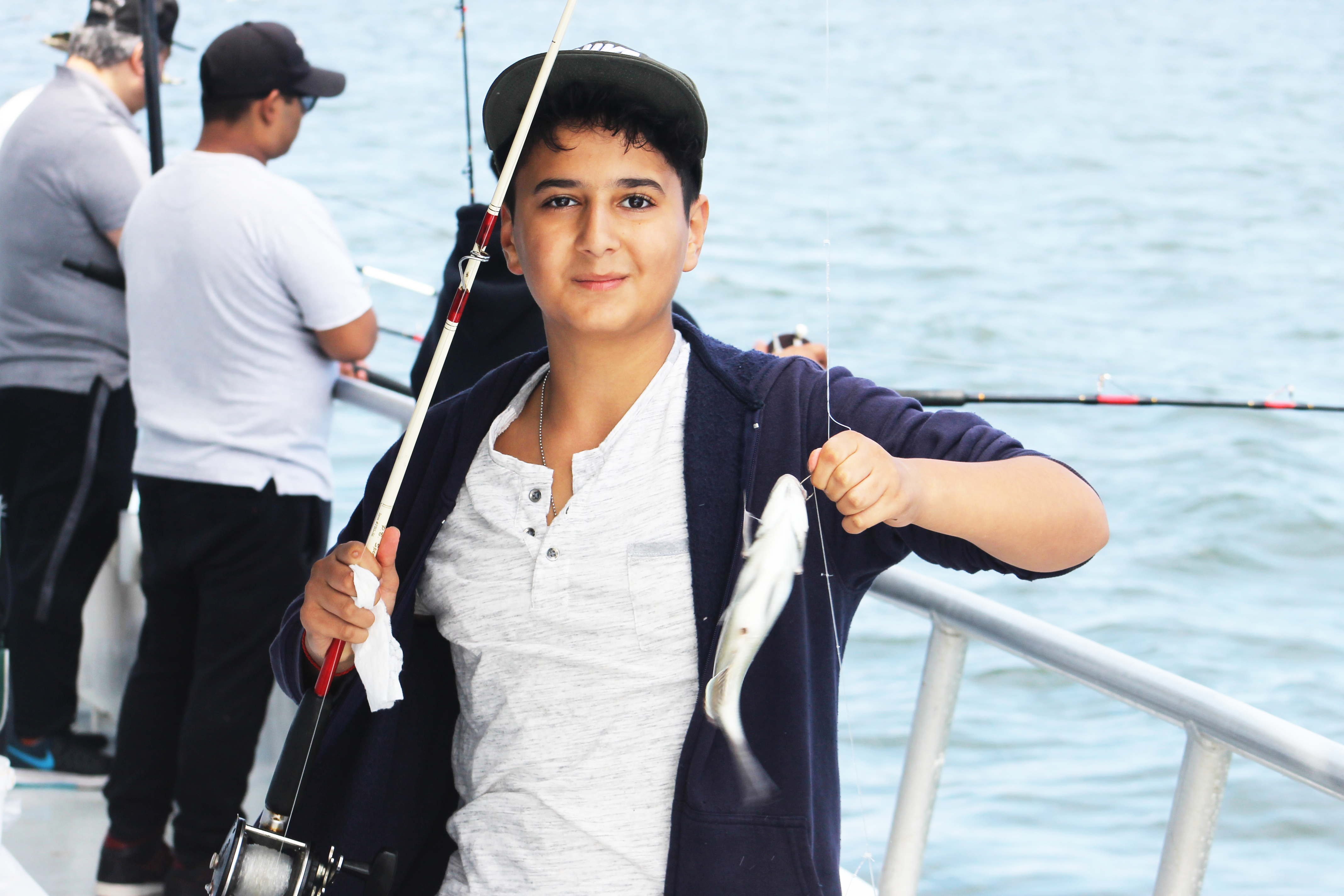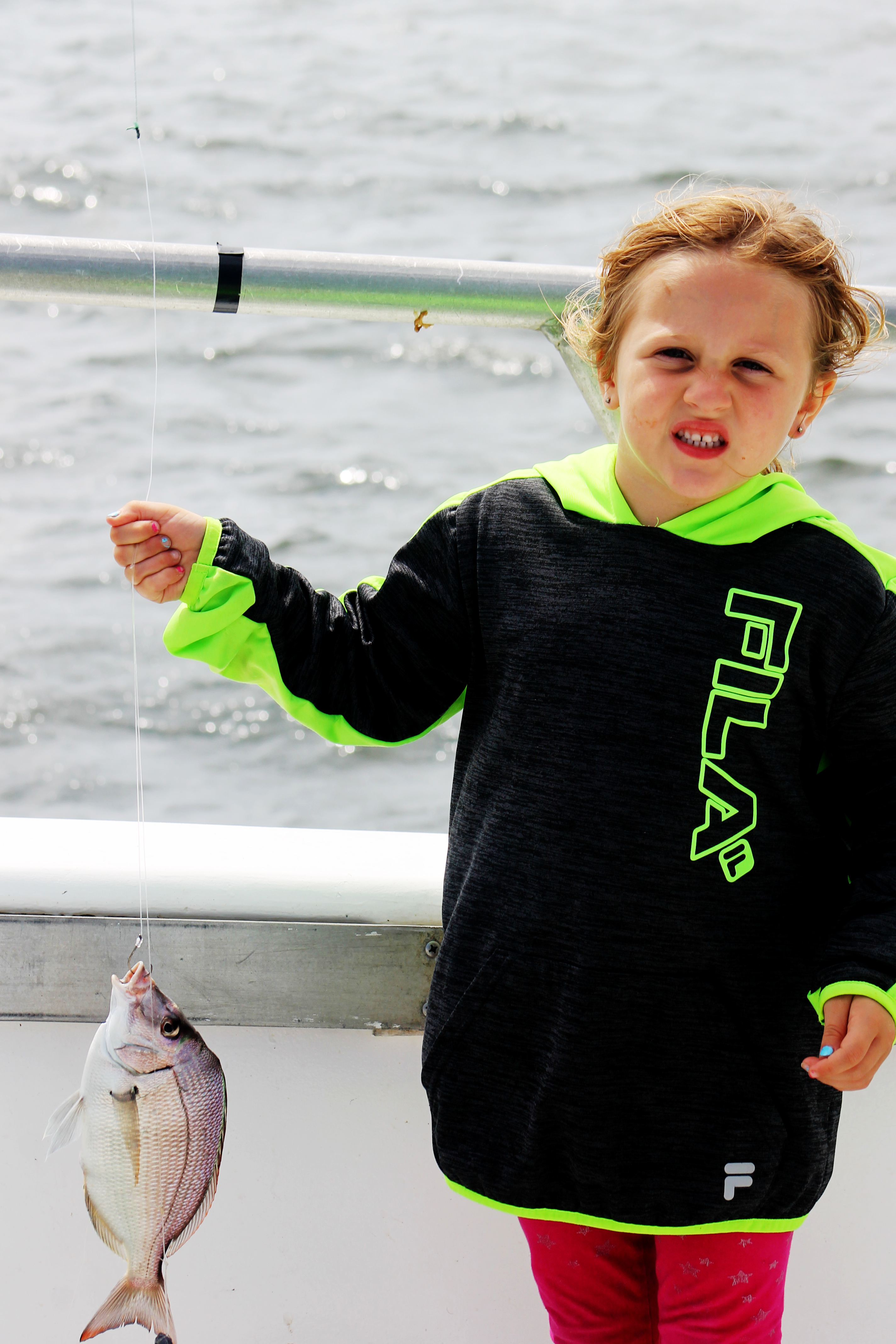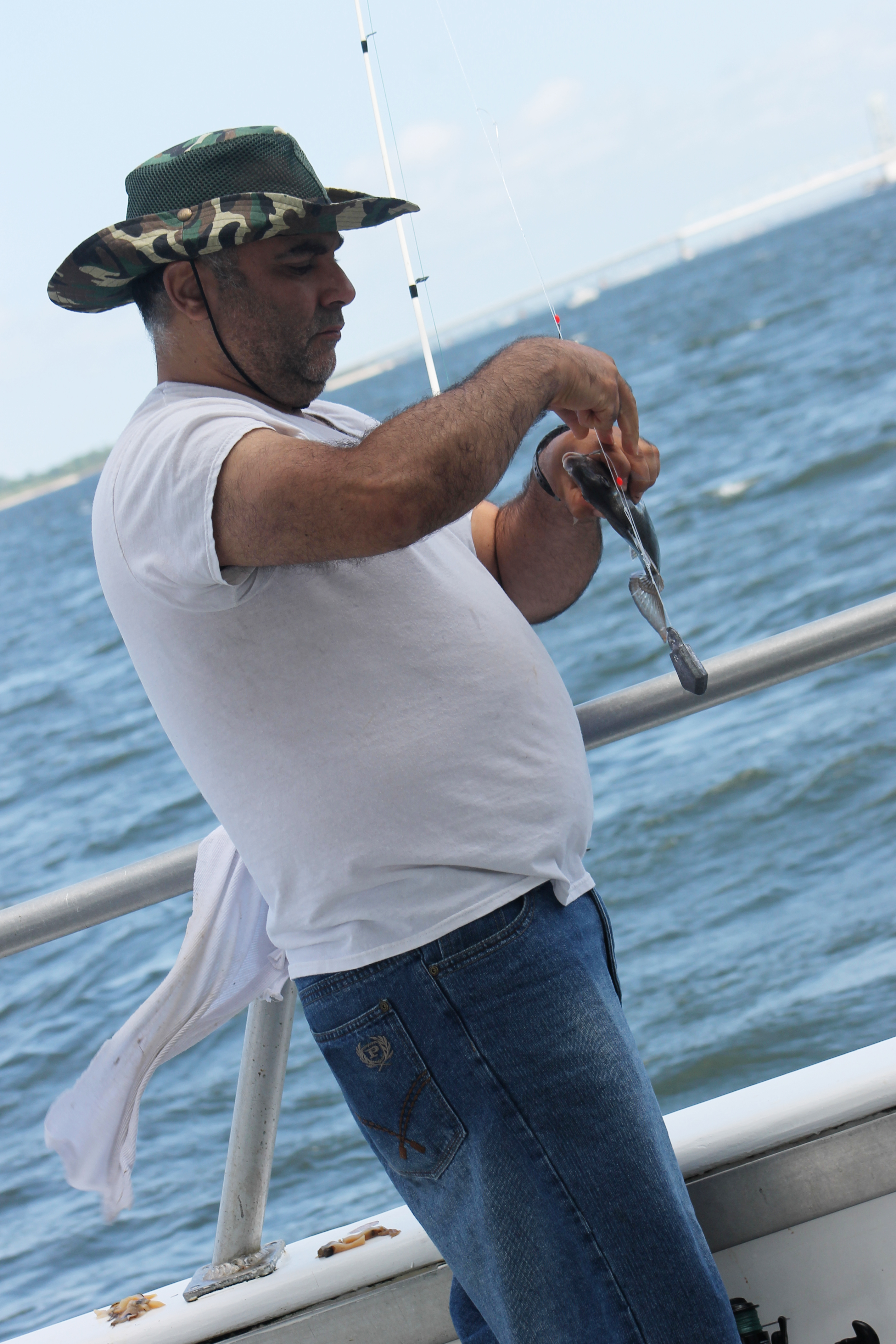 Overall, August has shaped up to be nice month on the water. At one point the crews on the ships decided to do a little snapper fishing off the peirs. Everyone seemed to get into this rare closeup of snapper blues chasing peanut bunker into the inner bay
In the middle of the month, the Ocean Eagle had a dramatic sea rescue for a medical emergency, with helicopters and everything
On June 30th, this last Sunday. I headed out to the days at 4AM and waited for the boats to fill. And fill up they did. Word have gotten out that the Porgies on on parade. The rails on the Marilyn Jean IV were packed. When we left the dock, we had over 60 passangers and my favorite spot on the boat was surrounded ny weekend warriors. Instead of squeezing on the rail, I took a nap for 2 hours and then woke up to see a boat overloaded with fish. The mates were being run into the groundfixing tagles and cleaning fish. I took a position on the bow and couldn't help by give a hand, which made the weekend wariors and first time fisherman happy.
Flying Porgies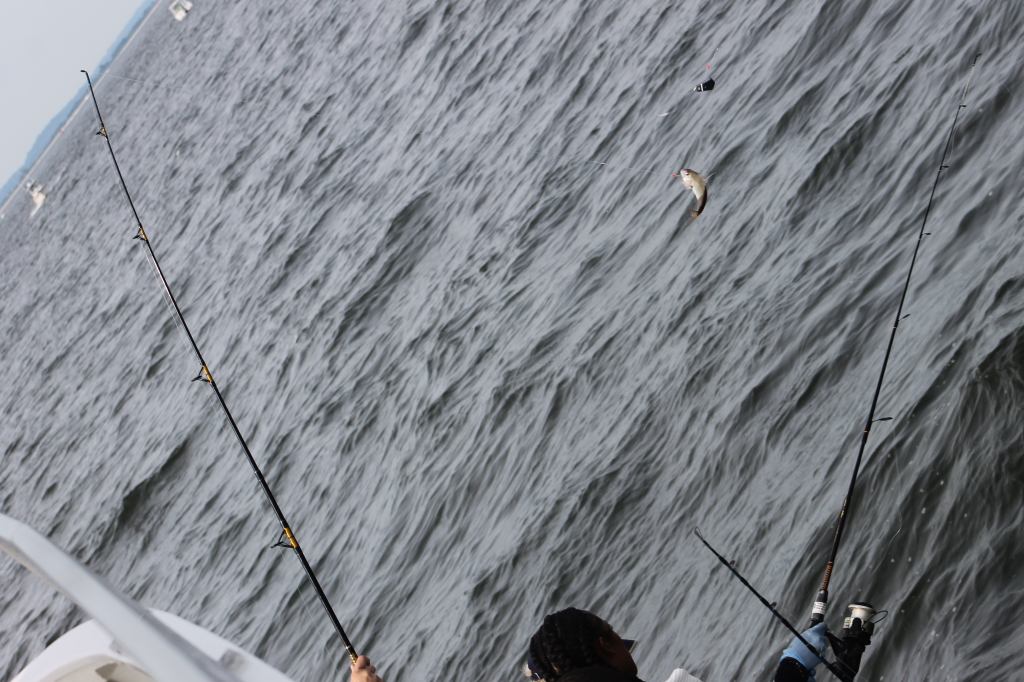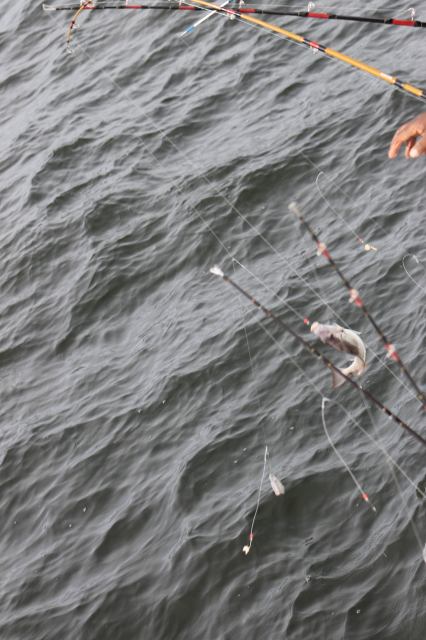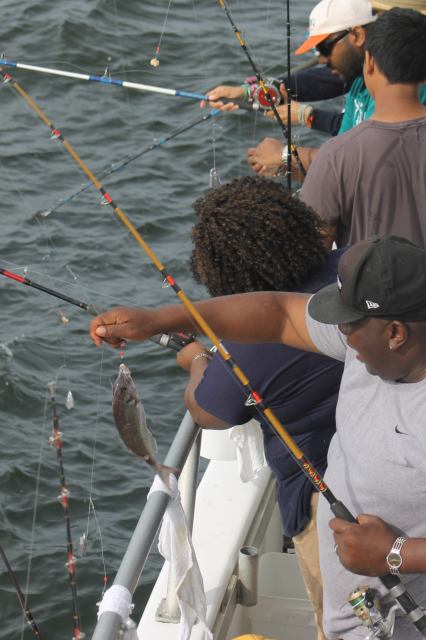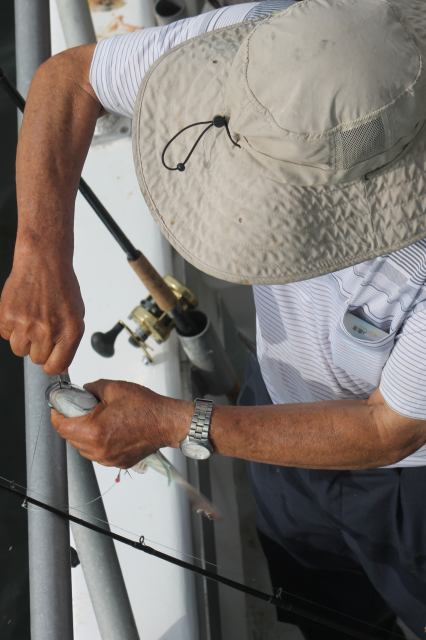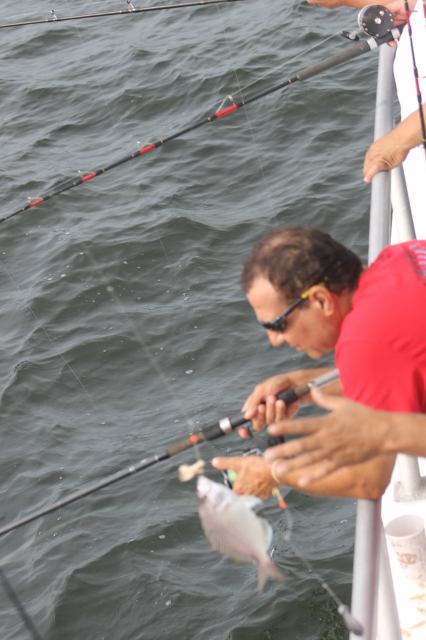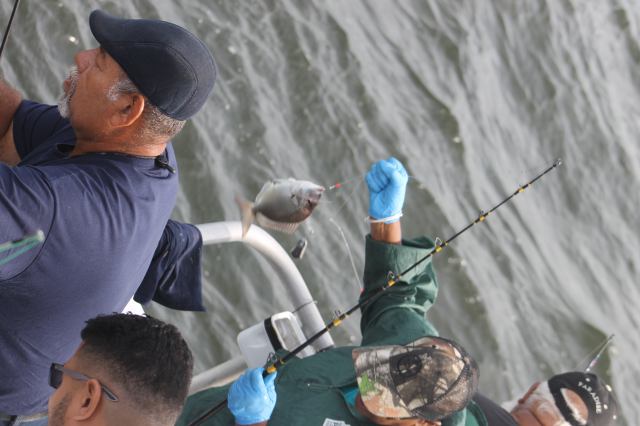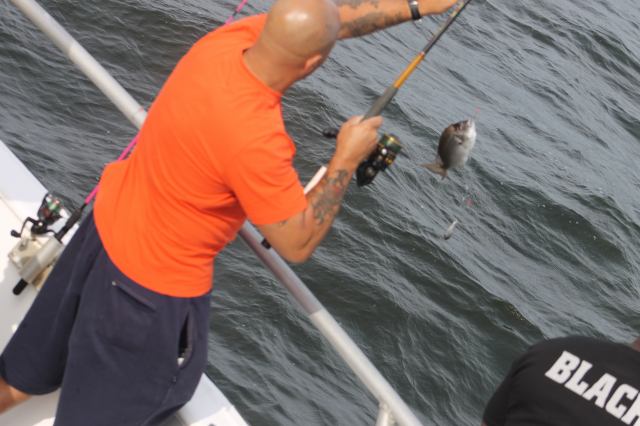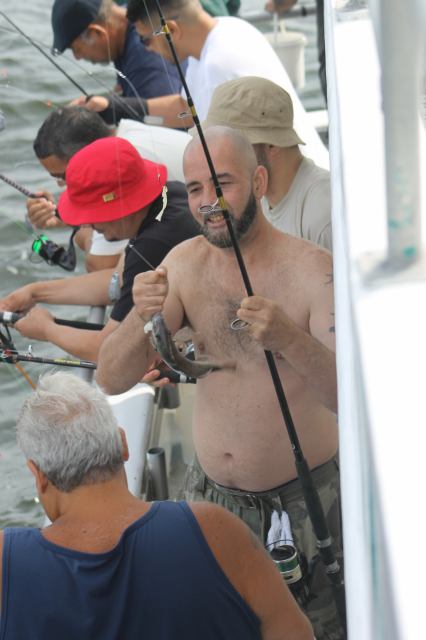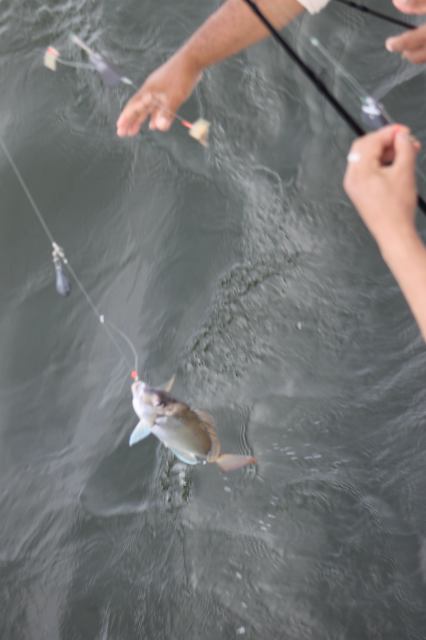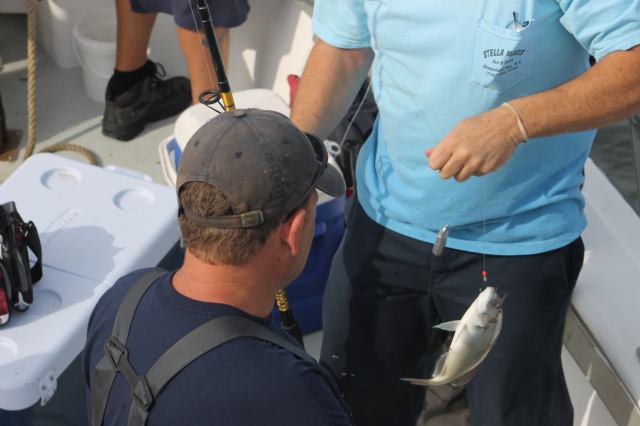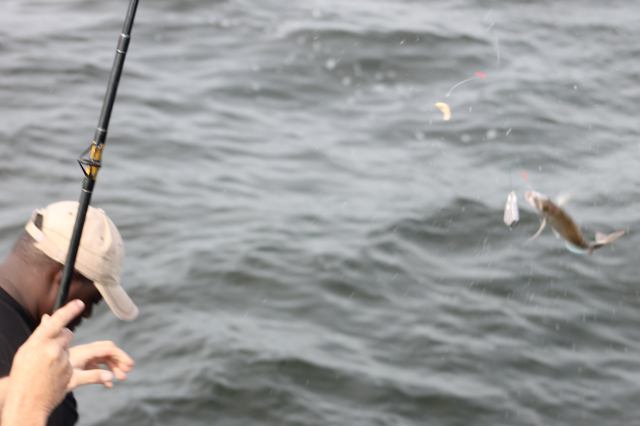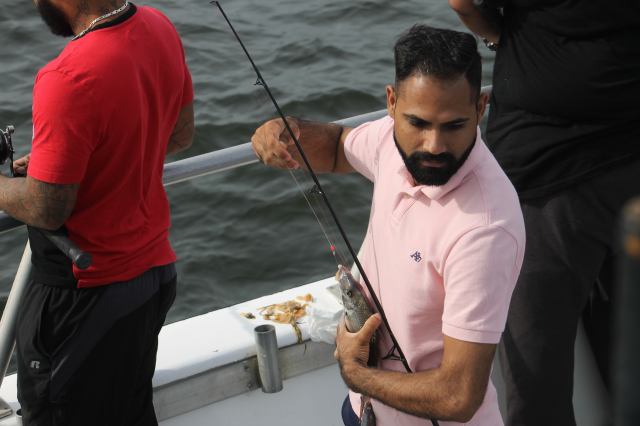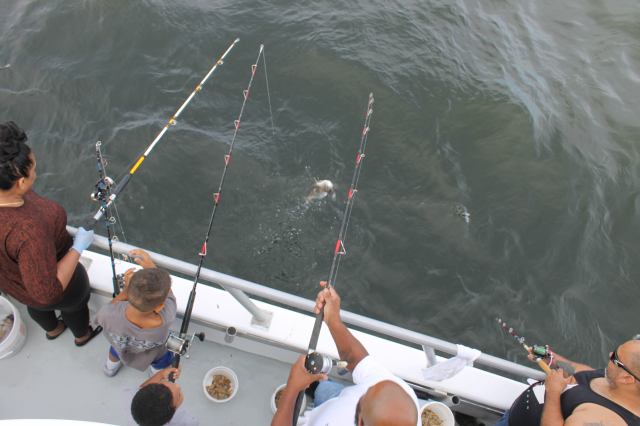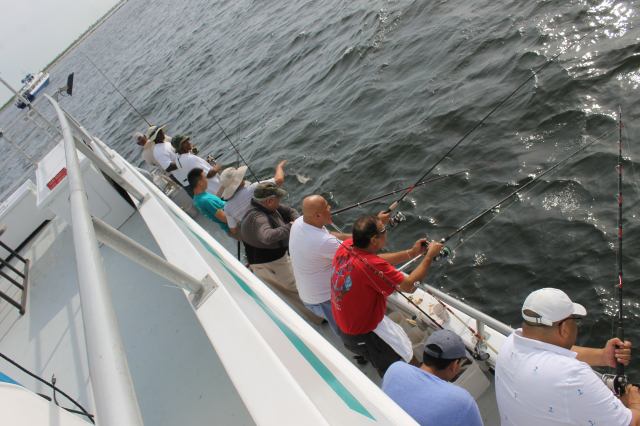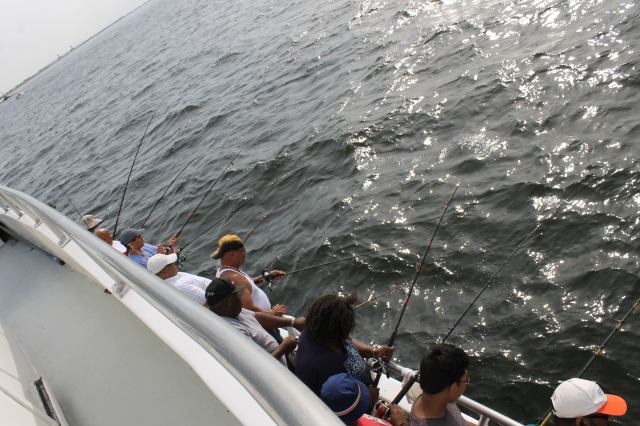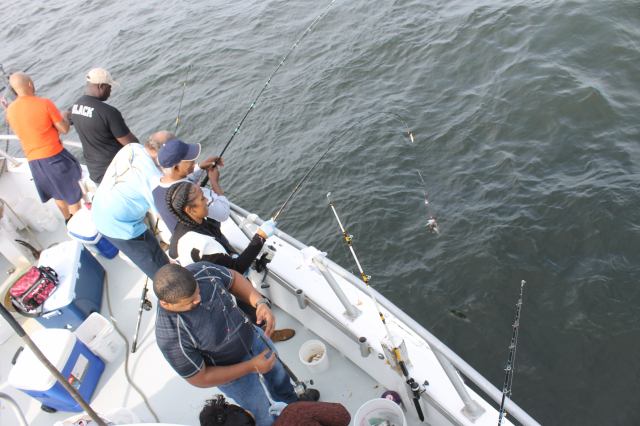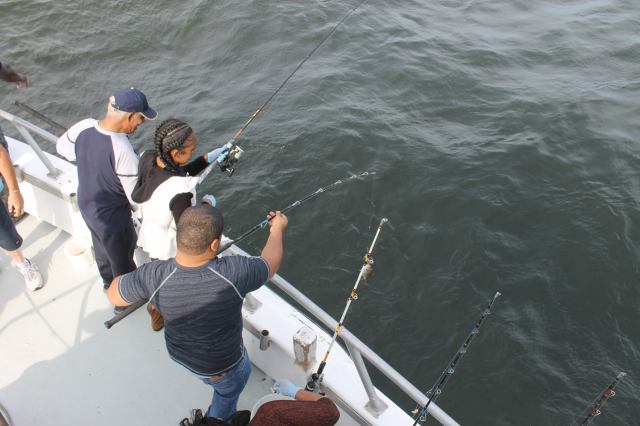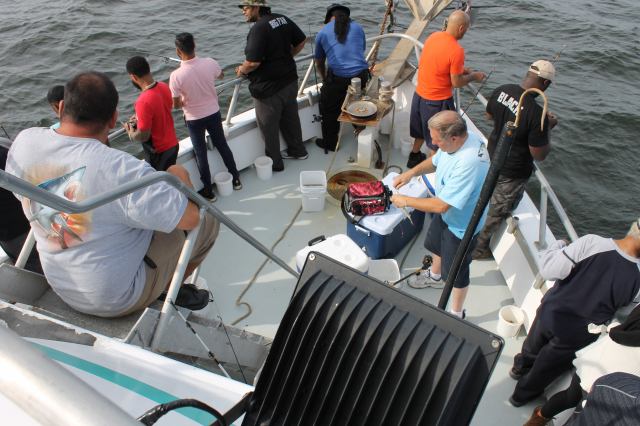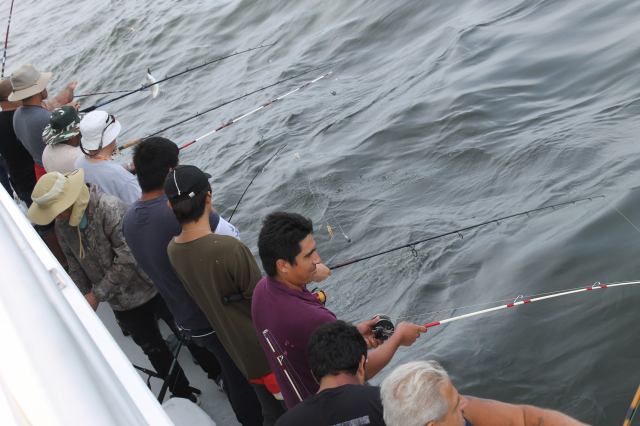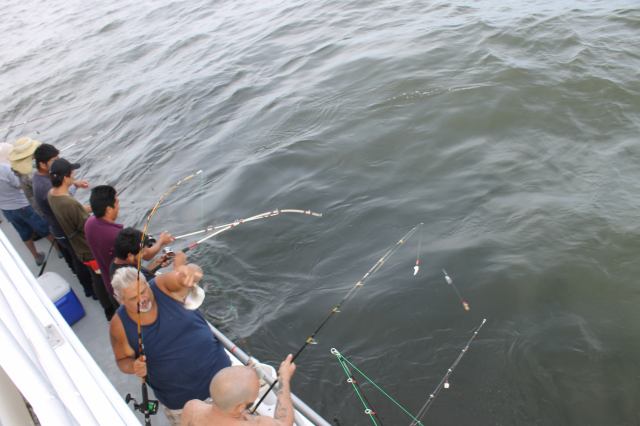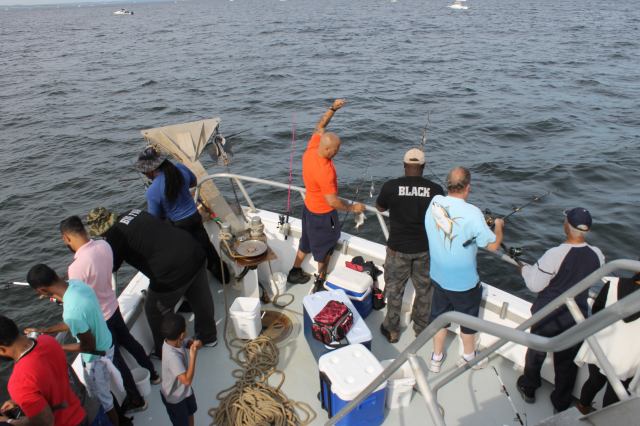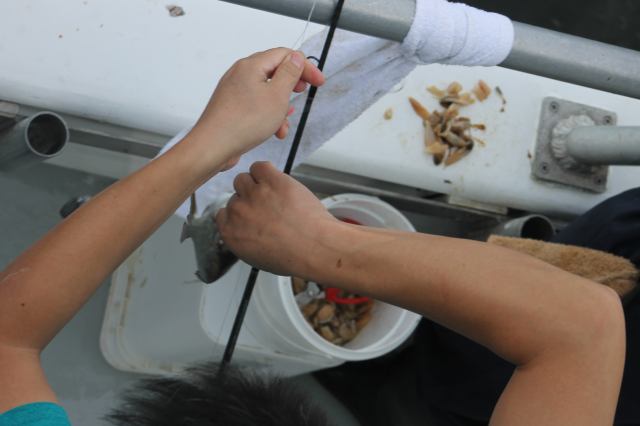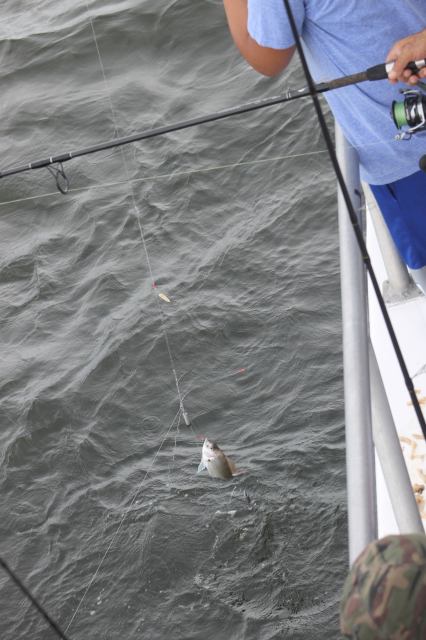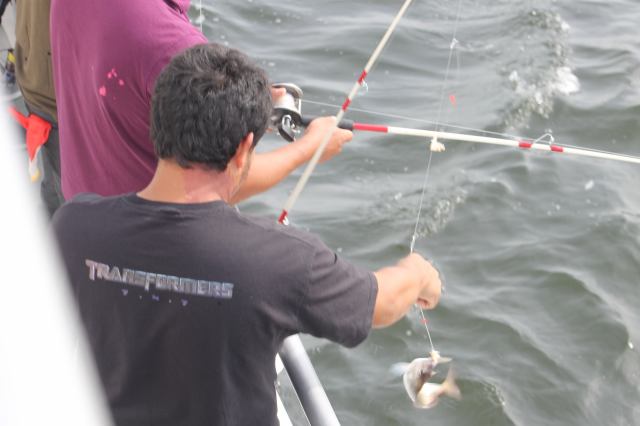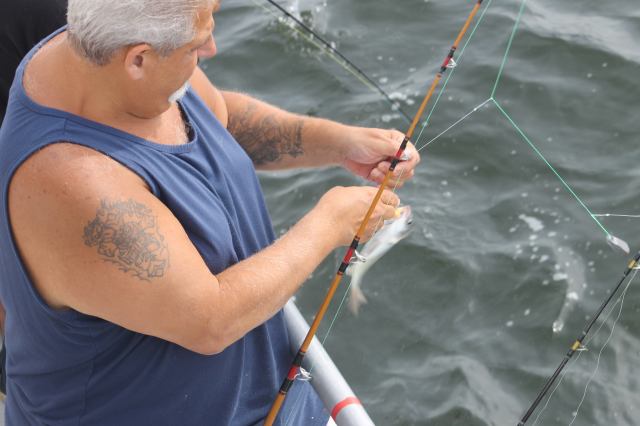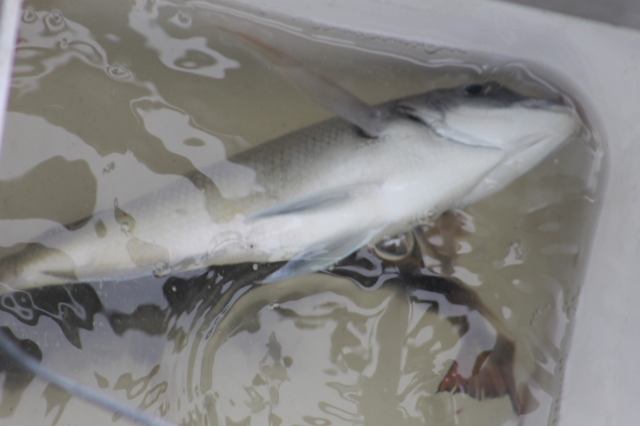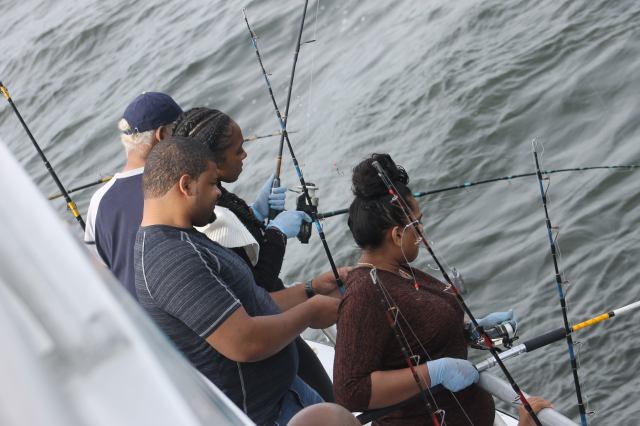 The Marilyn Jean IV - Filled to the rails
I also had a chance to pull out my camera and the entire Sheepsbay Fleet was on the water and catching fish. I got great pictures of the Brooklyn, Ocean Eagle and the Captn's Lady. Everyone was having banner days. These are the days that you will be talking about when your an old man.

The Brooklyn VI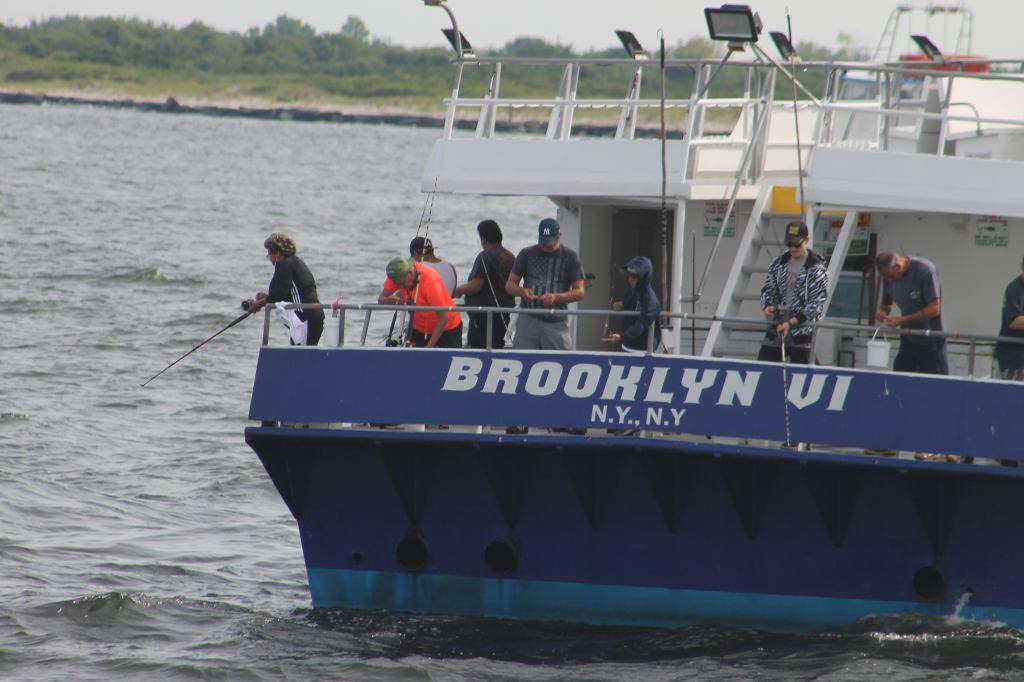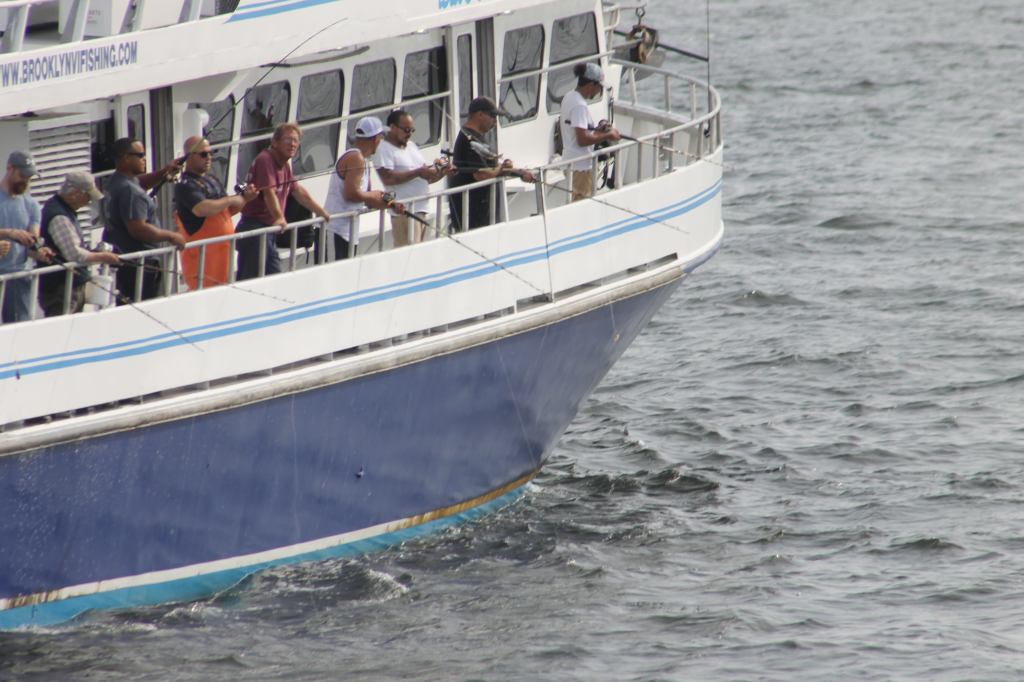 Captn's Lady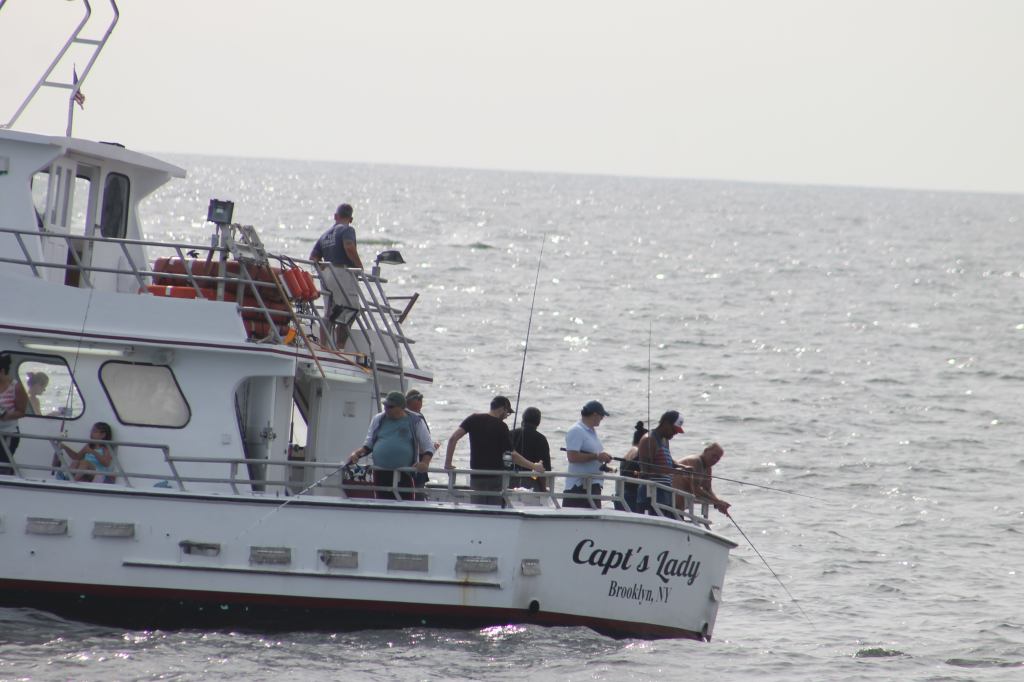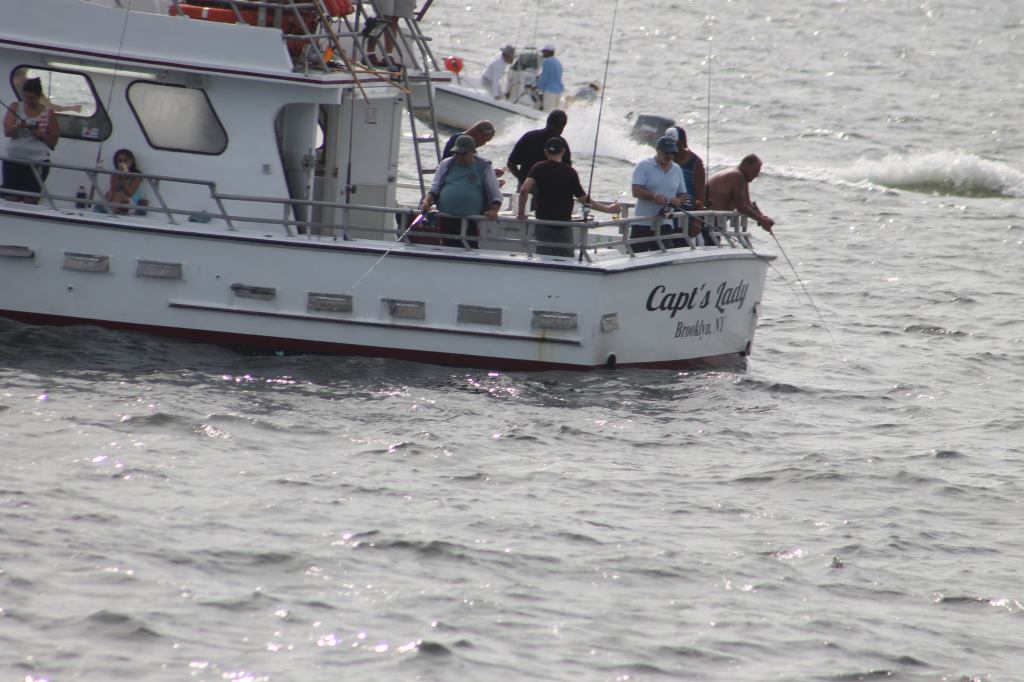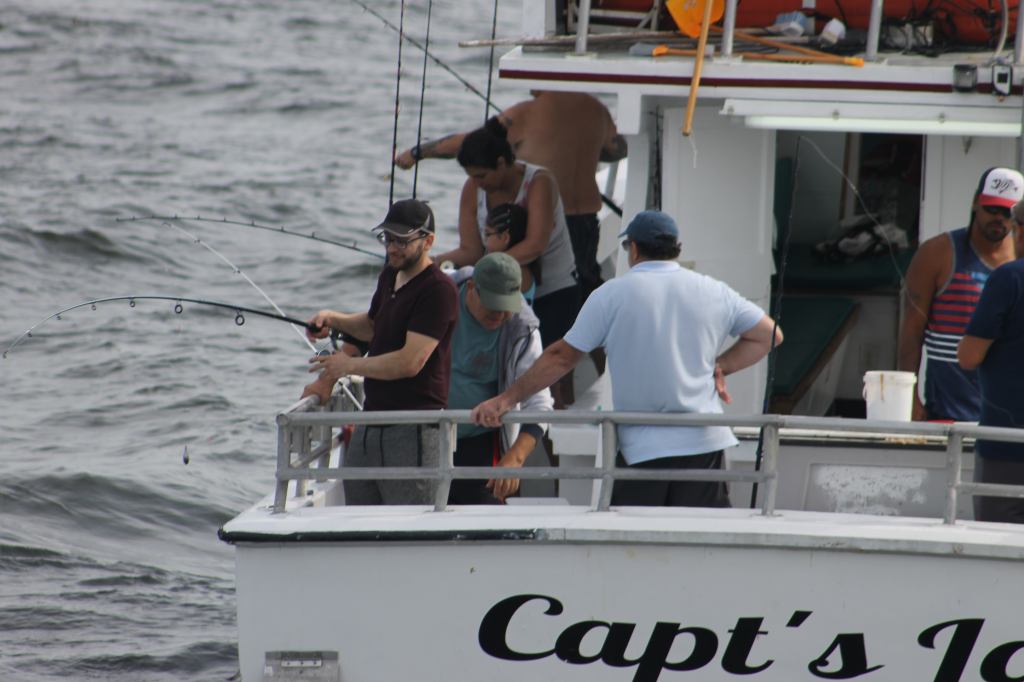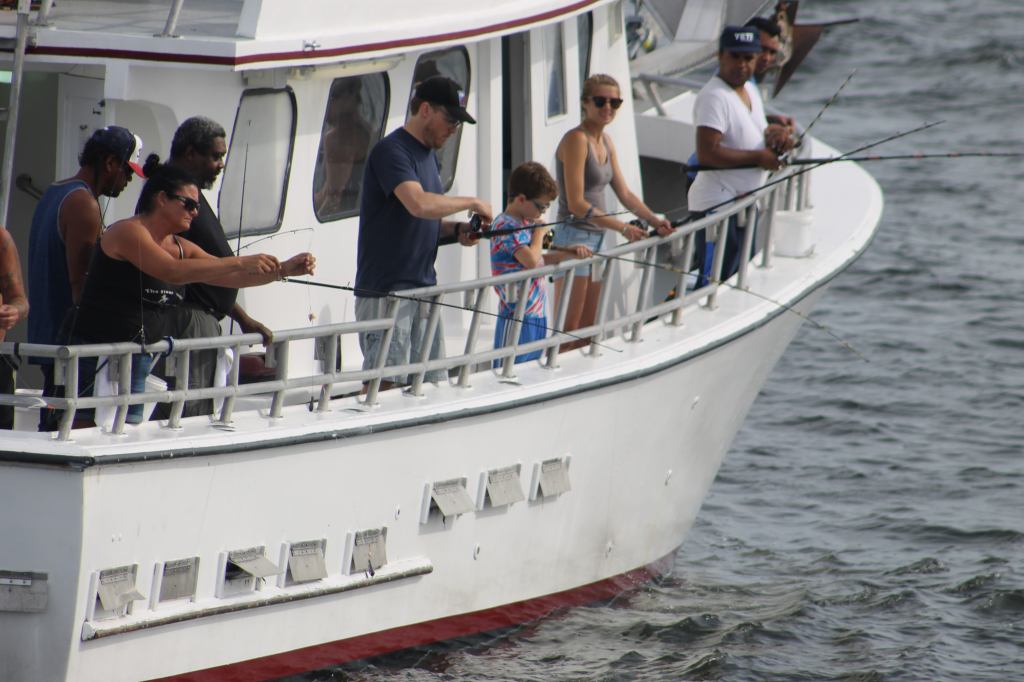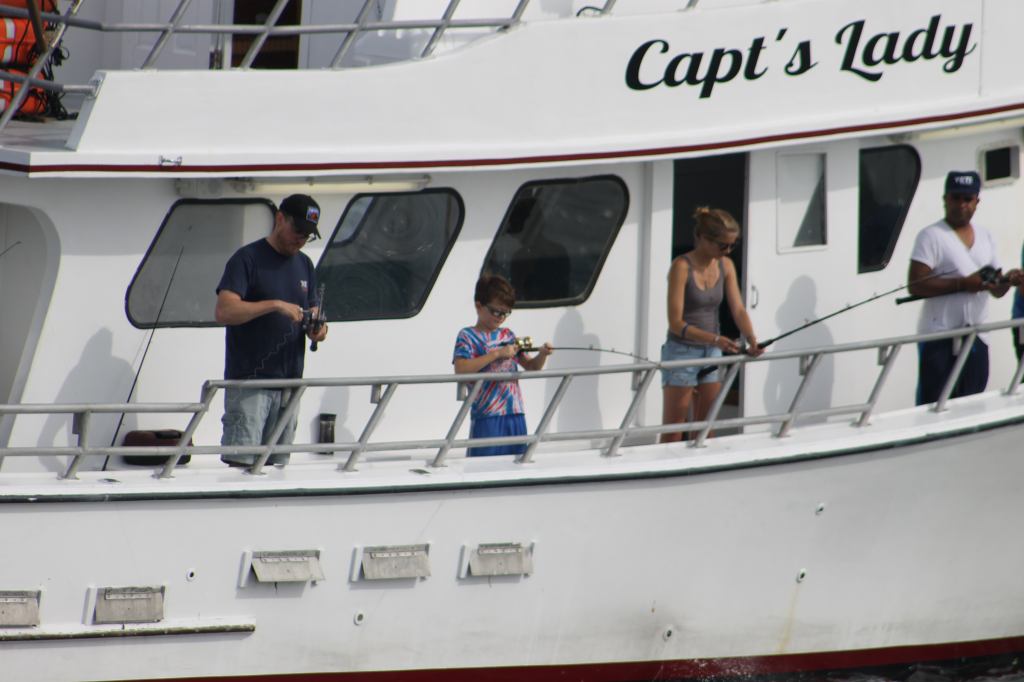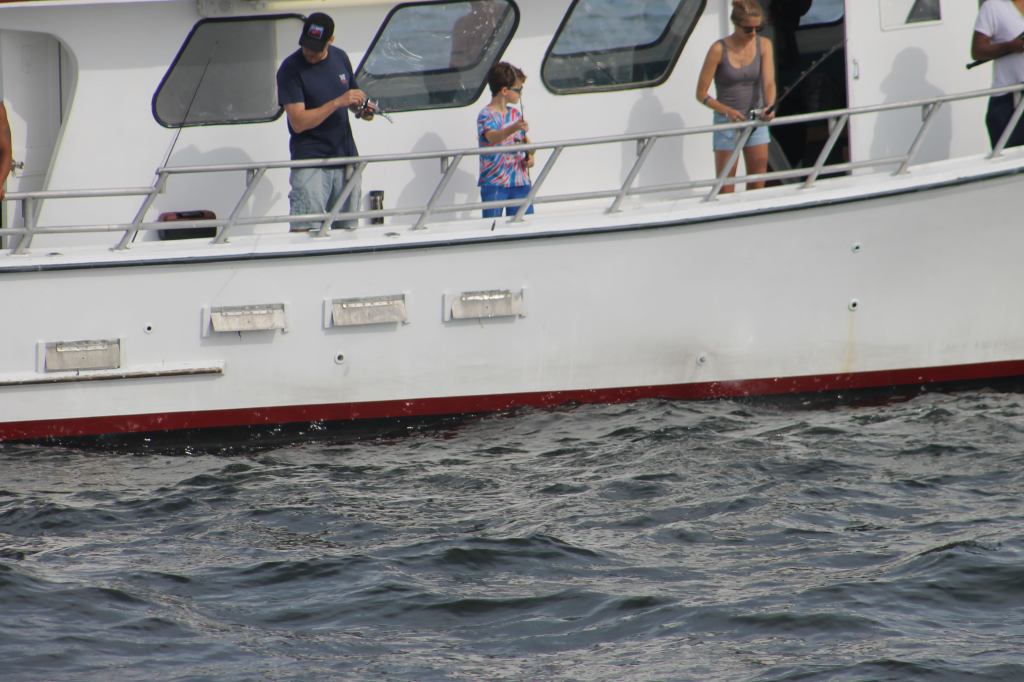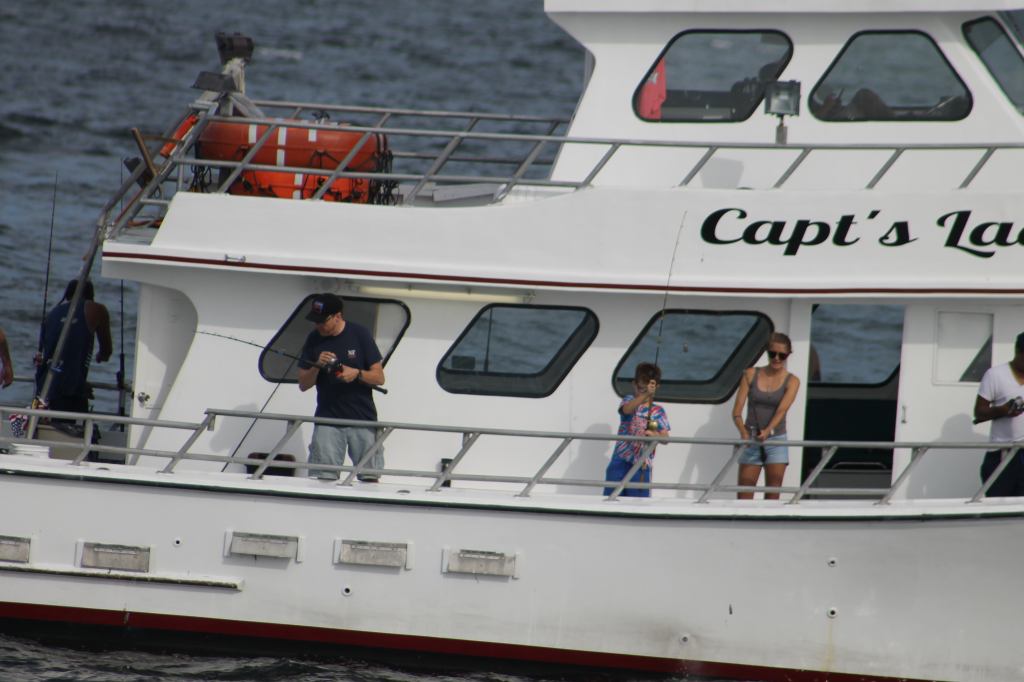 Ocean Eagle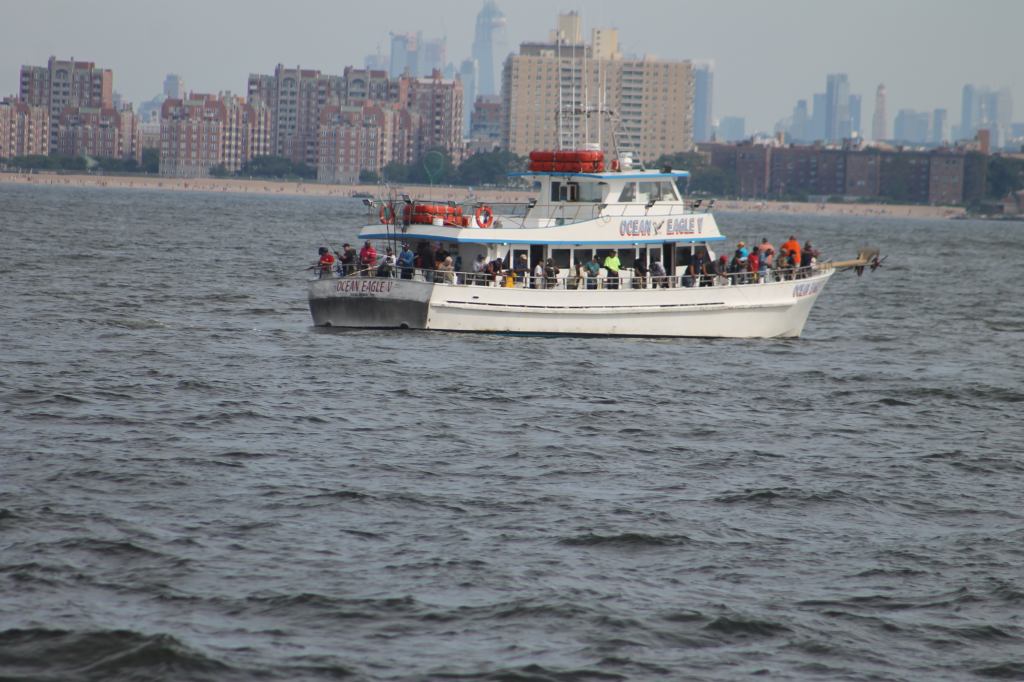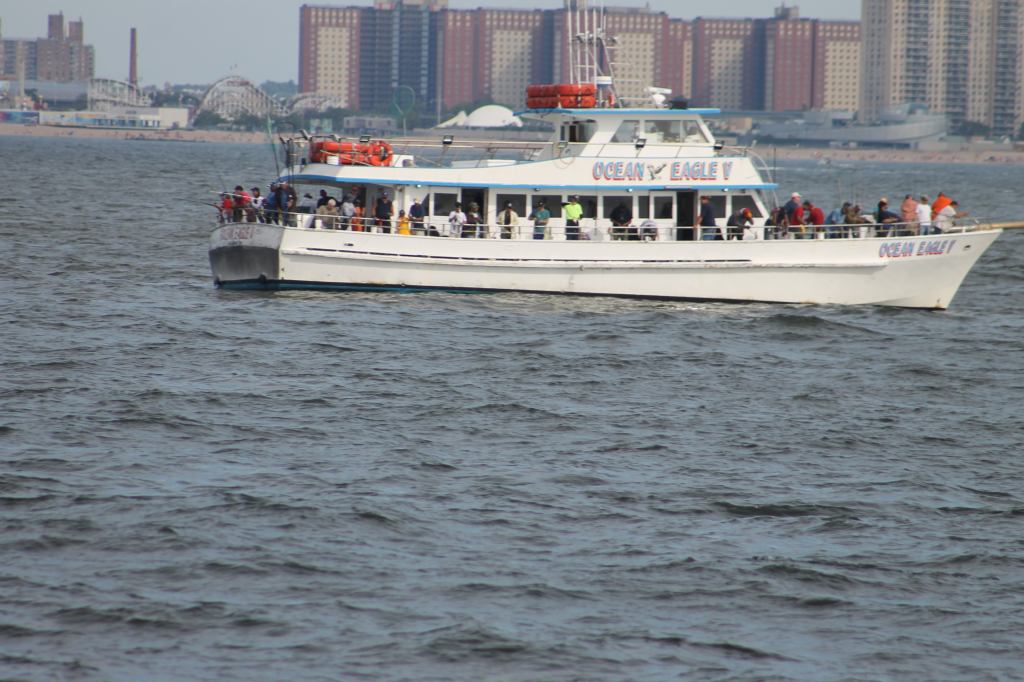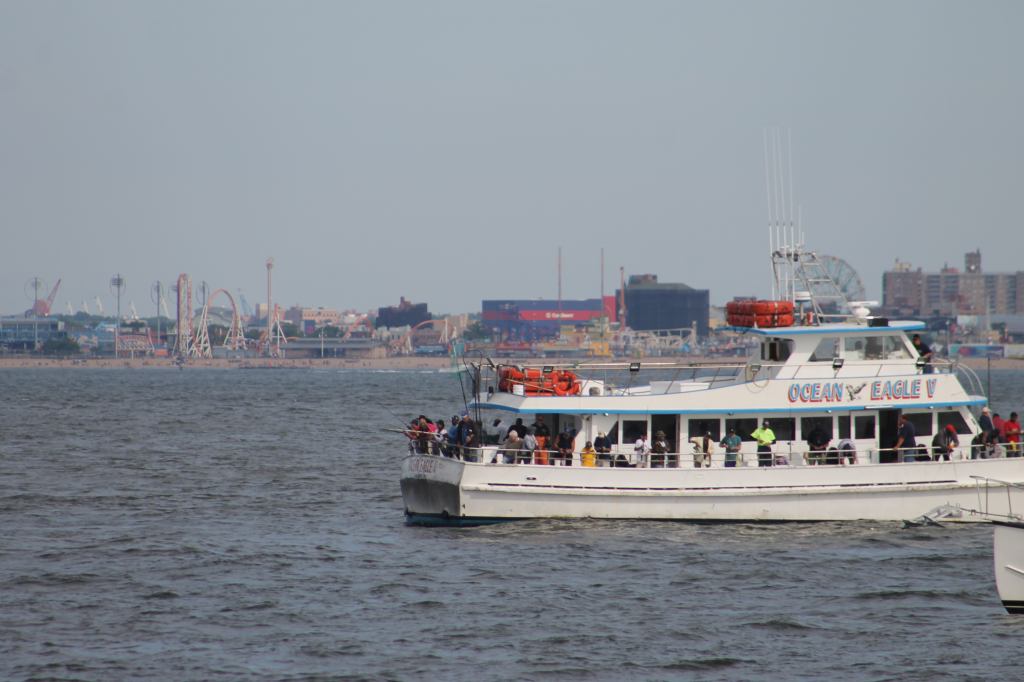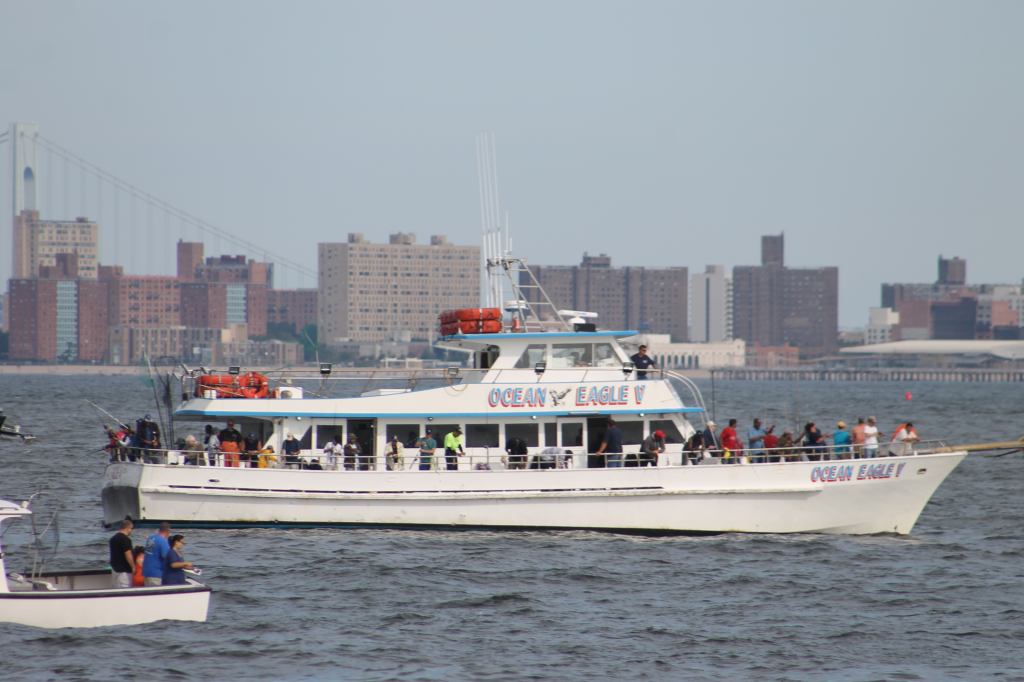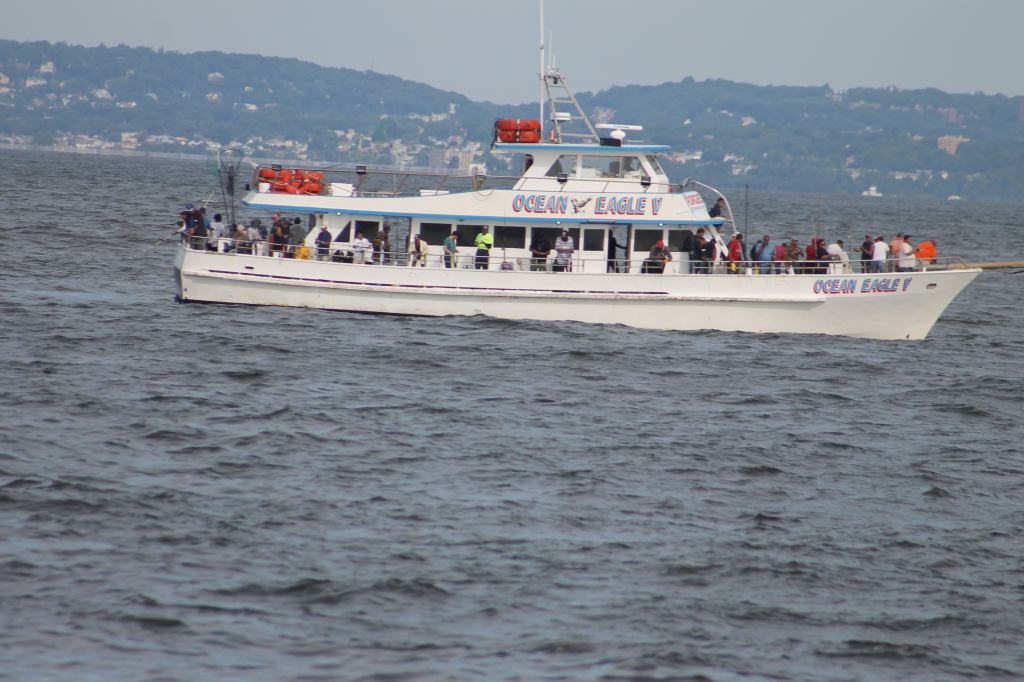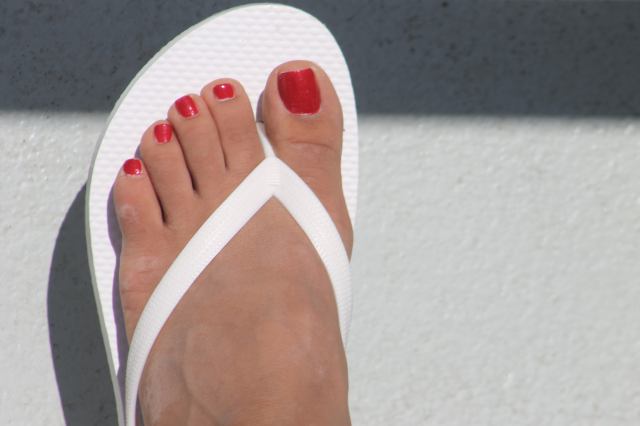 Ocean Eagle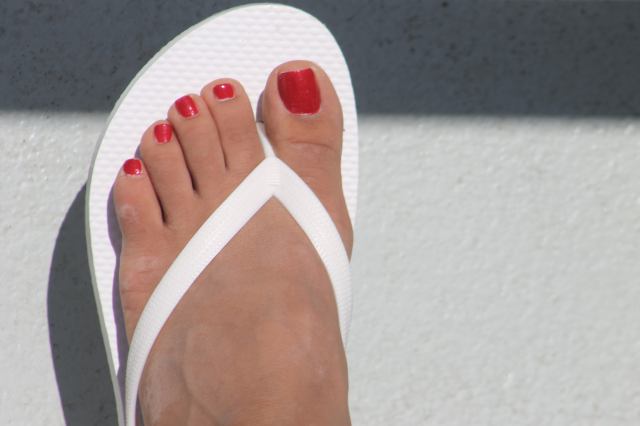 Brooklyn VI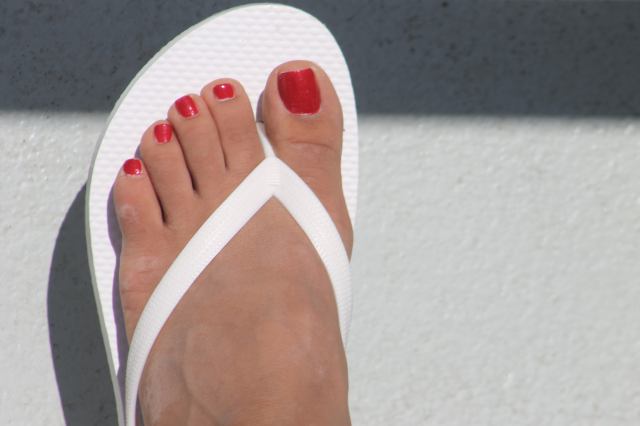 Captian's Lady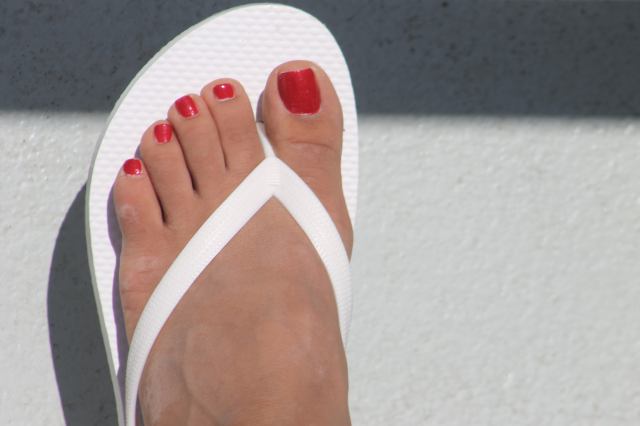 Marilyn Jean IV
---
I just spent a full day, morning (July 16th, 2018) and evening of fishing on the Marily Jean IV. The morning trip had huge thunderstorms which allowed me to catch a ton of porgies. This morning trip was one of my great trips on the water, with these four young folks, racking up on their first trip, huge numbers of fish and a prize Sea Bass.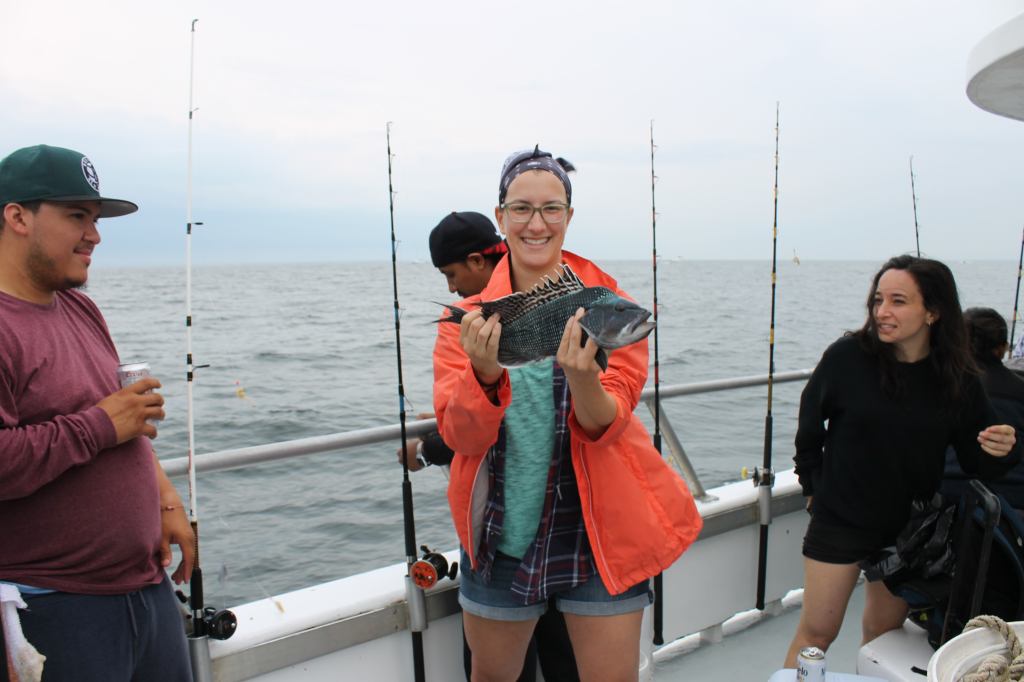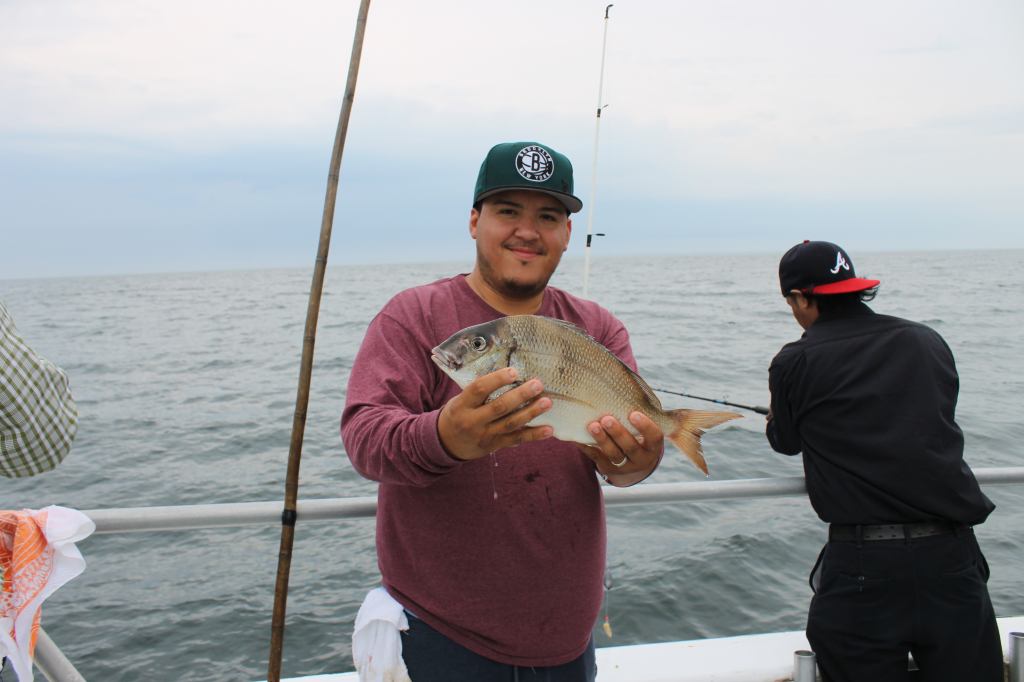 We managed to pull in a huge Striped Bass from another young women, to the shock of the entire boat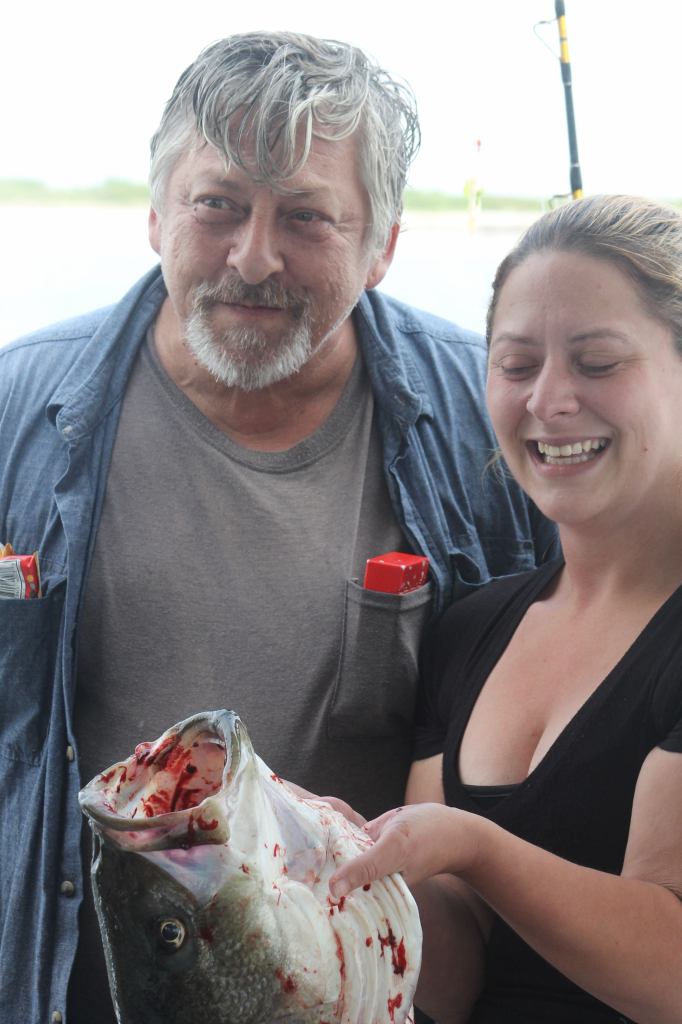 The night time 7 to midnight trip was likewise productive, although without the thunderstorms.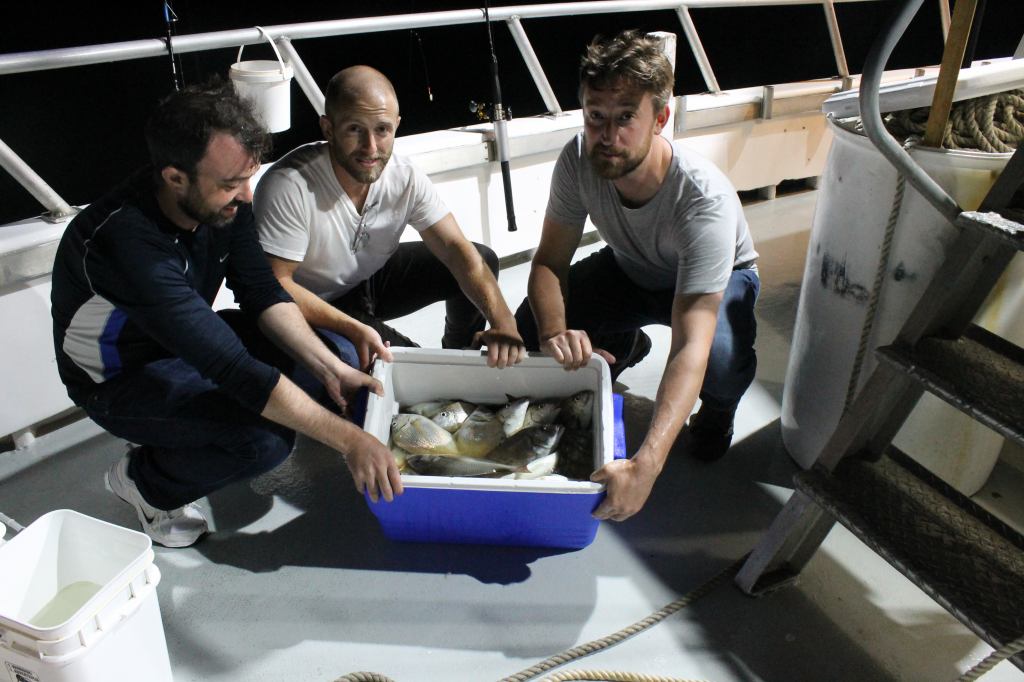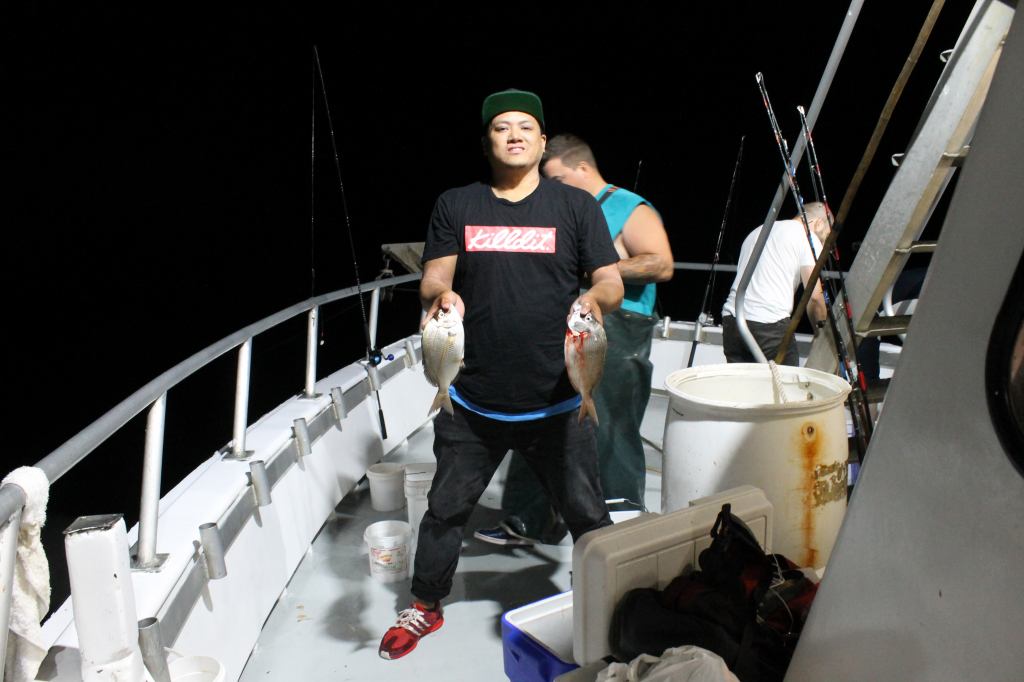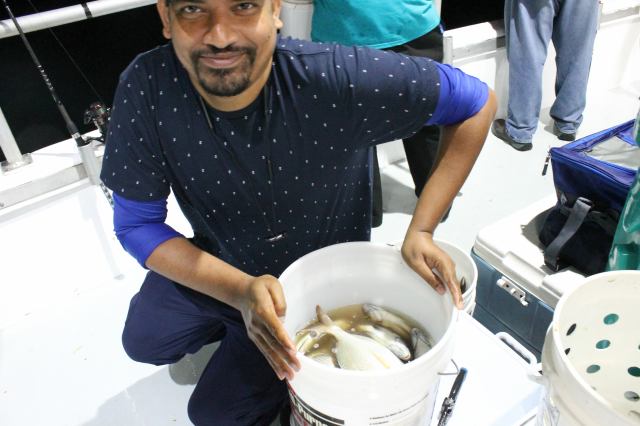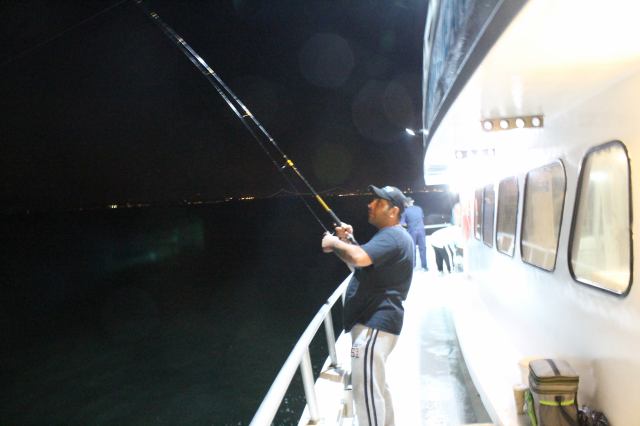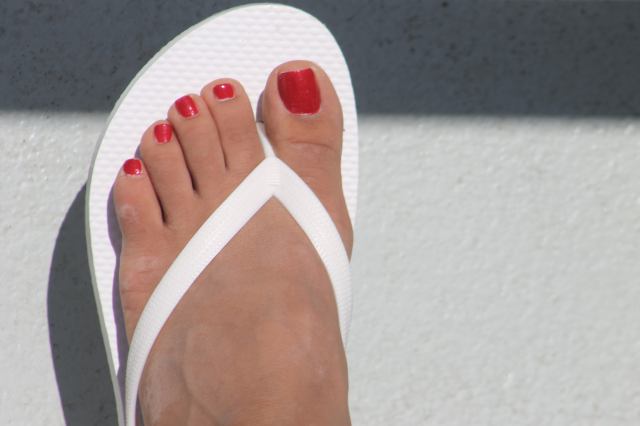 See the Entire Day in Pictures
---
The Fourth of July is right around the corner and Brooklyn has now seen its first heat wave of
the summer after a few days of rain. The result is that we are seening huge porgies thoughout
the waters in the lower New York Harbor and blight. Fishing has been anything from off the hook
to moderately heavy, with huge fish coming over the rail. This is the days of summer that locals
come to cherish, quiet, productive, mind clearing. Grab the kids and your girl and head to the docks
because life moves on quickly, and you should milk it for all that you can. Just ask Elias!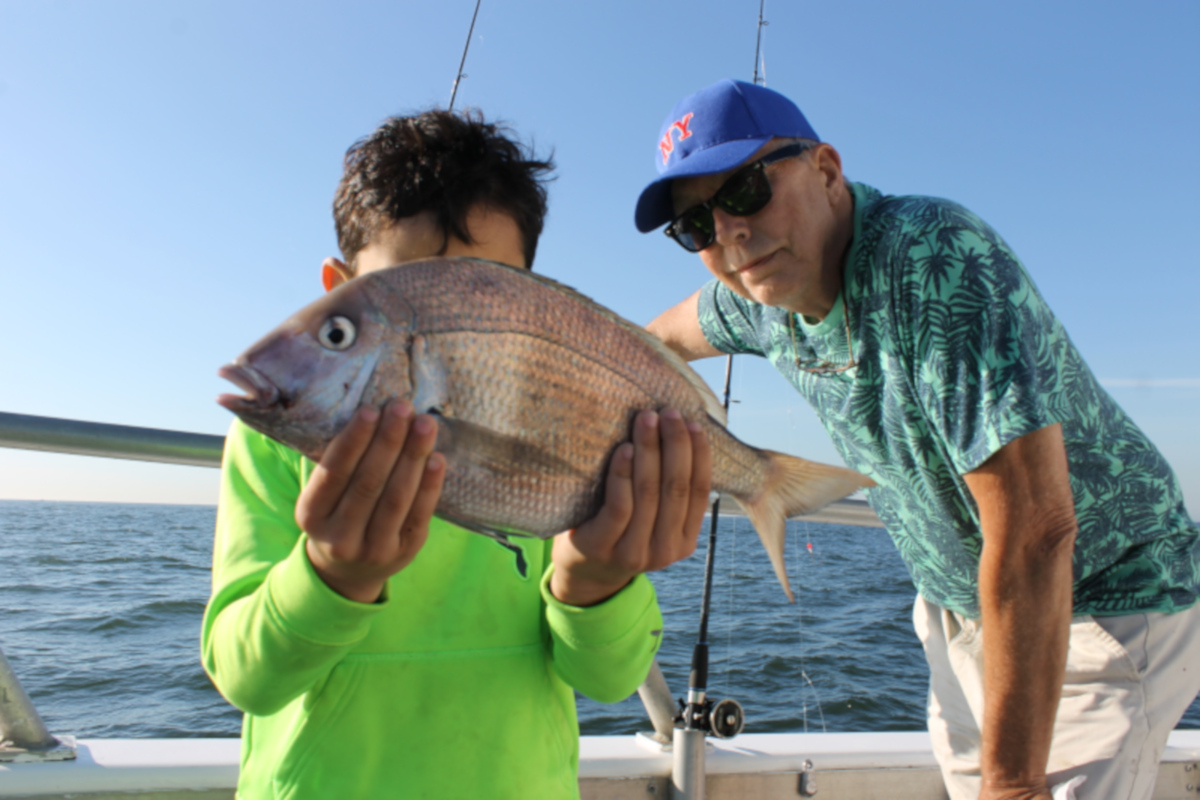 Elias Showing Off His Fish!!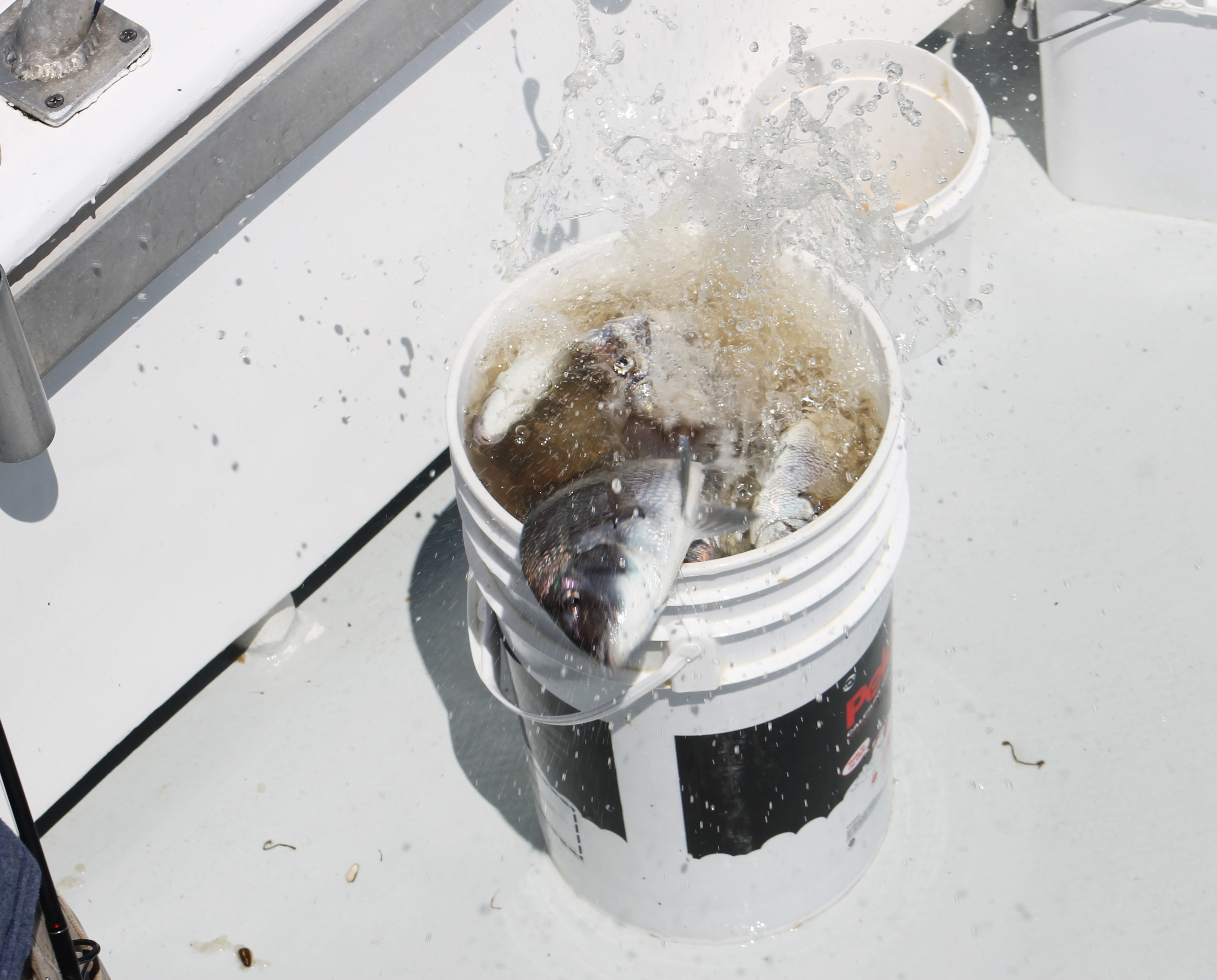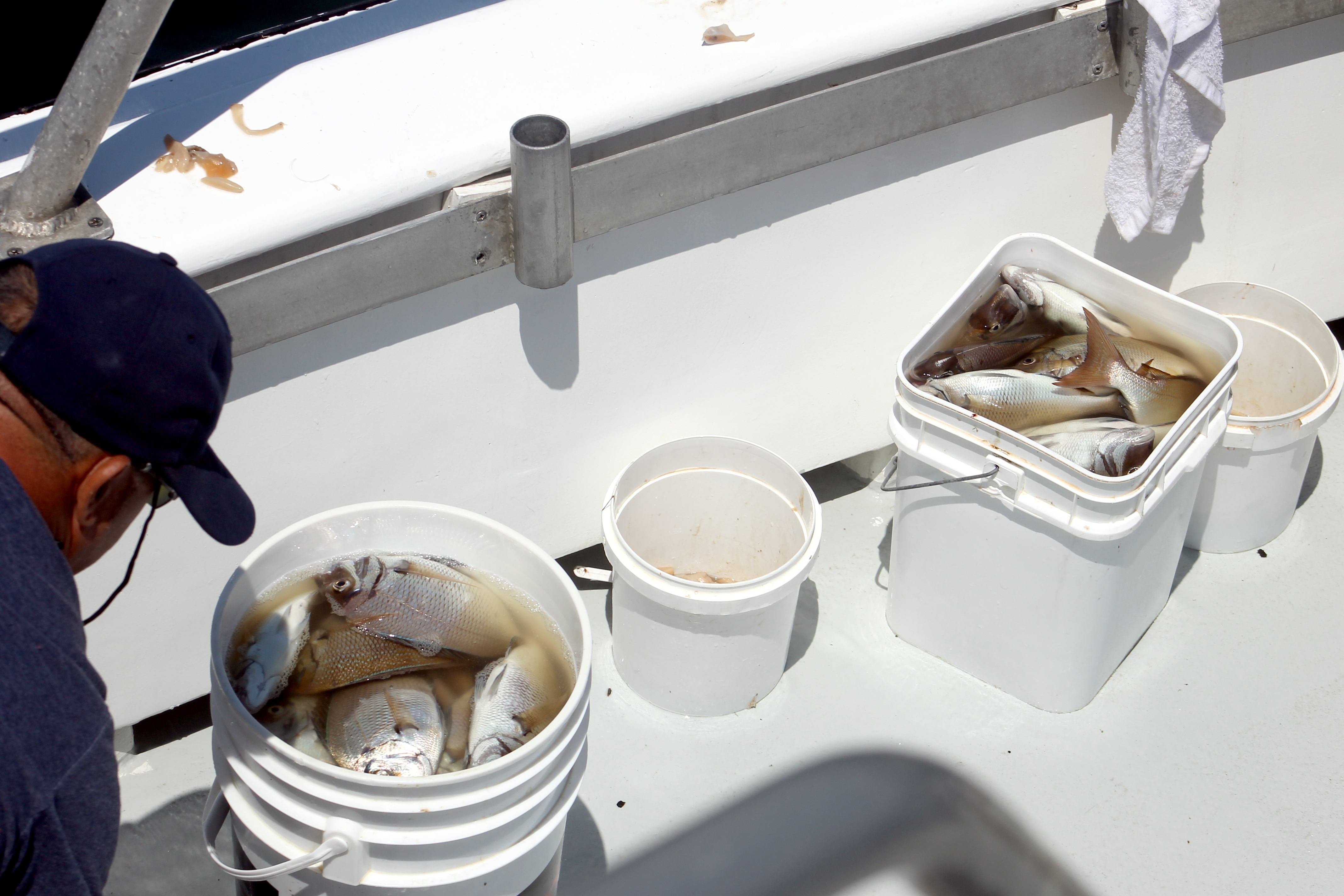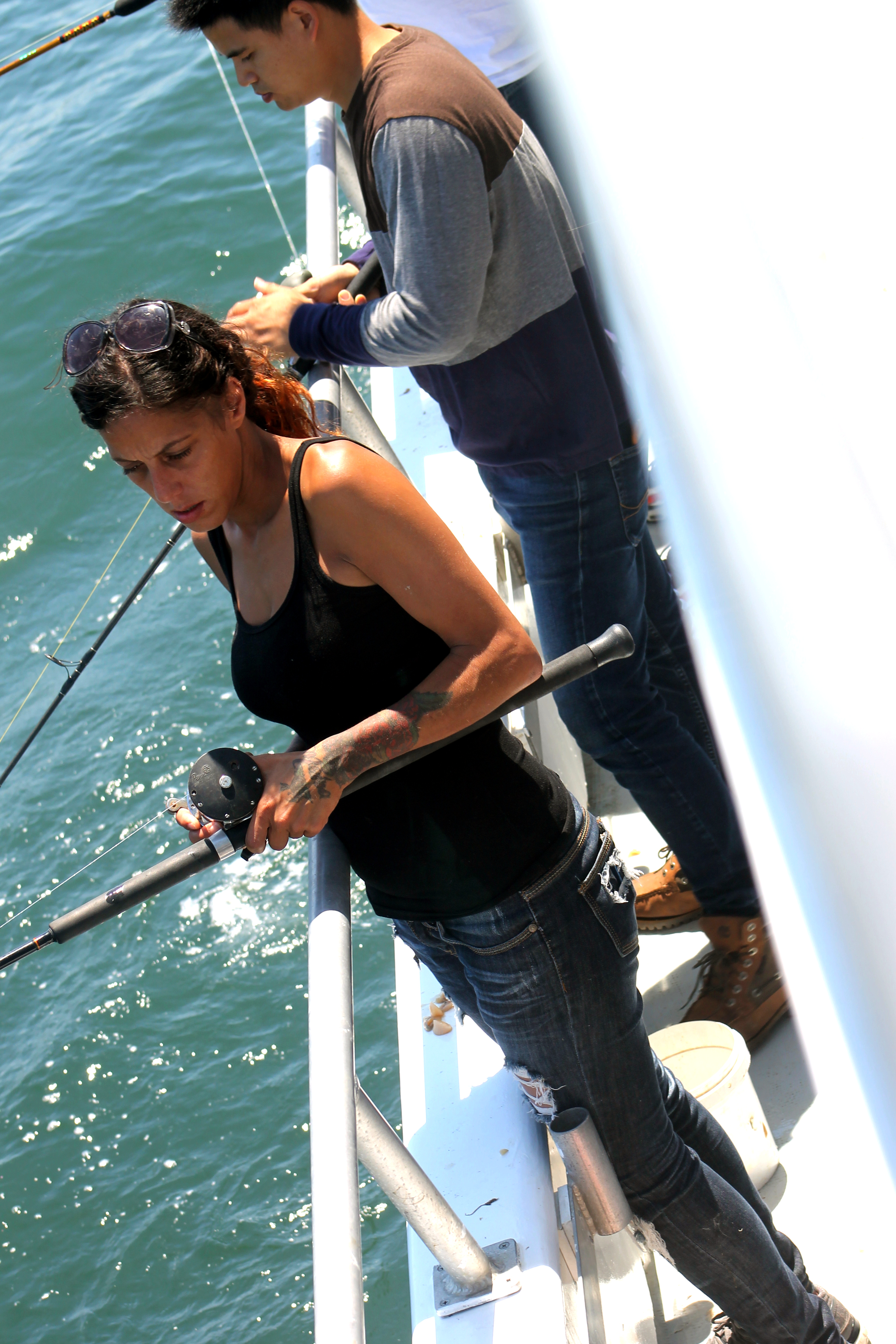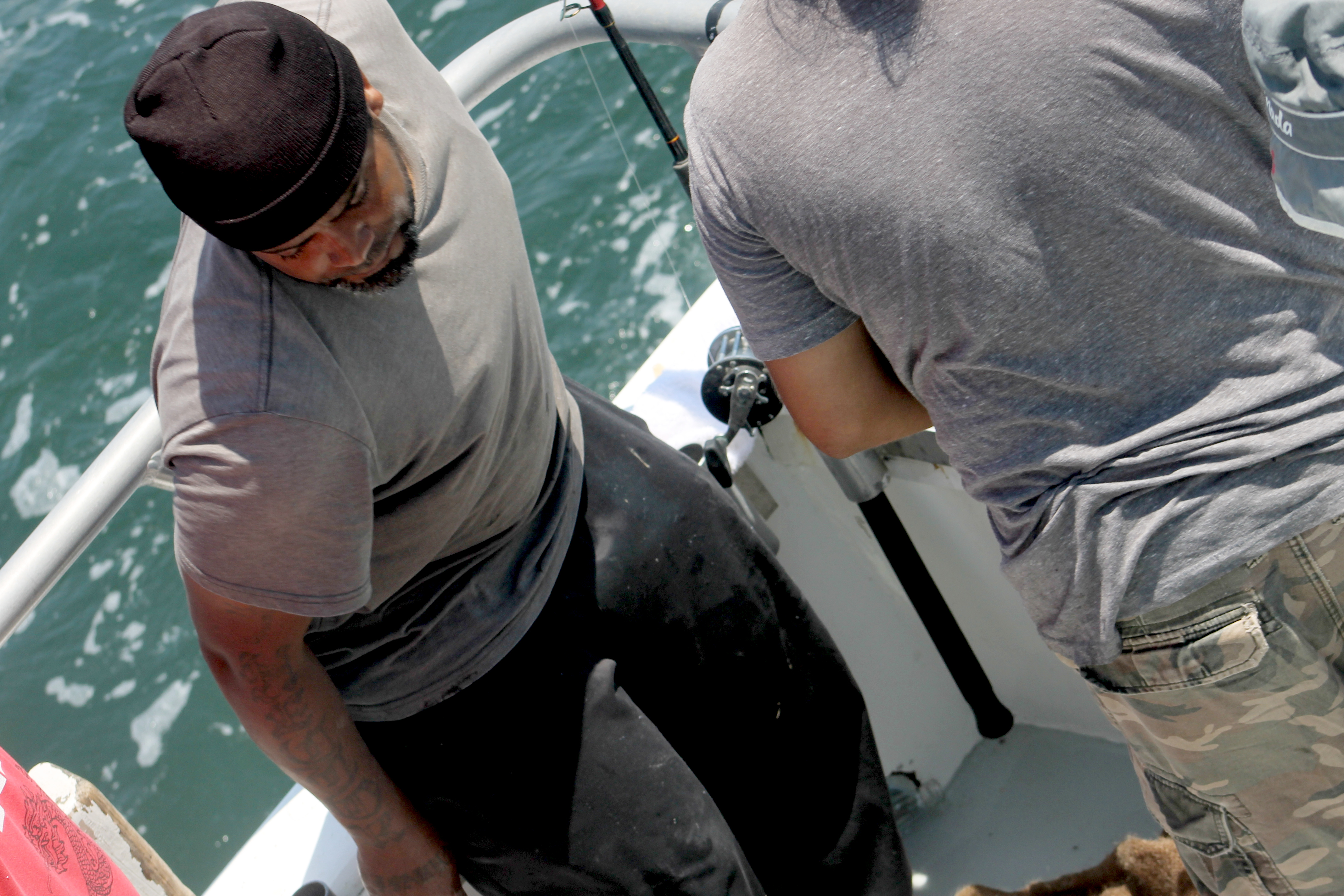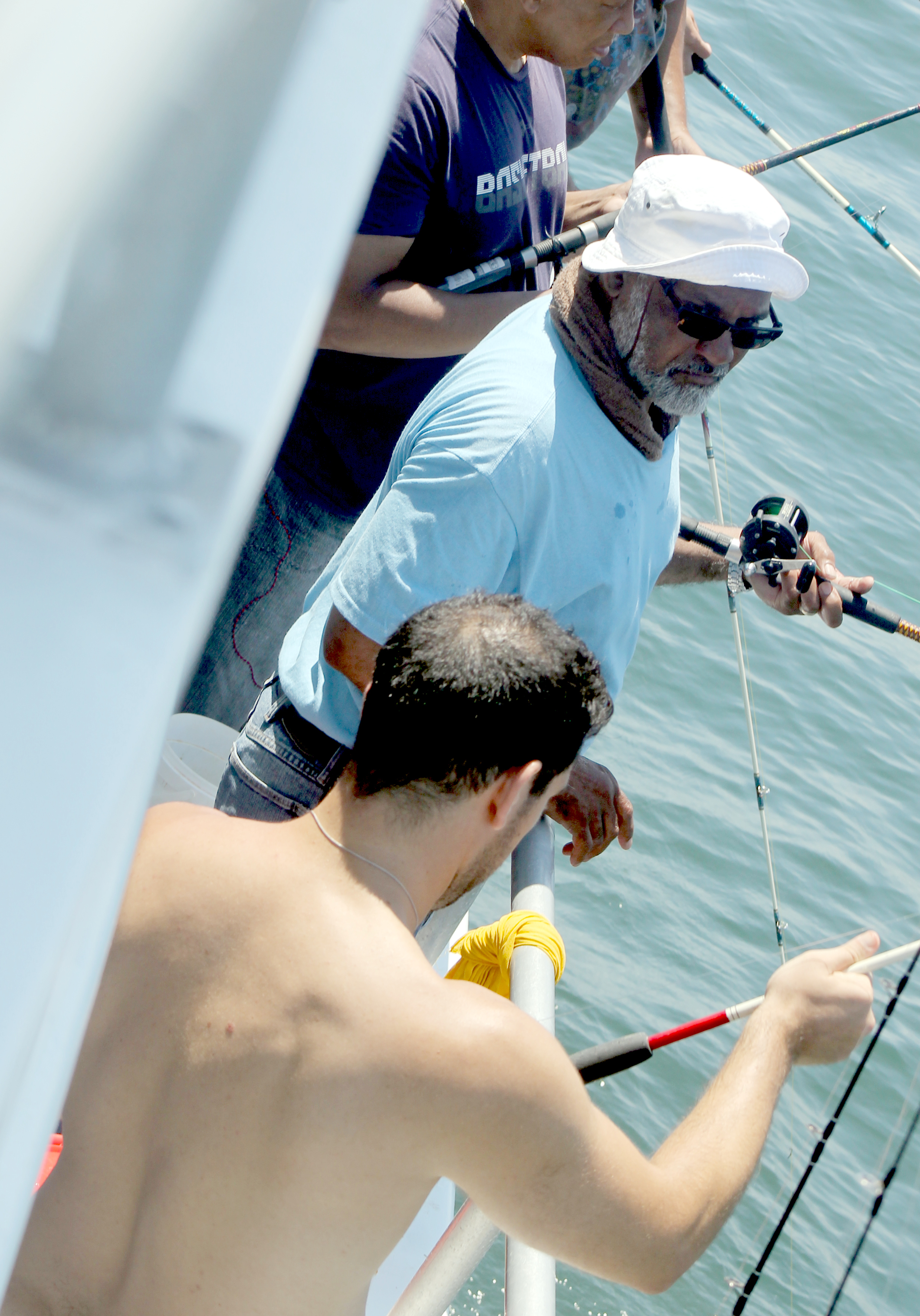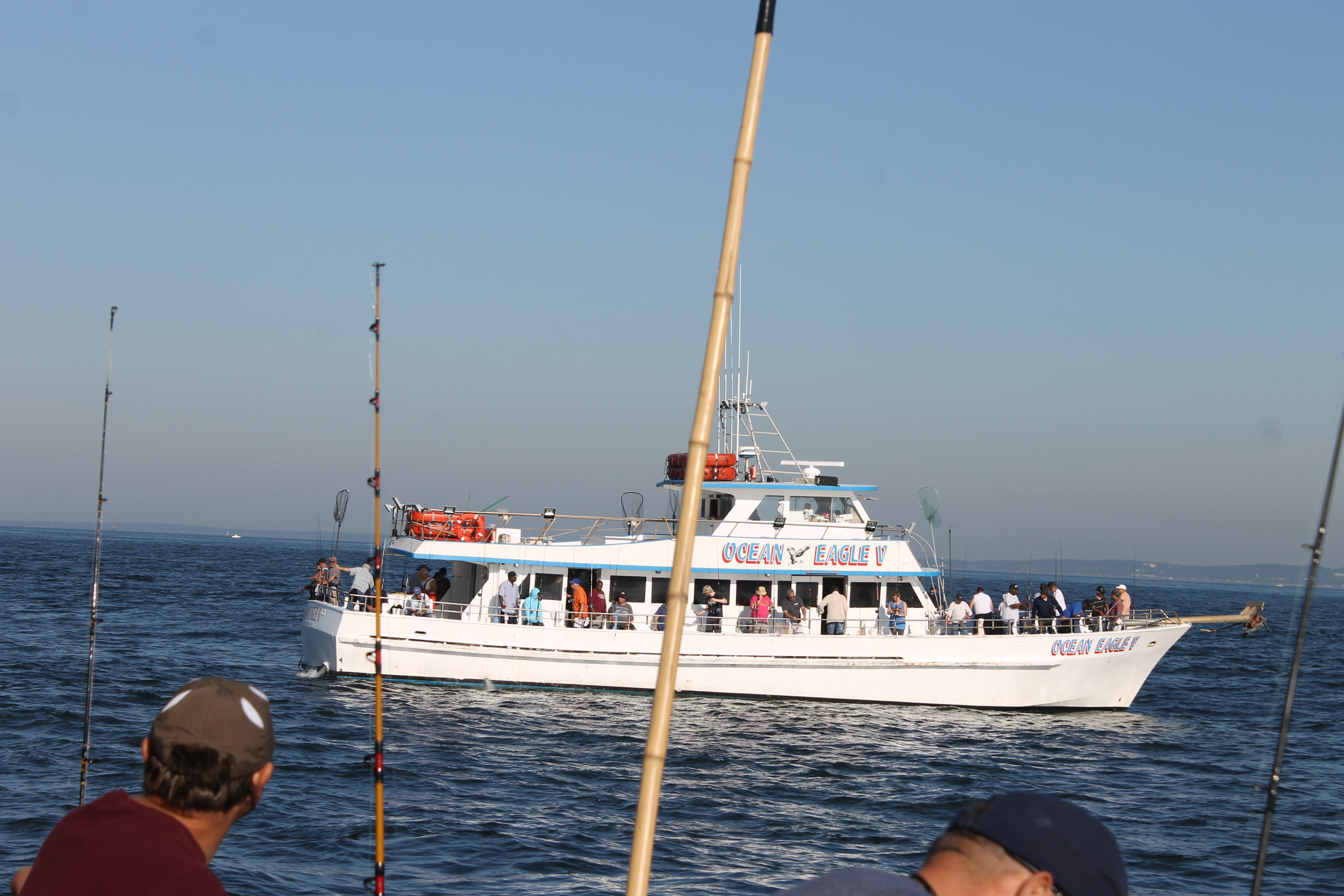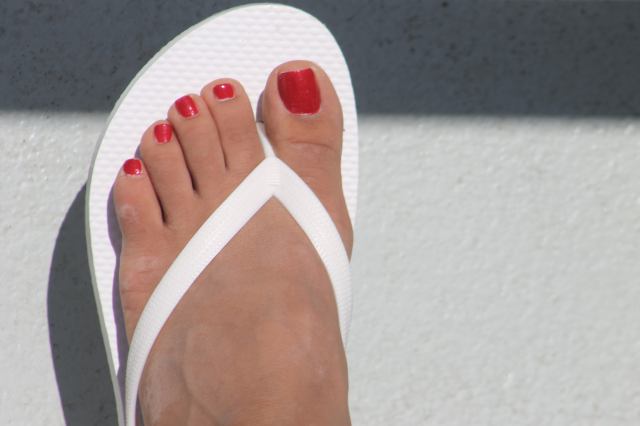 Check out our great day on the water

---
Brooklyn Fishing Reports - Spring 2018 and Summer 2018
Starting this year we had the great oppurtunity for the firs time in over a decade to fish legally for Black Fish in the Spring Time. Unforuntately we also suffered a very cold winter into early Summer. The result was lots of fishing, not many fish. The Ocean Eagle, Captian Dave, and Marylin Jean all tried to get in on the action, and a few fish were caught but nothing to get really excited over. Hopefully next season with be more promising
In light of these changed, our local captains have made some adjustments to their regular schedules.
Captain Dave will continue with 9AM - 4PM Fluking and added an early evening trip from 5PM to 10PM for Stripers, Blues etc.
The Ocean Eagle has been running great Fluke trips all Spring and into the summer, after the Blackfish runs. Greg, Glen and Geoff have had some great success. I caught 4 shorts on my trip on Thursday June 7th (2018). The boat brought in a decent 24 keepers with about 25 passangers, along with other species. It was a very decent trip.
The Brooklyn VI has hammered Blue Fish all season. They are definitely back in the local waters. The Brooklyn is running Sundays from 5PM to 9PM for Porgies which is actually a boon for many looking to squeeze in a trip with a workday following up. Otherwise they are running their deep sea fishing 7AM-3:30PM all week and 7PM-Midnight otherwise. I see a lot of smiles coming off the Brooklyn of late.
The Marilyn Jean has been running mostly Ling Fishing early in the season, with night time Bass and Blues. This weekend, the first week of June, we hit a large number of Ling with a huge number of Black Sea Bass that had to be returned to the water, and large blackfish, that also had to be returned. DEC was waiting for the boats at the docks on return. They searched the Brooklyn, Ocean Eagle, Sea Queen and the Marilyn Jean. They didn't find much, but it was unpleasant enough.
In addition to DEC, the Federal DEC was also on the docks. Why? I don't know. But law enforcement has been choking the docks all season. The Coast Guard ticketed Frankie, the Caption of the Marilyn Jean for being to close to the Gil Hodges Memorial Bridge, which is a regular spot for decades to catch stripers. This was a $30,000 fine. The presure put on these boats for fishing near the bridge is just morally repugnant. These are the known registered professional boats that not only pose zero security risk, but also are the eyes and ears of any kind of terrorist activities that might be in Jamacia Bay. If anything suspecious was to happen, they would be the first to know. Targeting and manhandlng them by the Coast Gaurd is just flat out wrong. Instead of wasting time harassing the party boat captains for fishing, they could be doing their jobs for once and crackdown on the rampant Striped Bass pouching that happens at night all throughtout the bay by small boats fishing without lights. But the coast guard is just to lazy to tackle real issues when they can harrass a big target like the licensed recreational vessels who won't fight back because they make their living off the water.
Brooklyn Fishing Reports - Spring 2017 and Summer 2017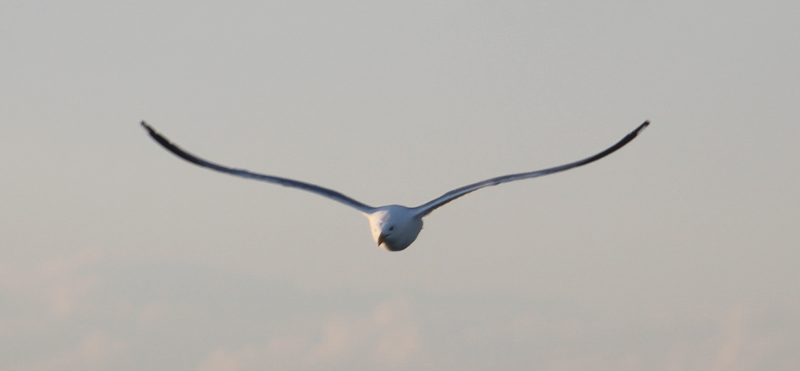 Fishing starts this week. As we have moved into early summer good sized porgies have come alive and we are picking out buckets of them again on the Marilyn Jean IV and the Ocean Eagle. In early July, the Ocean Eagle has pulled out Trigger Fish and Tuesday and Thursdays have had decent Fluke. There has been some unusually artistitic sunset along the waterfront that is worth noting. These shots are taken with my Cannon T3 Rebel and a telephoto lens while I was fishing on the Marilyn Jean IV's night trip. That trip is often wonderful and runs from 7PM until about midnight. We've had some great times on these night time cruises, especially during the week when the crowds are thinner and crew and passangers have time to talk,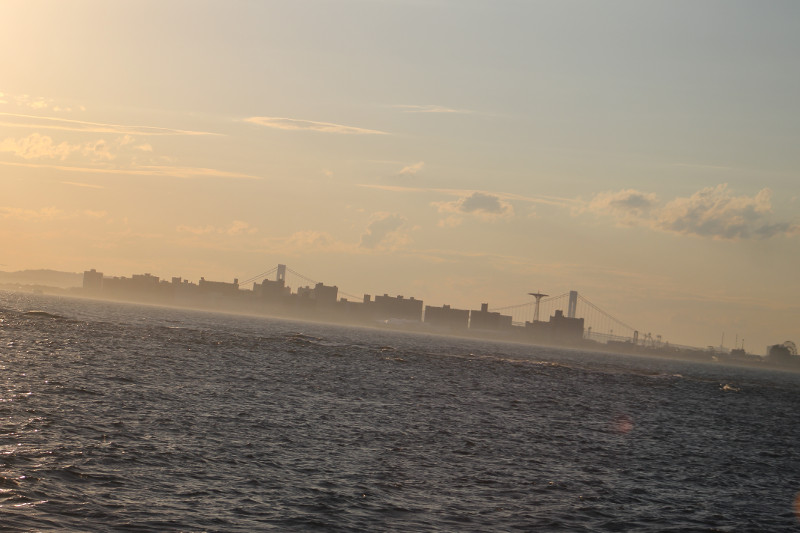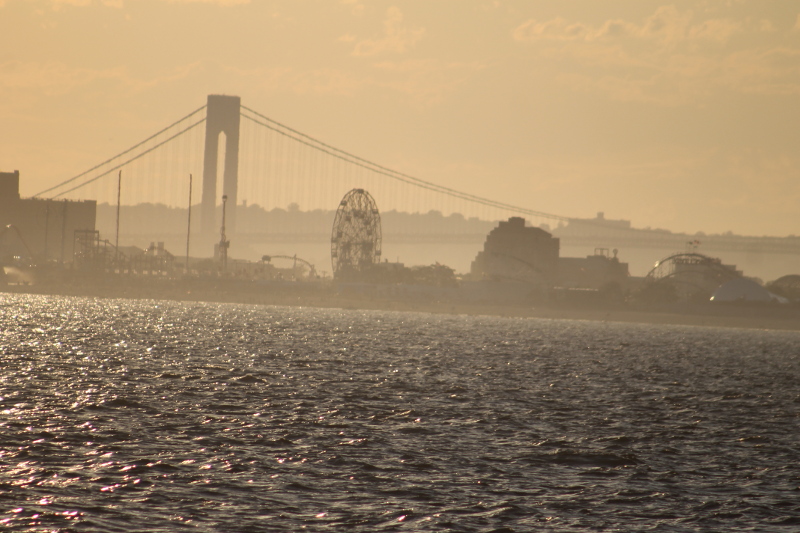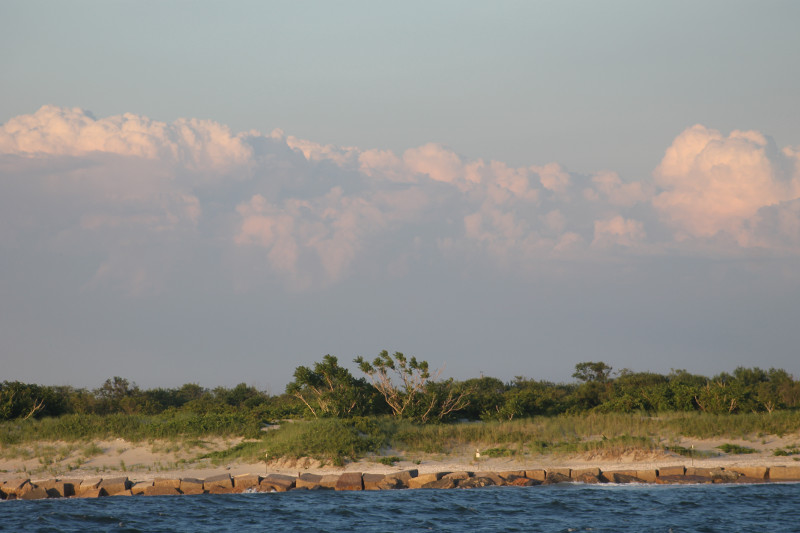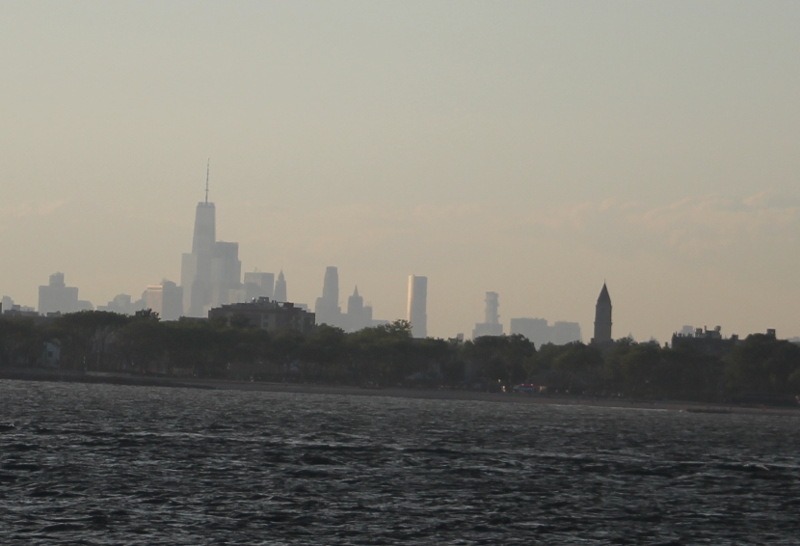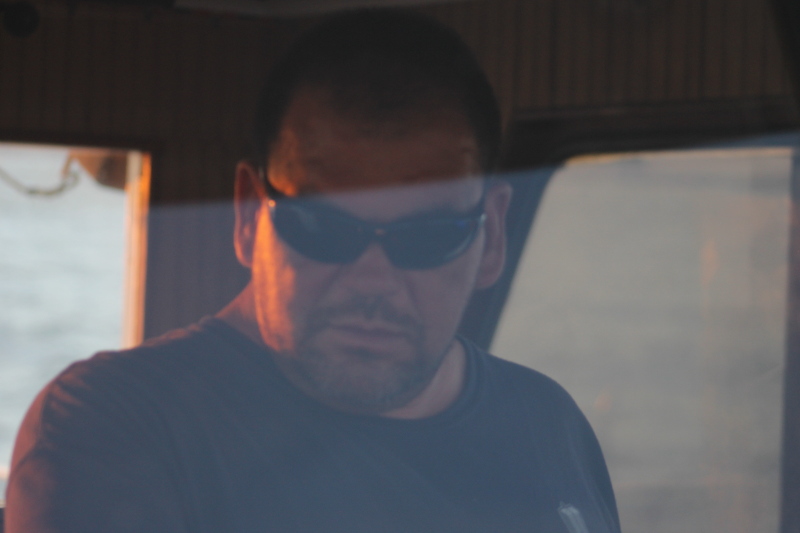 Brooklyn Fishing Reports - Summer 2016

I spent a good portion of this summer over seas, and not fishing much. However, when I returned, we were in the greatestg Porgy run in the history of NYC Fishing. The Porgies have been coming over the rail at limits, 45 fish a man, every day like clockwork. In addition, we have been limiting out early in trips, and heading back to the dock with nothing to do by 1PM. The mates have been suffering, filleting fish from 8AM until 3PM. I've seen cooler after cooler of porgies being taken off the boats. I had to buy a new freezer to store all the fish!!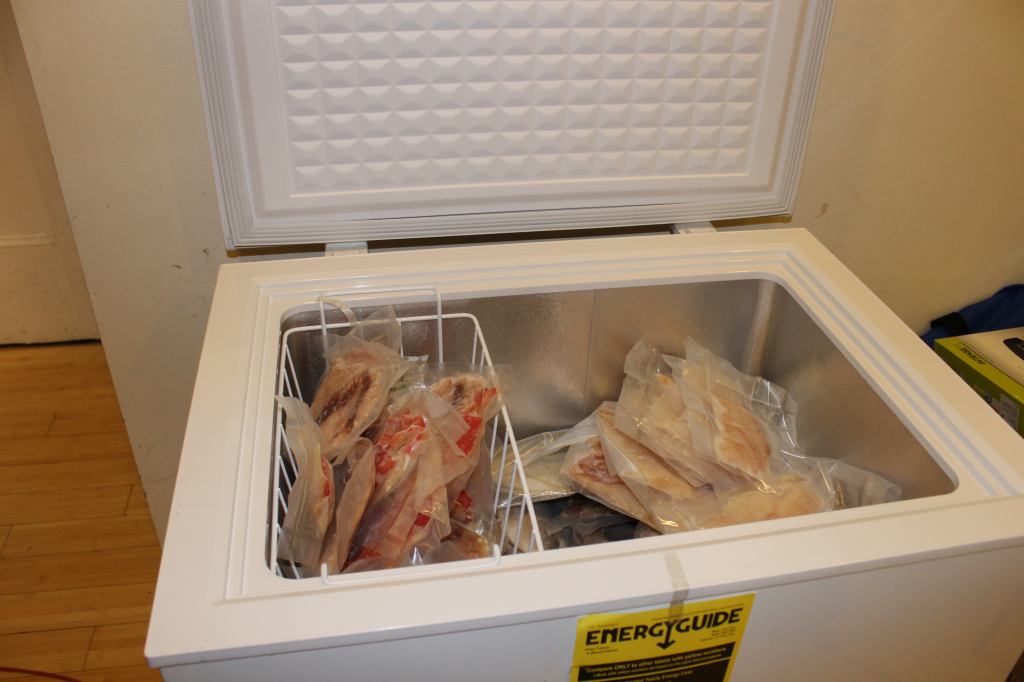 This is the new freezer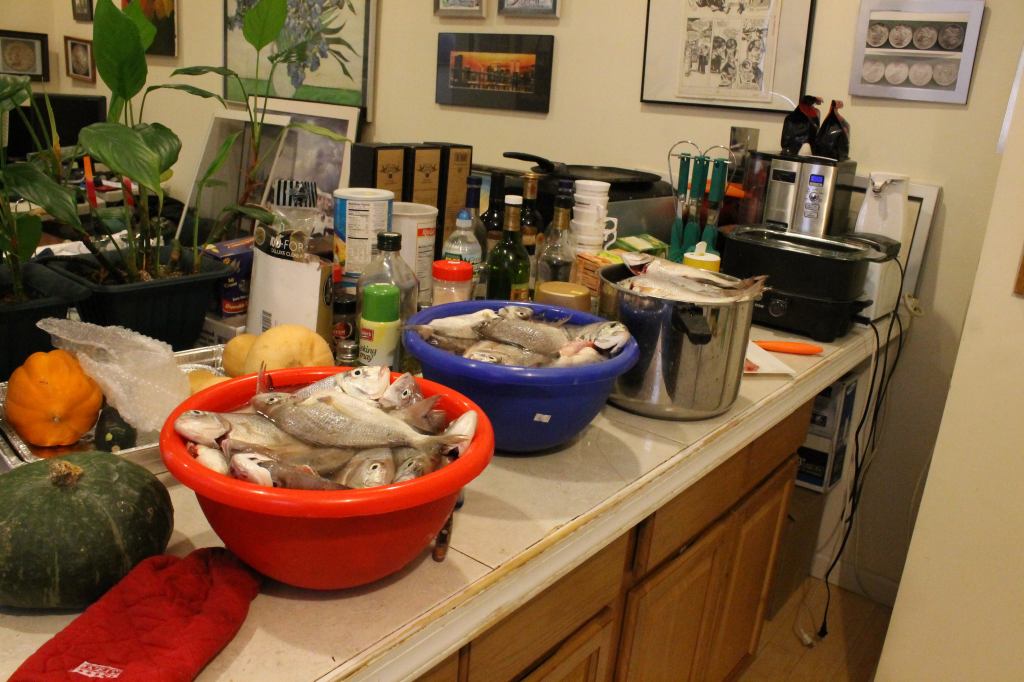 Daily Take of Scup

Brooklyn Fishing Reports - Spring 2016
With the coming spring and after a rather mild winter with only one cold spot, we started out early fishing in March. We caught nothing after several trips, hunting for Cod, Ling and even Summer Flounder. The best spring fishing, Black Sea Bass and Black Fish are off limits in New York State. The law is crazy, especially with regard to the Black Sea Bass whose numbers are enormous in New York State waters, and have never been in danger. The main benefactors of this spring moratorium on Sea Bass is the Jersey boats who come and take our fish. Left with left overs, nothing was biting in the water. But then, on the first week of April, the Striped Bass started to make their presence known. There season didn't open until April 15th, but a lot of catch and release was taking place around the harbor. After the season opened, my Son came into town from overseas and we booked a trip on the single best Striped Bass boat on the East Coast, the Rockfish Charter Boat, run by Richie Colombo, the most knowledgeable Striper Fisherman, probably anywhere... and Felix, the most knowledgeable Mate on the Sheepshead Bay Docks.
I've known Felix for years. A soft spoken, kind hearted individual, which hides his tough churning interior, and brilliant intellect, Felix introduced me originally to the Marilyn Jean IV. His migration to the Rockfish and teaming with Richie was a natural. He is open to learning, the best knot tier on the docks, a passionate fisherman, who is a master craftsman in all things fishing. He also has a near encyclopedic knowledge of fishing, local waters, technique, and species. In combination with Richie, they make a lethal dual for the fish. Staked to a powerful small sporty boat, you will (almost) always catch fish on this boat. And big fish.
On the Monday in April here is my son and his catch just before Passover.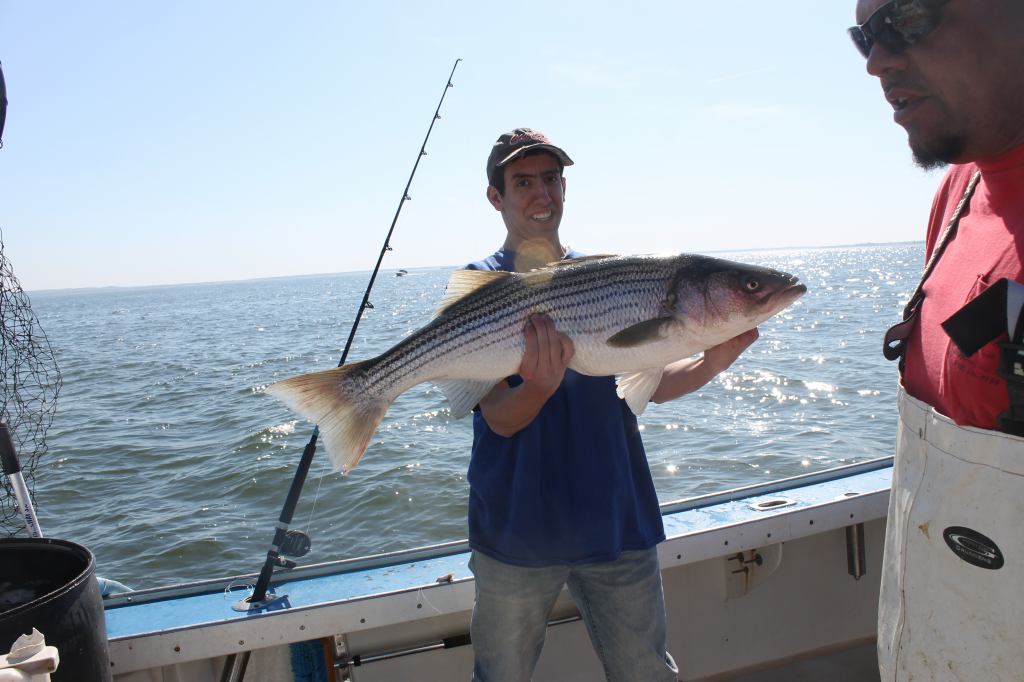 Here is the Trips take. We are limited to one fish each to take home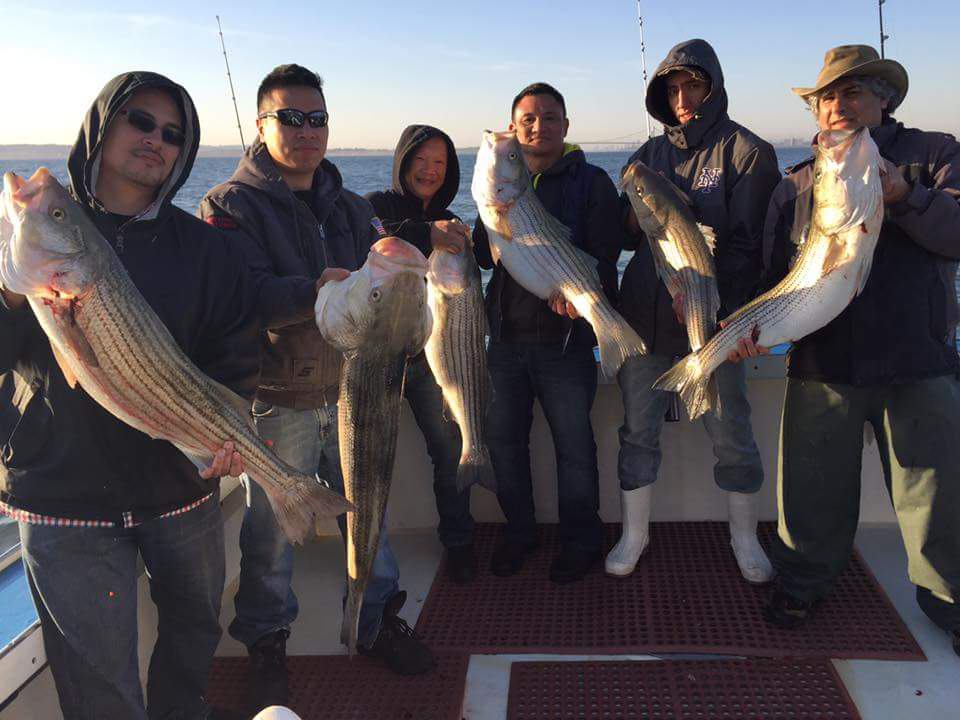 By early May, the weather had warmed up and the fishing situation has brightened. The fishing fleet in springtime has been confronted with an idiotic regiment of closed seasons on non-endanger fish which are popular and good eating from our local waters. Among the fishing seasons that have been closed in Spring are Black Sea Bass and Tautog. Additionally, Striped Bass are limited to one fish per person. In fact, we have so many Black Sea Bass, that the juvenile fish are a nuisance and in the way then targeting other species. And they are now so abundant in the local waters that they are attracting predatory species, like trigger fish into our waters, where they had never been here before.
That has left up fishing for Ling and Cod. When the water warms up, the ling particularly, liven up. We have had some decent success with the Cod. On one trip on the Marilyn Jean IV I hit a very decent Cod, one of 4 that day on the boat, with only 9 passengers. I fish dived into the rocks. I was in the bow of the boat and I couldn't release the line of the rocks. So I passed my pole under the anchors to the other side of the boat, and gently played the fish out of rocks from the new direction. The fish came out, and I hauled in this decent catch.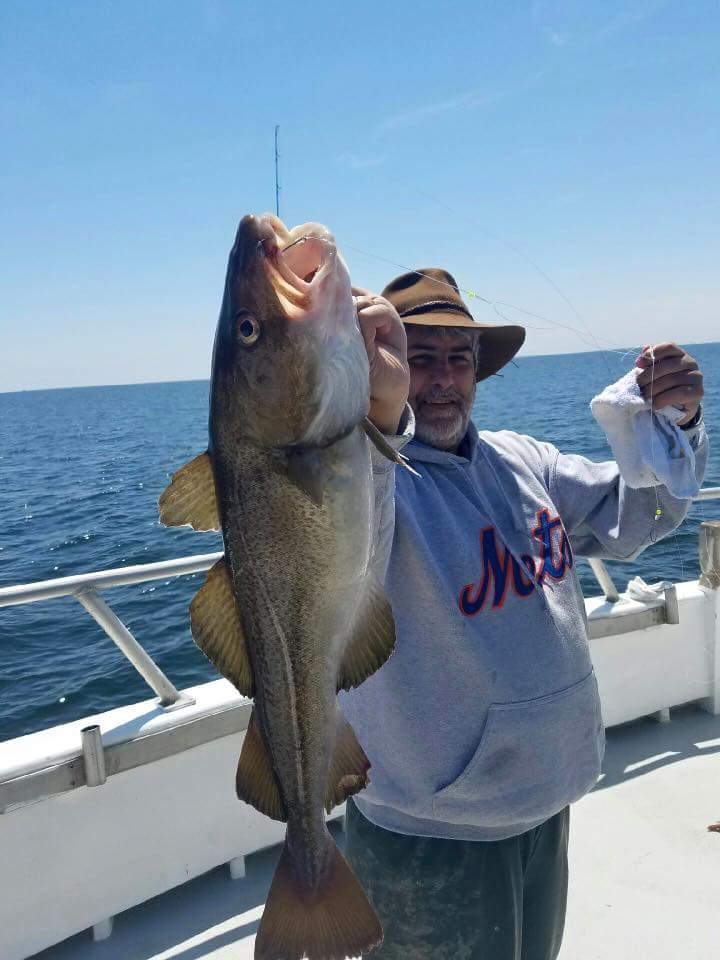 In addition to the Cod Action, night fishing has been filled with Blue Fishing, and very decent size fish at that. It has made for some fun evening. In addition, Greg, on the Ocean Eagle has been hitting Porgies in modest numbers.
---
Brooklyn Fishing Report 2015
The summer of 2015 has been busy on the Bay. I have largely fished out of the
Ocean Eagle V which is owned and run by
the Nardiello Brothers, a very experienced and professional family which has
the pulse of Sheepshead Bay fishing in their blood. Recently, the Blackfish
season opened and Low and Behold, they landed this 13 pound baby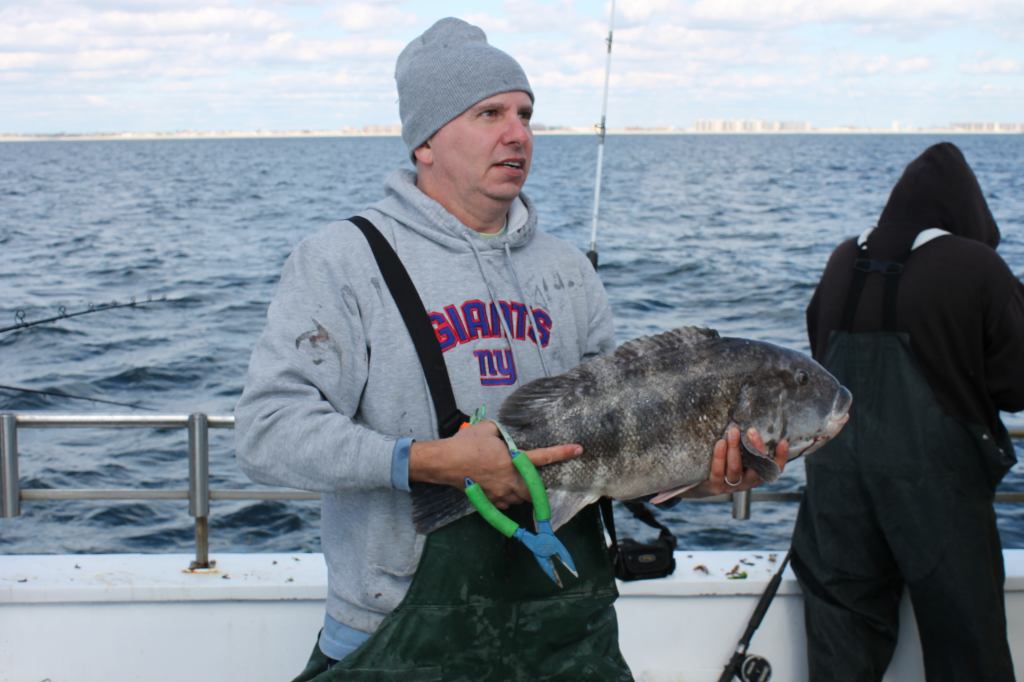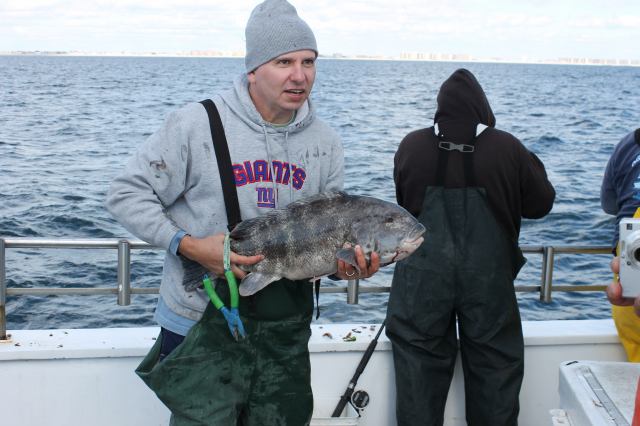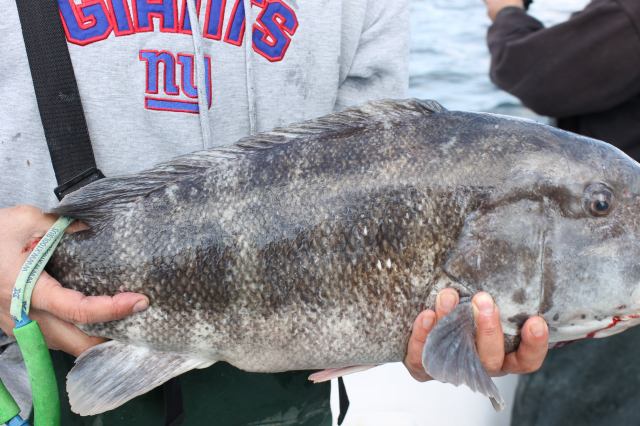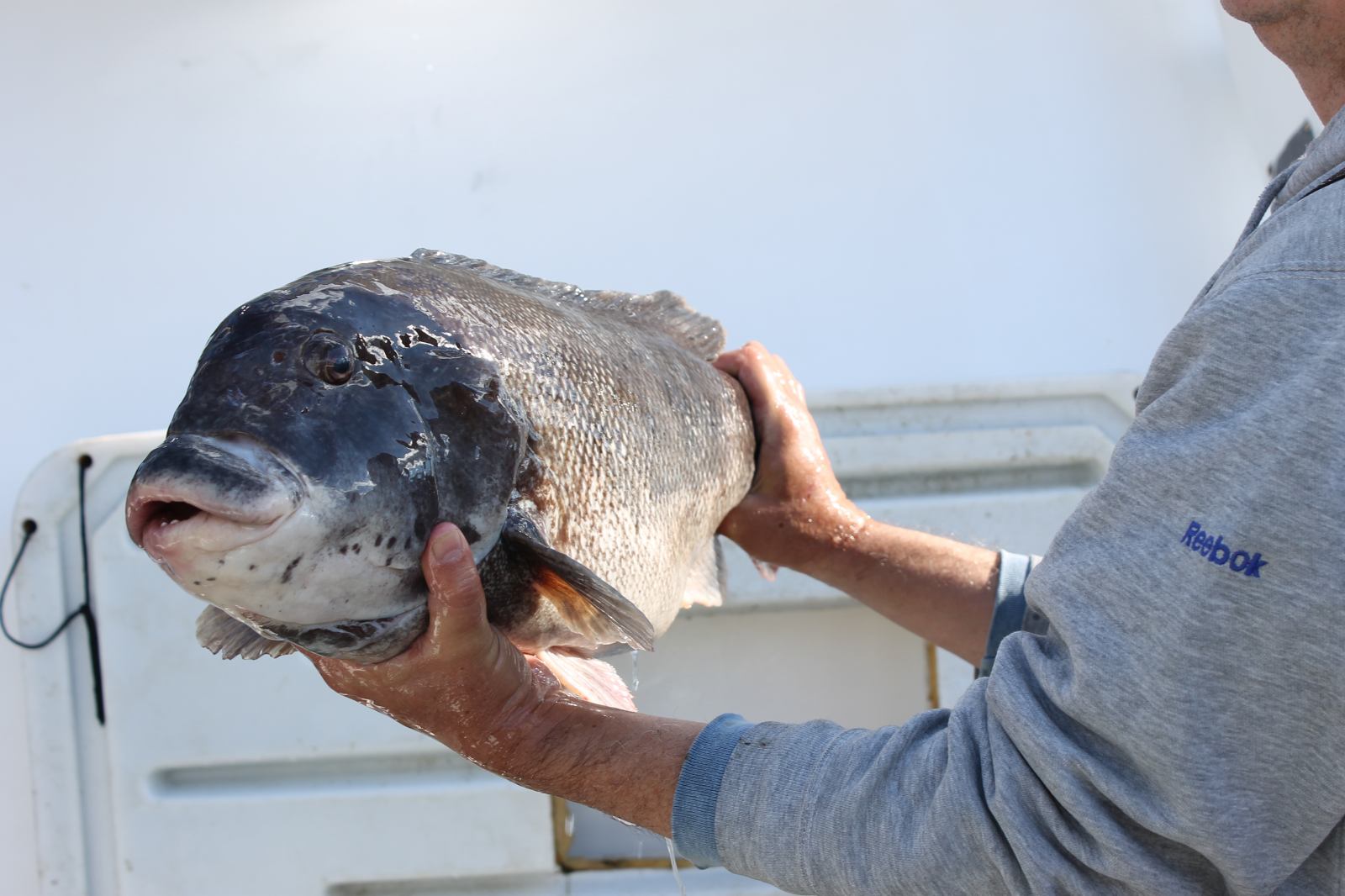 Here are the fulls picks of this trip
Greg, Jeff and Glen are senior members of the docks, but in addition, they have the most loyal following based on years of results. I've been on this boat in near zero degree weather, and the lazy days of summer and always find an exciting take home of fish. Not just that, but they usually go after a diversity of fish, and I usually come home is something tasty I didn't expect. Jeff is on of the best and most experienced fisherman in the greater New York Harbor. He has been generous with advise and a great mentor. Glen runs fantastic ship, and a stocked gallery, and is first mate. Greg is Captain and has the deepest and most mature book of fishing spots in the city. He is like google maps, but with the fish accurately marked, including ever wreck, hot spot and seasonal location from the Snake River to Freeport.
This is a striper picked up on an evening trip on the Marylin Jean
Here you can see the photographer yelling at me to hold out the fish but my wrist barely let me lift it, let alone hold it out like the dude standing next to me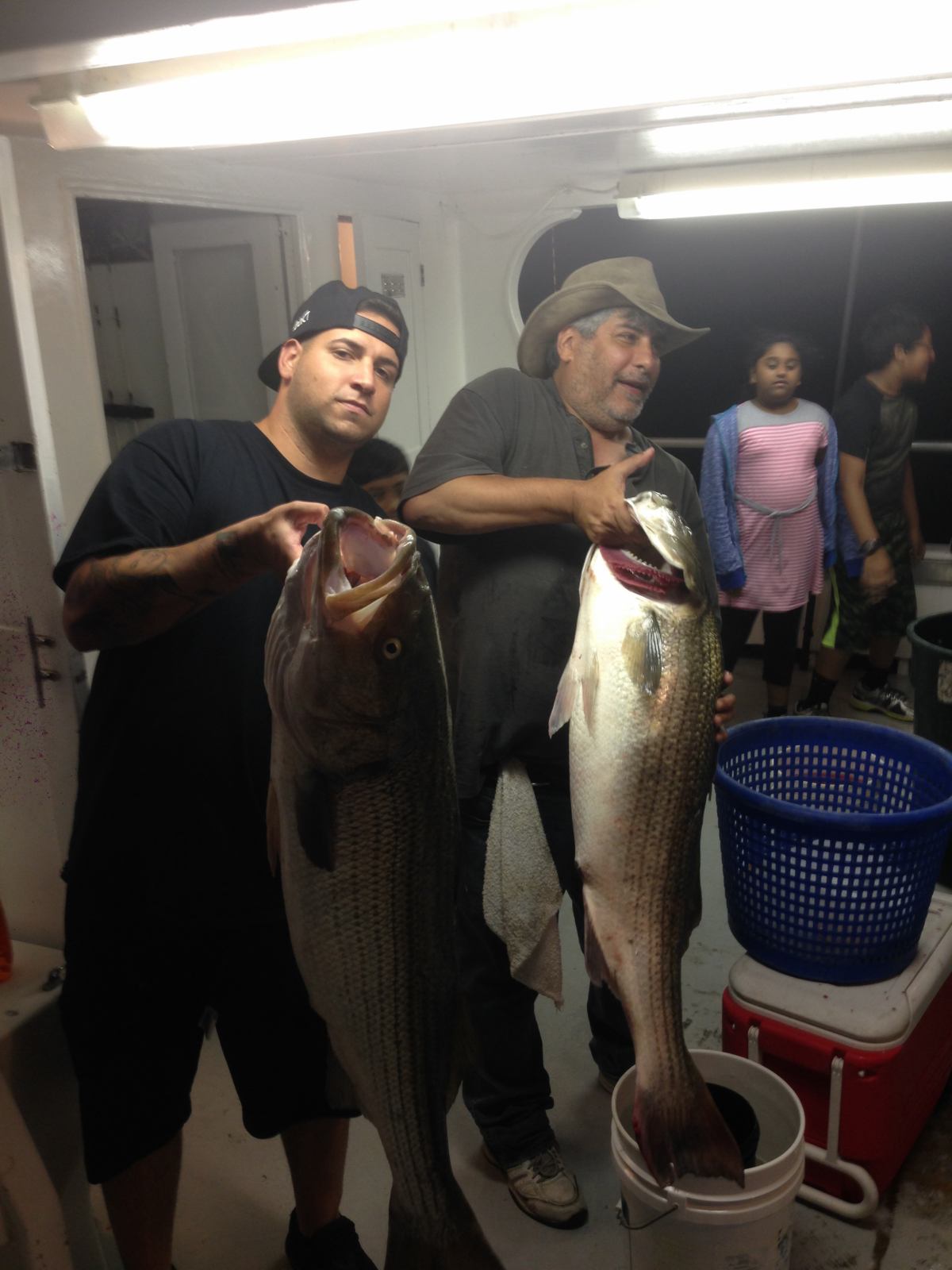 Brooklyn Fishing Report 2014
As 2014 moves in we come into the
coldest winter in my lifetime. Despite this, we fished
through much of this winter, and took several trips to the Island Current
in Snugg Harbor, Rhode Island, where we hit Cod pretty hard.
The crew is generally stationed at City Island in the Bronx, but
in the winter they hole up in this lovely area in Rhode Island which
puts them within the same fishing areas as the Monkouk Viking Fleet.
It was 19 degrees midday on the day we went fishing, but we did hit large cod.
I caught 14 of them including a nice 30+ incher that bent my rod and
fought its way through 200 feet of water. It was a lot of fun and the
best fish I have ever eaten. Injuries to my hand made handling the fish painful and I almost dropped the pole, getting down on one knee and using my body for leverage to componsate for a weekened hand and enflamed elbow. Pelican grabbed the pole at one point for extra support.
The Island Current crew, Scottie, CJ, Pelican and Brownie, were so
successful that they made the local Rhode Island Francis Fleet jelous
enough to call out the local Rhode Island version of the Fishing Police
to harrass the Island Current crew and passangers. The Rhode Island
DEM officers showed up at the dock when we came in, with the owner of
the Francis Fleet directing the local police on where to inspect the
boats and passangers. It was a pretty ugly display of local cronyism.
One can only hope that it doesn't disuade the Island Current from doing
business in Snugg Harbor next season, because it was worth every moment
of the trip.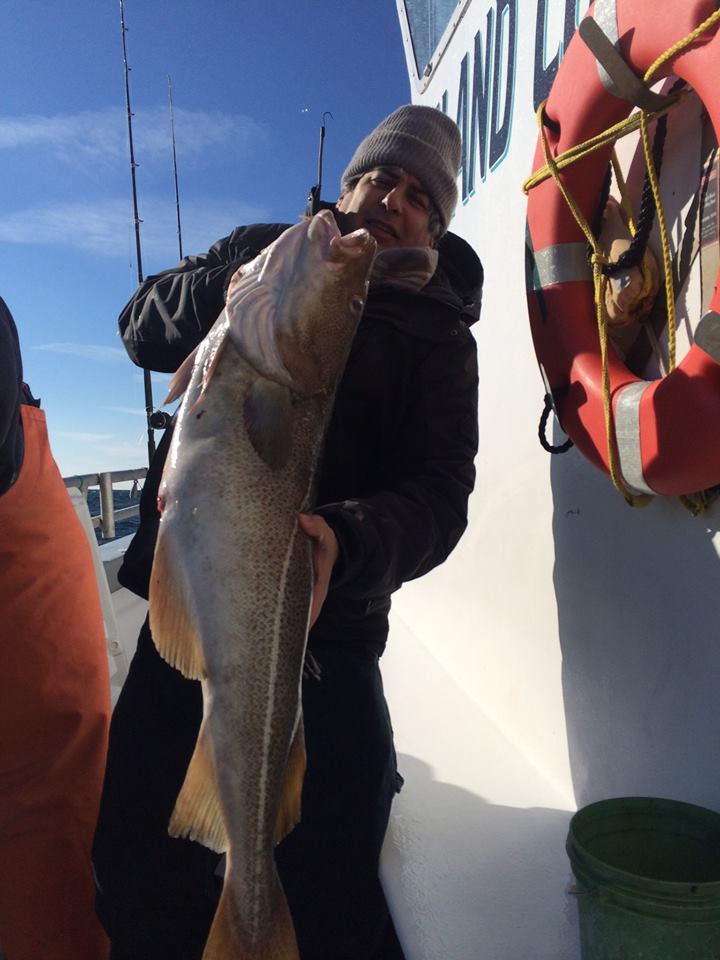 A few things about fishing in Rhode Island. First, it pays to take
advantage of the Amtrak train to Westport CT and then arrainge lodging
and transport. The ticket is only $55 each way, and after 20 hours
of fishing in extreme weather, you will apreciate the availability
of electricy, wifi, and hot coffee. The train left at about 11PM and
arrived into Penn Station at 2:30AM. It beats the hell out of drive.
When we drove to Rhode Island, originally, Tony Pelican pulled us all
together into is pick up truck with all the equiptment we could load up.
It was nearly a 4 hour ride, a bit much for me. Then we stayed in
the single worst motel room I'd ever been in for the overnight before
heading out again for another 7 hours of butal fishing. We packed up
without washing into the truck and went home. Then, Pelican decided to
take more passangers and headed straight back on a second 48 hour trip.
I was glad not to go.

The second trip I did go on, about a week later, I had learned a few
things. First and foremost was to take the train home. Pelican dropped
me off in Westport, Ct right on the Rhodes Island and Connecticut boarder,
and I took Amtrak home. It was one of the best decisions I made that
week. We arrived at about 9:30PM so I had an hour and a half to kill.
I walked to the local musical venue and watering hole, a block from the
train station, and found that the women of Westport were both warm and
personable, making the time waiting very easy.

Finally, If you are going to make this trip, put away your cellphone and
follow the road signs. We found one of the great little seafood places
not far from the boat, just following the business district signs off
the highway. We then stumbled upon "The Hungry Haven", located right
off ther highway exit at 5000 South County Trail, Charlestown, RI 02813.
They might well have the best Cod Fish and seafood menu on the East Coast.
We ended up ordering just about everything on the menu and not a crum
was left between the 6 of us. When we went back the second time,
the small family owned staff was really excited. You HAVE to try this
place, and bring an appetite. Nobody should fish Rhode Island and not
stop here to eat. This place is frankly AWESOME. They're fresh cod,
haddock and flounder is unmatched by anything in NYC. They're phone
number is 401-364-3609 and you might not find them on your "smart" phone
so try using your eyes and brain to find them off of Route 1.

Moving on to March and April, I went out often with the Marilyn Jean IV,
loading up on Kosher Hot Dogs, but not many fish. In fact, my total fish
count for April was 6 Dog Fish, 6 rays, one out of season Black Fish and
several undersized thingies.... Nothing to Eat! I was looking forward
to the water heating up and May turned out a bit better with several
Striped bass hits, and a killer night for Blue Fish when I landed 14
monster Blues, all over 30 Inches.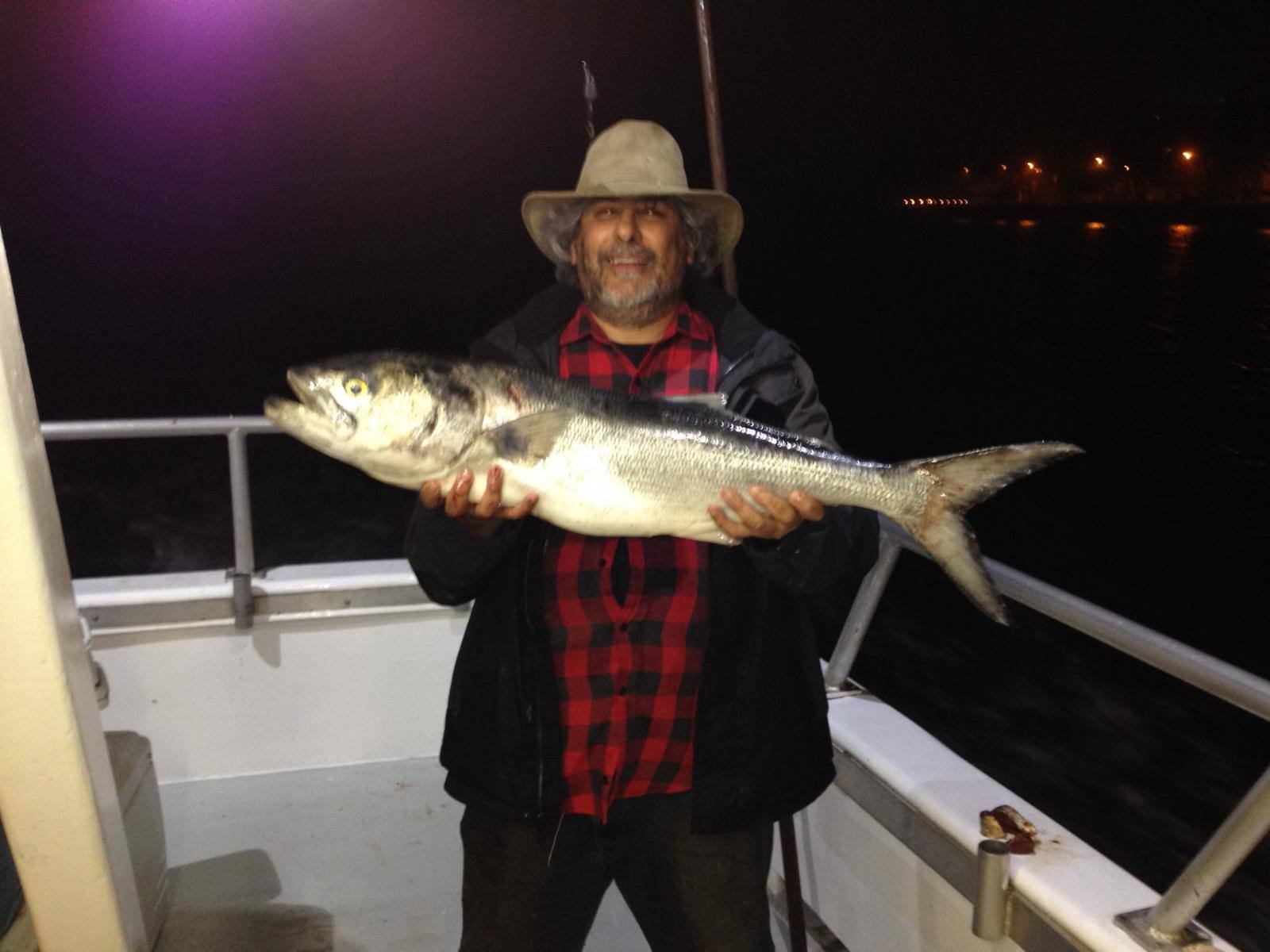 My favorite fish is the Black Sea Bass and catching them in late spring is
the best time, which is before the seaon on them opens on July 15, 2014.
There are special permits that some boats buy at considerable costs to
allow early fishing. There is only one in Sheepshead Bay, that I'm aware
of, the Marilyn Jean IV. I caught some early Sea Bass, limiting
out at 8 one time, and catching a few 20 inchers on another trip.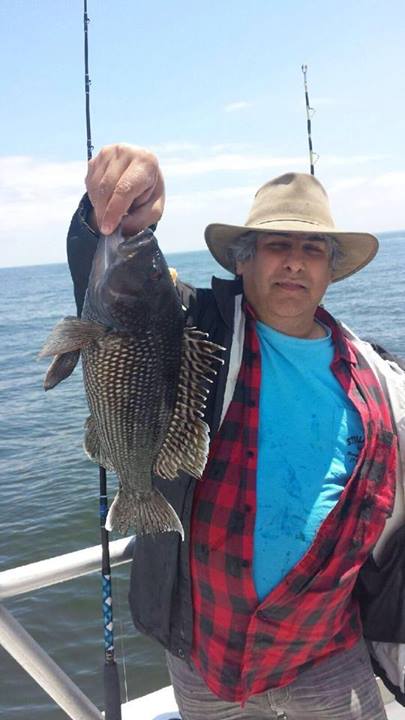 On the up side, Captain Dave landed some decent Porgies the other night!
So summer has arrived. The other advantage of the Captain Dave is that he
has a new boat, which is an all steel vessel, 95 feet long and SMOOTH as
River Stones. The boat does not rock and is a pleasure to fish from. It is not
fast. It is not beautiful. But boy is it SMOOTH. Anyone who gets seasick
should try this boat out, and it is ideal for Newbies and Children!
Additionally, the cook is very decent on this boat. While he does not
put out the variety of food that Kathy on the Ocean Eagle does, he was still
getting 10 bucks for his Philly Cheese Steaks and they were so good he sold
out to fishermen who have a reputation for being quite cheap.


The Captain Daves ship is a good ride. The mates are not quite up to snuff of what
we experience on the Marilyn Jean or the Ocean Eagle, but they are friendly and
seem to be able to get through the night. You have to be patient with them,
though. They are just not the experienced vetrans of other ships. Davie
is a top notch Captain. They have a regular 9AM-5PM fluke run in the morning
and a night bass run at 7PM to midnight. It is not the hard hitting fishing
experience of the other boats, but an enjoyable expereince and a nice change of pace.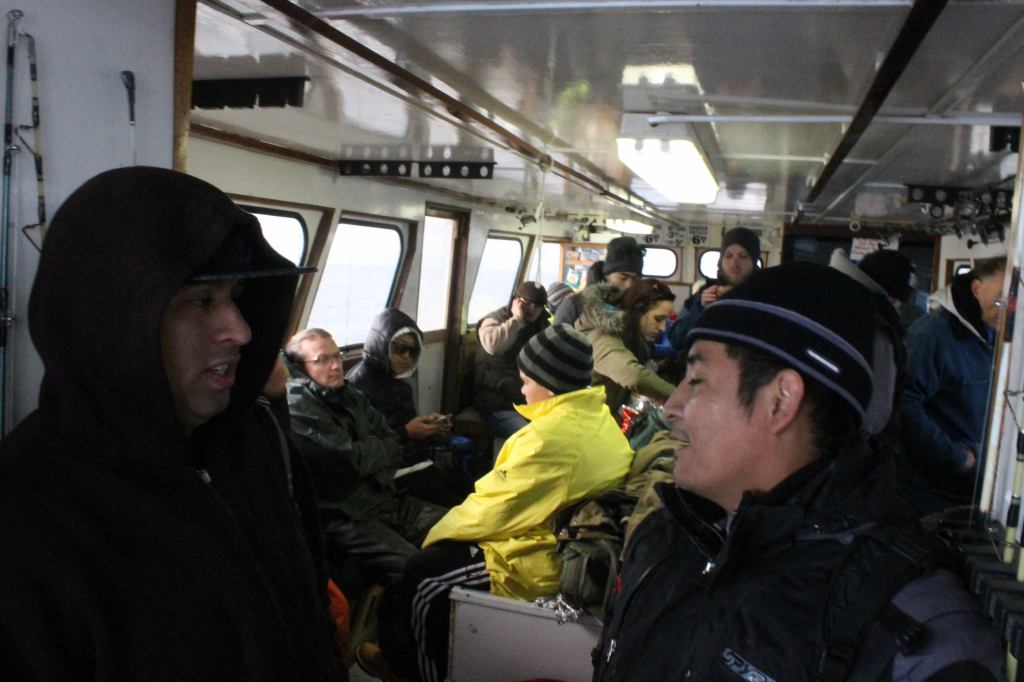 Inside the Cabin of the Marilyn Jean IV on the way home from a happy trip
Spring brings RSA Permit Sea Bass fishing to Sheepshead Bay. The best Sea Bass vesel, in fact the only one in Brooklyn, is the Marilyn Jean. Sometimes the Sea Bass have been slow. Other times is has been outstanding. Now as we are reaching the end of the RSA season and moving into the Sea Bass open season, which starts on July 15th, the Sea Bass have really begun to hit the decks hard. At a minimum length of 13 inches, many 18+ inch specimens are show up and the stock looks very healthy with plump male and females showing up on the hook.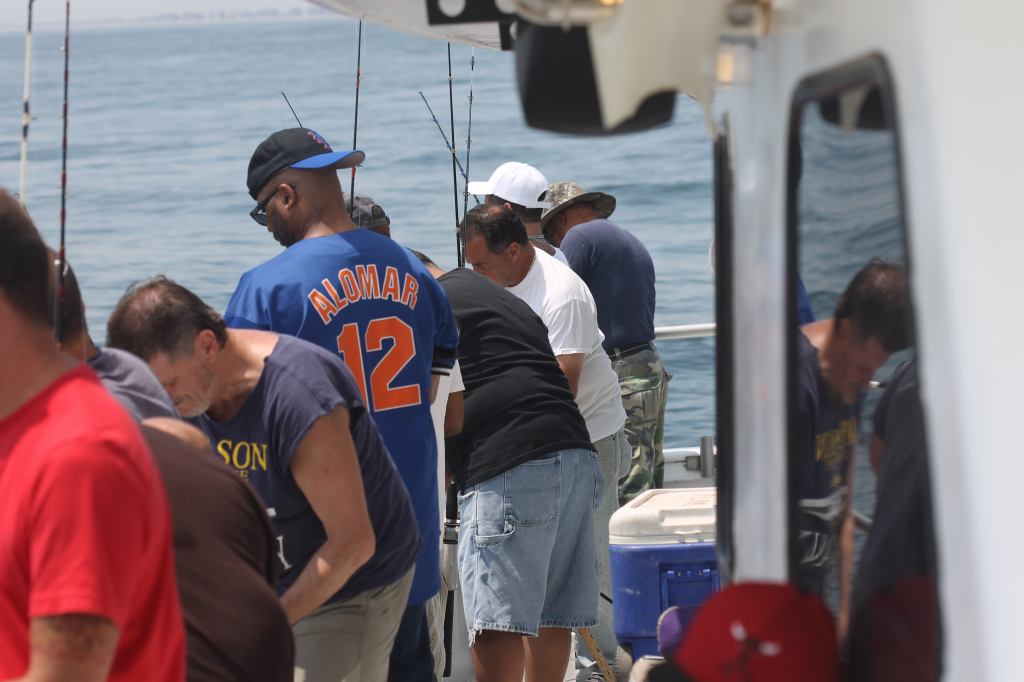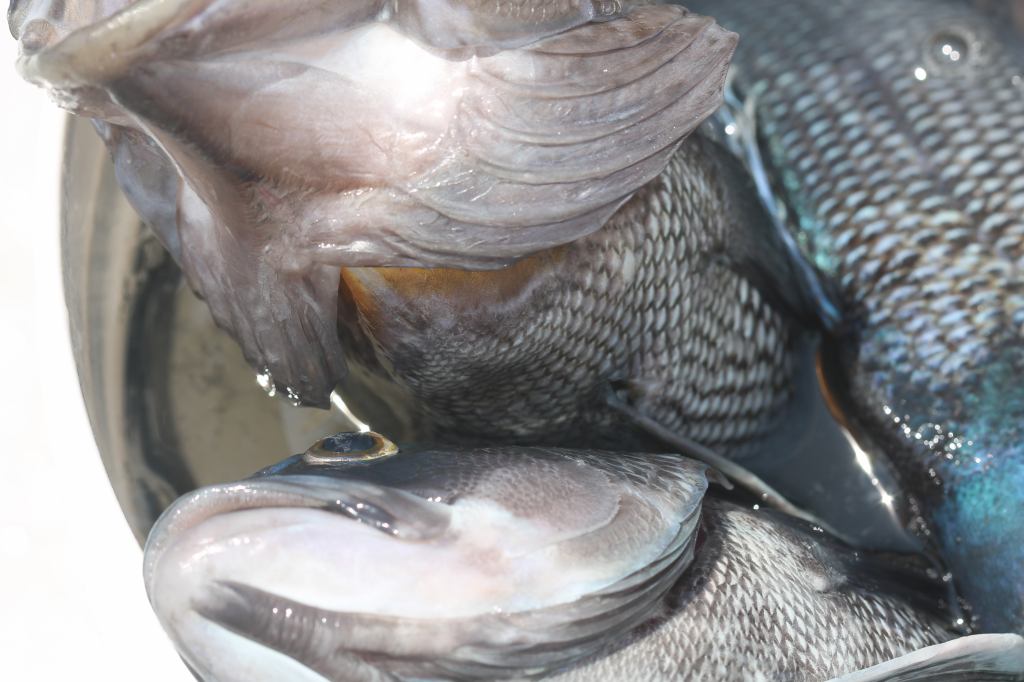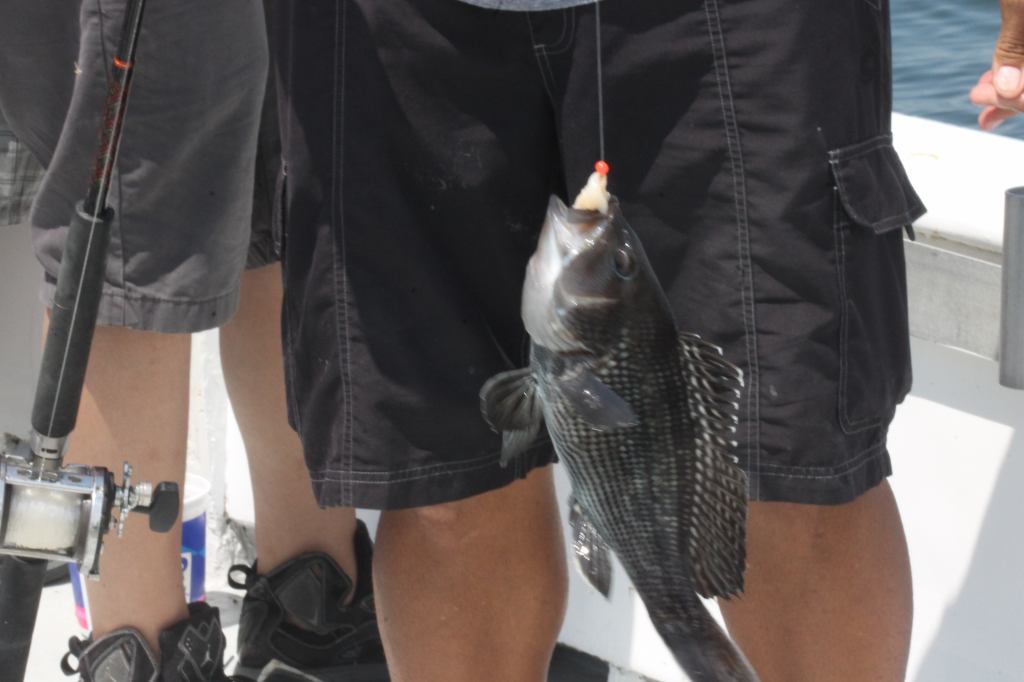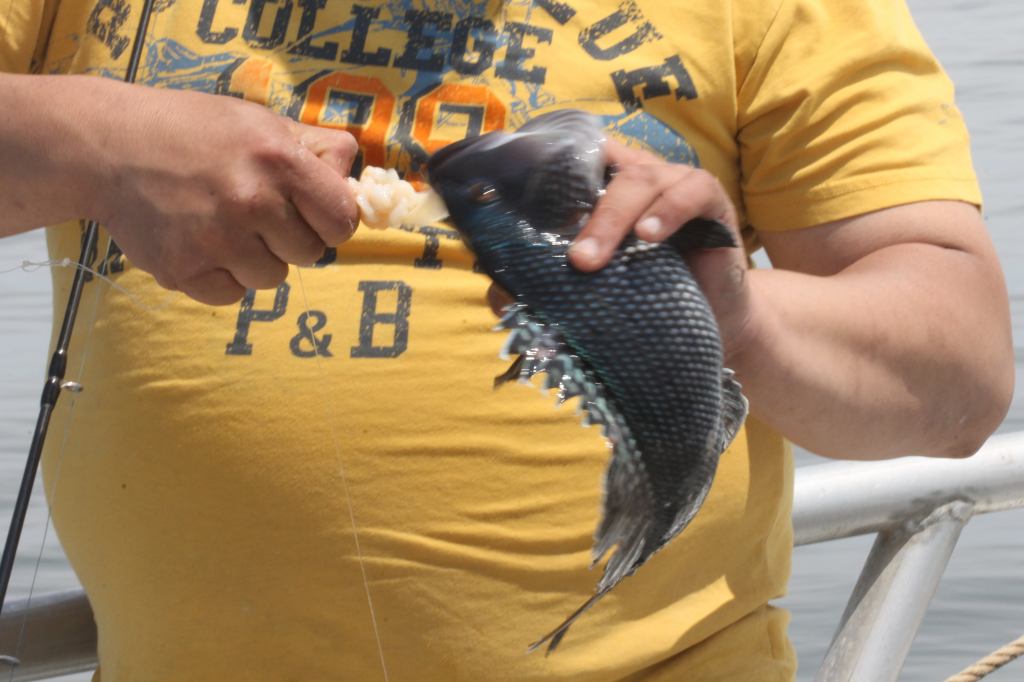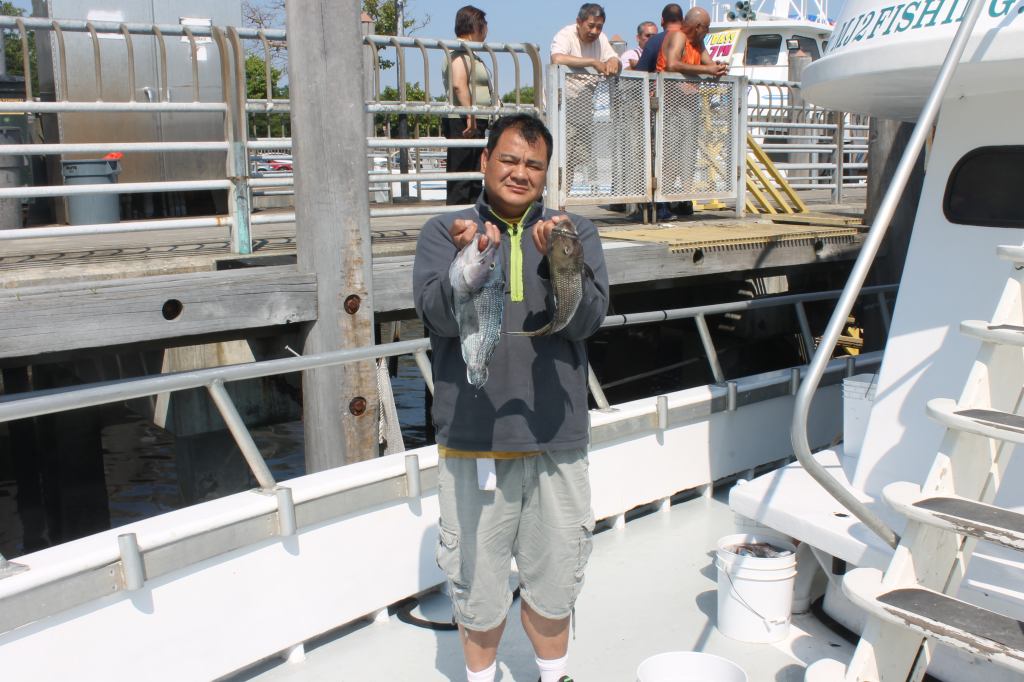 Marilyn Jean IV Porgy and Sea Bass Pics for 2014
In late August the local Porgies finally showwed up in number and size.
The best porgy of the year was picked up at the Rockaway Reef, just outside of
Bell Harbor and Riess Park.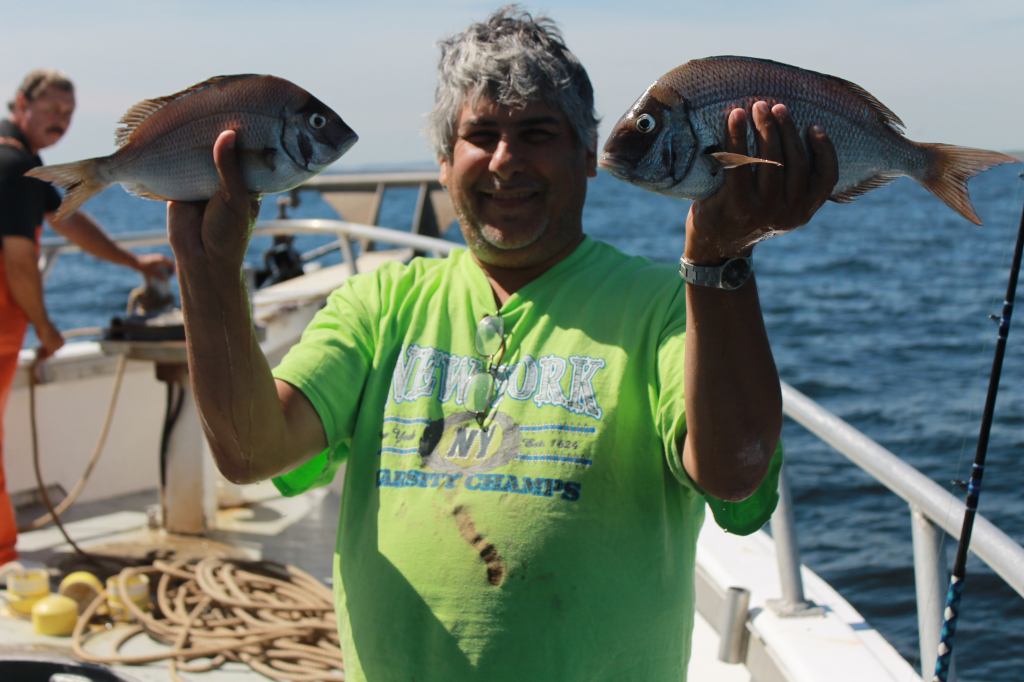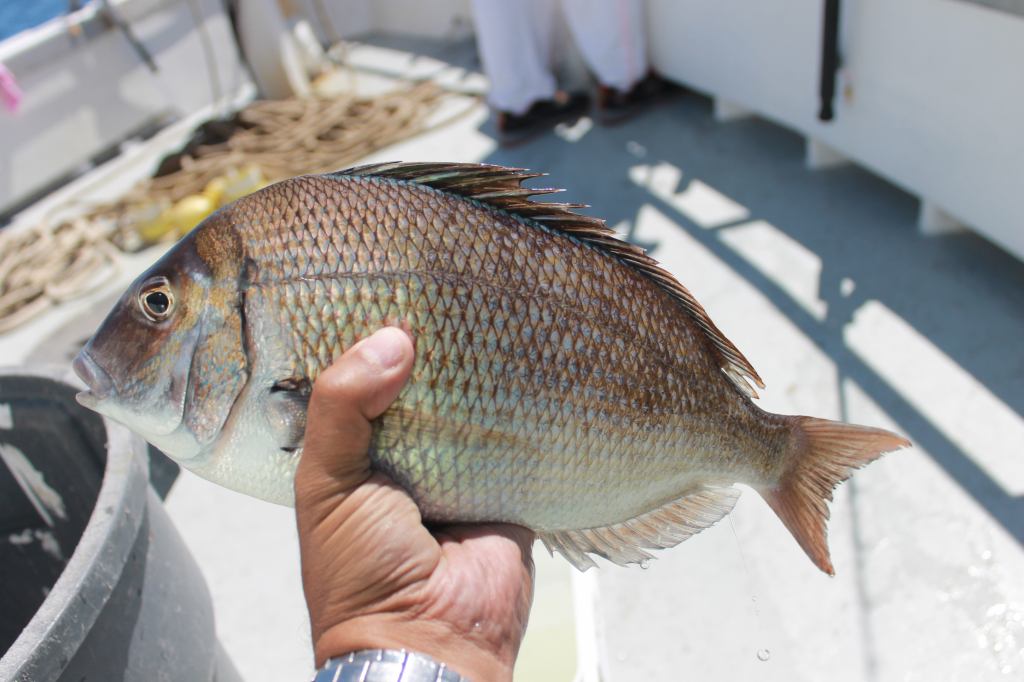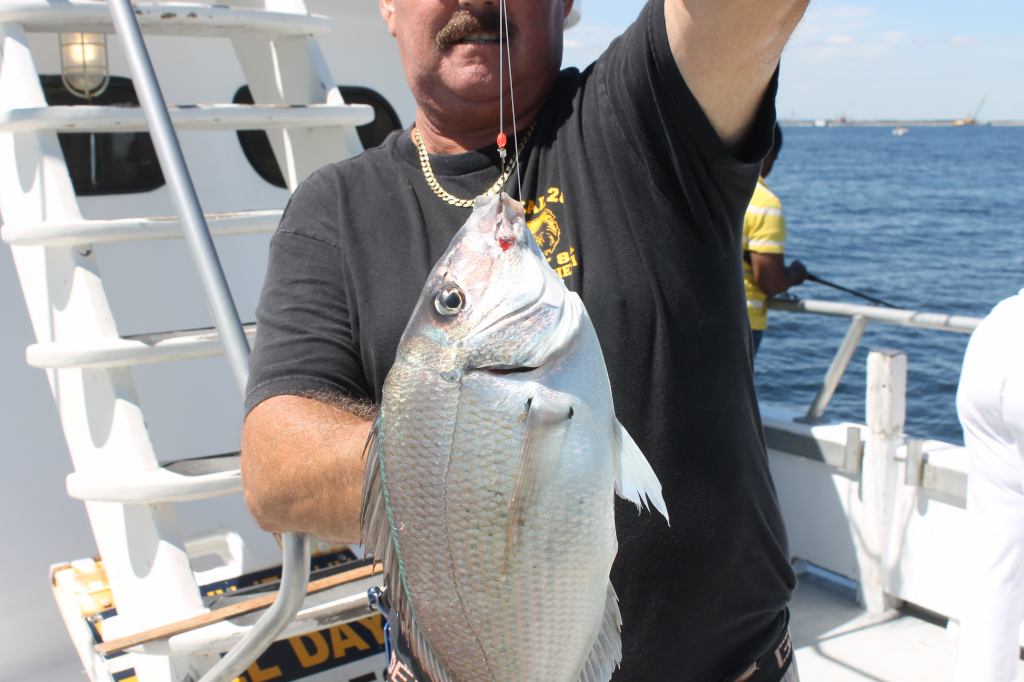 ---
The Brooklyn Fishing Report 2013
We have fished the Marilyn Jean this summer day and night, rain and shine, and the pilots of this vessel put me on the fish every time and have also attracted a very decent group of traveling companions. Tony Pelican, Frank, Felix, Anthony, Joe Joe and Ralph never fail to make good company, and to freely help with a tip or two on how to bring them in. We've had some memorable times.
Fishing overall in 2013 has been very decent with all but the Blue Fish having good representations on hooks around the harbor. In early spring we saw a lot of striped bass and we brought down 5 keeper sized stripers just on one trip on the Ocean Eagle early in the season. I had to throw three back since the limit is two. The small boat, "The Jet", also did very well with the stripers. As the season moved on, we continued to hit stripers and Weak Fish, especially on night runs at the Verrazano, and Gil Hodges Memorial Bridges. We had a great job hitting the bass at night with Tony Pelican at the helm of the Marilyn Jean, and Felix helped us catch some king size Bass in Jamacia Bay and around Gateway.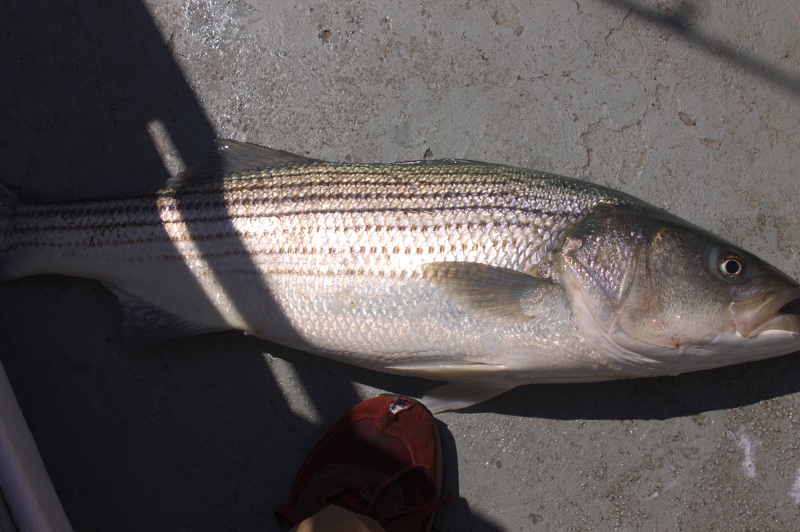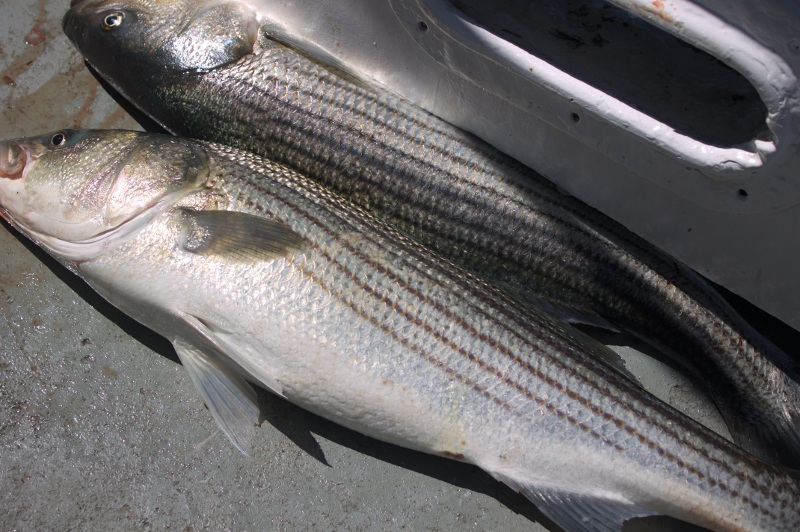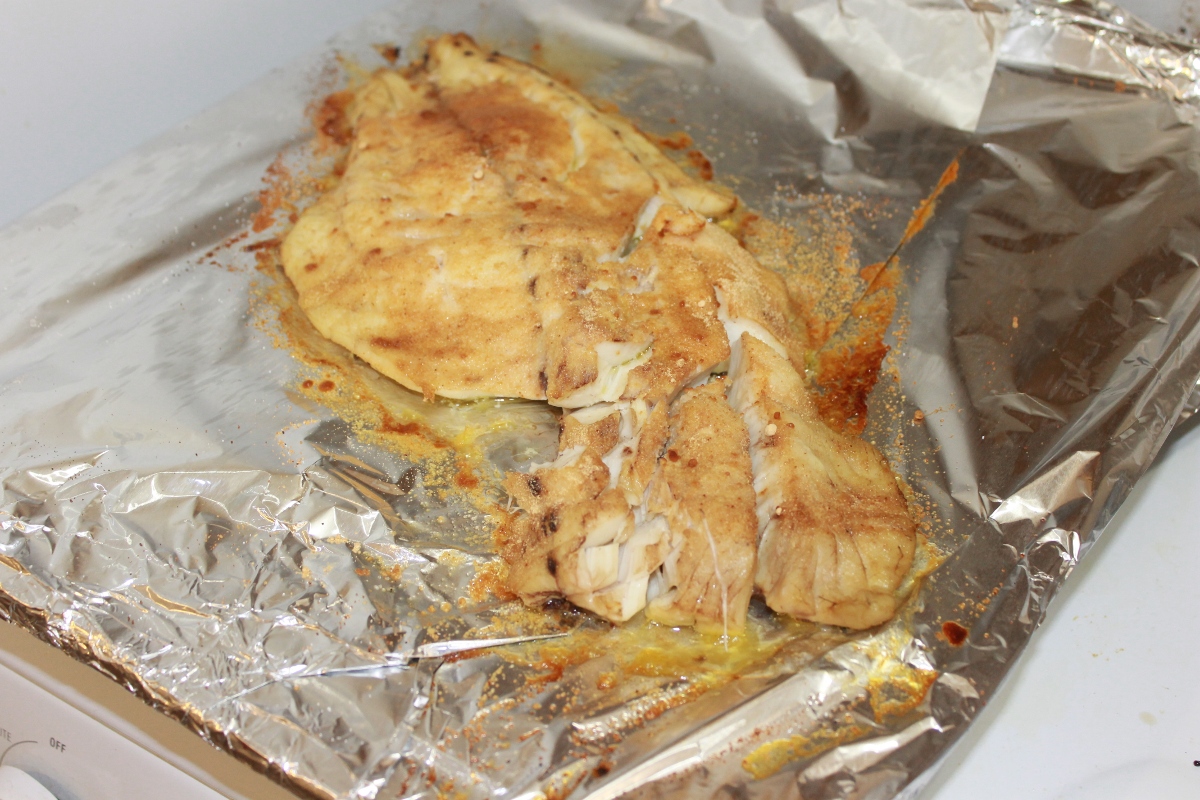 As we moved into mid-June, the big catches was with daytime ling fishing. My fist daytime trip on the Marilyn Jean IV gathered in an astonishing 49 ling, 12 keeper sea bass and an odd porgie. It was the hottest day of fishing I can ever recall. Ling, better known at Whiting about and around town, is a great cousin of the cod fish, kosher, and a great fish for frying in olive oil. A bounty like we had in early June can make gefilte fish through next Passover.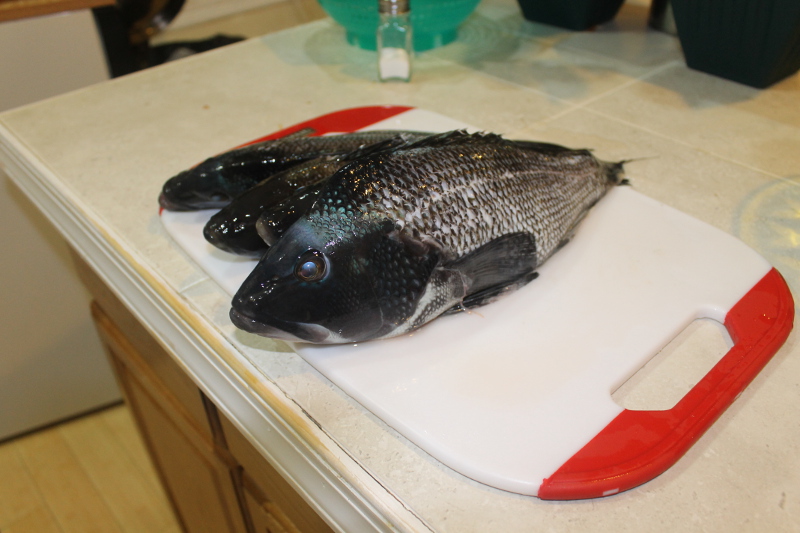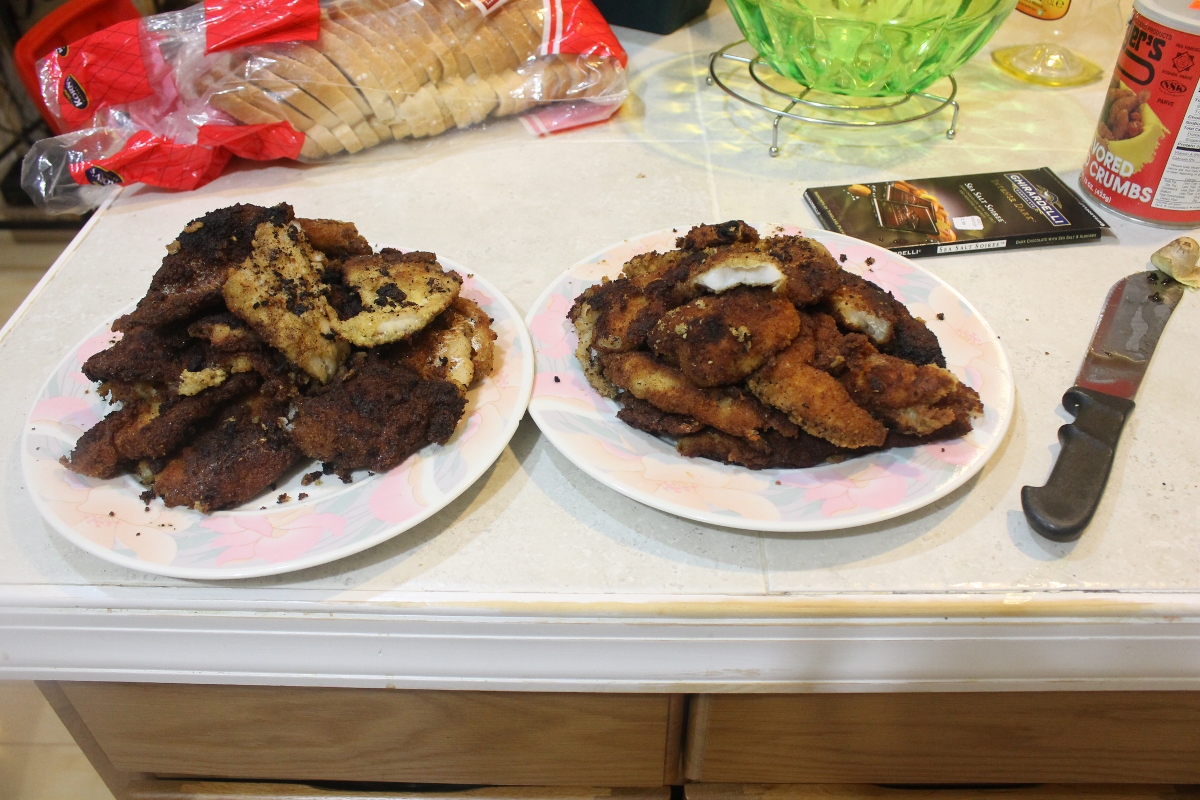 As the summer moved in we reached the a perigee full moon which I took pictures of while on the deck of the Capt'n Dave. The Sea Bass season has become ridicules and is an example of special interests groups gone wild. Before the official Sea Bass season, boats with RSA licenses were allowed to fish for Sea Bass, as the season only began July 10th, and lasts until December 31st. One can keep up to 8, 13 inch, sea bass, which is likely the best eating fish in local waters. Bite for the RSA was decent all through June and almost as soon as the season opened, they seemed to have high tailed it out of the area. July has been a good porgy month. Fluke have been off and on and the Blues have not migrated into the area until very late July.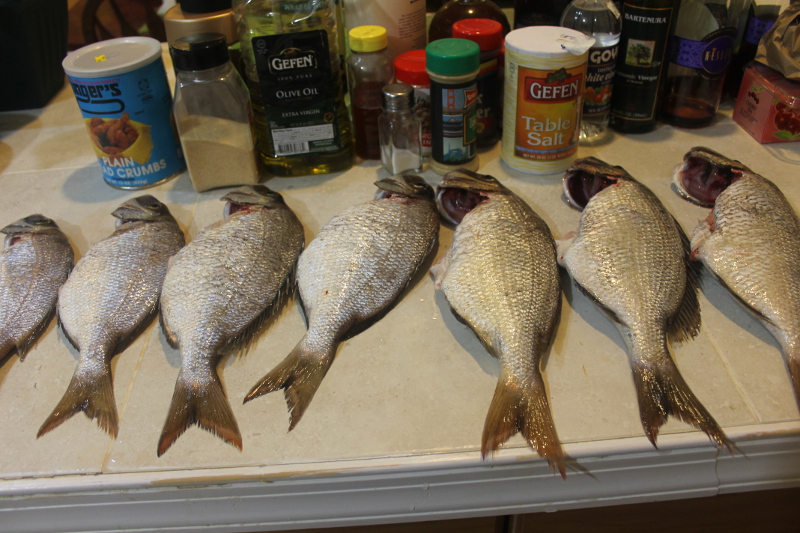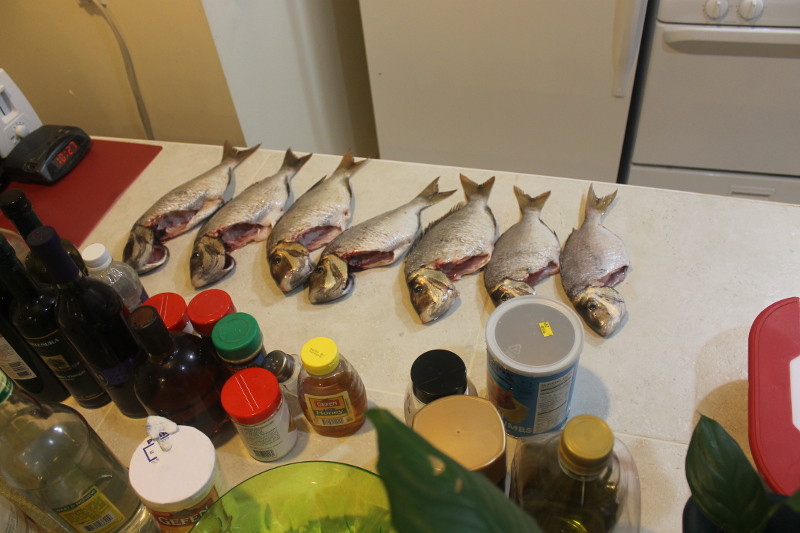 In Late July Tony found what he called the Vampire Porgies. These have been enormous, the largest I'd ever seen and have sown up only on night trips to the delight of my good friend Terry who gives master classes in fishing knots before the boat goes out.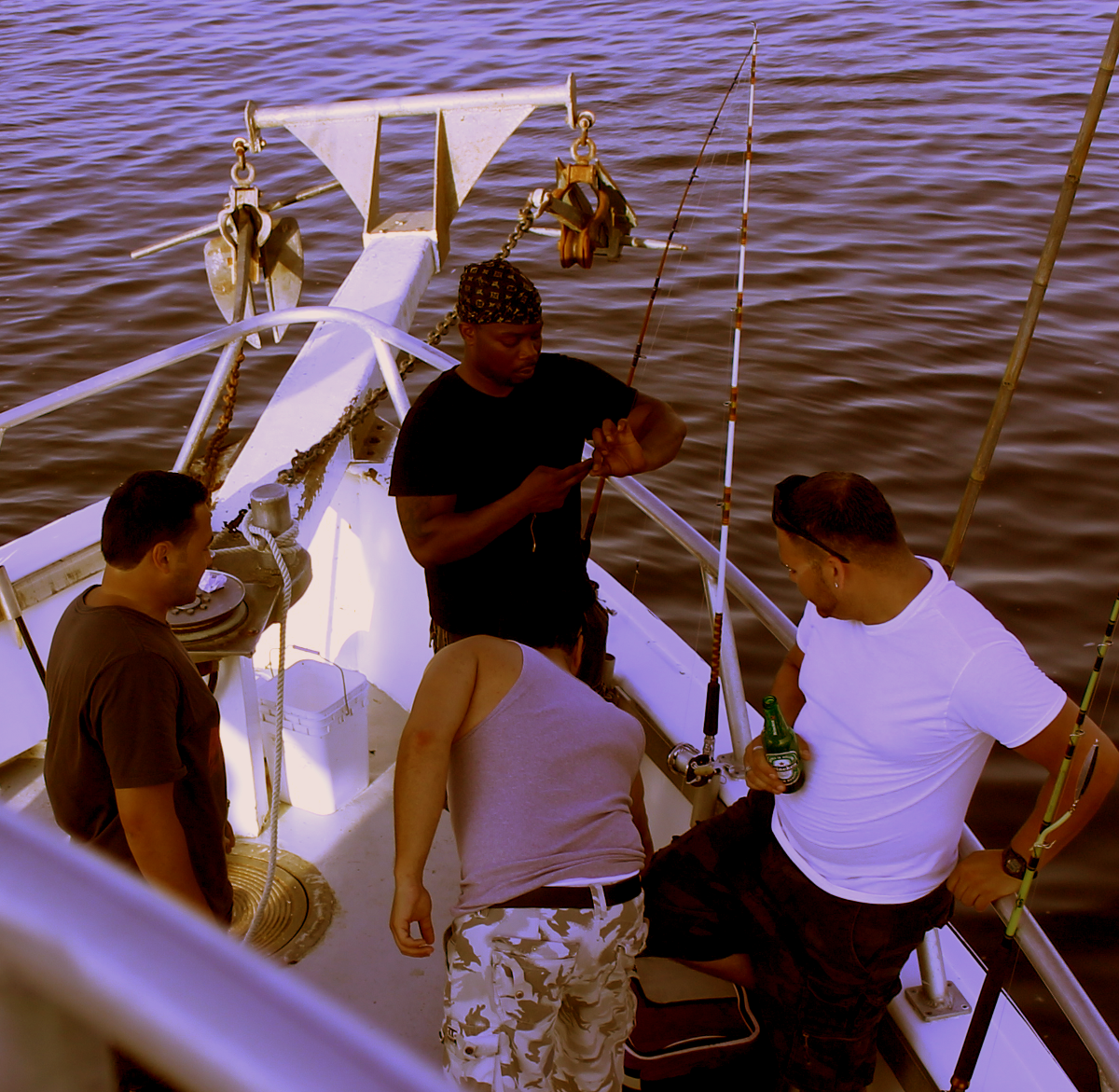 Vampire Porgies have continued for at least 2 weeks through the end of July, 2013, when finally the Blue Fish had started to arrive to the relief of many of the Blue Fish boats in town, including the "Brooklyn". While the Sea Bass and Ling seemed to reach a lull with the new moon, the Ocean Eagle found some good trigger fishing near Sea Bright, NJ, in addition to unintentional catching of eels, HUGE eels. In late June, the Marilyn Jean IV and the Jet had engine overhalls. We fished for a couple of days out of the much smaller Capt'ns Lady. I caught an American Eel of over 40 inches on the Marylin Jean and one nearly 35 inches on the Ocean Eagle. I gave both away. Eels are not kosher and we don't eat them. Usually I through them back but these two were so large that I gave them to other families.
With the coming of the Blue Fish in the last week of July, and after practicing Jigging and Casting for a week, I wandered to the Flamingo, a blues jigging boat that leaves from the Gerritsen Creek at the Sheepshead Bay Parking Lot. My fishing was terrible, but I did collect two cocktail blue fish and lost 2 others at the rail. Rob, the mate on the Flamingo, is part of the ownership family who has been at it forever. The boat was very impressive as an older model, built with Mahagony and rock solid and about as smooth in the water as you would ever expect. I loved the boat. And we ran into a large school of dolphins on the trip not far from Sandy Hook and in sight of the Verrazono Bridge.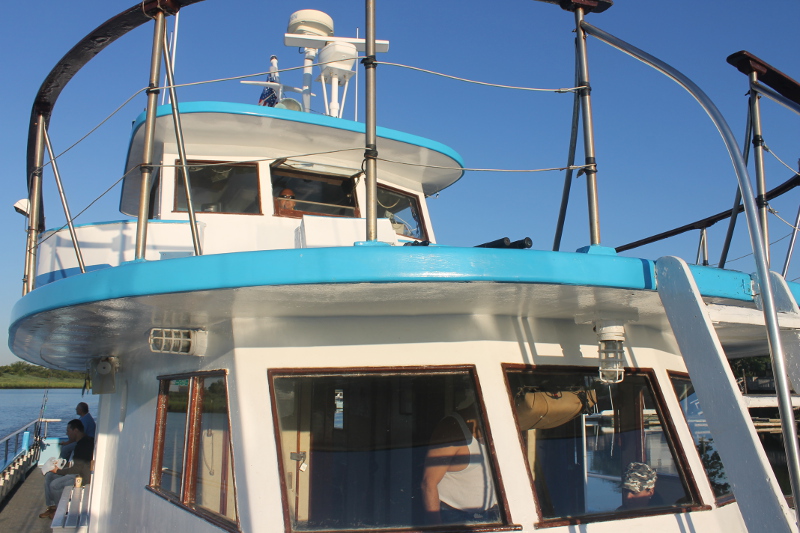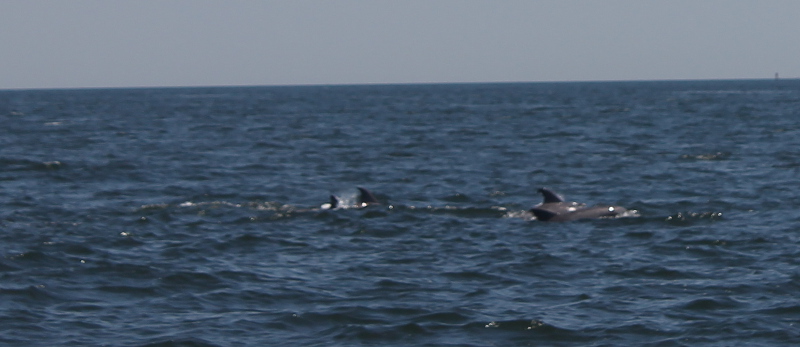 Dolphin Quicktime Video
Dolphin Quicktime Video
Dolphin Quicktime Video
Dolphin Quicktime Video
Now, as August comes, we continued with the good Porgie fishing, with way too many dogfish. But everyone did catch this week and even my daughter Shani went home smiling after she nailed three very good Porgies on a rainy Thursday morning. Better fishermen than I seemed to pull Porgies out of the water almost at will. Some of them were the largest I'd seen in the season, even bigger than the Vampires. But overall they were of normal Porgie size range.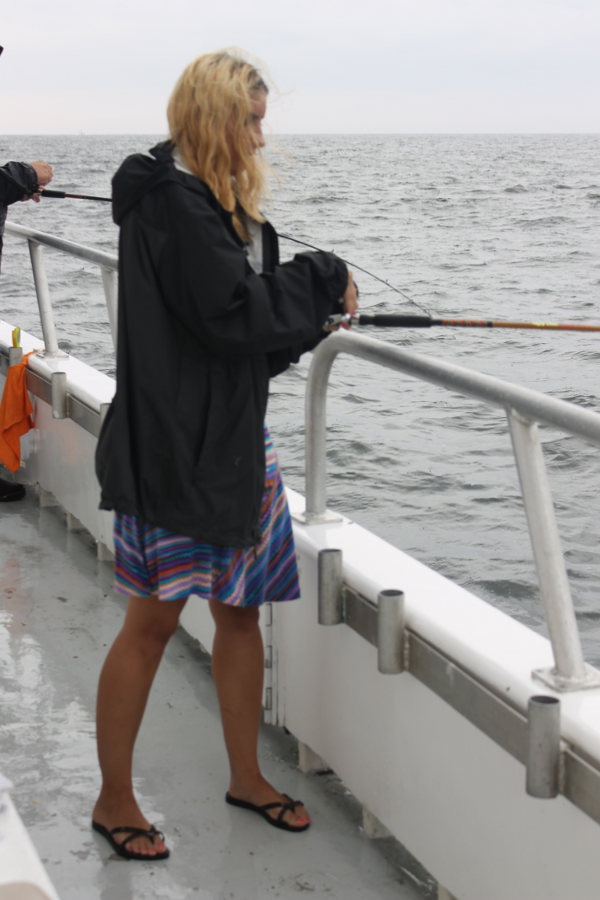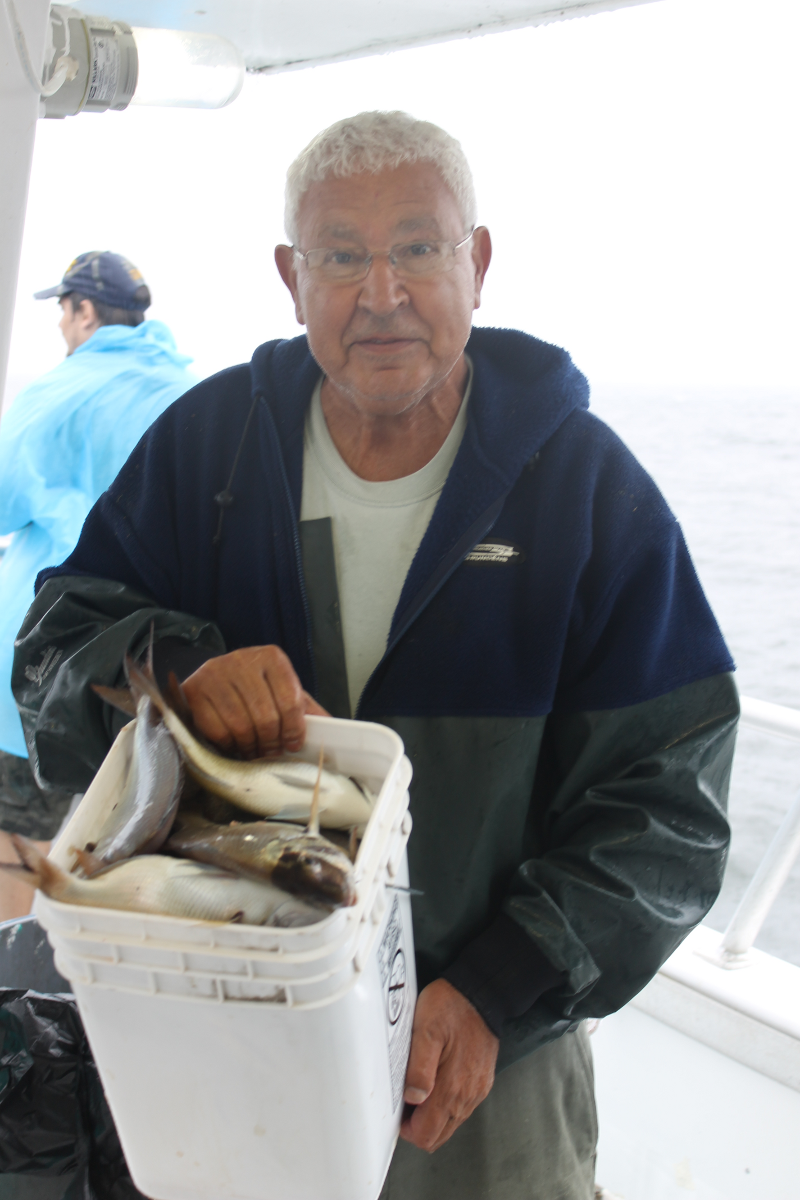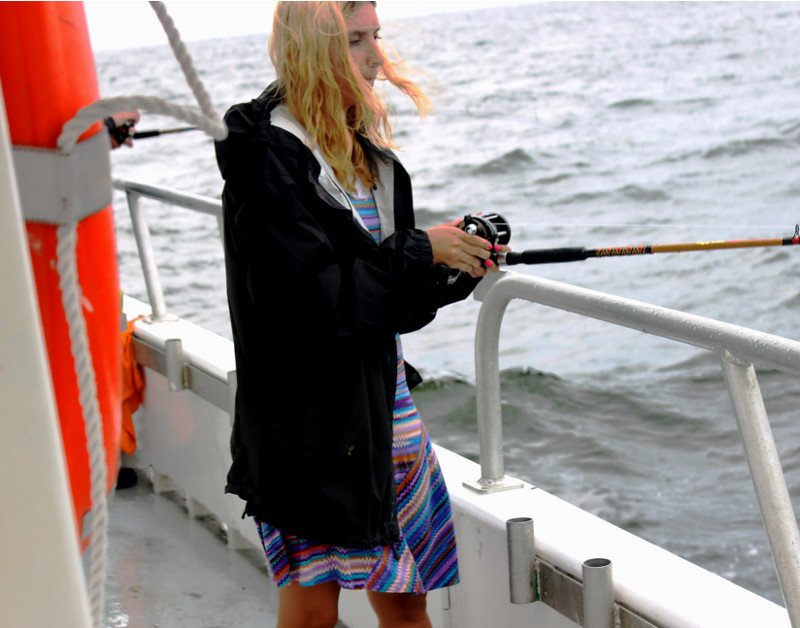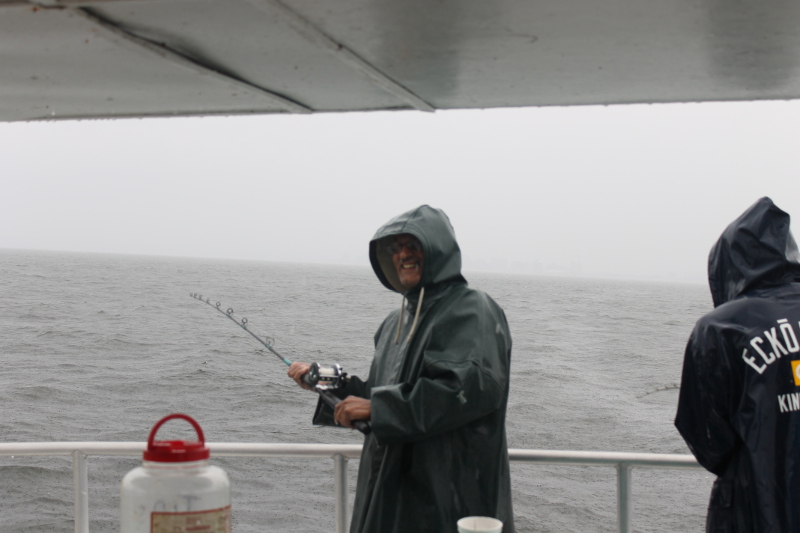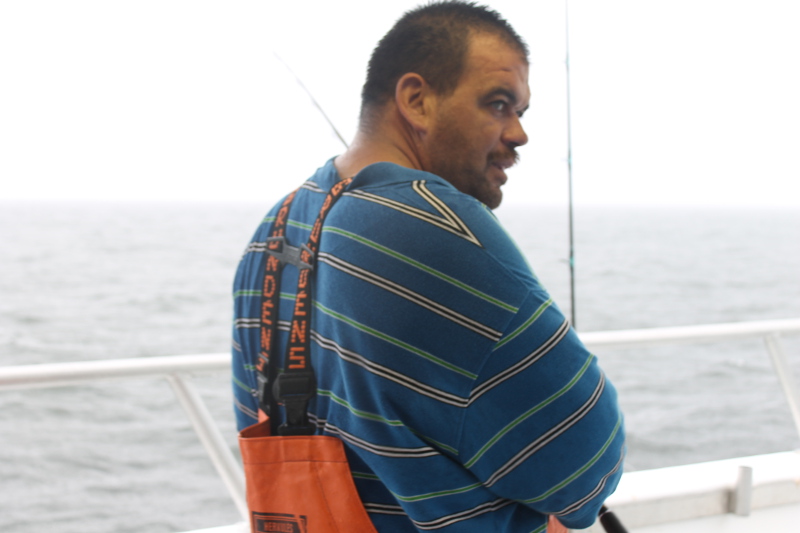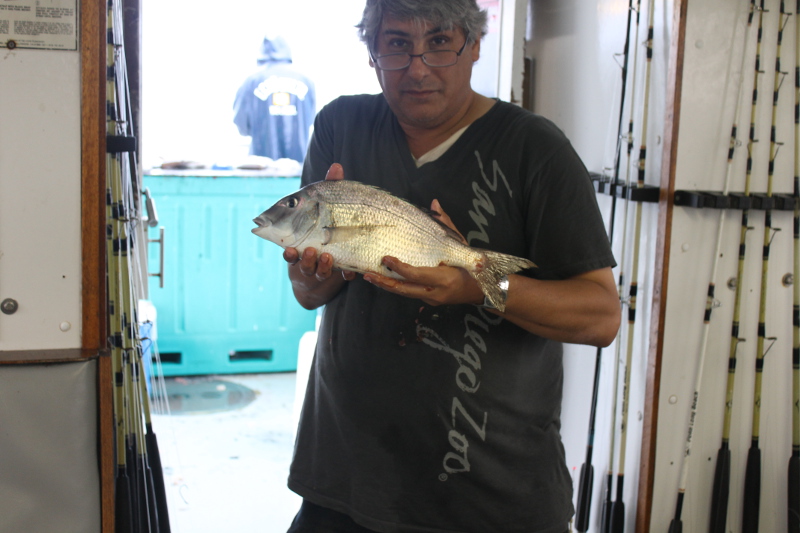 How big were the Porgies? When I cooked them they looked like Chicken Cutlets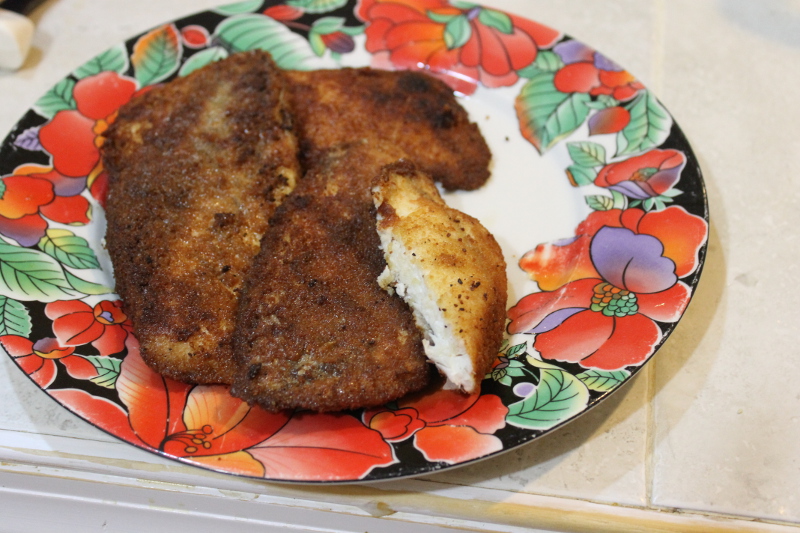 Here is the The Summer 2013 Photo Gallery. It has a few Boat goddesses, and more on it.
As we moved into fall, Striped Bass and Black Fish season approached. Although off to a slow start, Striped Bass was hammering on the small charter boats for an early run in October, before slowing down in November. The fish seemed to move off to Fire Island, and now in mid and late November have moved back into the NYC Harbor area.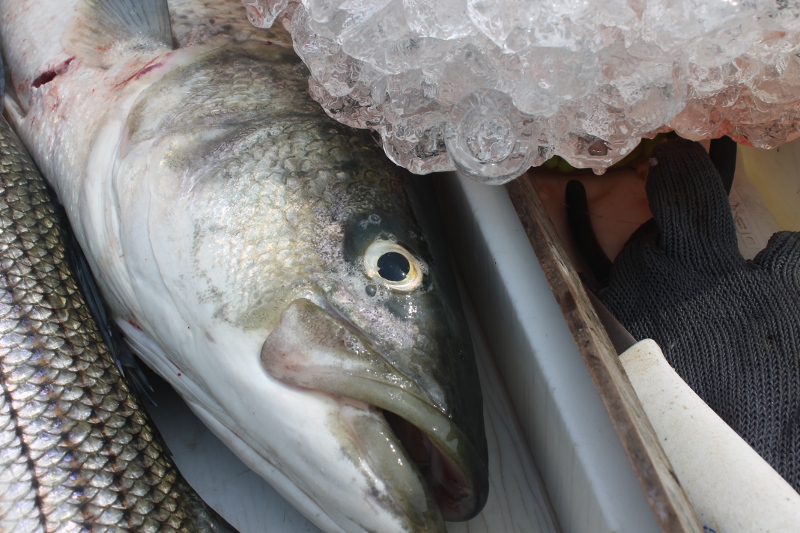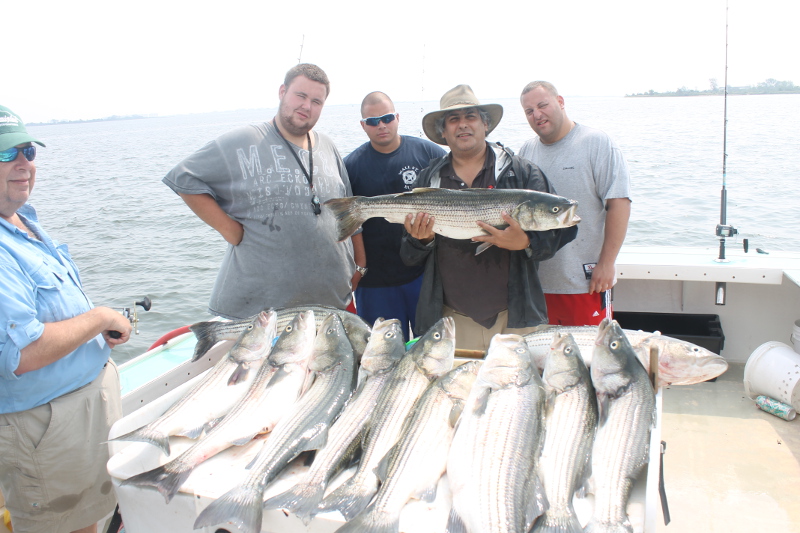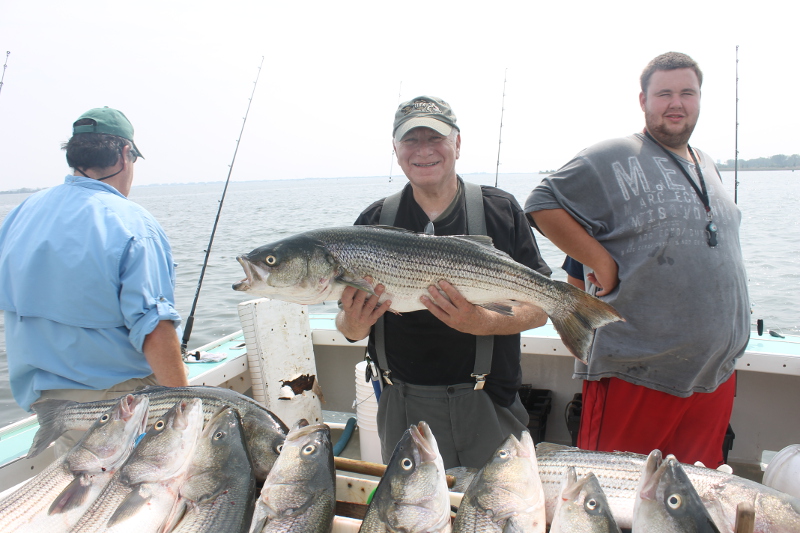 Finally, we reached Black Fish Season in Mid-November when the fish really began to hit hard. Most commonly we fished for them off the New Jersey Shore line. Both the Ocean Eagle and the Marilyn Jean IV have stayed with them this late season. There is a limit of 4 Black Fish per man in New York. I have frequently limited out with some huge fish in the mix.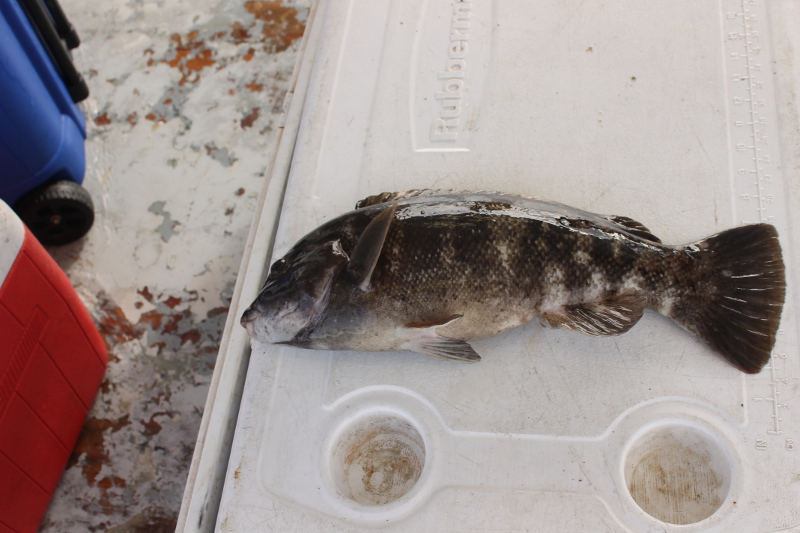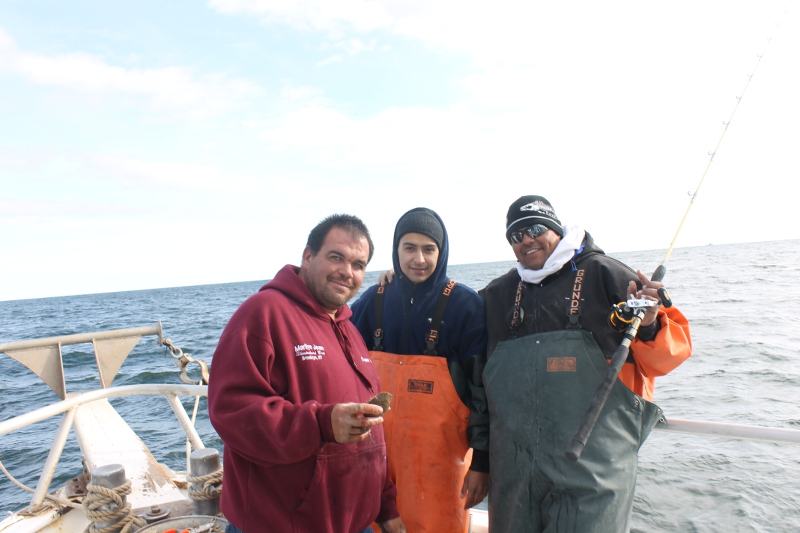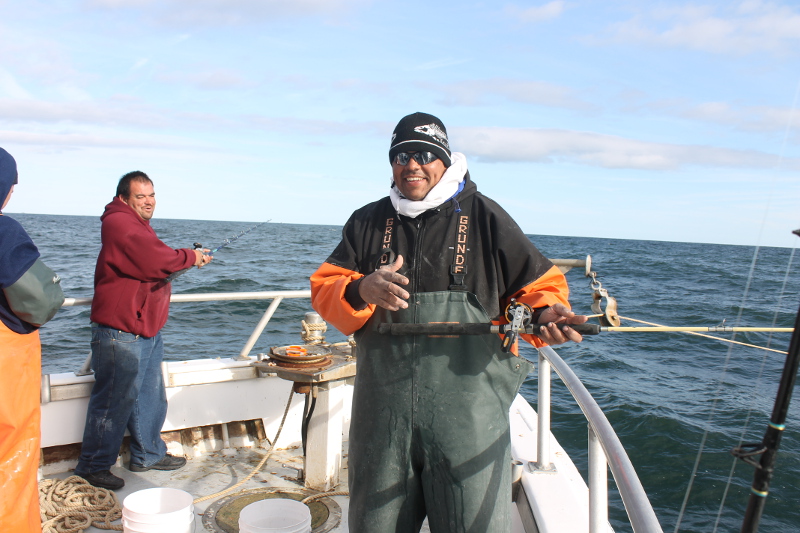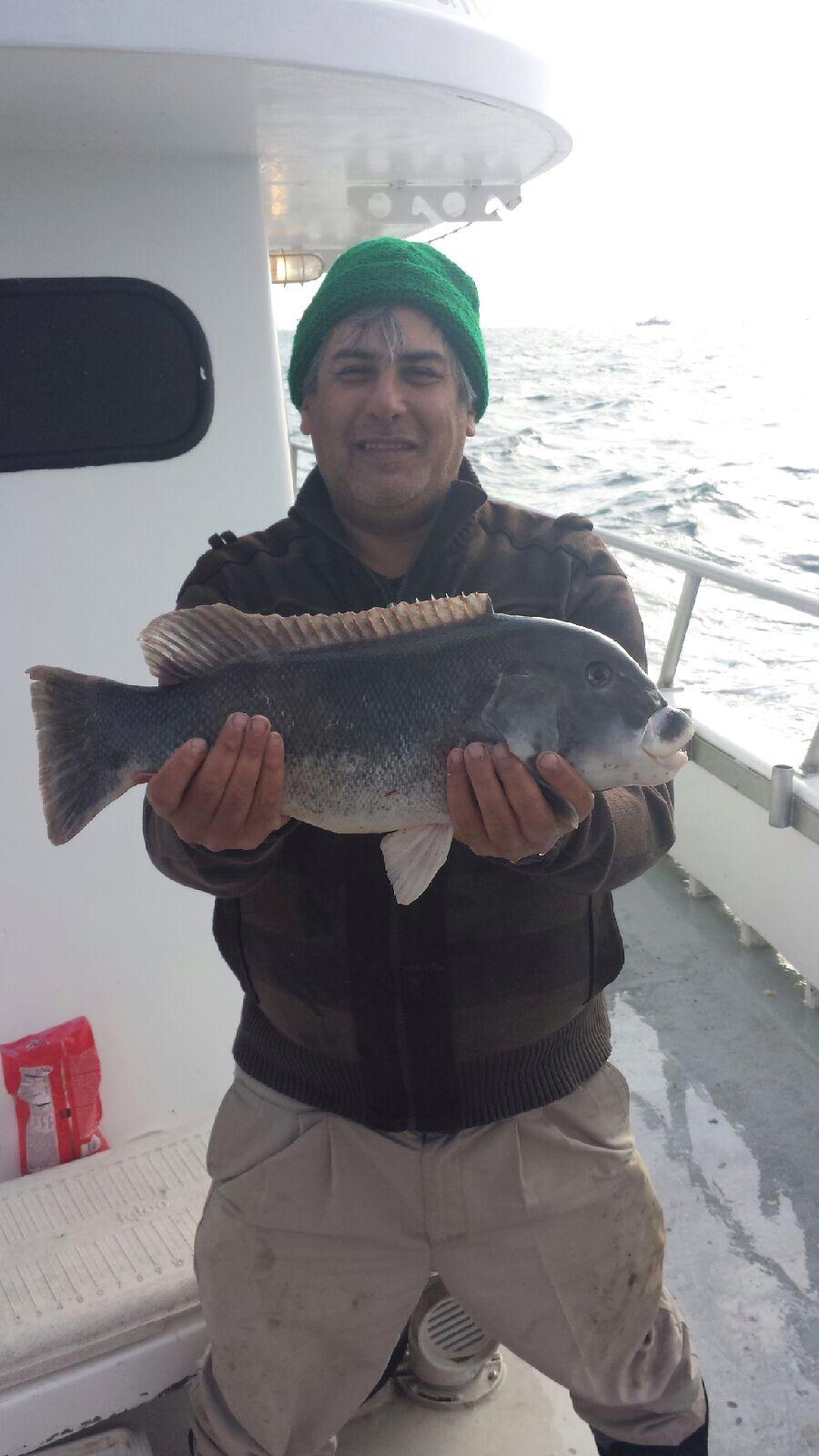 Black Fishing Gallery
Here is a link to the History of Ambrose Channel, one of the major features of New York Habor.