Brooklyn Living the website for Brooklynites and visitors to discover the rich cultural roots of our city and its understand how it is changing into the middle of the 21st century. Brooklyn is a seaside town and fishing has been a key part of it's culture from the time of the Native American tribes.
When the summer is here and few people can put together a NYC and Brooklyn summer vacation
like Ole MrBrklyn here. Summer is great for fishing and the entire water front.
I've spent considerable time, over the years, as a passenger on most of the Brooklyn
based boats including the old Pilot , Explorer. The best of the current fleet is, IMO
Pro Challenge is a great source for quality inexpensive flourocarbon line
Stella Maris Bait & Tackle
is the main bait and tackle shop that I use.
2702 Emmons Ave, Brooklyn, NY 11235
(718) 646-9754.
They are open at 5AM every morning and serves as something of a club house for many of the captains in Sheepshead Bay. Get there in the morning and ask for "Stretch". He's about as warm of a person as you might ever meet
This is a pamphlet that describes most of what you will find in NY waters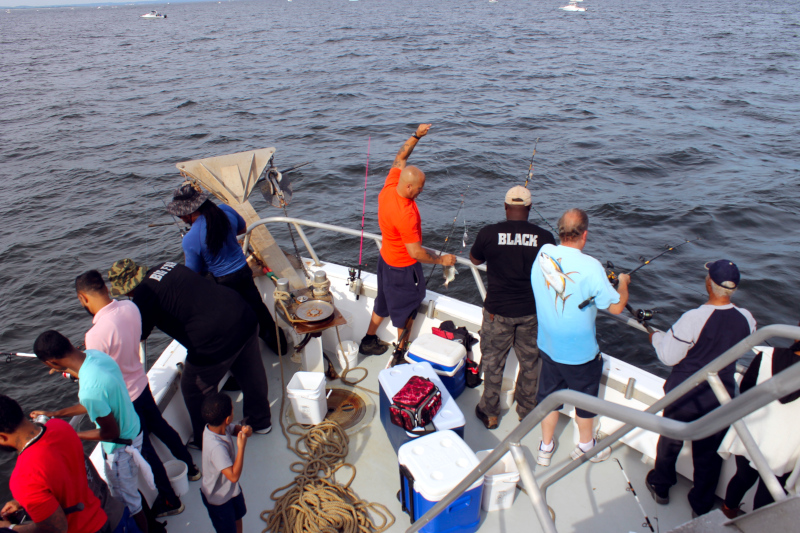 ---
---
Brooklyn Fishing Reports - Summer 2020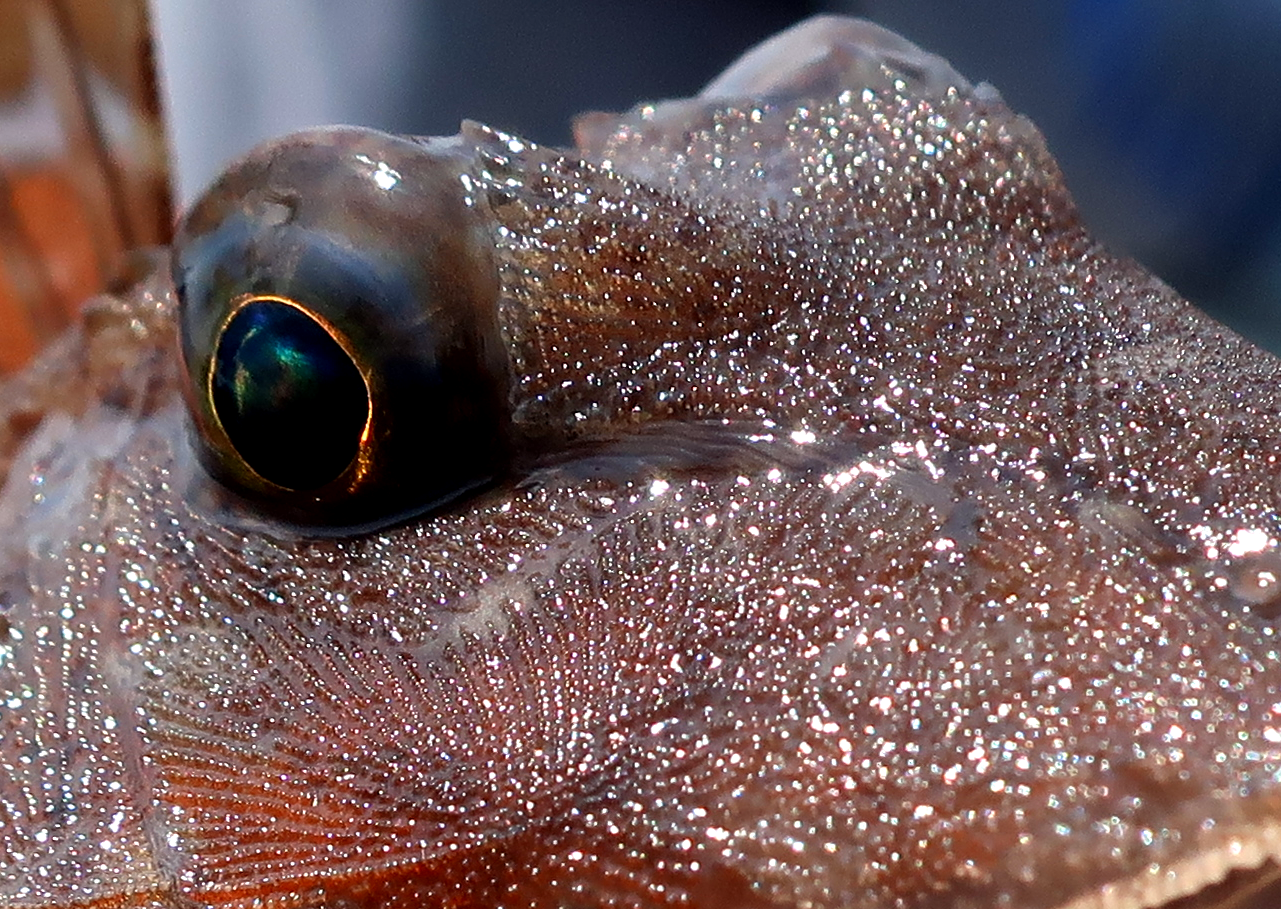 ---
id = drum
Fri 07 Aug 2020
This Friday we had overcast skies and light rain in the morning, which kept the crowds light. We hit the water not knowing what to expect, since the was a decent tropic storm earlier in the week. But when we made it out into lower New York Harbor, the fish were hungry, and in the morning I crushed the porgies, logging 21 fish over 15 inches. I made few new friends, especially Philip, which we quickly dubbed, King Philip. He was heading out for a fluke trip that was cancelled, so he grabbed a Porgy/Sea Bass trip instead and had a blast.
Everyone ended up with near limits of fish. 3 keeper Sea Bass made there way onto the boat. And we capped of the trip with an exciting run at a 26 inch Red Drum, by King Philip. It was a great great day at the rail. After stuggling with the fish, we took it in and meaasured it up, at 26 inches, it was one of the nicest catches of the season.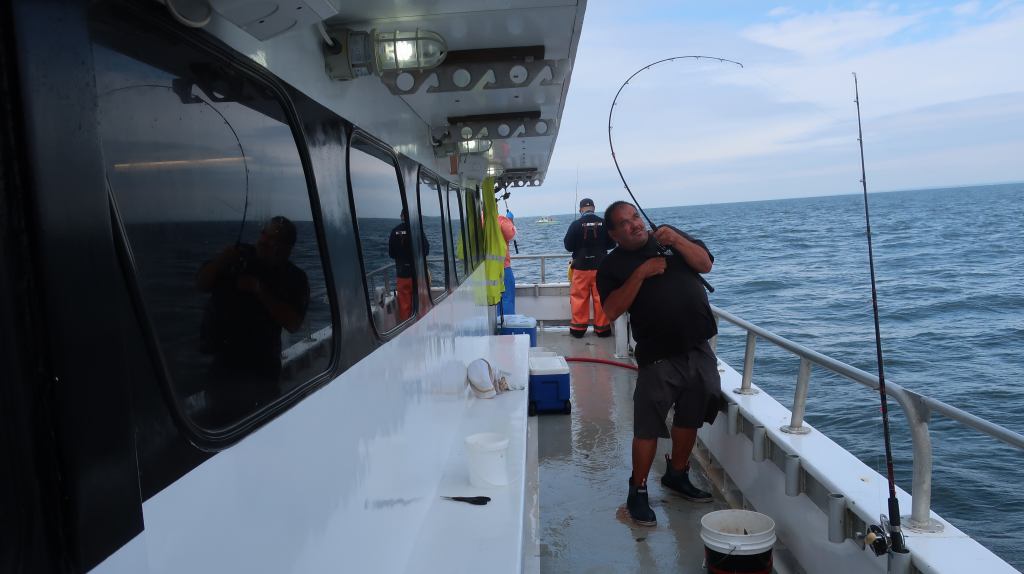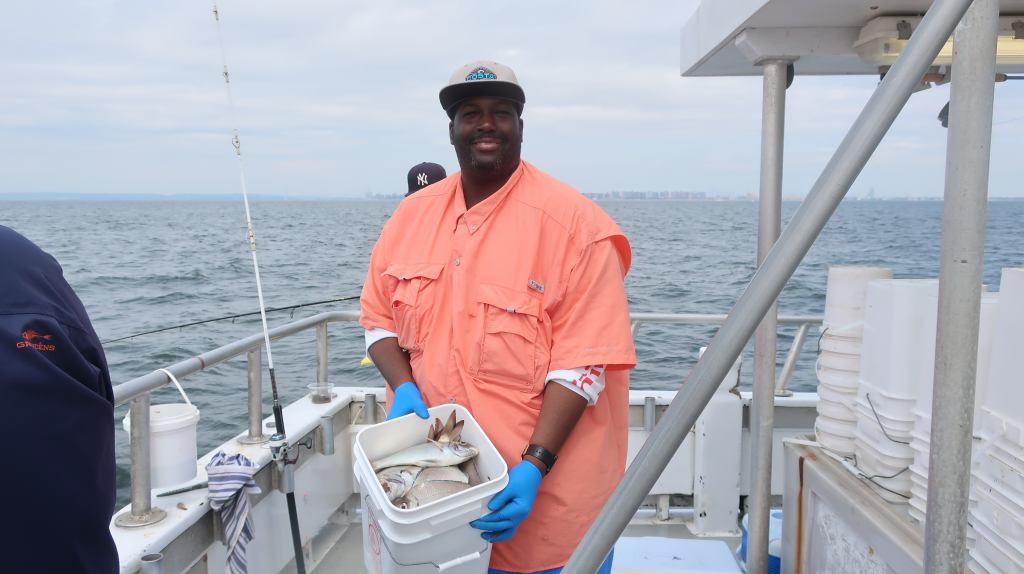 ---
id = aug2020
We had a bizarre night on August 3rd. The weather reports have been threatening us with a tropical storm for 3 days, but the hurricaine was downgraded toa tropical strong, and the weather keeps coming up cherries, sunny with light winds. Early in the evening the sky was blue and nearly cloudless. the weather report was for scattered thunderstorms in the afternoon, clearing out by evening. Instead we had blue skies and the evening boats headed to the Tin Cans to pull in fish and we were having a banner night. Buckets of porgies before 9:30PM. All the passengers and families were happy. I gave out a bit of Meclizine (Dramanine) to folks before pulling out of port. At 9:30PM, all hell broke loose. First we had a minor thunder bumper that passed but that blew off slthoguh it did blow us off the fish. Then the seas got rough, and the wind picked up. No more fish. The boat near us was caught up in particularly rough swells, and had to cut its anchor to get into Jamacina Bay safely. We followed them in, and the night ended a bit early. It was quite an adventure though, a few hundred feet off of Breezy Point
We finished up this weekend by burning into August, much as a continuaiton of July. Porgie life has been mostly large fish and buckets of them. This is one of the greatest porgie runs I'd ever witnesses, not because we have had endless fish, which is normal in the summer, but because the fish have been consistantly huge. I can honestly tell you that there is no need to run all the way to Montauk to get big fish. They have been right here in Jamacia Bay and at the tin cans, espeically at night when the gates of Hell seem to open up and we get Demon Scup, fish 17 inches and bigger, coming in on a current of cold deep water..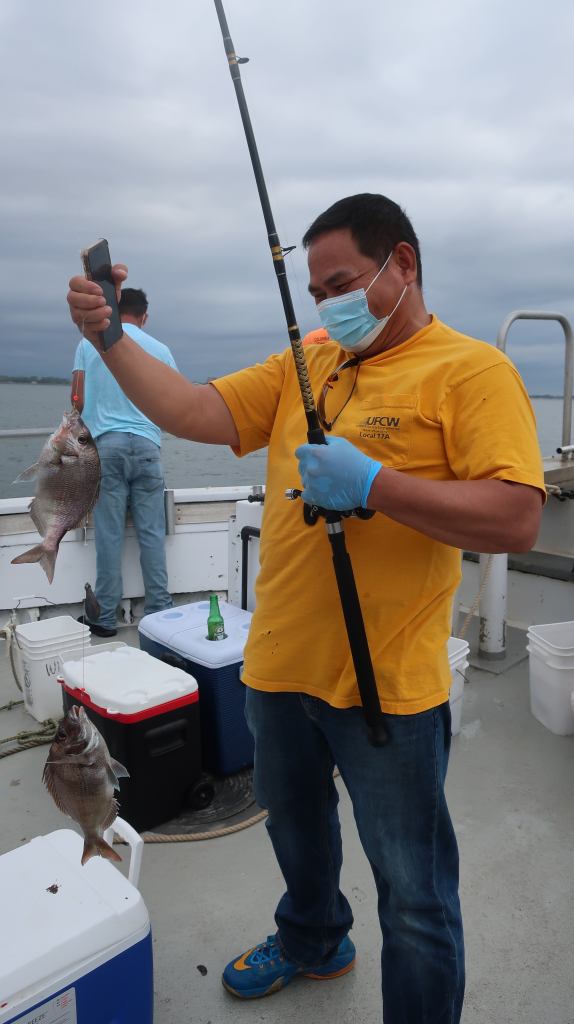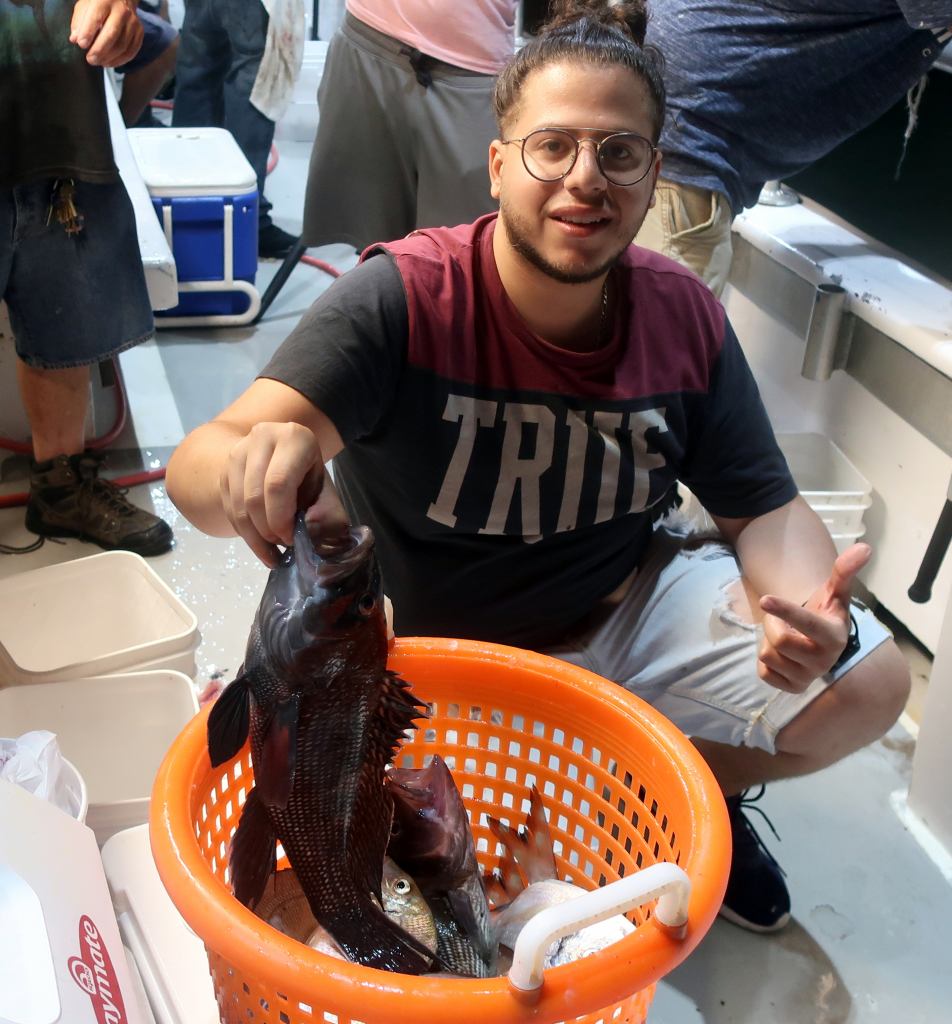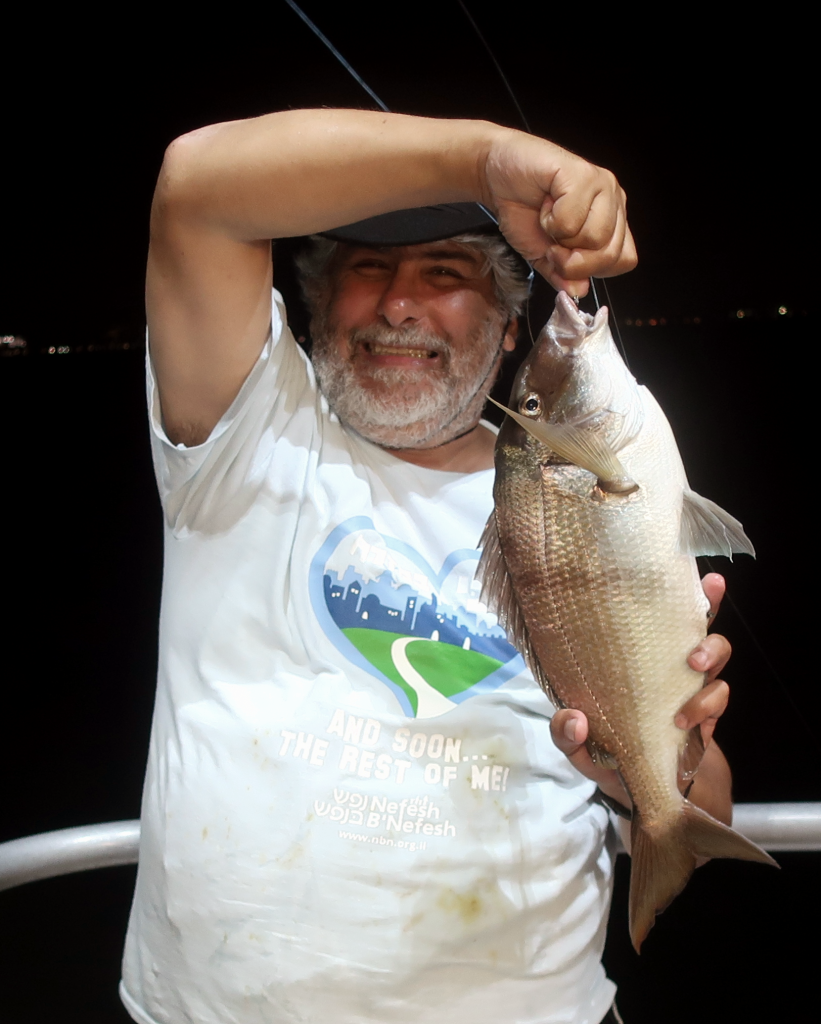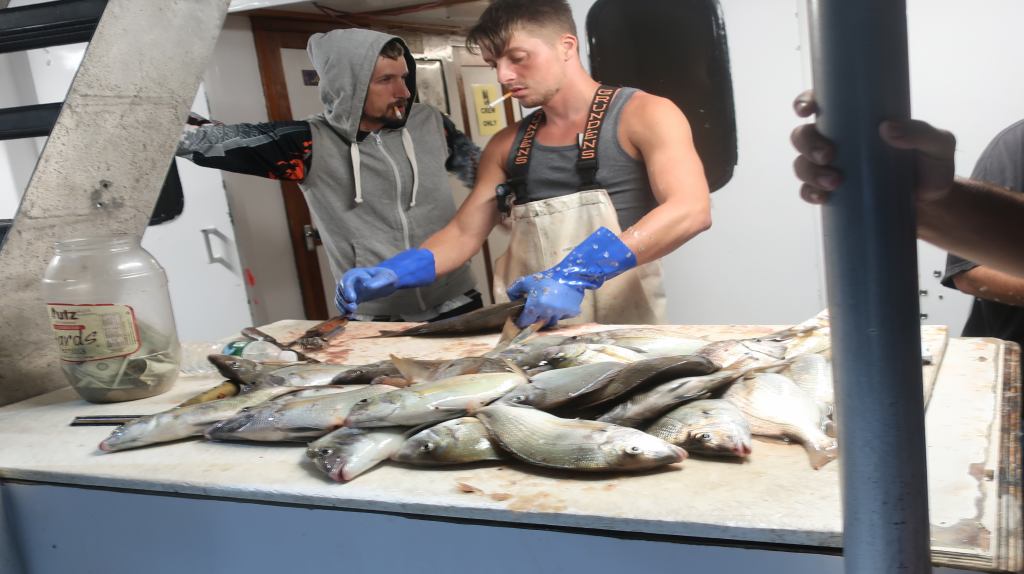 Additionally, I am reminded, especially with the Sunday morning trip, that one doen't need a bunch of fancy equiptment to catch a bucket or two of porgies. It is not unusually for me, with all my fancy gear, and fancy casting, to get out fished by a boat rod holder fishing for the first time. This big guy here, we smart enough to take advice from the crew and fill his full limit of Porgies for the day, and wasn't cheated a fish.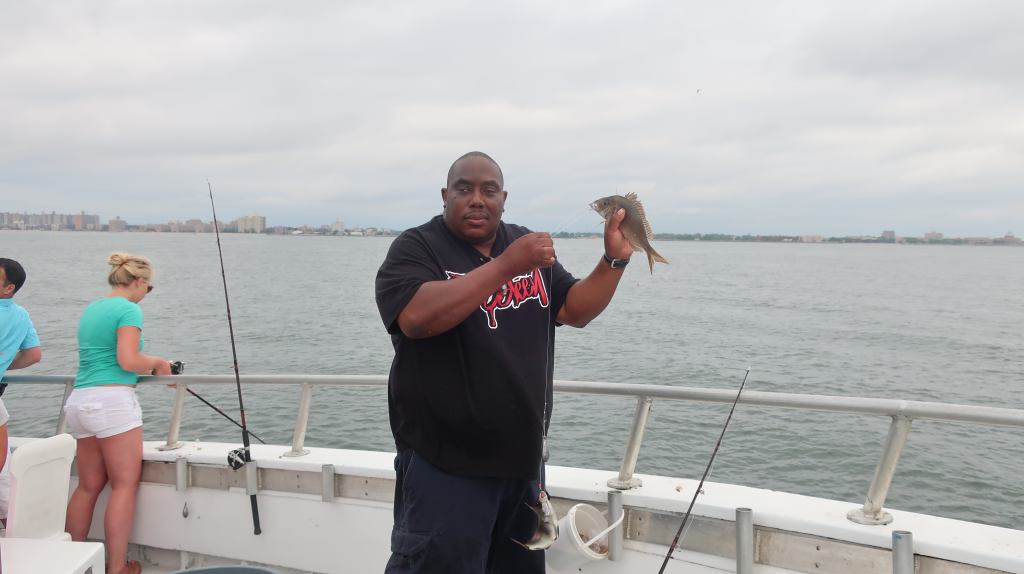 ---
id = end_of_july
The fishing weekend begins tonight and the porgie fishing has been up and down. It was sluggish until the tide changed. Then I was able to pick a few fish up at the Atlantic wreck and I enoughage the rest of the boat to join the feed. The result was ending the night with lots of smiles and I pulled in a modest 11 fish on miss matched gear, so I was happy.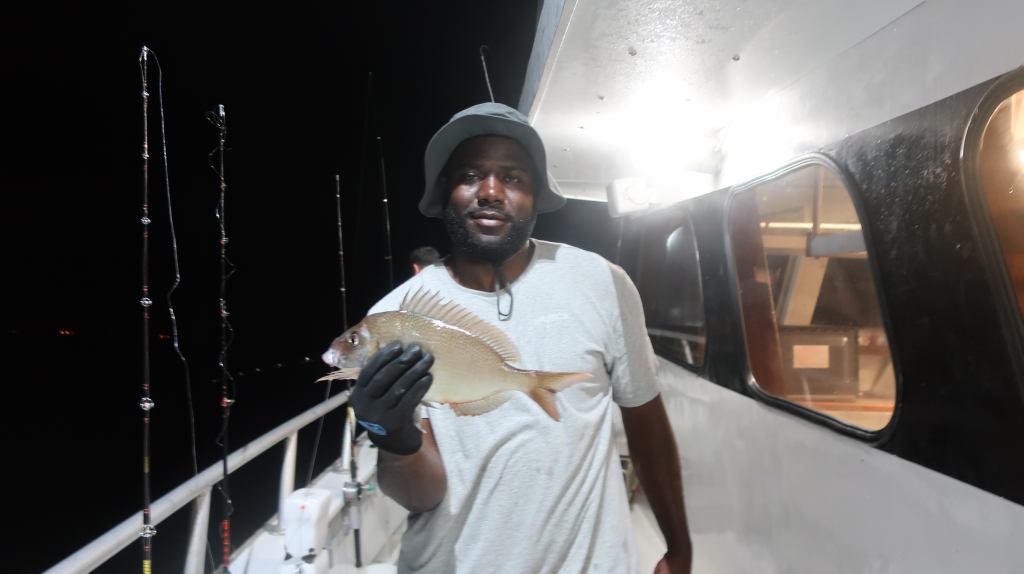 Friday Fishing - best in the week
Fishing on the party boats is best on Friday's. The crowd is usually enthusiastic but light. Mates are feeling friendly and the captain, because he is setting himself up for the heavy weekend, is usually willing to take extra risks to find new fertile fishing grounds, so that he can fill up the boat with fish for the weekend passangers. The overall result is usually a happy trip.
This Friday we set out with a light crowd on the Marilyn Jean V with about 30 passangers. The boats capacity is about 95 passangers or more. Our mates were Rojas and Ole grizzily Frankie. The morning it rained and the weather was a bit rough so the captain tried his luck about Jamacia Bay and we hit Porgies hard. I connected with an old firend, Anthony Van Utrecht, who was a young pup when I first met him, but has grown into a full man, and gentle father. He mates and captains for the Hunter now, and we rarely get to fish together, but this is FRIDAY, so things that otherwsie can't happen, turn out to be possible on Fridays.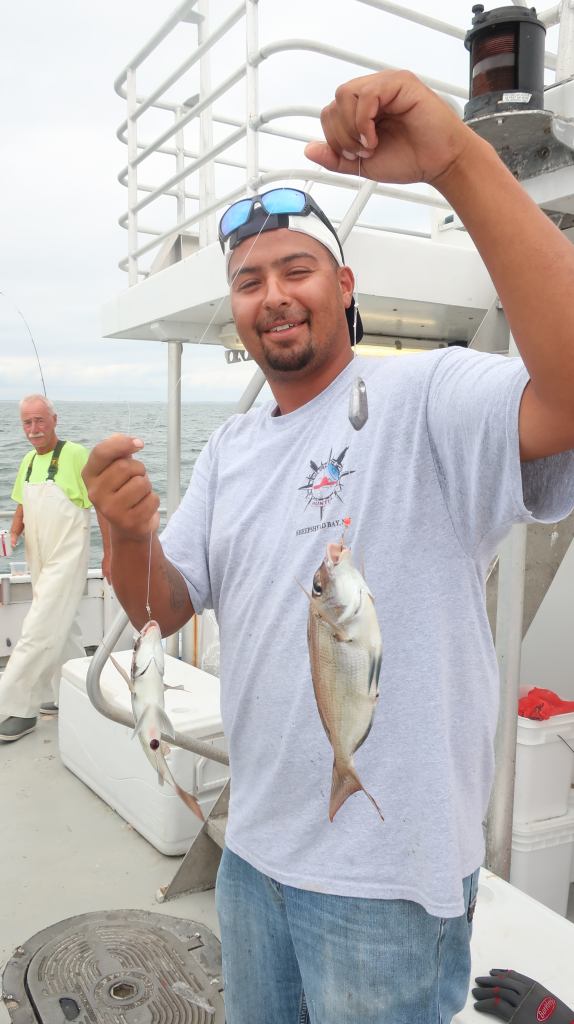 After tooling about Jamacia, we steamed off to the Atlantic Reef. The captain of the Marilyn Jean, Pelican, wanted to see how things looked, and Anthony is in need of hours at the pilots wheel for his certification as a captain, so blowing an hour or more on the travel to the reefs where a good investment. The Atlantic Reef was a dog house (all sharks), so we pushed forward to the McAllister Reef, which produced well for us. We had a full ecosystem of fish to try for, Scup, Sea Bass, Spanish Mackerel, Fluke, and Puffers all showed up on the decks today. Acrobatic mackerel did aerial shows on the sufrace, flipping out of the water, seemingly for the fun of it. I had a Guyanese family sharing the stern with me. The fellow closet to me was a COVID-19 survivor who had spent 3 weeks on a ventilator. They are Indian Guyanese. And he was happy to be alive and to be out on the water. I like the Guyanese people. They are calm, and friendly, and he used WD40 on his bait, which, while cancerous, is very effective at attracting fish, and essentially turned off my fish as he pulled in buckets of Porgies.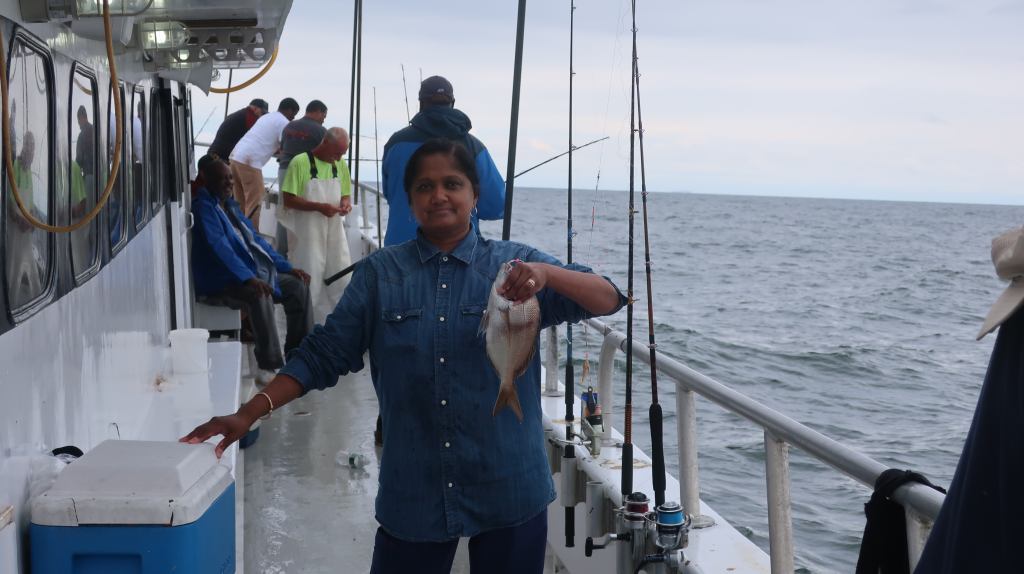 In all seriousness, despite that they come from the, "Kill Everything" school of fishing and loved sand sharks, they seriously kicked ass at the rail and went home with coolers of fish!
This fellow further down the starboard side woke up to find himself with a most improbable double header Spanish Mackerel Delight on his line. This was very cool, and these fish eat well.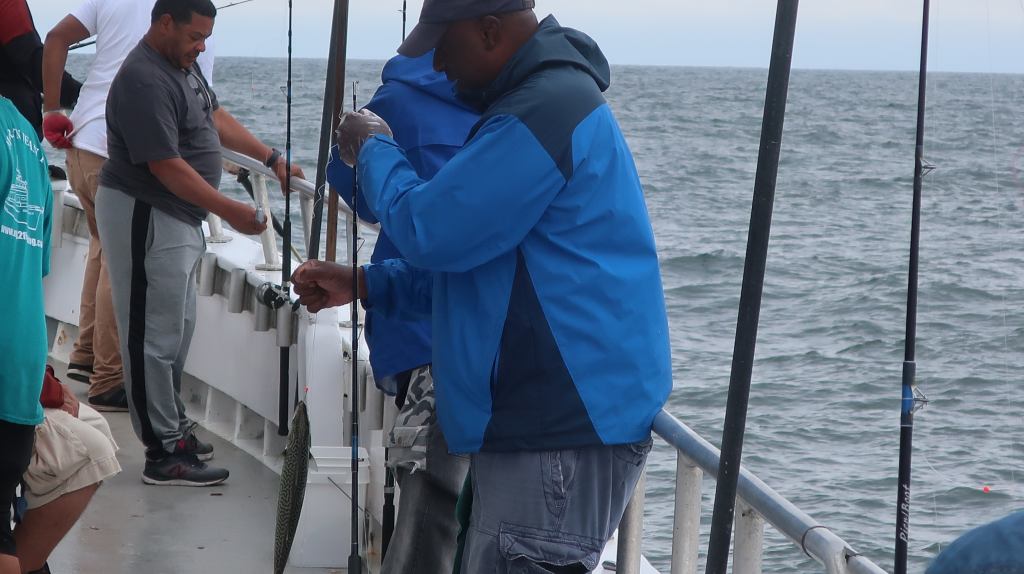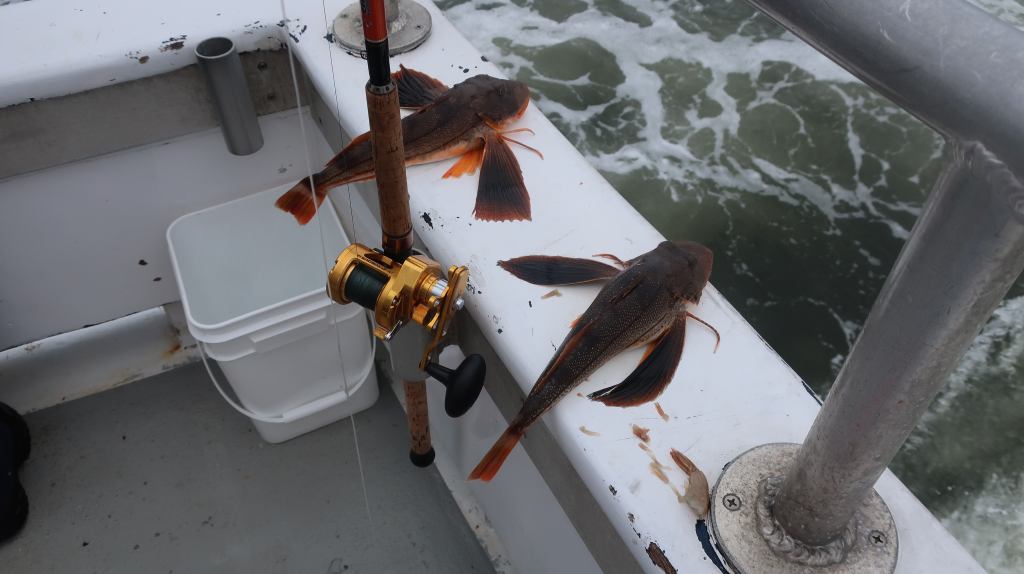 ---
id bellmar07
Wild Sunday on the Jersey Shore
So what do you do in NYC when the theaters are all still closed and no jazz Clubs are open? You head for the Jersey Shore and do some fishing. I packed up 4 rods, a cooler, kosher fried chicken, and some tackle and took the 11:07PM train to Bellmar, which arrived at the docks at 1:05AM. I went to the boat and tossed my gear on the deck, then followed the dock to the beautiful bar and dining facilities that was still roaring like the 1920's. I had a few beers, and at 3:00AM walked down the beach, which was quite busy with walkers on the boardwalk. It's a nice little beach, nothing like Coney, Island, but clean, and well maintained, and the police station is right on the boardwalk.
I turned around, headed back to the docks and stopped at the 24/7 7-11, picked up some water and soda, and headed back to the Bellmar Princess which is the boat I was booked for. To my surprise, there was already dozens of people jockeying about for the best spots on a variety of the boats. I nodded out for about 2 hours when a mate showed up at the boat about 5:30AM. We exchanged greetings and I took a choice spot on the stern of the boat, in the starboard corner. By 7:30AM the boat was decently packed, within the COVID-19 regulations. The boat was scheduled for blue fishing, and a Mexican family boarded the boat with young children and loaded with jigs with treble hooks. They caught a lot of blue fish, but children and treble hooks is a deadly combination. Sure enough, a 2 year old daughter got a treble hook in her hand which the mates needed to cut into pieces to remove from her hand. It is extremely stupid to allow children on the deck with swinging jigs, especially treble hooks, and this situation could easily been much worst, and it wasn't pretty to begin with to hear the child screaming and the mates gathers around her trying to remain calm until the situation, fortunately, resolved. The Mate on the Bellmar Pricess, Billy, is an experienced old salt dog and experienced handling hook injuries with the skill of a nurse. He is the reason I return to this boat again and again.
Despite the hysterics, I had a good time using my new stick, a Hercules Seeker, outfitted by Michael Chow. It was the first time I had used it and it has a new Fuji Painted seat holderi, in a blue design. I fitted it with my faster Torque 12 Star drag, and the reel didn't sit well in the housing. It got loose with a fish on, which could be disturbing. Bill brought over a pipe pliers and tightened the reel to the seat. I will need to look at this more closely. It seems that the paint is interfering with the seating's. I'll see what happens going forward. I still took in 4 blue fish and dropped many more. This boat is high off the water and this new rod has a lot of spring in it. Blues popped off and the pole recoiled twice before I finally started to learn the pole and get things under control.
The boat had a lot of blue fish, some Spanish mackerel, albacore, and then we switched off to bottom fishing. That is a skill I know well, and I hit multiple Black Sea bass, and a very nice ling. Overall, I had a lovely take and my bottom fishing was the envy of the boat. I shared a few fish which soothed ruffled feathers, and then we headed home.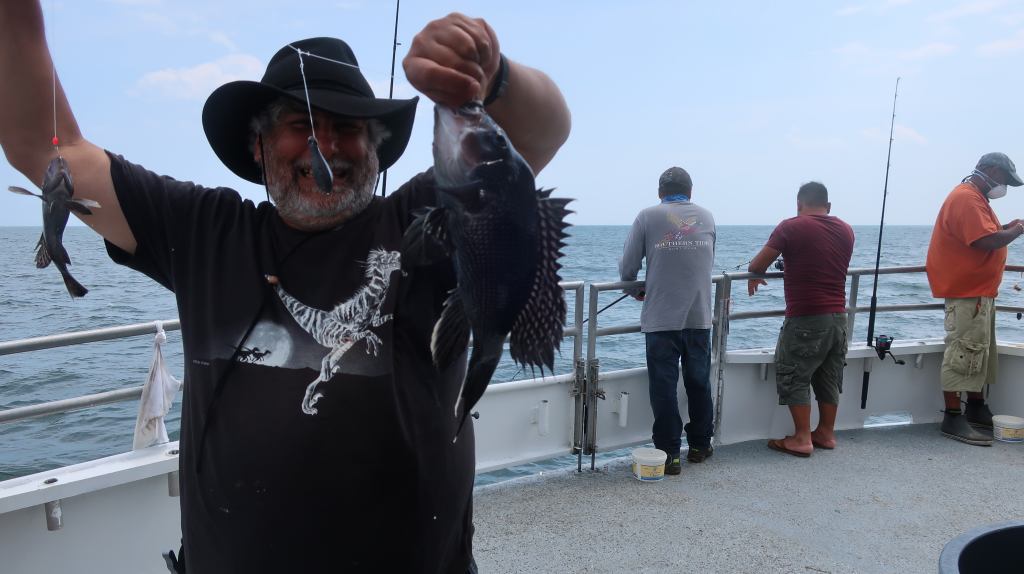 Bellmar's party boats dock in the Shark River estuary, and when I arrived at the docks, it was high tide, the water level almost up to the dock. I'd never seen that before and it seems like a guaranteed way to get flooding. The piers at Sheepshead Bay are several feet above the average high tide and you need to step down the stairs to reach the boat. It makes it a little harder to get on the boat, but it is much safer for the community, which will suffer from periodic flooding. The boats are also backed into the dock, a difficult maneuver in my eyes, but it makes boarding very easy. The estuary is behind 3 draw bridges and when the boats leave in the morning, they do so in a parade, until there reach the open ocean. Along the parade route are many homes, and fancy edifices, and lot of small boats enjoying the water. Check out the morning parade out of Bellmar:
There also seems to be a ritual parade of dogs at the Dock in the morning. I've seen this before, and it seems almost like a fishing dock tradition that the local dog walkers can bring there dogs to the docks in the morning and Fido get a treat.
Overall, this was a terrific Sunday trip, and much better than the zoo that exists on Sheepshead Bay. Conversation was easy, and drinking was moderated. The Cabin on the Miss Bellmar is enormous and air conditioned. More than a few passengers spent there day cooling off, and even sleeping in the cabin. The upper deck is a lounging area and some children were up there, with mom, kids, and young adults sunning themselves. While all that was going on, the boat was sailing in the Klondikes, and we were clobbering the blue fish. Over 100 Blues come on the boat. And even the captain was impressed with the fish.
At about 3PM we arrived back in port. I grabbed my gear and ran off to the railroad station. At about 3:40PM, the train arrived and at about 5:50, I was at Penn Station. I looked at my watched and realized I could take a cab from Penn Station, directly to Pier 6 on Emmons Avenue, and enjoy an additional night of fishing. And I did just that. We hailed a cab, and headed through the tunnel, up the Prospect, and down Ocean Avenue to reach the docks at 6:41PM, more than 15 minutes before the Marilyn Jean IV was ready to pull out for its night trip. That night trip itself one one for the ages.
---
id bellmar07.2
So when I arrived back at Penn Station in Manhattan, the time was about 5:30PM and I had relized that if I hop in a cab, I could make the Sunday Night trip on the Marilyn Jean fleet. I got out on the 8th Avenue exit, carrying a small cooler of fish, 4 fishing poles and a messanger bag full of gear. At that point, I was fairly loaded and tried to find a cab with enough room to handle my poles. This wasn't easy and the city taxi attendent at railroad station was of little help. In fact, he gave away the cab I needed. Finally he fished out a cab that could take my gear. The problem is that the poles are long and the cabs now have plastic divders to protect drivers from COVID-19 (More Bullsht).
I hopped into the cab and a West Indian fellow was driving and he asked me the address, and I told him Peir 6 and Emmons Avenue in Sheepshead Bay Brooklyn. He couldn't find it on Google and he couldn't spell Emmons, and I got flustered because the clock was ticking. We came to an agreement of $60 for the ride, including the tip, cash, and told him to just drive downtown, and use your eyes, and brain and forget about the damn GPS. He did so, and we finally hit the West Side Highway, and took the Battery Tunnel. We negotiation about the route, and settled on the Prospect Expressway and taking Ocean Parkway to Avenue N, and then into Ocean Avenue. Ocean Avenue, with the damn 25 mile an hour speed limit was the slowest part of this. Getting from Kings Highway to Emmons was a major difficulty. Meanwhile, the driver and I chatted quite a bit and finnaly when we arrived, with 20 minutes to spare, we were friends, I paid him his $60 cash, and we hugged, and I got on the boat.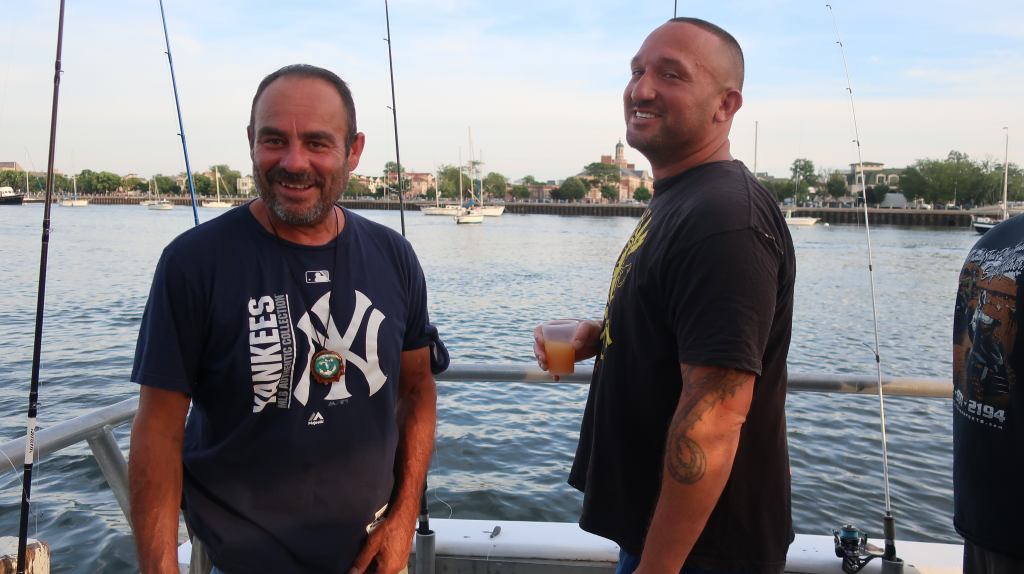 I wanted to tell them all about my exciting adventures in New Jersey, but frankly, nobody was interested. But Ralf came stacked with bait, which was nice. Then Mikey showed up. Jessica and Louie, two more regulars, showed up at the boat, and a fellow named George, another semi-regular. So we settled into the boat, and Pelican, the Marilyn Jean Captain, set us a sail to the tin can grounds. When we stopped on the spot and we immediately started hooking up with big vampire porgies on shrimp. These fish were pushing 14-16 inches, and biting hard. Lead by Rafeal, we had them in a frenzy for the next 4 hours, and loaded up with a huge quantity of dinner plate sized porgies. We had them hitting on shrimp and worms, and then as the nigh wore on, they got a little finicky and would only take worms. To cap off the night Rafeal pulled in the largest Porgy Double Header I had ever seen. He wouldn't let me take a good clean picture of it. But we had a streak going of 4 of my last MJ trips, we kept hitting the biggest scup I had ever seen, night after night, going from 17 inches, to 18 inches, to 20 inches, and Ralf continues this street with TWO 20+ inches, the biggest being about 22 inches. This was the best photograph I could get of it, because it disappeared into the buckets.
We limited out the boat, and finally sailed home in triumph on the biggest Porgy Night I have ever seen. We could have fed the homeless.
---
id wrecks
Wreck Fishing Far and Wide
There are several kinds of fishing that one can participate in from surf fishing to long range bottom fishing. One of the most popular types, especially on the party boat circuit, is wreck fishing or reef fishing. The New York Bight, before European settlement and the industrial revolution, was largely a sloping mud plain carved out with a large canyon by the Hudson River, and lined with barrier islands. The continental self is relatively far from New York Harbor, unlike on the West Coast, and we have a distinctive inshore fishery in waters less than 80 feet. In addition, we have water that is cold in winter. This gives the fishery lots of natural structure, boulders from the Hudson Rivers breakthrough of the narrows, and rocky shores on the Long Island north shore in the sound, and numerous rocky islands in and around the harbor, such as Ellis Island, and Liberty Island, most of which is not gone because of activity about the harbor. Little of the natural waterfront remains. What you see is largely an artificial of a construction as artificial as Central Park. Jamaica Bay was largely a swamp, or a salt water marsh, not much different than the New Jersey Meadowlands. Rockaway Peninsula extended no further than where the Gil Hodges Memorial Bridge stands currently. Coney Island was largely exposed to the open ocean, which made it dangerous. In addition, other barrier islands existed which we still see traces of today. But now, Jamaica Bay is a swallow bay, with deep pits dug out around JFK airport. Channels are dug through it and it has small islands. Natural reefs about New York existed, but were not a dominant feature of the Bight. The major exception to this was the shallow water oyster beds that formed reefs throughout Brooklyn and Long Island. At one time Brooklyn was the leading oyser exporter of the world and the many small barrier islands about the south shore supported billions of oysters in oyster reefs.
In order to sustain a fishery and to provide fish habitat, the city and states of New York and New Jersey have created a number of artificial reefs all around the waters of Long Island, and up and down the New Jersey Shore. The artificial projects are well documented and provide safe havens for recreational fishing boats, and scuba divers. In addition to the reefs, there are a large number and historically interesting ship wrecks through out the area. Intelligence of these wrecks, from small fishing vessels to large commercial ships, are tightly held by fishing captains and the sharing and holding of this intelligence looks much like a war. Today, with GPS identification of fishing vessels and tracing of there movements, much of this discovery and intelligence is an open book. You can follow hot spots on GPS marine maps around the web. Still, the knowledge of a good piece of fishing bottom is a treasure to be shared carefully among captains.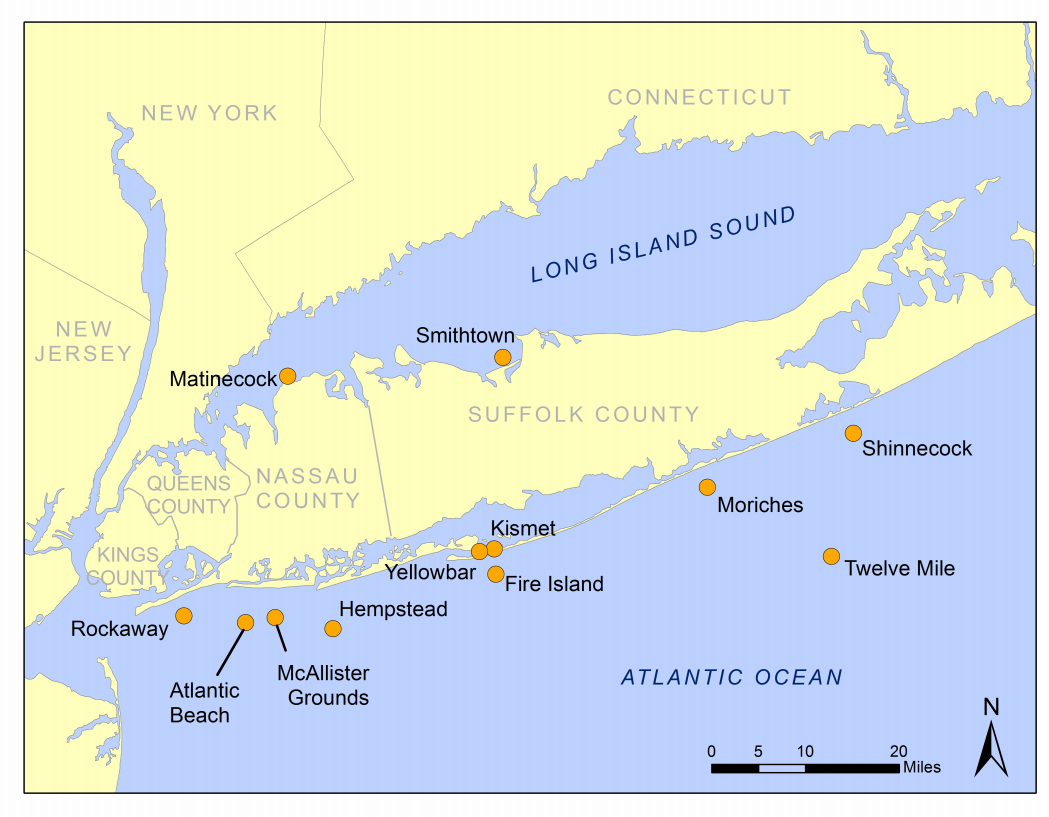 Artificial Reefs are created by artificial debris such as old subway cars, construction material, and even ship wrecks. The scientific merit of these reefs have been debated but there attraction to the fish that we target for recreational fishing is impossible to deny. The reefs consistently produce scup, black sea bass, cod, and fluke. A boat of 90 fisherman can fill up buckets on the long island reefs, and the Rockaway Reef, which is the one closest to Sheepshead Bay and New York City, is very crowded on a weekend. When other spots to fish fail, the Rockaway Reef is usually a safe bet for captains to allow there passangers to fill up before heading home. Reefs to the further east are less easy to reach and often have more action. I think I have never fished the reefs about Fire Island.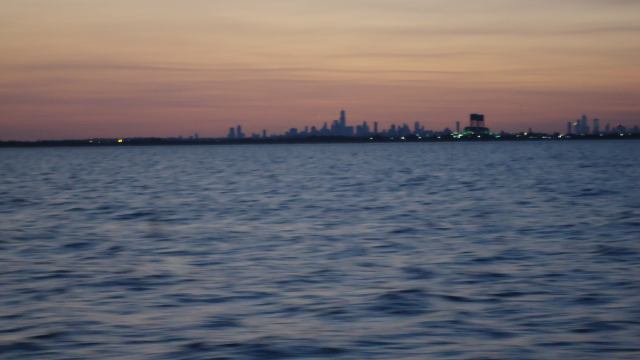 This Friday, July 24th, 2020, we motored over to the distant McAllister grounds to see what was on the reef. There was a prediction for a chance of rain, and as we swung about Breezy Point and headed east along the Long Island shore, skies got continually threatening. It was a light crowd on the boat, perhaps 25 people, small enough to become familiar with each fisherman. A few of the regulars where on the boat, including Glen. The first mate, Rafeal, and myself, settled in to the starboard side of the boat near the stern. The captain and crew were determined to catch some fish today, since the crowd was light and it was likely for the boat to be anchored up. It took over an hour to cruise to McAllister, and when we did, the sky grew ominous, but we settled in anyway, with now expectations for it to rain.
The fishing was excellent. I pulled in more scup than I could count, more than 2 buckets. We then worked on Fluke. I limited out on the Fluke with 3 keepers and 4 shorts. As we continued to pull in fish, a man lost his fishing pole in the rain. He leaped after it, and ended up on the worng side of the rail, hanging on for dear life with the surf and the rain pounding on him. His buddy pulled him back onto the boat. This was the closest I'd seen anyone come to ending up in the water. Meanwhile, a would be hero yelled man over board, and ran through the cabin, and naturally enough, with all the water, he slipped and injured his knee. He spent the rest of the day with ice on his knee, killing his fishing day. The captain missed the entire event, since he was on the far side of the boat, but the mates were on it right away. This entire event reminds me to state some rules:
Don't run on the boat for any reason ever.
Never reach over the rail. You can end up in the water.
Leave the mates to handle all and any emergencies.
Be safe on the boat, always.
Mates and crew are trained for emergencies and have procedures to follow. If necessary, they can reach the Coast Guard. You are not trained, so stay out of the way and follow instructions.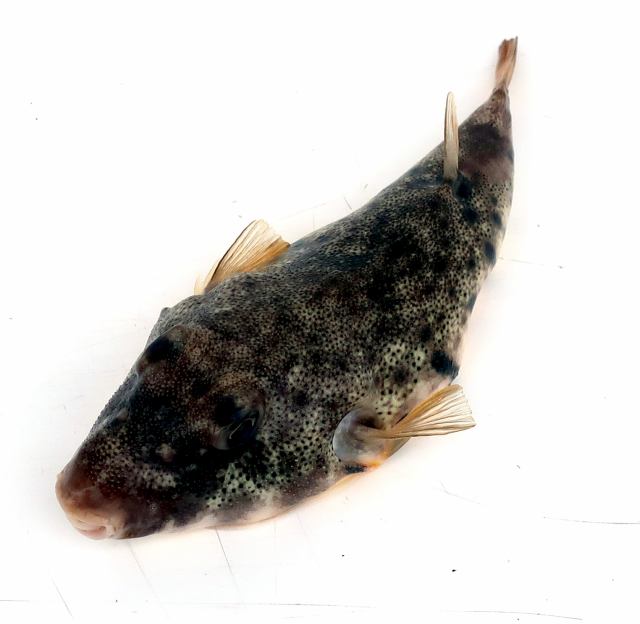 ---
id patience
Fishing is all about patience and focus
People ask me all the time why is it that I spend so much time fishing. It is not obvious to them, and I've given this thought over many years, and I've drawn some conclusions. It seems that fishing particularly is psychologically healthy for men. Women can enjoy it, but men seem to be hard wired to the hunting and gathering process is a way that women rarely are. I know that this is considered heresy in the intolerant environment which we currently live under which we are asked ignore the some thousands of differences between the anatomy and physiology between the genders, in order to reach political goals. And regardless of solid hard science that exposes neurological differences between the genders, I'm sure that my observation that men enjoy fishing more than women will be attributed to some kind of bigotry.
Regardless of the culture wars, it seems that men get more out of fishing than do women, although both genders can benefit from the process of fishing, and can learn important life lessons from the experience. The fishing experience causes people to settle their minds, and to focus on the task in front of them. It forces them to curb there anxieties, and to be patient. Focus and patiences are the two great gifts of fishing. Every cast is a chance to learn a little bit more. You have to subtly adapt in a catatonic like state which leads to an epiphany of minute actions that lead to catching a fish. And if you do things well, you can be rewarded with a fish..or even a bucket of fish.
I was reminded of this last night when I went out on a night trip on the Marilyn Jean V, captained by Frankie and accompanied by the two night time mates, Alex and Julian. We had 41 people on the boat last night, making more than enough room to social distance and maintain WUHAN-19 Coronas SAR2 viral disease protocols. To my left was an older gentleman, who was struggling with a boat rod. And to the right was two gentlemen guzzling Henesy and catching Scup.
The gentleman on my left had a profound tremor in his left hand. He was out with some friends, and we were all at the rail in the stern of the boat. His tremor was so pronounced, that he had trouble holding the reel steady, and this resulted in a large number of minor tangles in his reel. And after each tangle, he patiently loosened the reel, untangled the mono filament, set up his bait and rig and casted out again. This went on most of the night and we talked. Evidently he had a spinal injury that gave rise to the tremors, but he just fished right through it with a minimal fuss. And then, to my surprise, late in the night, he caught a porgy and brought it up. He was damn happy, and it was the fruit of nearly an entire nights work. And it reminded me that patiences is a critical trait to success in all matters of life, not just at the rail.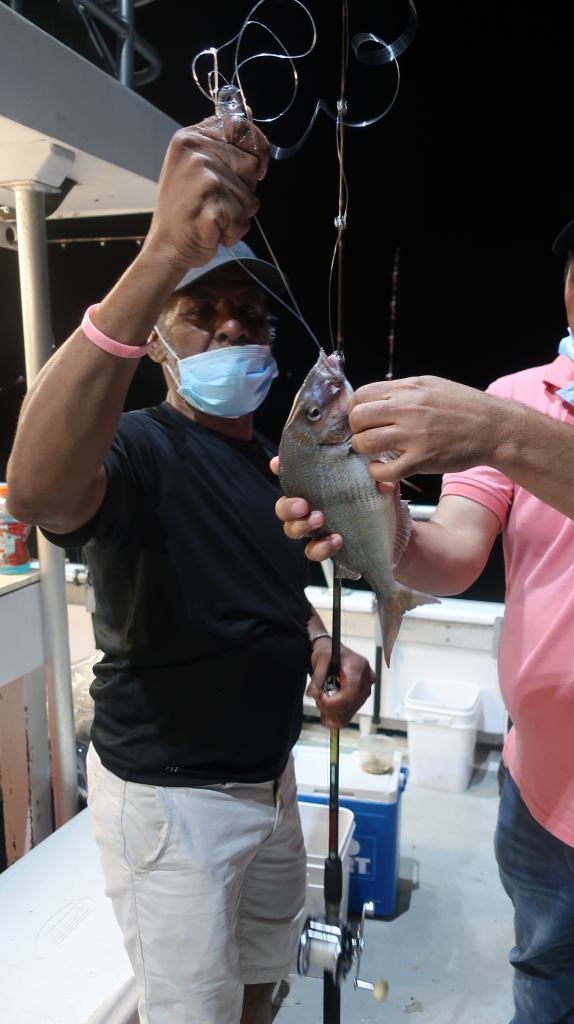 The two gentlemen on my right also had a very rewarding day. For the last 3 trips, we have pulled up progressively larger pool winning Porgies. I hooked one 17 inches. Last night we had one 18 inches long. Tonight, these fellows on my right pulled in a porgy nearly 20 inches long. It was one of the largest Porgies I'd ever seen pulled from our inshore boating and fishing. They enjoyed it very much and had a few belts of liquor and caught even more fish.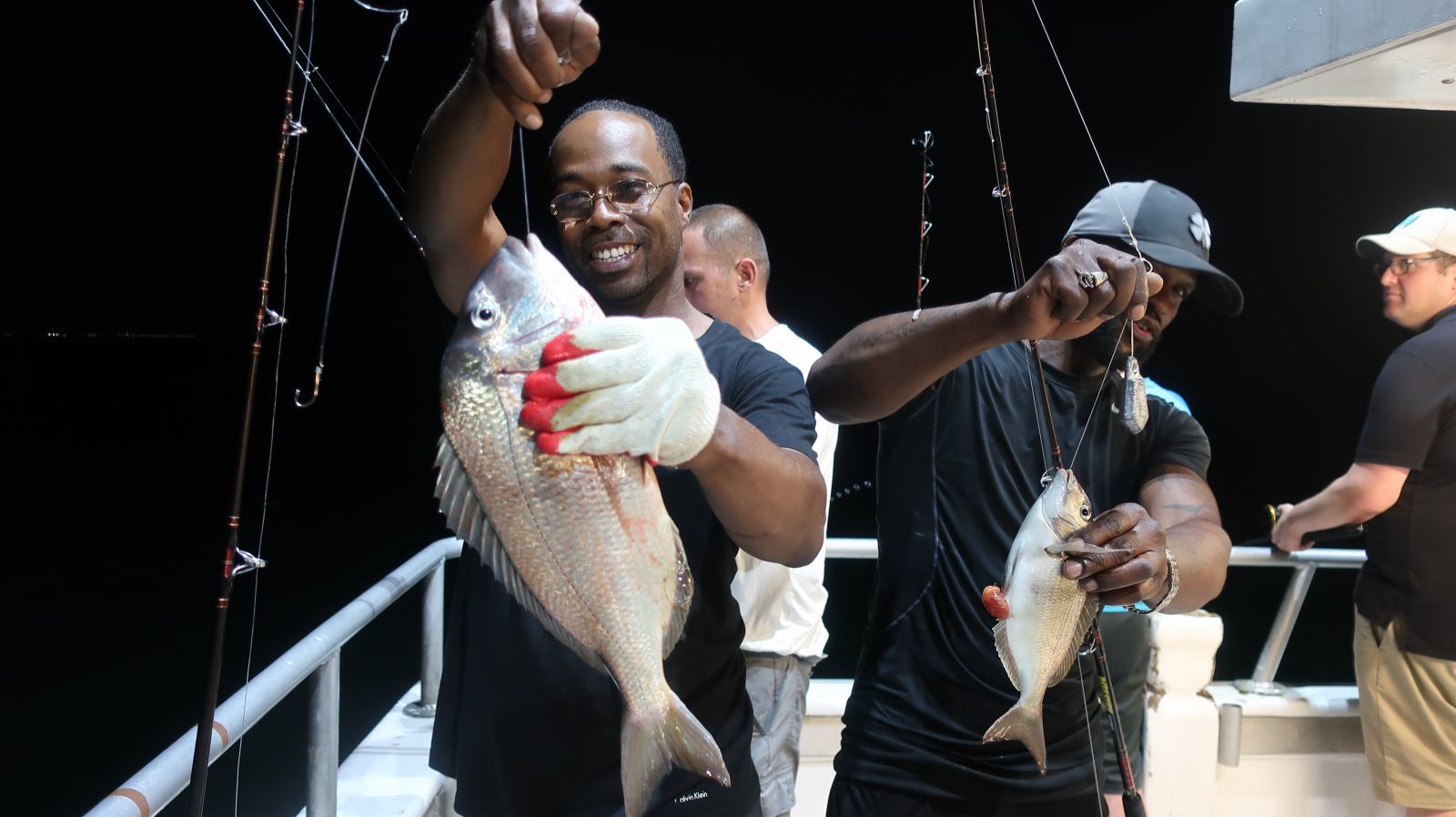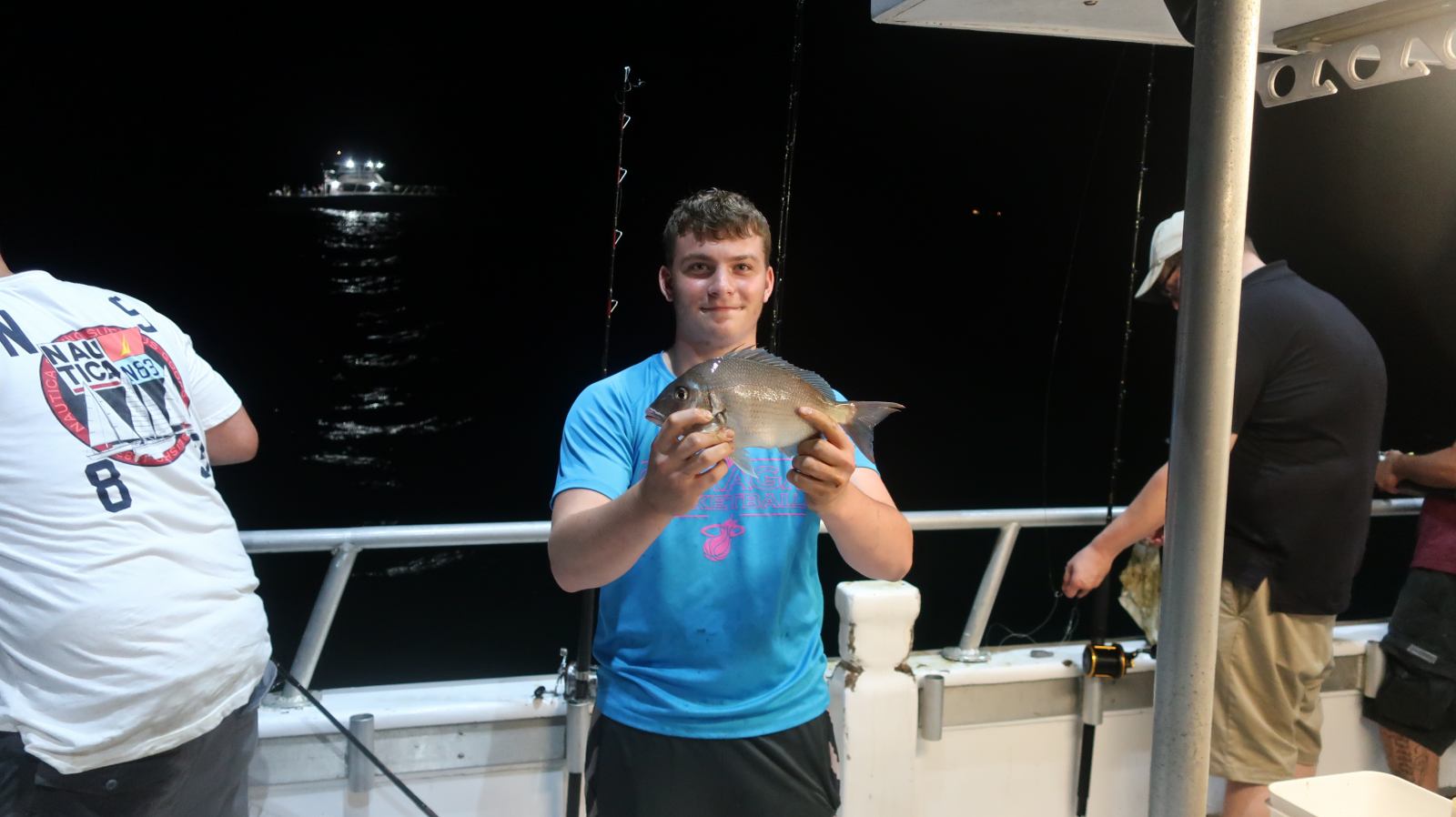 ---
id latejuly2020
Cow Nose Rays are about
Cow Nose Rays are huge venomous Rays that we never bring on the boat. I avoid them but customers enjoy the fight. This Friday I got out on a terrific day trip, and fished through a morning rain with a light crowd on the Marylin Jean. We had new friends from Orange County, and Queens. And everyone had a great time. Friday mornings are often wonderful trips. The boat is usually light and crowds happy. These guys had a great time and I pulled in my limit. We had Weak Fish, Rays, Porgies and Sea Bass. The Sun came out by 10AM and the weather was cool and breezy on the sea, even though we spent most of the morning inshore in Jamacia Bay.
With the clam shortage, bait has been a constant problem in the wake of the COVID-19 lockdown, I picked up blood worms from Stellas Maris at $13 a dozen, and Shrimp, which from the bait shop is $6 a pound and $8 a pound on the boat. Porgies have proven to love the shrimp. It just can't be denied. Without the extra bait, one is left with the Free Clam Bellies.
Clams Bellies catch great fish, but destroy your hands since it is liquefied goop in a stew of digestive enzymes. It is also very difficult to get on the hook without practice. The fish do love it though. But at a dollar a fish for worms, this can get expensive quickly.
As the weekend rolled in, fishing continued at a workman's steady pace with lots of happy patrons on the docks. Saturday night nearly everyone on the in the bay limited out at the tin cans. This is an area of fishing at the mouth of the harbor just south of the Breezy Point Jetty. On Sunday the heat war war beating down, but the fish cam up along the Rockaway Reef. I personaly didn't do so well. Sometimes it just seems I have a bad day for inexplicitable reasons, may it be tiredness, or a bad match for equiptment. But the boat filled up on a stready beat of porgy, with some triggers and sea bass in the mix. Everyone walked off the boat with smiles.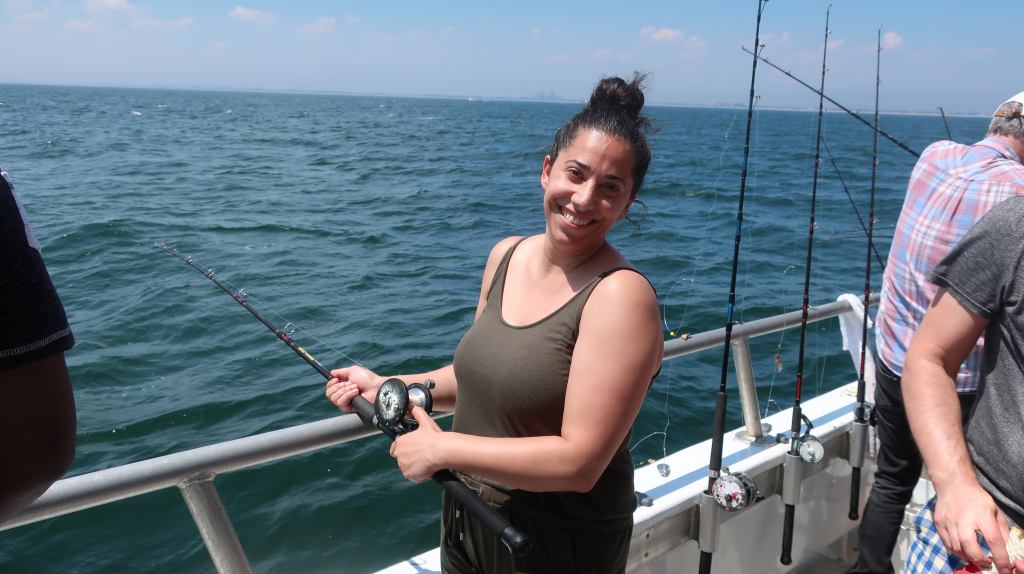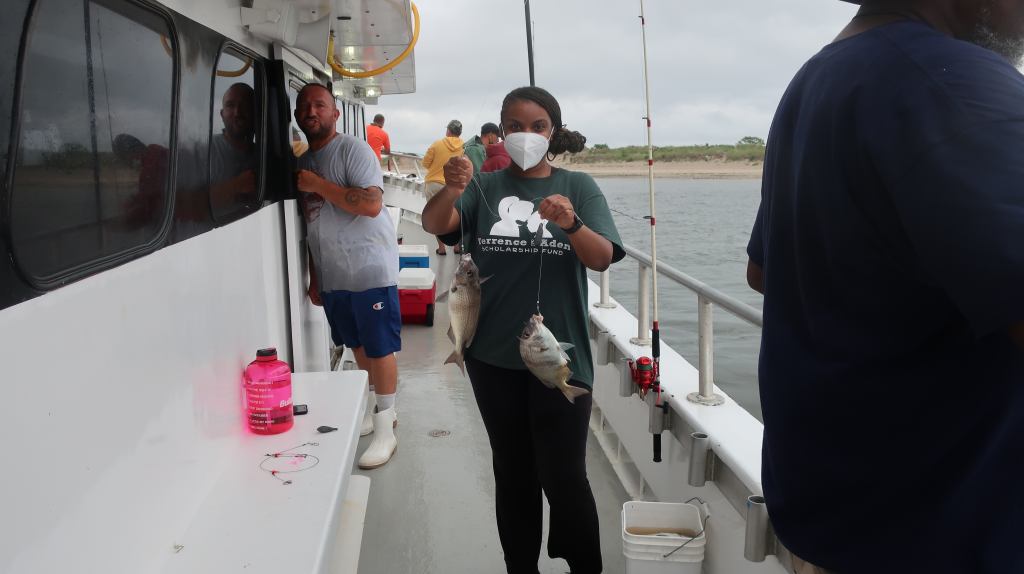 Evening Porgy Fishing Has Been Red Hot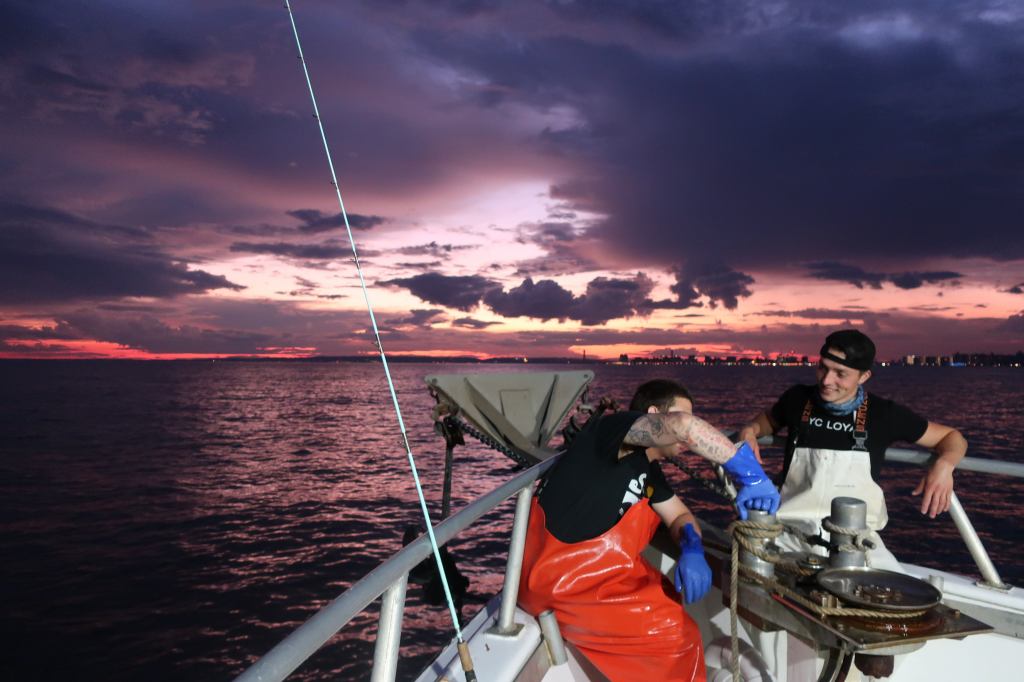 Besides that the nights have been unsually beautiful, fishing has been mostly very hot on the Evening and Night trips around the New York blight. It seems that we have had more than our normal amount of boozing on the boats, a response to people trying to find outlets post the COVID-19 lockdown. Weekend trips have been very unruley. Weekday trips have been more managable. Porgy fishing has turned on and at times we have had buckets of fish. I spent a great deal of time thinking about my Porgy fishing gear and it has performed wonderfully. The results have been not just great catches, but huge Fish.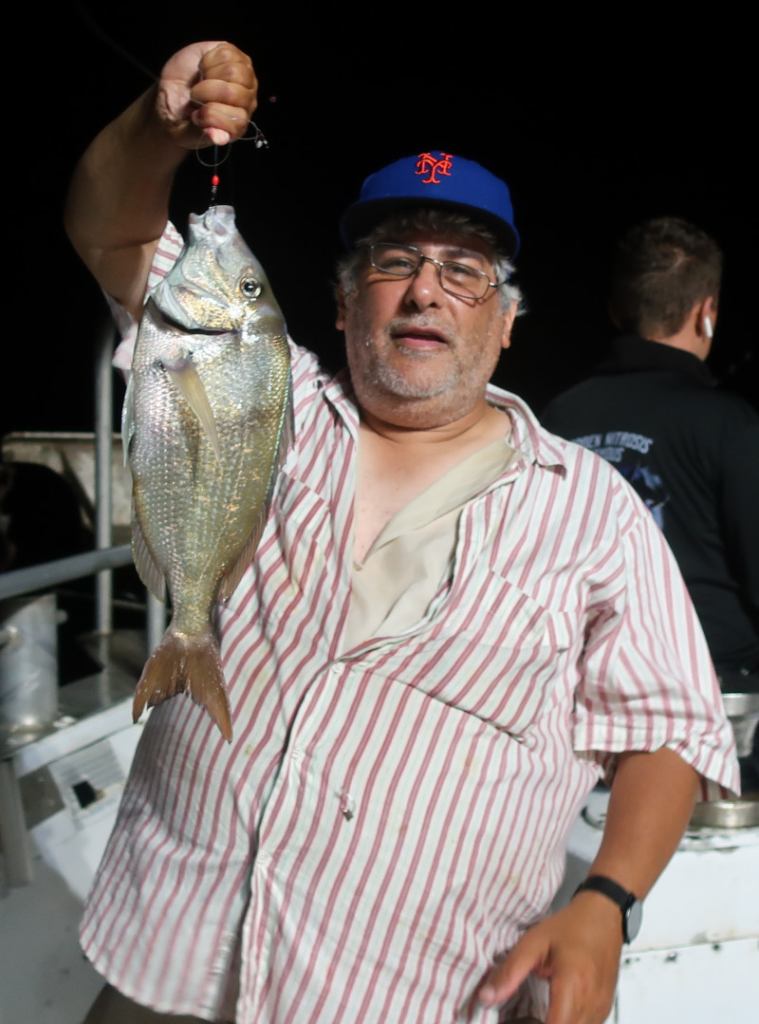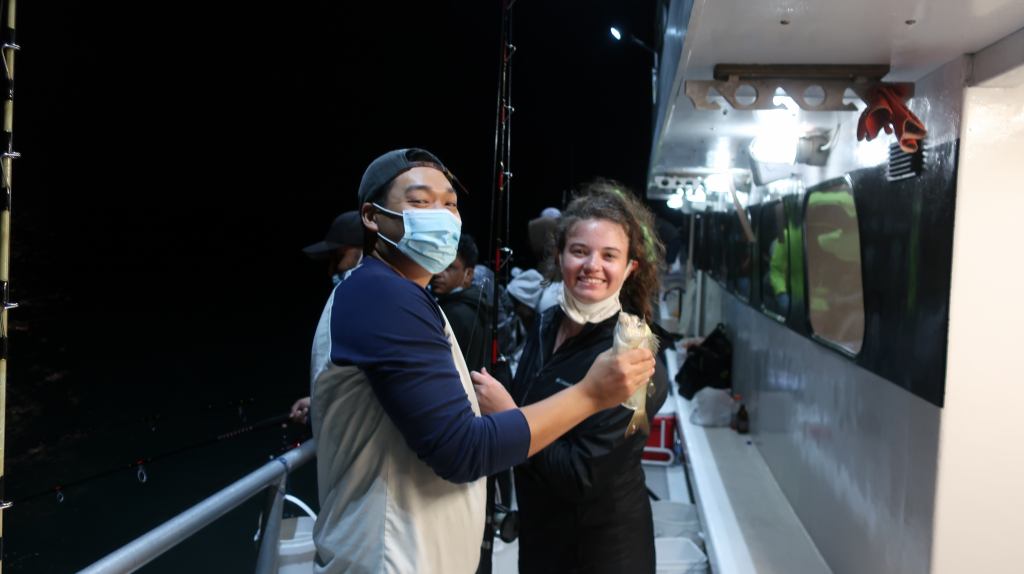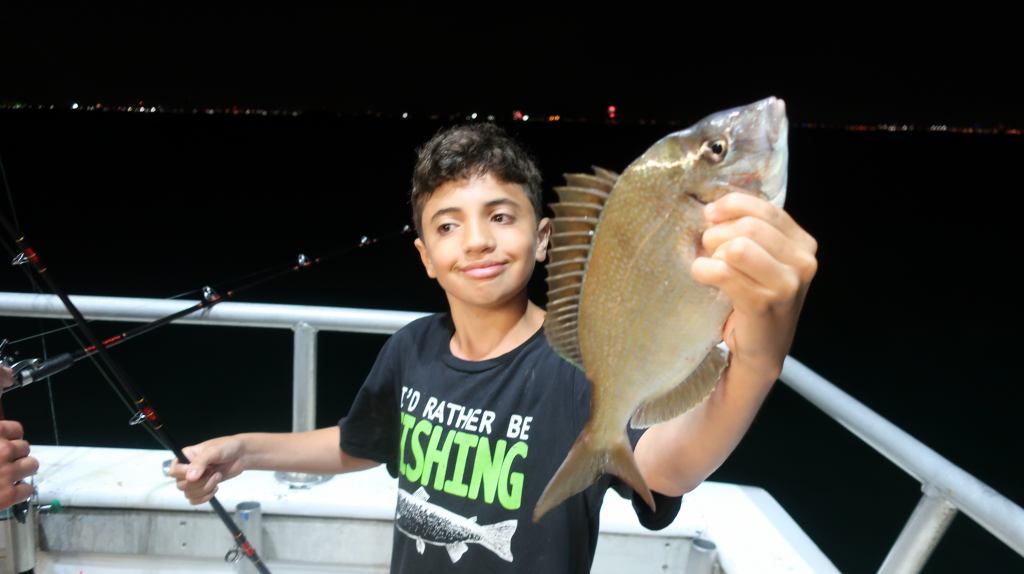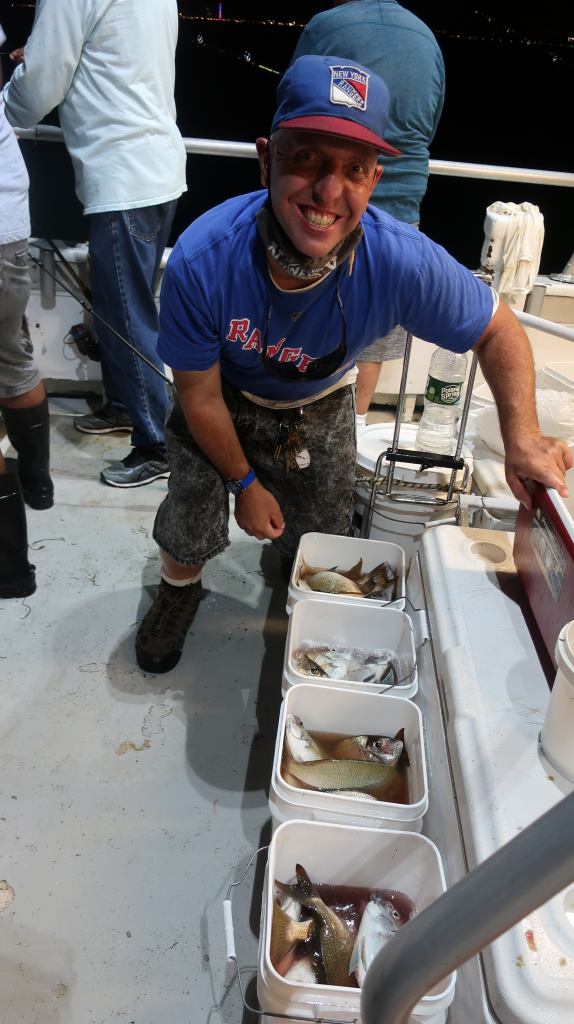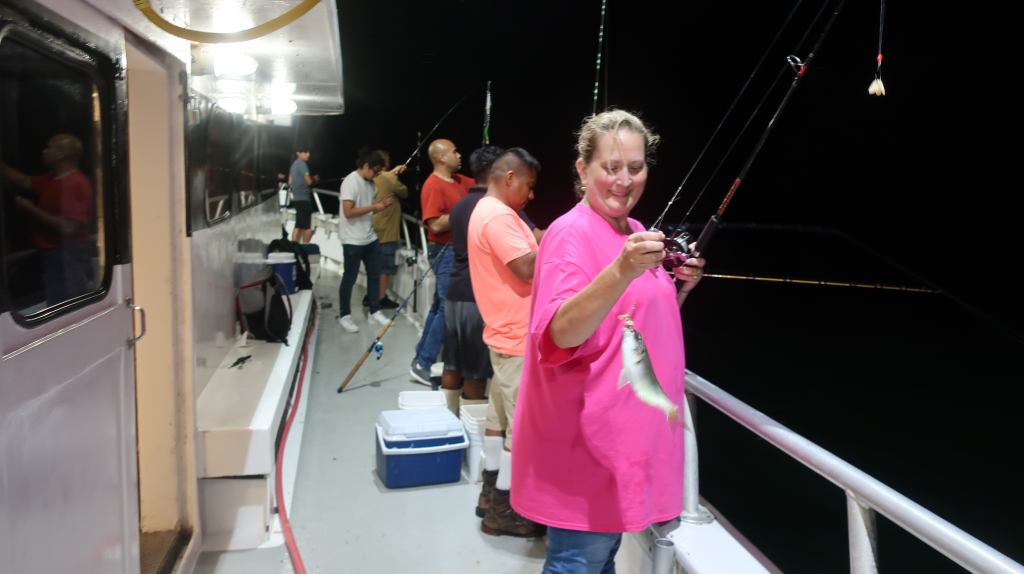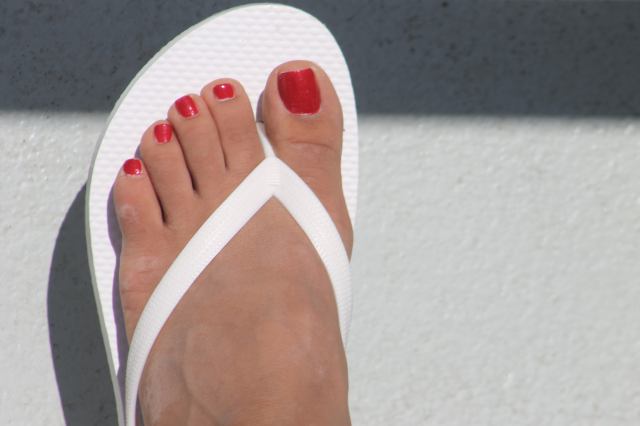 July 2020 Fishing Picks!
---
---
The Lady Flamingo - Jigging Boat out of Knapp Street
---
id july42020
Friday morning of the 4th of July Weekend and for a change of pace we decided to do a little Jigging out of Sheephead Bay for Blue Fish. We headed out to the Lady Flamingo. This boat is docked off of Knap Street behind the UA movie theater on the Gerritsen Creek. The ride out to the fish grounds give a unique view of the fishing village of Gerritseon, coming out of Brooklyn and into Jamacia Bay. At one time the Borough was riddled with these salt water creeks and marshes, but today we are down to a few. You see plenty of public and private boat slips allong the shore and the Snowy Egrets and water Fowl.
I took this trip largely to give my United Graphite GUSA RUSX79MEGA 20-40Lb rated fast stick a work out. I set it up with a Penn Torque 12 refitted to a low ration vesa gear to be slow 4.8:1, loaded with 30 pound Braid at about 10 foot of 30 pound top shot of Flourocarbon. We were jigging with 3-4 ounce gold and silver Jigs.
I had a back up rod with me, my Shimano Terarmar Inhore Series TMC-E70MH designed for 20-50lb power pro with a lure weight of 1-4ounces, and a medium action. I had 20+ foot of 30lb flouro top shot and outfited with a standard Penn Fathom 12 with a 6:2 ration on 40 pound braid and the 20 ft of topshot.
The GUSA set up didn't perform well. It didn't seem to like the jigs, and the slow speed reel didn't help. Most often my fishing problem is to slow down the hook and not rip the hook out of the fishes mouth. So I lowered the speed of this torque. But this doesn't work well with Jigging and it works less well, with such a small top shot. And the graphit stick seems to absorb the bounce, slowly the jigging motion of the artificial bait. It casted, if not even out casted, everything on the boat, but the jigging motion just wasn't there. The jig pulled in from the bottom like a dead fish or a lead weight. The back up Shimono stick did much better and I pulled in a few snappers when I changed sticks.
I learned something and still came home with a few fish. A few folks on the boat came home with a nice cooler full of blues. A Cobia was caught on the back of the boat. It is a fun trip and I will be collecting my "data" on my trip and rethinking my jigging technique and try it again.
---
id sunday_half20
Half Day Trips on the Marilyn Jean IV
I had a chance to take a rare Sunday half day afternoon trip on the Marylin Jean IV run by Captain Boss Tony. The weather was fabulous. It was a lovely crowd hitting on the porgies. The great thing about these half day trips is that you get a chance to fish with other fishermen who you might not normally run into on the boat. You see folks who have families killing a Sunday afternoon. You meet a few brothers or friends looking for a low commitment and fun afternoon. It is a low stress and highly fun afternoon.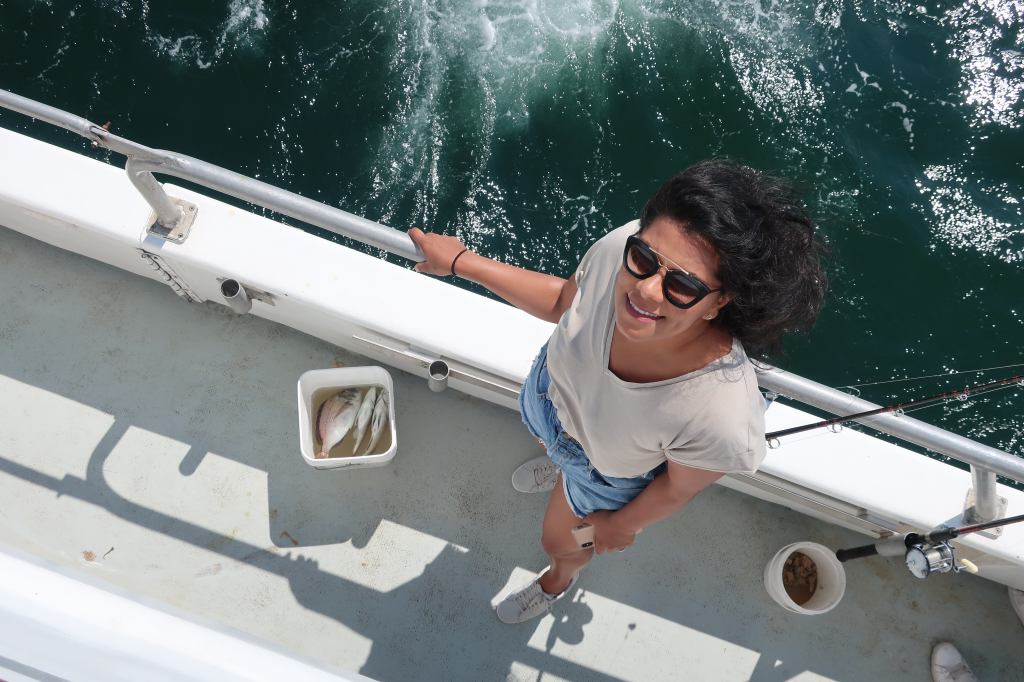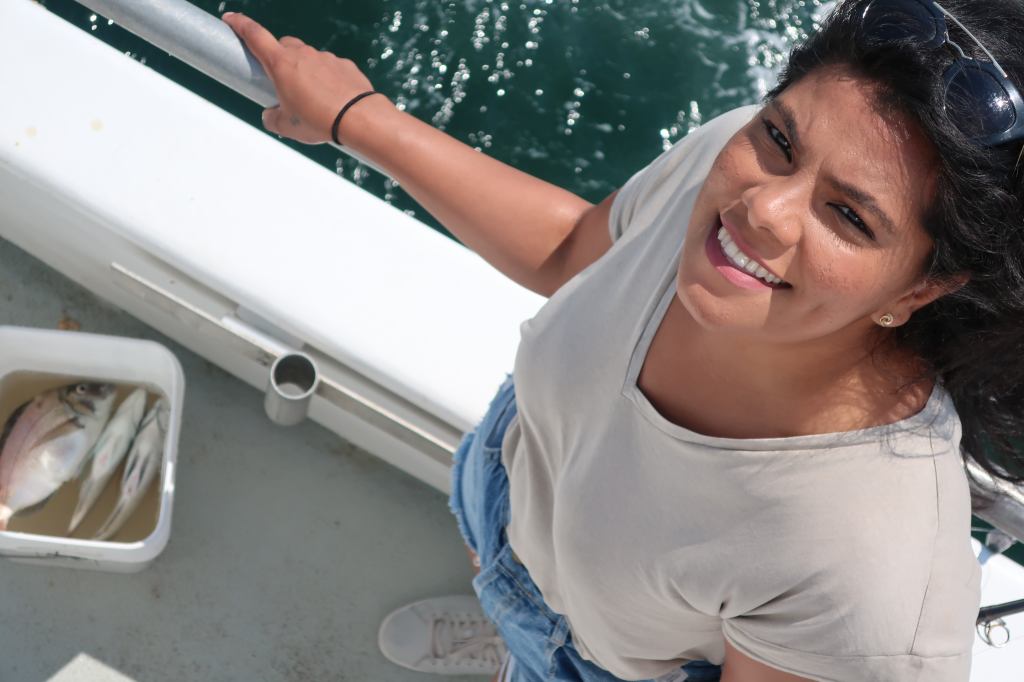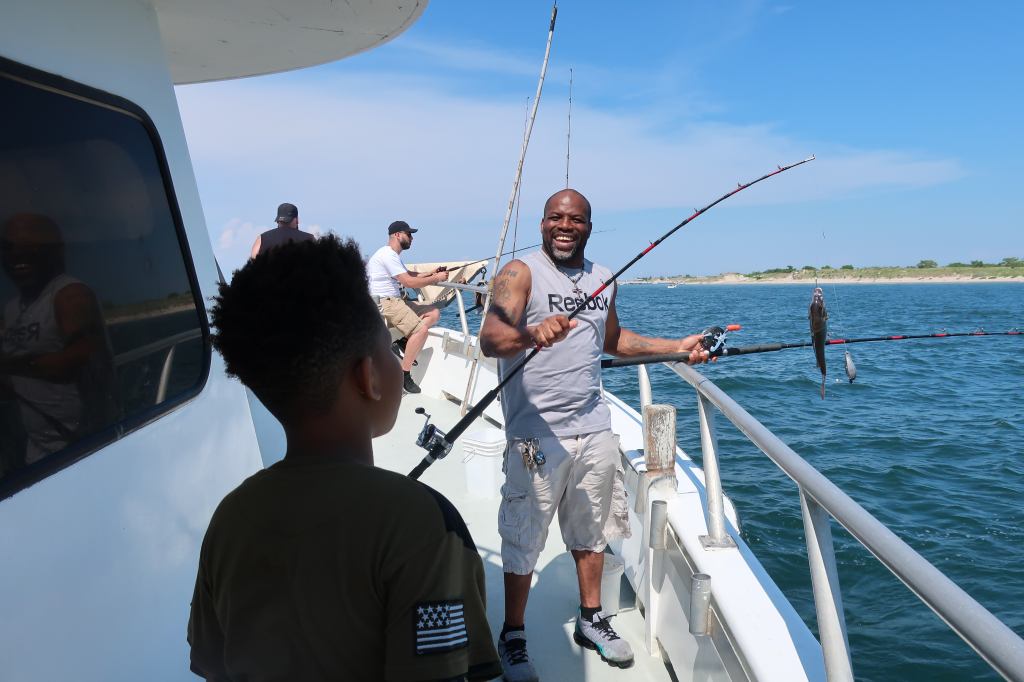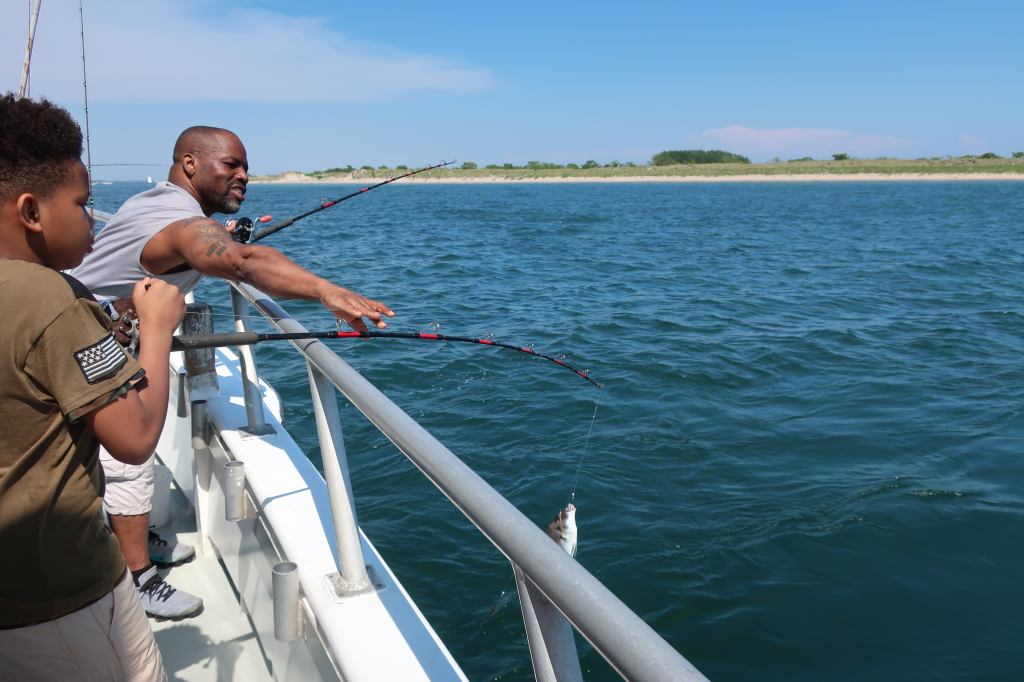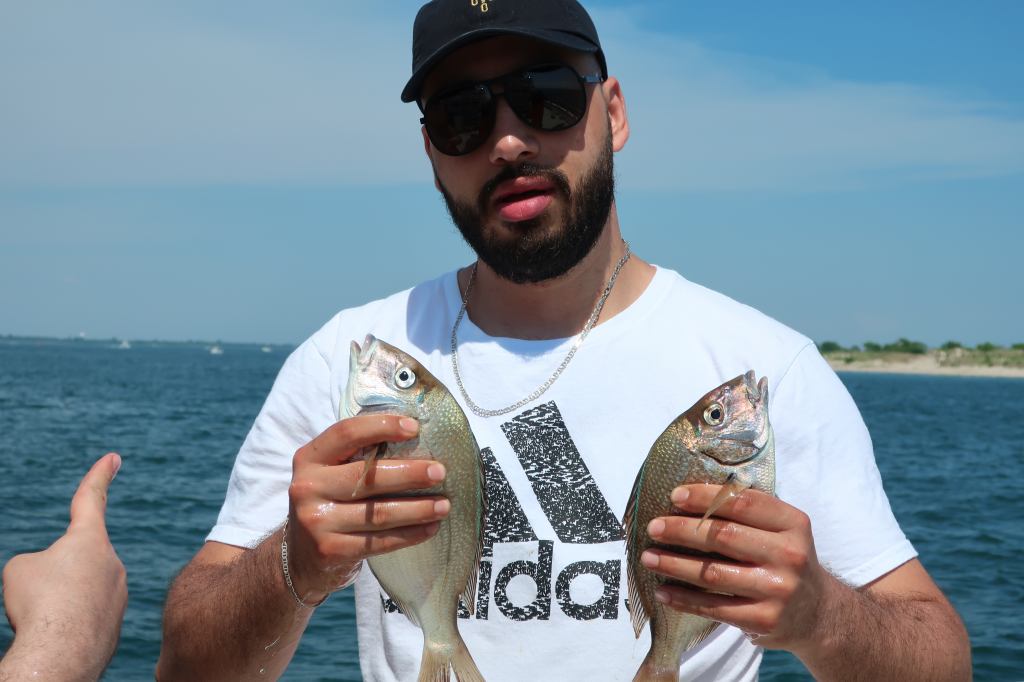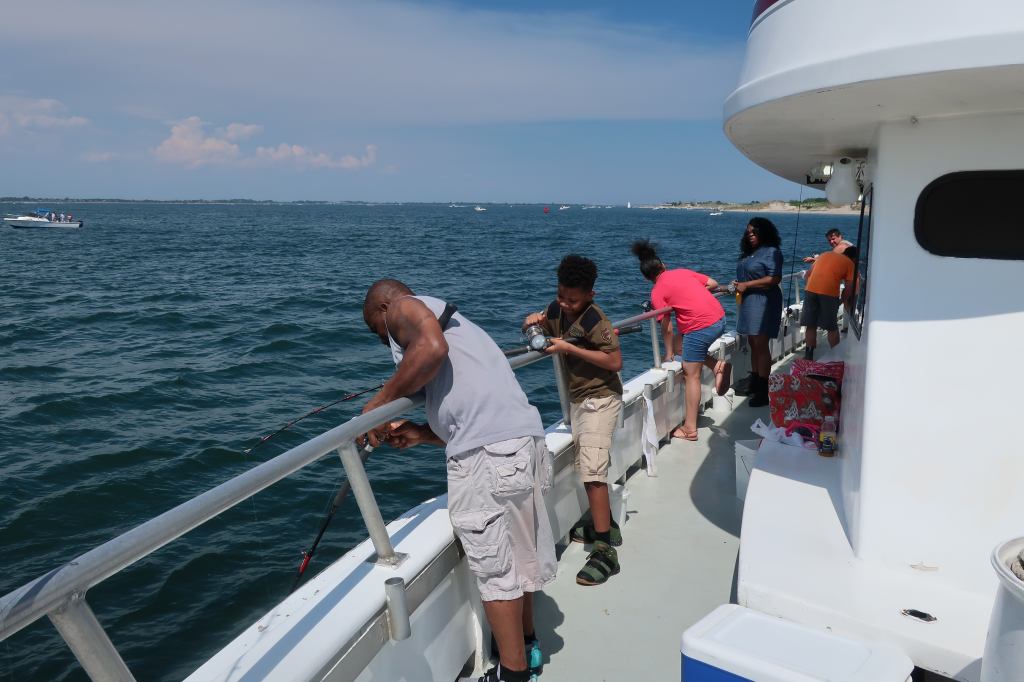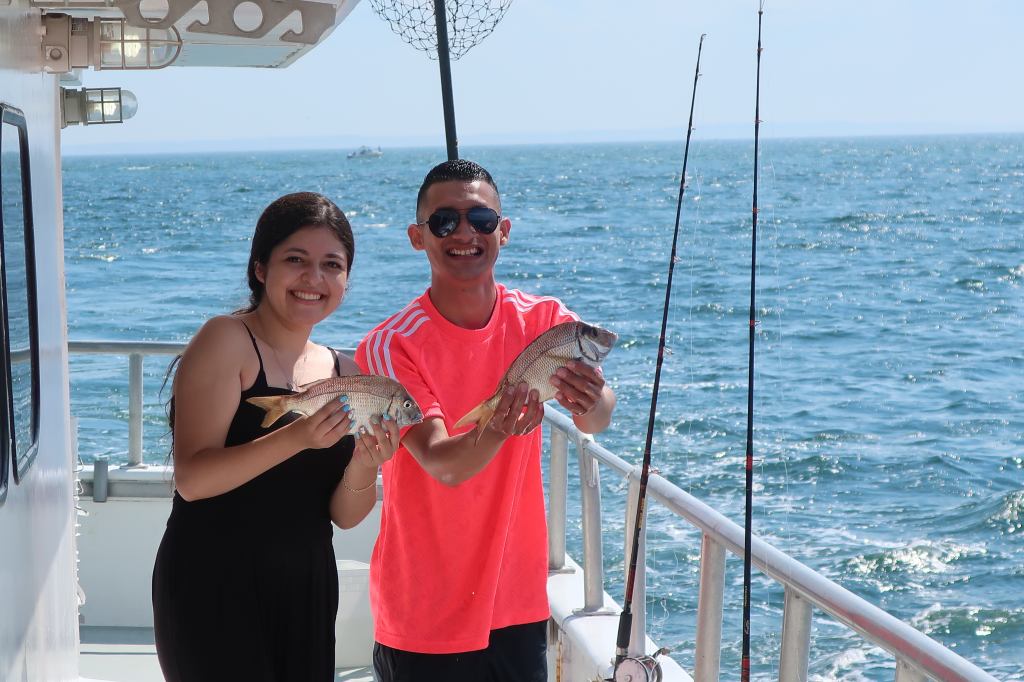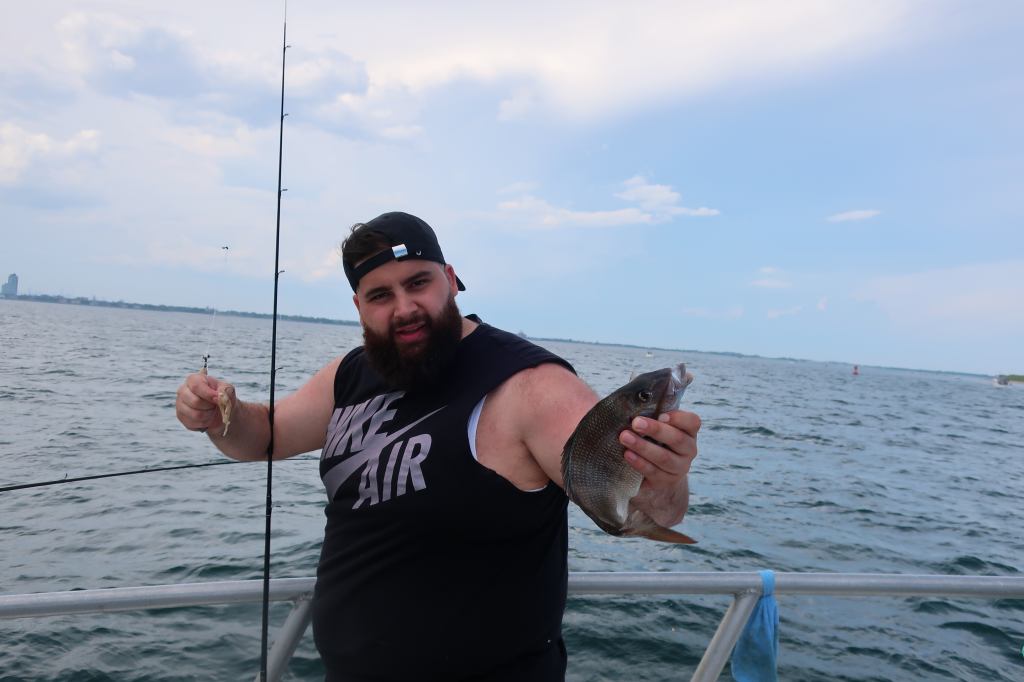 ---
Both Day and Night fishing has been terrific at times this week. On the Marylin Jean V we had a truely wonderful groups coming down to the docks to fish. At other times, it seems that the boat has become a booze cruise, and routy. The boat has moved from Striped Bass and Blues to Porgy fishing at night. When the fish have been on, we are getting some of the largest fish I've seen in the local waters. When they aren't there, we are doing a lot of work to bring home a catch.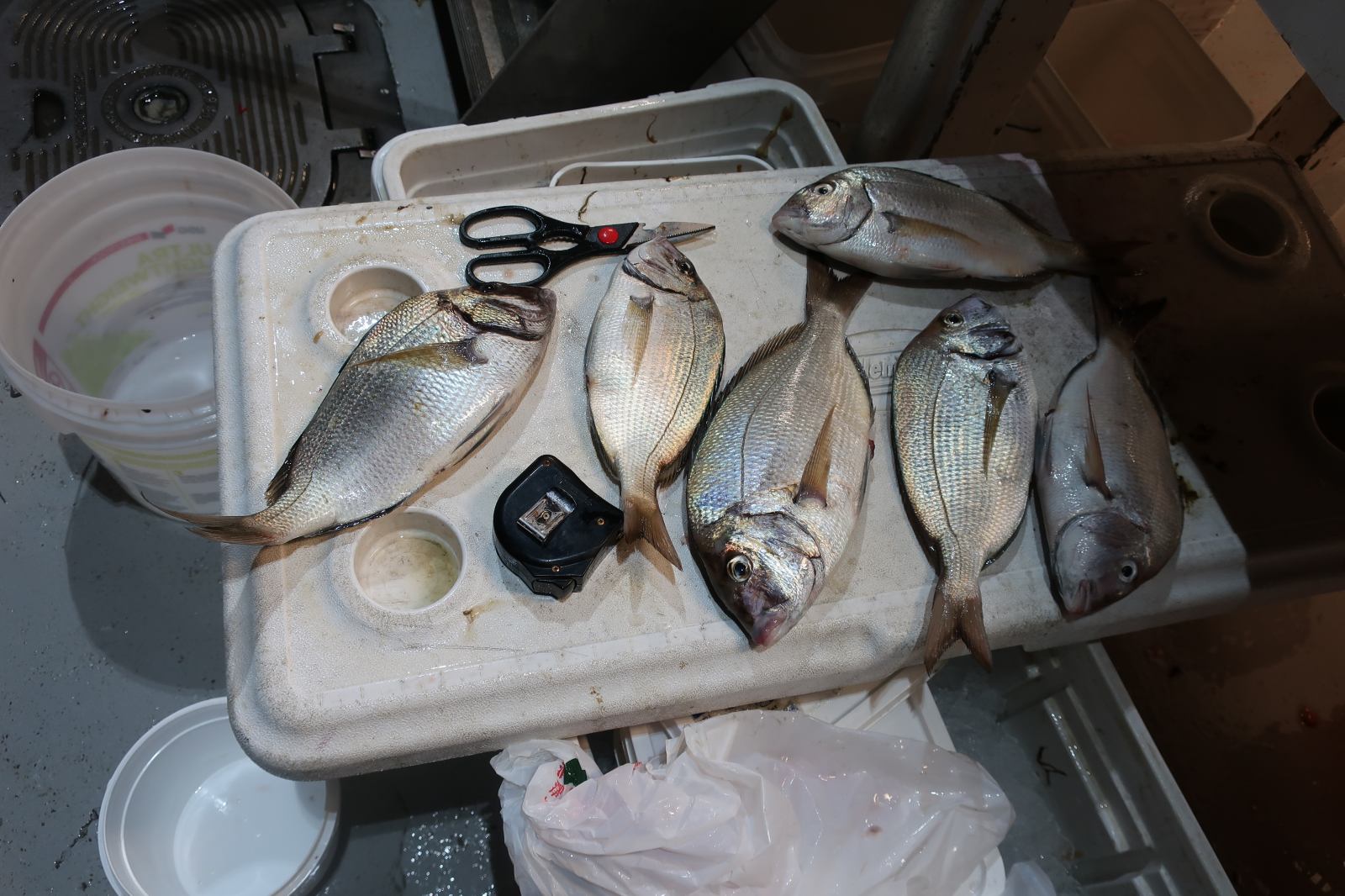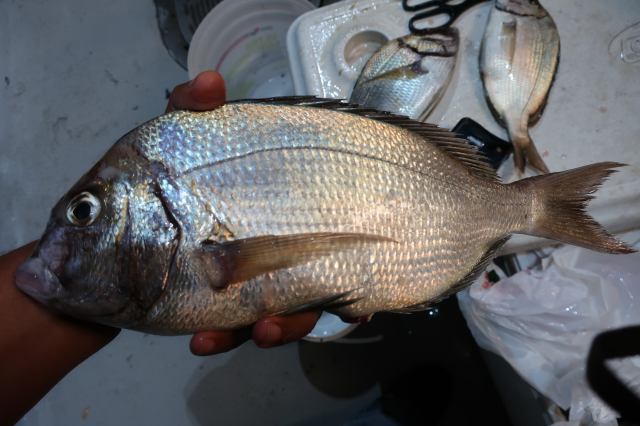 Although this is the pool winning, I hooked several fish in this size class on this Thursday afternoon. In the morning we were just hammering on the drift and my new porgy rods proved to be leathal weapons on the Porgy hunt. The custom built rod, specked out with an MHX composit blank and 11 guilds, is matched with an Abu Gacia MGX2 low power reel to make a light weight, but powerful tool and pounds on Scup at 30 to 80 feet of water.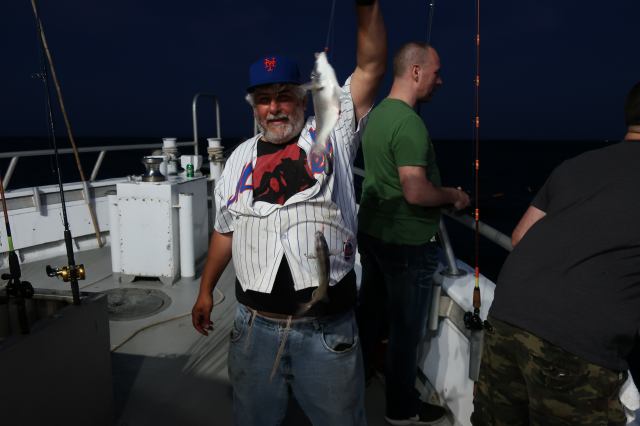 At times, we've had excellent clients hitting the boat. Here are a number of folks having fun on the Marilyn Jean V, which I have mostly been fishing both day and night.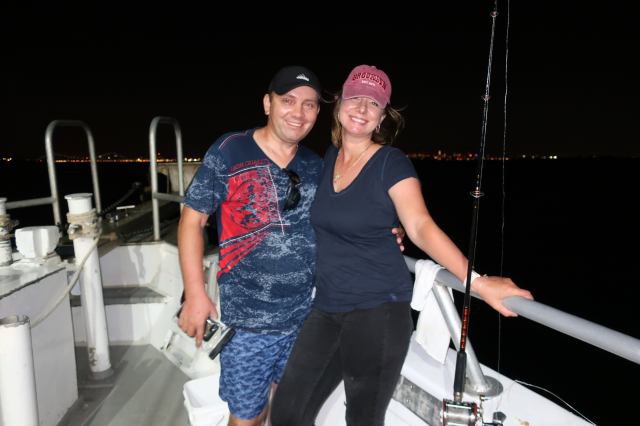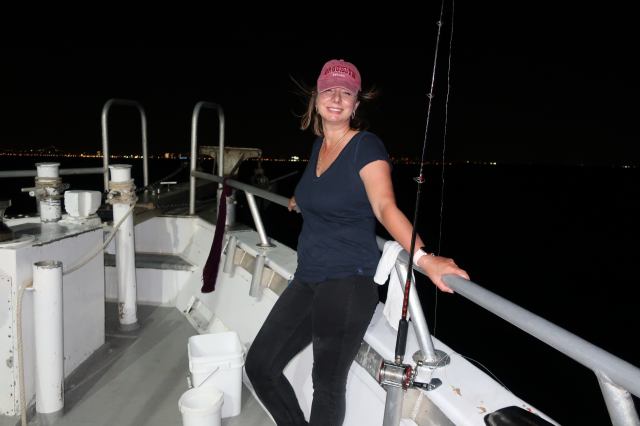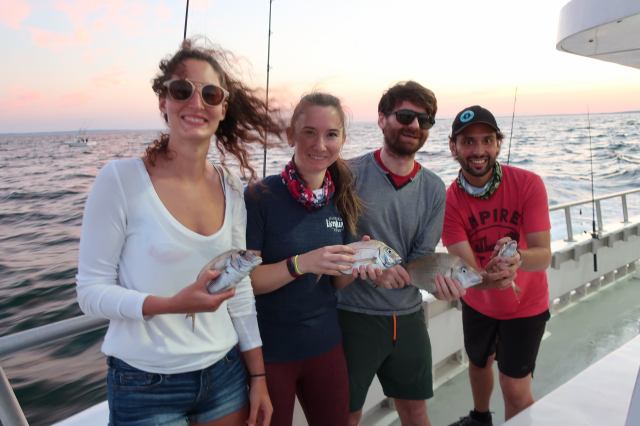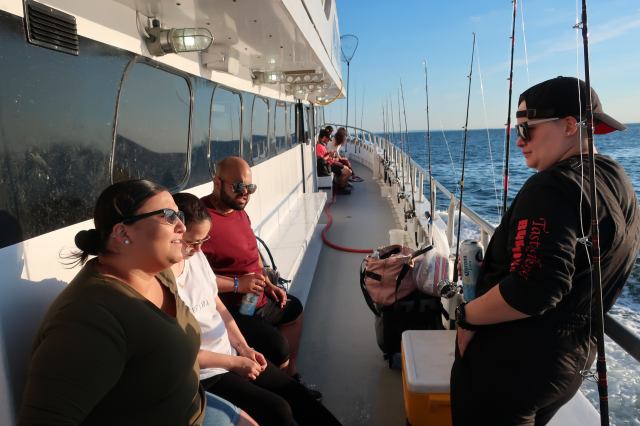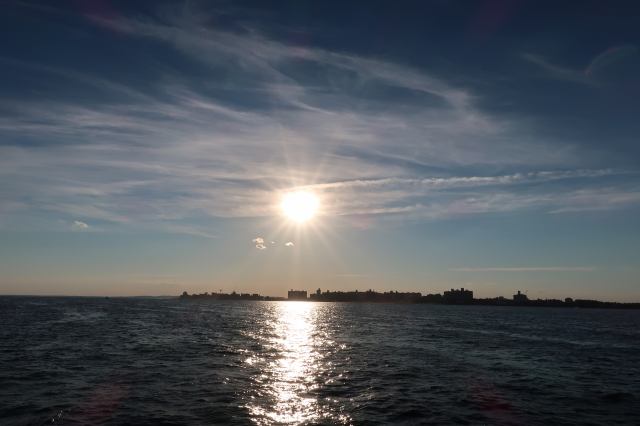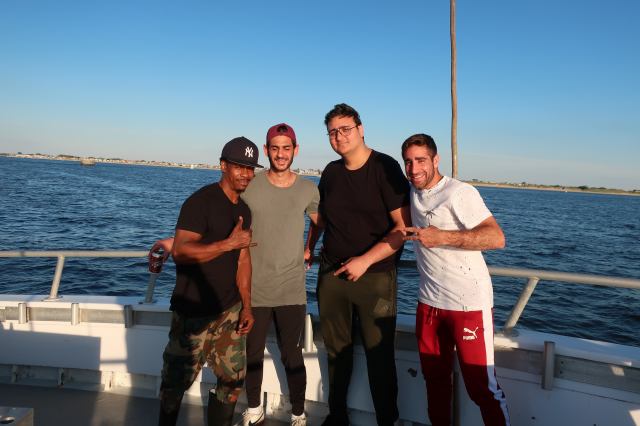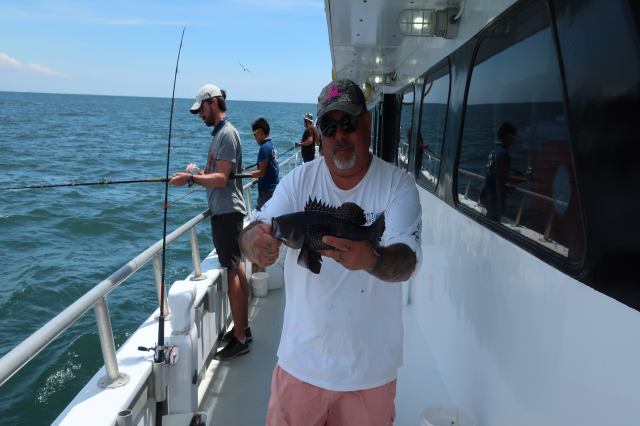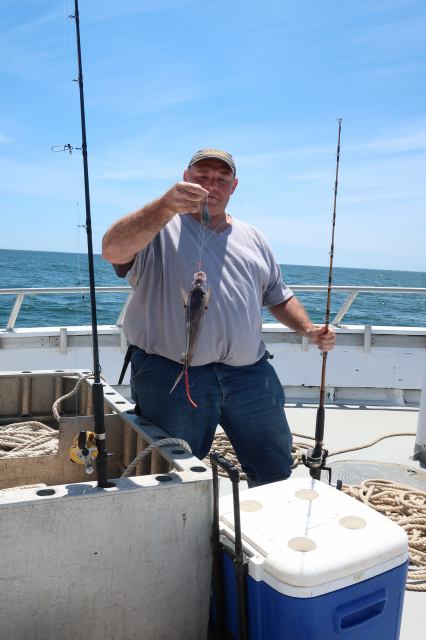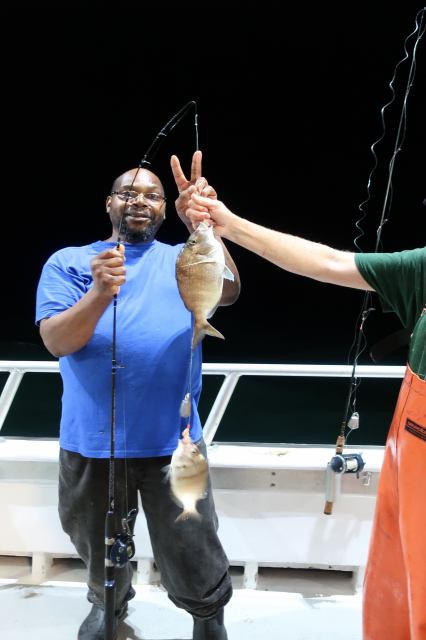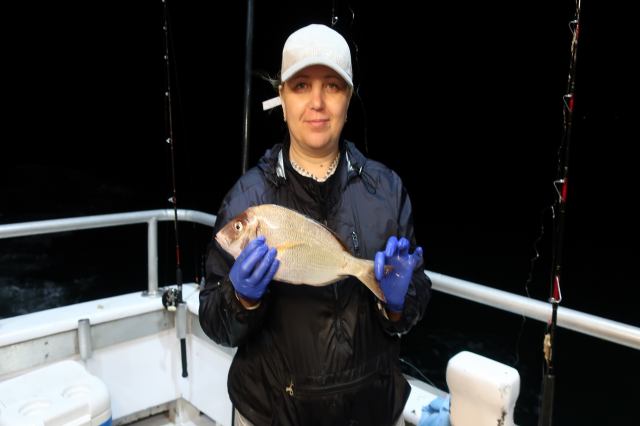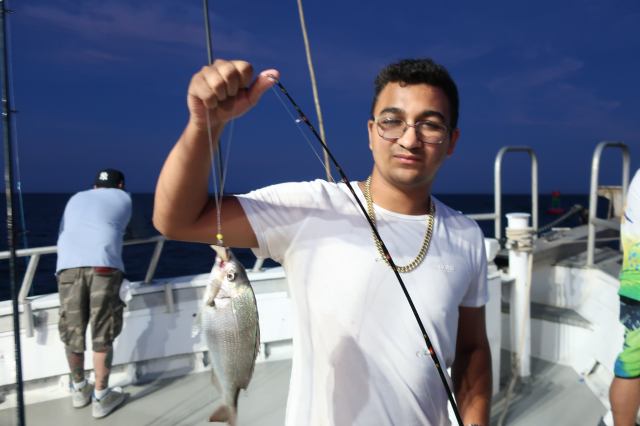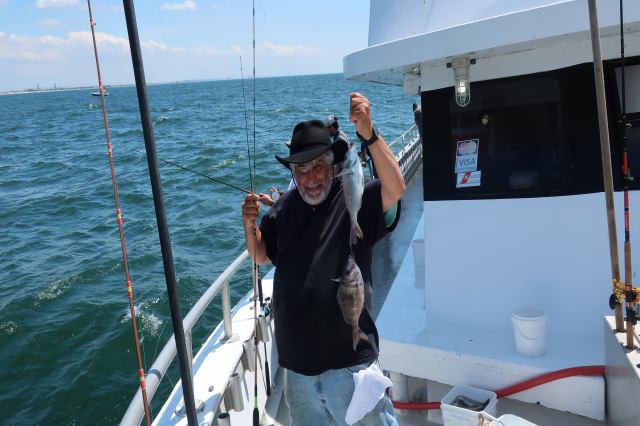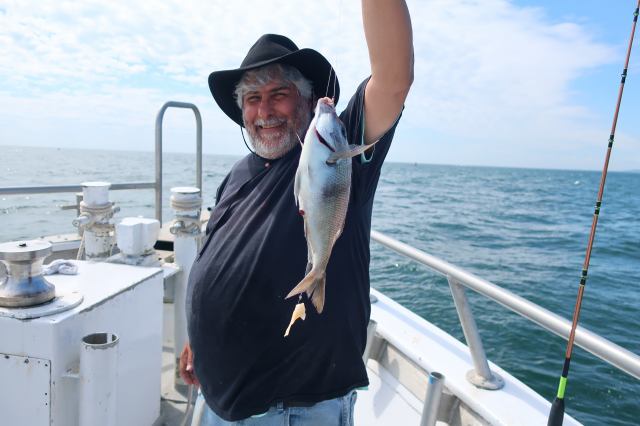 The boats now are running at all hours. Friday and Satuday over nights, 9PM-4AM trips are being added to the Marilyn Jean IV.
At 7AM the Ocean Eagle and the MJV leave for Porgies - full day 7AM to 3PM. The Ocean Eagle alternates with Fluking, see their schedule. The Hunter is limited passanger Fluking 7Am to 3PM.
8AM the Marilyn Jean IV is half day Porgy Fishing. 8AM to 1PM
9AM Captain Dave is Flukings 9AM to 4PM
2PM MJIV from 2PM to 6PM
5PM: Capt Dave Striped Bass & Porgies 5pm - 10pm
6PM - The Hunter from 6PM-11PM for Blues and Bass
7PM - MJV for Night Time porgies
9PM - Friday and Saturday Night - 9PM to 4AM
In additiont to these, other fine boats fish at various times including the Flamingo on Knapp Street, and the Sea Queen with 2 half trips a day.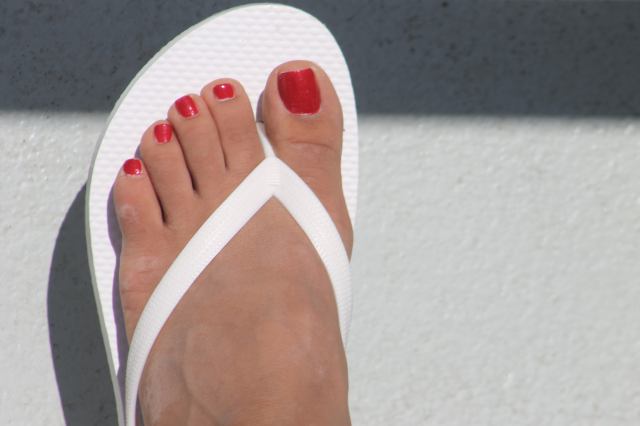 Summer 2020 Fishing Picks!
---
Thu 18 Jun 2020 12:11:10 AM EDT
This week, the boats out of Sheepshead Bay have been in full fishing mode with folks showing up at the docks in large numbers, especially at night. Captain Dave made a great special Tile Fish Trip. The Ocean Eagle has been hammering Fluke and Cod. The Hunter has had excellent nights with Striped Bass. The Day trips on the Marilyn Jean 5 have been off the hook Red Hake and Cod fishing. We have fished the New York Bite, about 17 and near the Pilot Boats general location. I pulled out this terrific Cod this week, and it made it home to my Shabbos Table.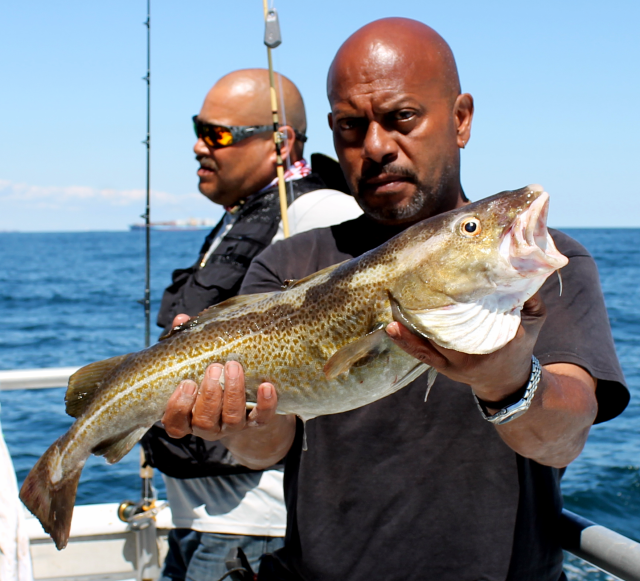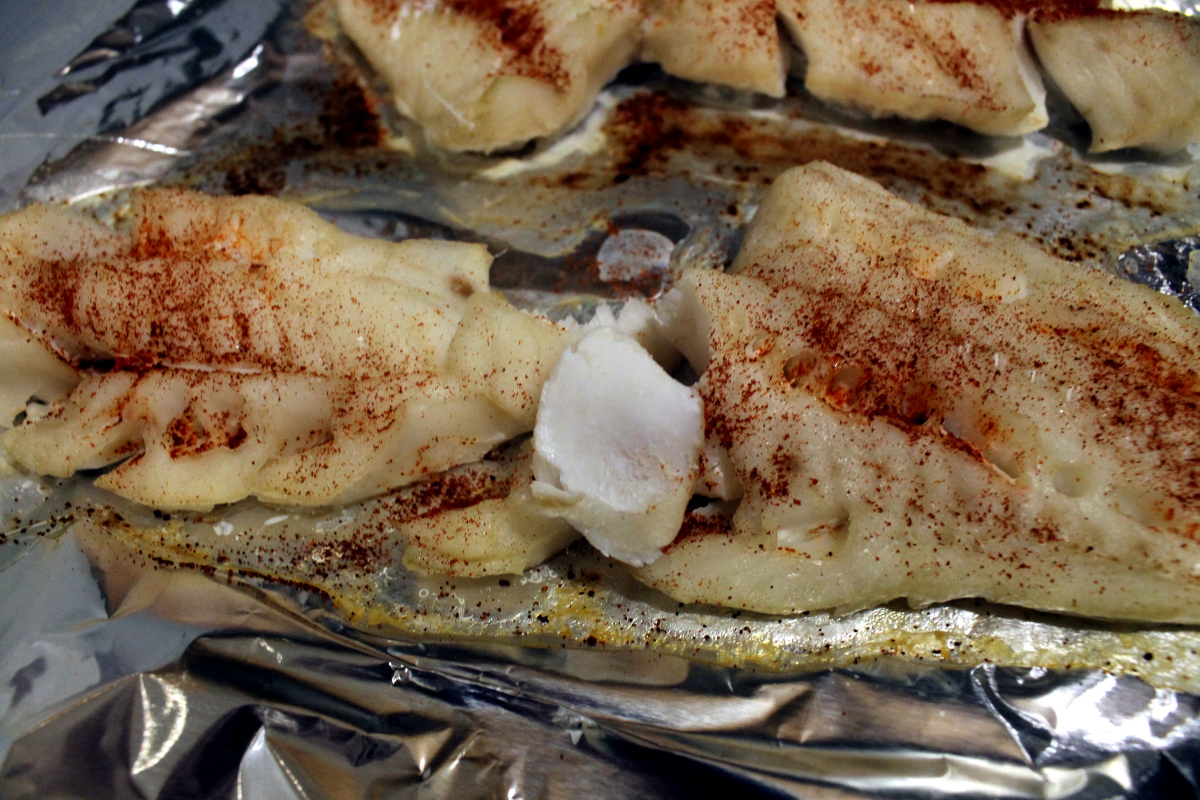 ---
Sun 12 Jun 2020
Watchya gonna do? Some days it just RAINS Red Hake all over the boat... what a mess...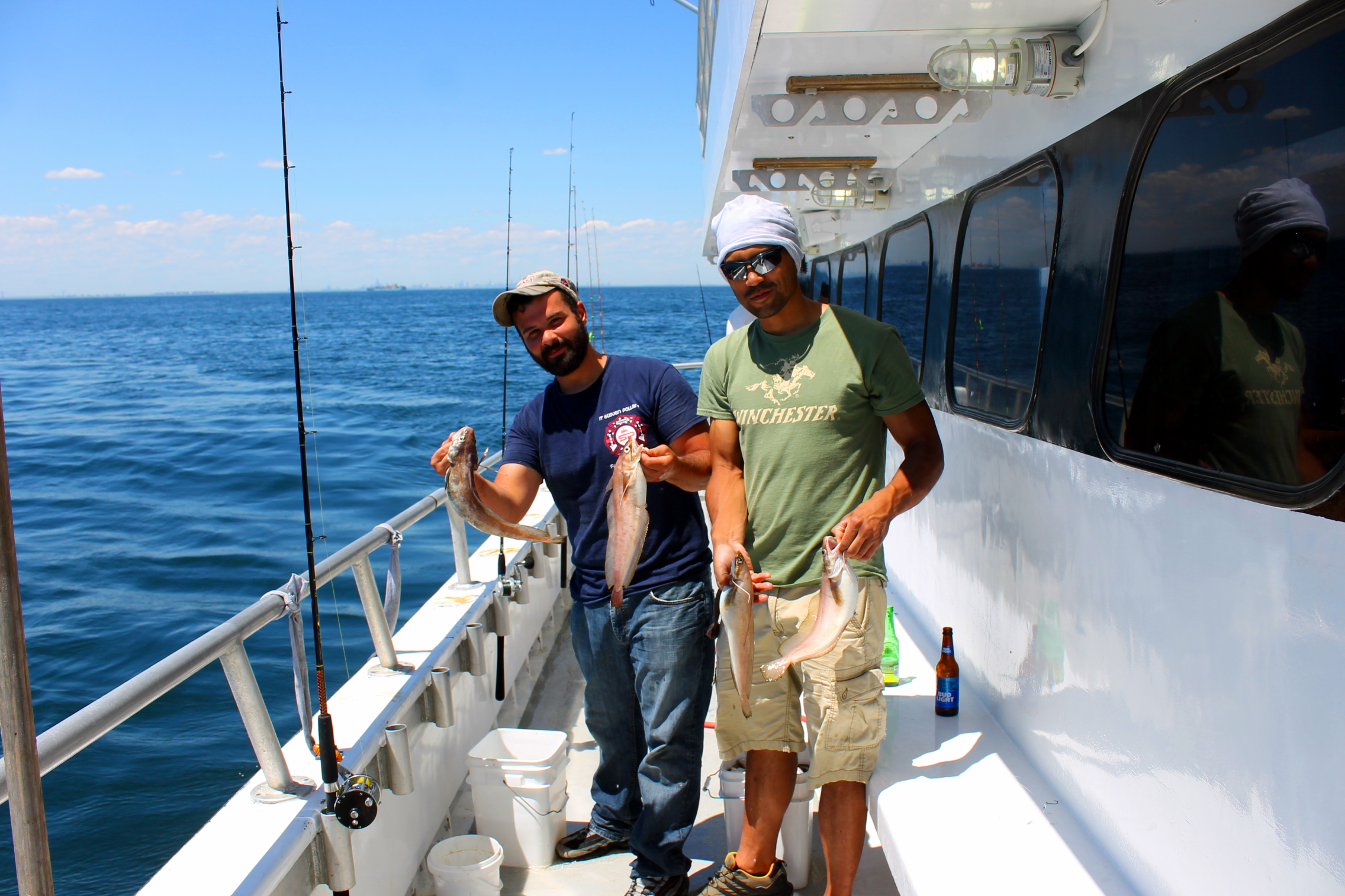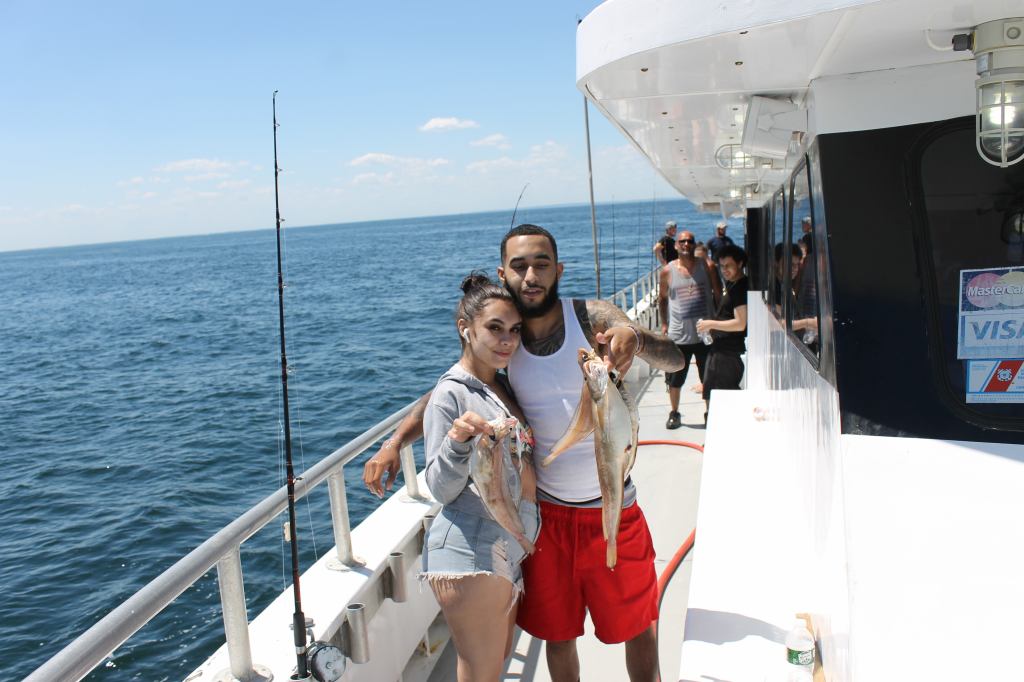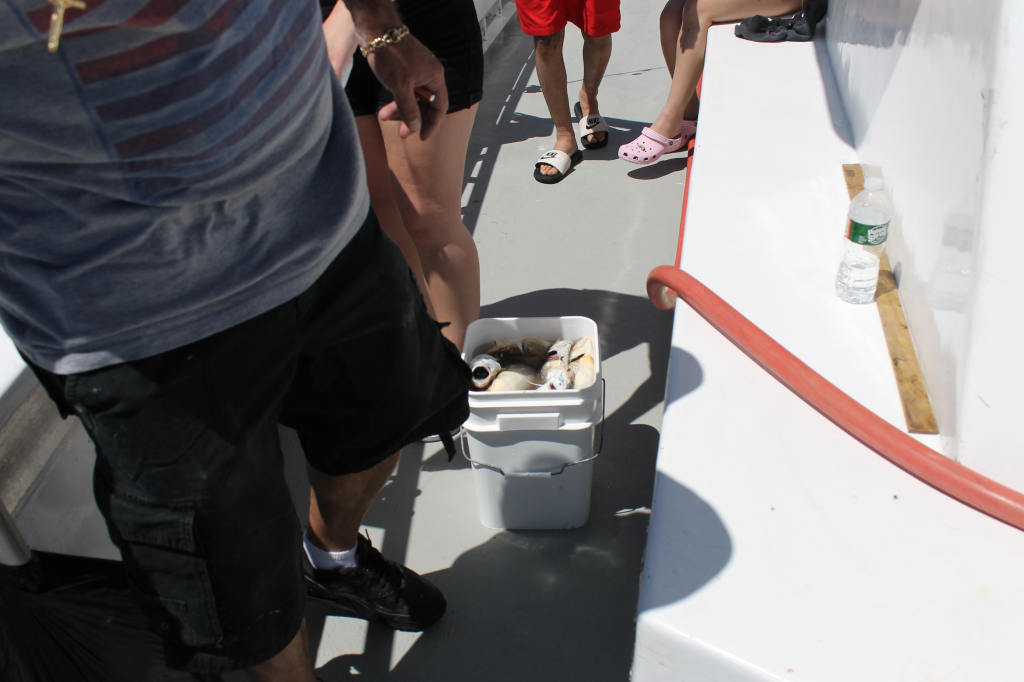 ---
Thu 11 Jun 2020 08:44:38 PM EDT
Yesterdays Marilyn Jean 5 trip was the supurb fishing for Ling with a mix of other great eating fish tossed in. Fishing was breezy eay, in a rare way, with everyone heading home with bags of delicious fillets. The weather was very cooperative, and the ocean warm and inviting. This is the break you've been waiting for and the MJ5 (and the MJ4) have both produced only the best reults in this opening week of the 2020 season. Both customers and mates were friendly and helpful. The COVID-19 spacing rules gives you extraordinary elbow room.