The real fallout of the Anthony Weiner resignation:
Leave it to the local press to miss the most important story with regards to the Anthony Weiner scandal and resignation. The real story is what is going to happen now to Brooklyn representation in Congress and the likely dissolution of the 9th Congressional district. Brooklyn is going to suffer another blow to its government representation, a trend going back decades, most obviously hen we last lost a seat with the ending of the Steven Solarz district in 1992 to Congressional redistricting. In that redistricting, Brooklyn lost a great foreign policy voice, and a pro-Israel activist within the house, even taking on Jimmy Carter in making sure Israel was able to receive adequate foreign aid in hostile circumstances. But Brooklyn lost worse than that. Let's look at the current Congressional district lines for the Borough.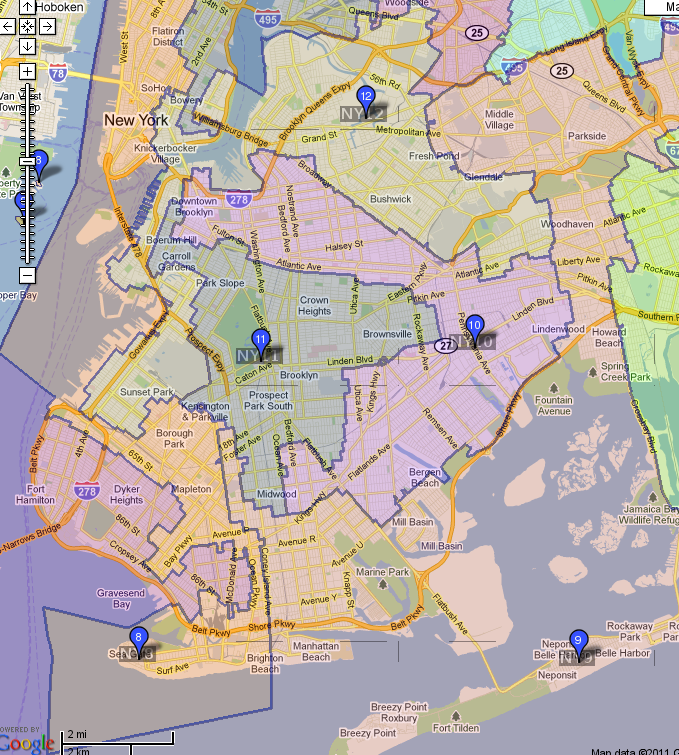 Brooklyn has nearly been eliminated as a political entity. The 8th Congressional District which jumps over New York Harbor and includes the Upper West Side of Manhattan is Jerold Nadler's district and connects the Orthodox Jewish community of Boro Park, and Russian Brighton Beach with Battery Park City and Soho. Vito Fossalla's 13th district is essentially Staten Island's district, and swallows up Bay Ridge and much of Bensonhurts. The 9th District, Anthony Weiner's previous district, represents parts of Park Slope, Kensington and Sheepshead Bay with Forrest Hills, Flushing and Middle Village. The 12th district is the most gerrymanded district in Congress involving 3 counties, Brooklyn, Queens and Manhattan, which links the parts of Sunset park gerrymanded for Nadler, with Brooklyn Heights, Bushwick, Willamsberg and the Lower East Side of Manhattan. The 10th District, that of Edolphus Towns, somehow connects Mill Basin and Georgetown, with Willamsburg and Bushwick. Its a complete mess that under-represents Brooklyn at every turn.
And now, with Weiner gone, the scuttlebutt is that the 9th district is going to be taken away from Brooklyn all together, leaving south Brooklyn completely under represented. How does a Borough that has gone through an immense population boom face such a crisis in representation?
First, we have a US Census department that can't seem to count. How many housing units alone have come on line in communities that were nearly empty from Bushwick to Red Hook, and Bedford-Styversuant. The census bureaus report is insane as Fort green, 5th Avenue, Cobble Hill, East New York, and Red hook have simply exploded with activity since 1990. And even with that, in 2007 the city reported the highest number of building permits ever with over 30,000 per year and as part of the stat, the 5 boroughs accounted for 62% of the states overall population growth. HOW CAN WE LOSE A CONGRESSIONAL DISTRICT, even a bad one like Weiner's 9th?
Here is the bottom line. Brooklyn is terribly under-counted and under-represented. We are the single largest county in the state, and the state that has the second densest populations in the nation (second to New Jersey). Most of our congressional districts are gerrymanded to support Manhattan, Staten Island and Queens Politicians. There is NO WAY that we should lose the ninth district. Weiner hasn't just screwed himself but he screwed the entire Borough. Representative Crowley has made clear, and he controls much of Queens politics, that you can expect the 9th to disappear with redistricting. The reason for the current expectations is that the state assembly is to make the districts and the assumption is that one district will come out of downstate and one out of upstate. One will be Democratic, one Republican. But that is both stupid and unethical.
What rationally should happen is that where populations have decreased, they should lose districts. And with Brooklyn being severely under counted, even more so should be the case. New York City should loose none of their districts. Antagonizing the problem is that the districts around Buffalo are the lowest populated in the nation, along with Nassau's 3rd Congressional district. The bottom line here is that Weiner won't be able to protect his district and Brooklyn will get no representation when the State Legislative branch gets done carving it up like a turkey.

Consider this. Brooklyn, which has the largest Jewish population in the world, hasn't had a Jewish Congressman since 1990 (note Weiner is half jewish on his father's side). What does that tell you about Brooklyn's gerrymandering.