Welcome to Coney Island!
Adult Rides were a Coney Island invention starting with Steeple Chase Park at the turn of the Century. Today Coney still has loads of Roller Coasters including the world famous Cyclone. While bigger playgrounds might have faster and bigger rides, experts will tell you that no roller coaster in the world will scare the willy's out of you like Coney's 80 years old Cyclone!

---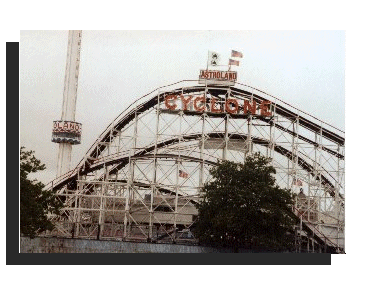 Brooklyn invented the Roller Coaster when on June 16th, 1884, LaMarcus A. Thompson opened the "switchback", an unimpressive railcar that used gravity to move it over a track. In 1927, the greatest Roller Coaster of all time was opened, and still stands today as a testimony that the science of thrill creation is truly an Art! This 100 second nine hill ride is the most thrilling roller coaster ever invented. What! - you say, but does it turn you upside down! So much for what you think you know. Try the Cyclone if you dare. But please! use the bathroom prior to boarding!



---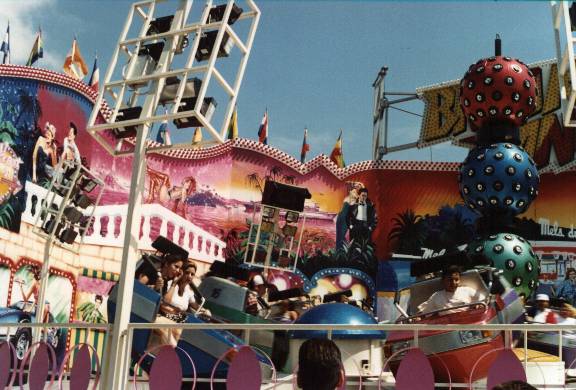 Despite the rumor, innovation at Coney didn't end in the 1940's. Coney has always been home to state of the art entertainment and continues to do so. While the "Breakdancer", a most popular ride with the locals with it's driving music and DJ Disco ride mechanic, may not be the most upto date adventure in the world, when built, it was one of the first of it's kind, and is kept up-to-date with enthusiastic music and loads of color! Coney Island is also home to a Virtual Reality Movie ride, similar to the "Back to the Future" ride elsewhere. This sort of investment is sure to keep Coney the place of dreams for years to come...



---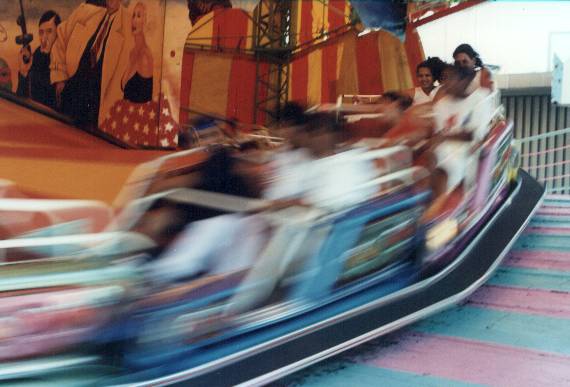 Action and excitement is plentyful at Coney Island. The sights and sounds can not be beat. Besides the Himalaya shown here, and the Fountain shown below, Spook Houses, side shows, Go Karts, Batting Ranges, Disco Bumper Cars (a personal favorite), The Tilt Roller Coaster, the Wonder Wheel (show on the previous page), Astro Tower, The Star Ship enterprise, The Giant Slide, and more, this is only the beginning of the fun at Coney Island!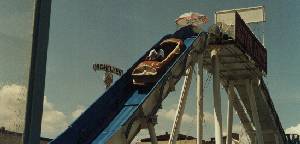 Game, Games and more Games permeate the sidewalks and alley's of Coney Island. Skeet Ball is a big family pass time and we bowl wooden balls down a lane, up a slope and POP, into hoops to score points! 100 points gets you a ticket! Collect the tickets and cash them in at the end of the day for prizes! Coney Island has more shooting galleries then any track of land in America - and we're talking the legal kind!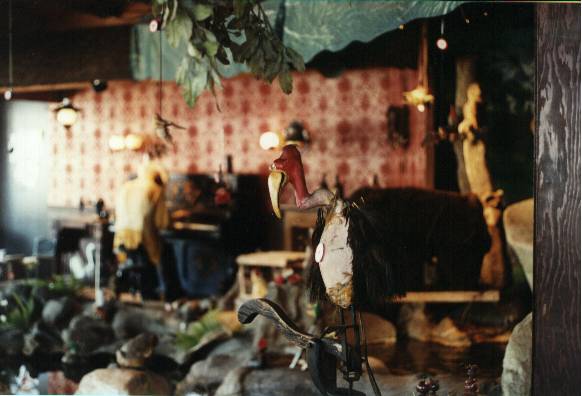 Shoot Turkeys, Cowboys, Frogs and Bears to your hearts delight. Test your skills against moving pop-up targets, standing paper targets and Cartoon Characters, and electronic targets. If you can't shoot a rifle, try a water gun, or shoot some hoops! Impress yourself and your Gal and win a prize.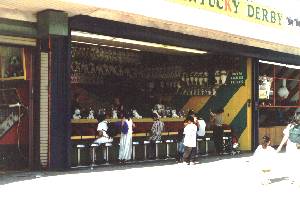 Try one of the make-believe racing games. Almost anything can be raced on Coney's Bowery from Camels and Horses and beyond. Try your hand at Darts and nearly any other form of carnival game that you can think of. Coney Island's full of them and almost no one ever comes home empty handed. No wonder that the Teddy Bear was invented in Brooklyn!
---
Unlike other amusement parks, Coney Island wasn't just built on any available cheap piece of land that they could find. Coney is built on one of the most exciting waterfront areas of the world. Its position, a natural jetty off of the most southern corner of Brooklyn into the Atlantic Ocean, is vivacious and crackles with life. The wind rips off the ocean surf adding the perfect ambiance for an exciting day of Sun and Surf.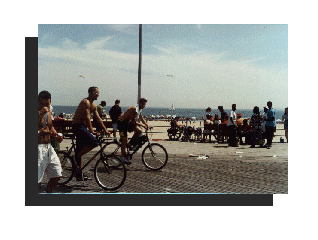 Music, Boats, Planes, and periodically even the Air Force converge on Coney Island all at once, adding to the newly refurbished Boardwalk exiting activity. And with a Beach that stretches out for miles, one can have a uniquely international experience. The persona of Coney is as the the City of Brooklyn itself. Nearly every language can be heard on the beaches, and every style of food and drink available in its store fronts. In fact, it is rumored that Neptune Avenue sports one of the most famous and best Pizzeria's in New York. On Jewish Holidays Kosher food can be found. And lets not forget Nathans - NUFF SAID!


Finally - lets not forget the Kids!
---
Back to Brooklyn-Living
Brooklyn-Living Home
[Coney Island Home]
[Coney Island Rides]
[Vroom]
[Adult Rides and Games]
MrBrklyn Home
[Taly at the Brooklyn Seashore]
[Esther at 90]
[Early Summer Sidewalk Scene]
[Talyah Leah Safir's Poetry]
[Purple Prose]
[Peasach Games and Coney Island]